Welcome to Airbnb Bedroom Ideas! Whether you are a seasoned Airbnb host or a beginner, this article is designed to provide helpful tips and tricks for creating the perfect atmosphere in your Airbnb bedroom. From selecting the right furniture and furnishings to making sure everything is clean and organized, we'll be discussing all of these topics and more in this guide. We'll also answer some of the most commonly asked questions regarding Airbnb bedroom design, helping you create a safe and inviting space for your guests to enjoy. So let's get right into it – here are some tips and tricks for creating the perfect Airbnb bedroom!
Upholstered Platform Bed Frame Option
One of the best options for a comfortable and inviting Airbnb bedroom is to opt for an upholstered platform bed frame. This type of bed provides your guests with plenty of cushion and support, ensuring they have a great night's sleep during their stay. The upholstery also helps create warmth and comfort in the space, making it even more inviting. Be sure to select a frame that is sturdy and reliable, as well as one that fits the style of your room.[1]
Lamp
For a warm and inviting atmosphere, it's important to make sure your Airbnb bedroom has the perfect lighting. You can easily find affordable lamps that fit in with any style or theme. Choose from traditional table lamps or wall-mounted sconces for a more modern look. If you want to be extra creative, opt for a unique lamp that stands out from the rest of your décor. For example, an eye-catching floor lamp can serve as a great centerpiece. Additionally, having adjustable brightness settings is ideal so your guests can find the perfect lighting level to suit their needs.[1]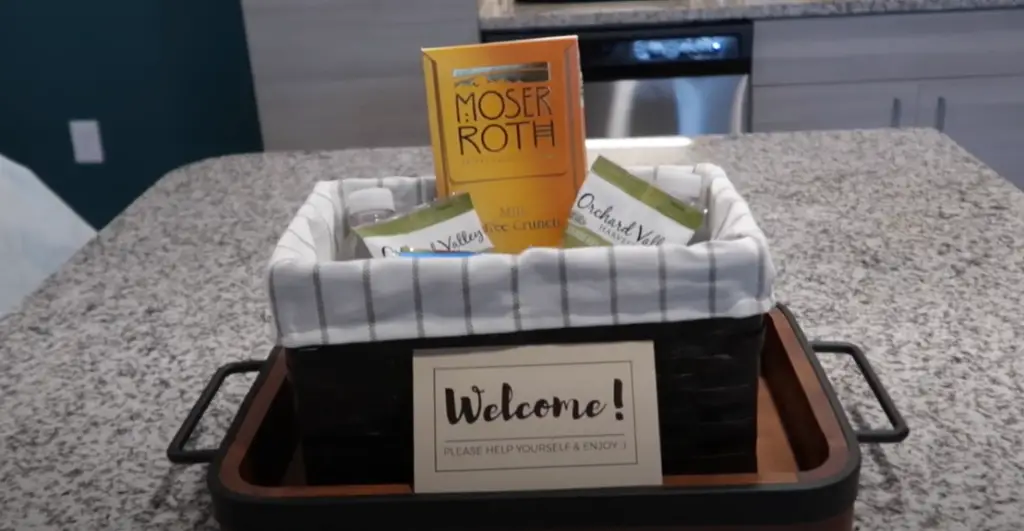 Side Table
Side tables are often used to create an extra layer of decoration in a bedroom. To make yours stand out, consider adding small plants or ceramic designs on top. You can also use your side table to display photographs or mementos that make the space feel more personal. If you live near a beach, you could use shells and other sea-inspired trinkets to decorate your side table. That way, you can get a taste of the coast no matter where you are.
Some people also choose to use their side table as a makeshift area for storing items they don't want out in the open. To make this especially stylish, try using colorful boxes or baskets to store your items. This way, you'll have a decorated side table with a secret storage space underneath![1]
WiFi Password
One of the most important elements that a guest will need to know when they arrive is the WiFi password. Providing this information prior to their arrival ensures that your guests can enjoy the convenience of having connectivity throughout their stay.
When setting up your network, consider using a secure password and sharing it with your guests in advance via email or text message. This will make it easy for them to get connected as soon as they arrive at your place. If you're feeling extra generous, why not provide a copy of the password printed out in their room?[1]
Desk Lamp
A desk lamp is an essential item for any Airbnb bedroom. Not only does it provide a source of light, but it can also act as a nightlight or mood lighting. Desk lamps come in various styles and sizes, so be sure to choose one that suits the style of your room. When selecting a desk lamp, make sure to pick one with adjustable brightness levels. This way, your guests can adjust the amount of light in their room to suit their individual needs. Furthermore, LED lamps are more energy-efficient and cost-effective than traditional incandescent bulbs, so they're a great investment for anyone looking to save money over time. Finally, make sure to position the lamp away from the bed to avoid any glare in your guests' eyes!  With these tips, you can make sure that your Airbnb bedroom is outfitted with the perfect desk lamp.[1]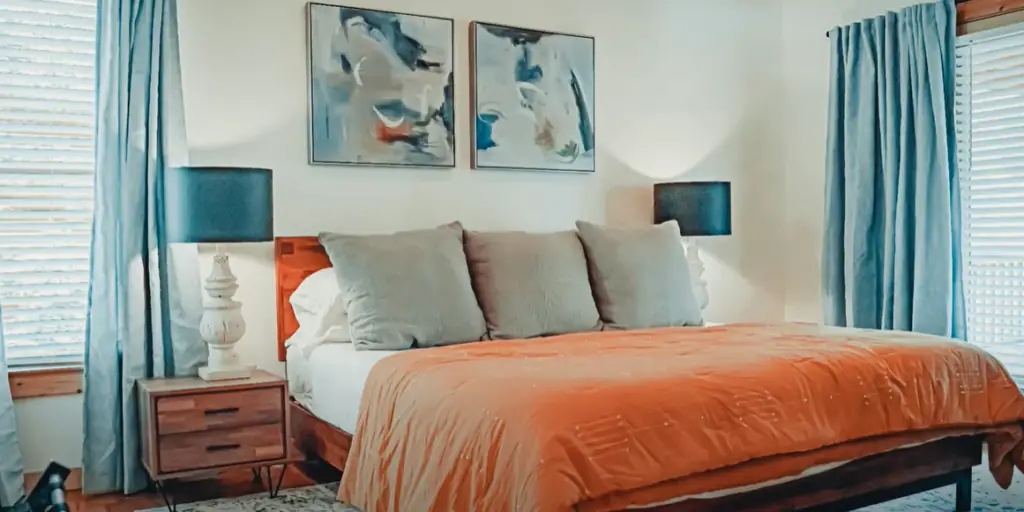 Chair
Nothing can be more inviting than a comfortable place to rest and relax. A cozy chair can make all the difference in your Airbnb bedroom! It adds a homey, welcoming touch that your guests will appreciate. Choose from armchairs, lounge chairs, rocking chairs or even bean bag chairs for a playful twist.
You can also choose to keep it simple with a minimalist style, such as a folding chair or floor cushion. Not only will this be great for small spaces but can also add a unique touch of sophistication to any room![1]
Desk
The desk is an important part of any bedroom. It's a place to work, a spot for crafting, and somewhere to keep books and other items neat and tidy. When it comes to setting up your Airbnb bedroom, there are plenty of options available. If you have the space, consider getting a large table or writing desk with enough surface area to work comfortably. If you prefer something smaller, there are a variety of stylish alternatives available including console and laptop desks. Consider adding a comfortable desk chair with plenty of cushioning – your guests will thank you for it! To give the room an extra touch of personality, choose accessories like plants, lamps and wall art that reflect your style. Finally, make sure there is enough storage space in the room – this could be a bookcase, chest of drawers or even under-bed boxes. With these tips, your Airbnb bedroom will be the perfect place for guests to relax and work.[1]
Artwork
Adding artwork and accessories to your Airbnb bedroom can help give it a more homely feel. If you're on a budget, try using items that you already have lying around the house such as photographs or mirrors. You could also pick up some inexpensive pieces from thrift stores or art markets.
When adding artwork to your room, be sure to pick pieces that will appeal to a variety of people. You should also consider the size and shape of the artwork in relation to the overall design of the room.
If you have limited wall space, try displaying your artwork on shelves or hanging it from curtain rods. This can help create an interesting visual effect without taking up too much room.
It's also a good idea to use artwork that is relevant to the local area or reflects your region's culture. This could be anything from scenic photographs of nearby landscapes to unique pieces of art inspired by local artists.[1]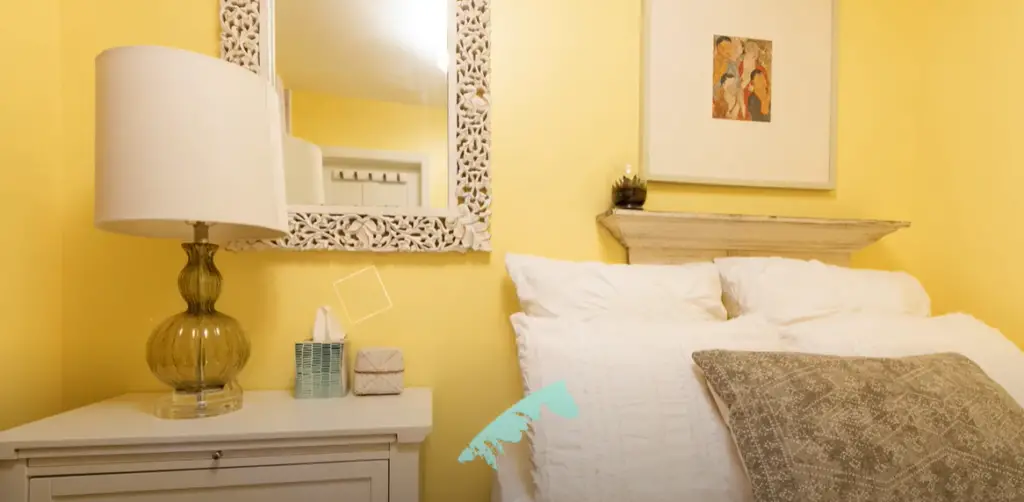 Duvet Set
Duvets come in all shapes and sizes, so it's important to find the right one for your Airbnb bedroom. The best way to do this is to consider the size and style of the room, as well as what sort of look you want to achieve. Consider opting for a duvet with a higher thread count or made from a breathable fabric such as linen or cotton.[1]
Airbnb Bedroom Essentials Sheets
When it comes to Airbnb bedroom essentials, sheets and bedding are at the top of the list. Invest in quality sheets that feel comfortable against your skin – silky sateen or luxurious linen can make all the difference for guests. Complete the bed with a comfy mattress protector and plush pillows for added comfort.
Adding a cozy throw blanket or quilt is an easy way to add warmth and style to the room. Provide enough pillows for every guest, so everyone can get a full night's sleep.
A bedside light is also essential for guests who are up late reading or have trouble sleeping in complete darkness. In addition, rolling blackout shades can help keep the room dark and allow guests to stay asleep longer. Finally, a nightstand with drawers is a great way for guests to store their items during their stay.
Finally, make sure you keep your Airbnb bedroom clean and inviting by regularly changing out the bedding and washing sheets and towels.[1]
Down Alternative Comforter
A down alternative comforter is a great choice for those looking to add comfort and style to their Airbnb bedroom. These comforters are filled with a polyester material that mimics the warmth and loft of real down feathers, making them a great alternative to regular bedding. Down alternative comforters also come in a variety of colors and styles, so you can find one that suits your overall bedroom decor. Additionally, these comforters are hypoallergenic, making them a great choice for allergy sufferers or those who prefer synthetic fabrics. They also tend to be more affordable than real down comforters, so they're a great way to add luxury on a budget.[1]
Drapes
Curtains are a great way to create a cozy atmosphere and control the amount of sunlight coming into your Airbnb bedroom. Choose curtains that will match the overall style of your room, such as sheer curtains for minimalistic bedrooms or patterned drapes for bohemian-inspired spaces. If you want to be sure that guests will have the privacy they need, buy blackout curtains and install them on all of your windows. And don't forget to hang a curtain rod that is at least 4-6 feet wide so you can maximize the amount of light coming in from outside.[1]
Curtain Rod
Curtains are one of the easiest and cost-effective ways to add style and personality to an Airbnb bedroom. To ensure a finished look, consider adding curtain rods, which can be placed around the windows or mounted on the wall. When selecting curtain rod hardware, make sure it fits your decor and is easy to install. If you're looking to maximize space, consider using a tension rod that fits in the window frame. This type of rod is a great option if you're hosting multiple guests and need to separate the area into two or more spaces.
If you want something more eye-catching, try adding ornate curtain rods with finials.[1]
Mattress cover Airbnb Bedroom Essentials
One of the most important essentials for your Airbnb bedroom is a mattress cover. Not only will it protect your mattress from wear and tear, but it will also keep dust mites away and help maintain its hygiene. It is important to choose one that not only fits your mattress size, but also has the right thickness and material. Look for a mattress cover with a high thread count and made from a breathable material like cotton, so it is not only comfortable but also keeps allergens away. In addition to this, make sure the cover has an elastic band around the edges that fits snugly on your mattress.[1]
Pillow Cover
Adding a few decorative pillows to your Airbnb bedroom is an easy way to give it that finishing touch. Pillow covers are available in a wide range of styles, from classic and muted to bold and vibrant. Choose pillow covers that match the overall color palette of the room, or go for contrasting colors for more impact. If you're going for a cozy, inviting look, opt for softer fabrics such as velvet or cotton. For a more modern style, choose pillow covers in shiny materials like satin or silk. If you don't have the budget to purchase new items, try searching second hand stores and thrift shops for great bargains. You can also repurpose old clothing or fabrics to make pillow covers. With a few simple alterations, you can turn an ordinary piece of fabric into a beautiful pillow cover.[1]
Bed Skirt Airbnb Bedroom Essentials
One of the most important things you should consider when designing an Airbnb bedroom is a bed skirt. Not only does it give your room a more polished look, but it also helps hide storage containers underneath your bed or even the box spring itself. In addition to adding some visual appeal to the room, bed skirts can help keep dust and other allergens from making their way into the air. Plus, it's an easy way to add some texture and color to your room as you can find them in a variety of patterns and colors.[1]
Alarm Clock
An alarm clock is an essential item in any Airbnb bedroom. Not only does it help you and your guests wake up on time, but it can also be a stylish decor element in the room. Look for alarm clocks with interesting designs or creative features like multiple alarms and temperature readings. If you're looking for something more modern, consider investing in a digital clock with Bluetooth capabilities. This way, your guests can set the alarm from their smartphone and have it synced to the clock—a great convenience for any traveler.[1]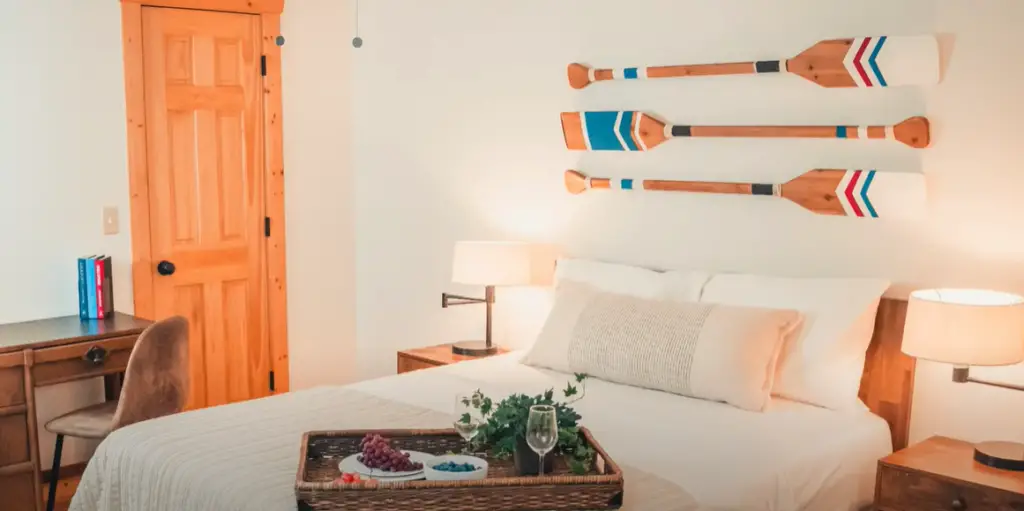 Gray rug
Gray is a great color to bring out the white in your walls. Gray rugs can draw attention to the white painted trim in your Airbnb bedroom and match any color scheme. Adding some throw pillows, bedding, and artwork with shades of gray can help create a coordinated look for your room.[1]
Wall Mirror
Wall mirrors are an easy and affordable way to instantly make your Airbnb bedroom stand out. Not only will the mirror add a touch of style, but it can also be used to create a sense of space. Place one in an area where natural light hits, such as near a window or even opposite a lamp. This will help to reflect and amplify light in the room, making it appear bigger and brighter. Wall mirrors come in a variety of sizes, shapes and styles so you can find one that suits your space perfectly. With wall mirrors, placement is key – make sure to hang them at eye level so they don't overpower the room or distort proportions.[1]
Airbnb Bedroom Essentials Metal Garment Rack
When it comes to Airbnb bedroom ideas, one of the most important items to include is a metal garment rack. This is a great way to provide your guests with extra hanging space. Not only will they have somewhere to hang their clothes but you can also keep them organized and tidy by having everything neatly hung up in an easily accessible area. Furthermore, most metal garment racks are lightweight and easy to store away when not in use. That way you can keep your Airbnb bedroom uncluttered and ready for the next guest who books a stay in your space.[1]
Inspirational Artwork Airbnb Bedroom Essentials
Adding artwork to your Airbnb bedroom is a great way to create a welcoming atmosphere and make the space feel more like home for your guests. Whether you choose to stick with classic prints or go for something more contemporary, look for pieces that will give your guests some inspiration from their travels. If you're looking for ideas, try out a few of these:
Hang a framed world map on the wall – it helps guests track their travels, while adding a touch of style to your Airbnb.
Get creative with gallery walls. If you have enough wall space and want to make a statement, try creating an eclectic mix of art pieces that will inspire conversation.
Incorporate digital art displays. If you don't have the time or budget to collect physical pieces, opt for a digital art frame that can easily be updated with new images from around the world.
Look for local artwork. Support your community and invest in prints or paintings from local artists by visiting nearby galleries, flea markets, or online stores.[1]
Bench
Benchmarking is an important part of any Airbnb bedroom decorating project. It involves comparing your bedroom to the ones that other guests have rented before, so you can get an idea of what they liked and didn't like. This can help you decide which features and amenities to include in your own space, as well as how to make it look "just right."
When benchmarking, consider factors such as the style of furnishings and decorations used, the size and layout of the room, and lighting. Also take note of whether or not any furniture was handmade (or if it came from a store), how much extra storage space is provided, and if it's possible to make the bedroom darker or brighter with curtains and shades.[1]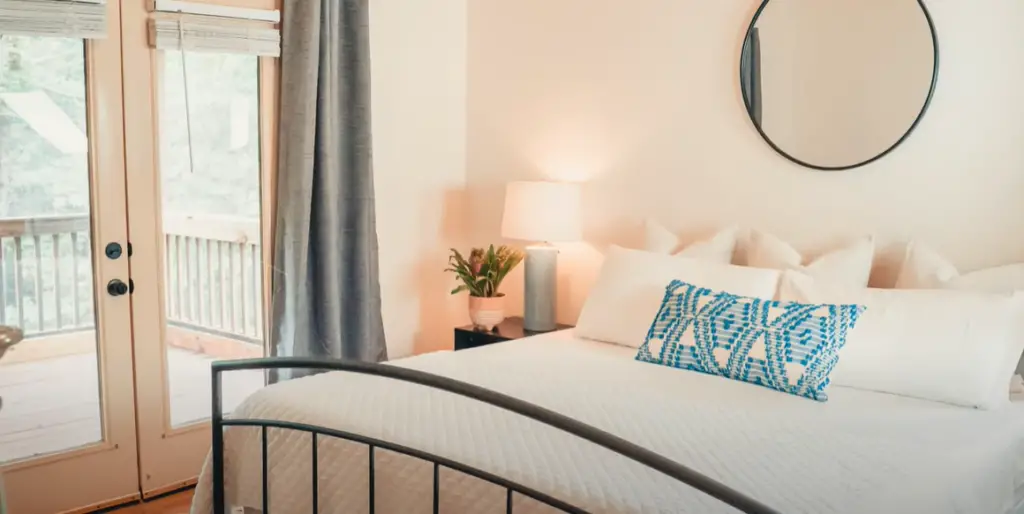 Lumbar Pillows
Lumbar pillows are a great addition to Airbnb bedrooms, adding extra support and comfort to beds. If your bedroom doesn't have one already, consider buying lumbar pillows for each bed. Not only will they make the room more comfortable, but they'll also help guests get a good night's rest. Plus, these pillows come in a variety of sizes, styles, and colors to match any décor.
You may also want to consider getting lumbar pillows made with memory foam or latex material for extra comfort. Memory foam pillows keep their shape better over time, while latex pillows are more supportive and breathable.[1]
Velvet Pillows Airbnb Bedroom Essentials
Velvet pillows are a must-have for Airbnb bedrooms. They add a touch of luxury to the room, and they contrast nicely with neutral bedding to create an inviting atmosphere. Plus, the softness of velvet means guests will love cuddling up in their beds at night! When selecting velvet pillows for your Airbnb bedroom, look for colors that will complement the room's existing decor. For example, light blue velvet pillows could pair beautifully with a white bedspread and navy accent wall.
Velvet pillows can also be used to create an interesting texture on the bed. Try pairing two different colors of velvet together – such as a light pink and dark green – or layering different textures of velvet, like satin and crushed velvet. For a truly eye-catching display, use velvet pillows to frame an interesting patterned duvet cover.[1]
Fur Throw
When it comes to adding a touch of style to your Airbnb bedroom, look no further than fur throw pillows. Not only do they add instant warmth and coziness to the room, but they also provide a luxurious feel that is sure to impress guests. Add fur throw pillows in different sizes and colors for a unique look that will be sure to draw compliments. In addition, fur throw pillows are a great way to add texture and depth to the room and can easily be moved around to create different looks as needed. For an extra special touch, you can also add fur blankets or throws in colorful patterns that match your decor. With so many choices available, there's sure to be a fur throw that is perfect for your Airbnb bedroom.[1]
Luggage Rack
One of the most important things to consider when it comes to Airbnb bedroom ideas is a luggage rack. A luggage rack can make your guests feel more comfortable, as it will allow them to store their suitcase in an organized manner and reduce clutter in the room. Additionally, it keeps their belongings off of the floor, which can help to maintain a cleaner and more sanitary environment.
When choosing a luggage rack, consider whether it is foldable or not. Foldable racks are great for small spaces since they can easily be stored away when not in use. Additionally, make sure to select one that is made of sturdy material and has plenty of support for heavier items like suitcases.[1]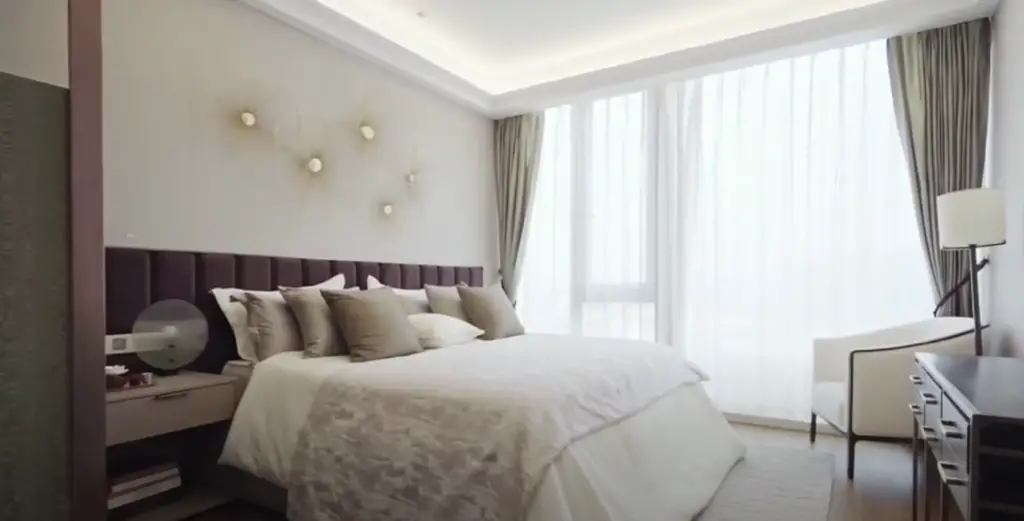 Airbnb Bedroom Essentials Welcome Packet
If you are offering a room on Airbnb, it is important to ensure that your guests have all of the essentials they need while staying in your home. To help, we've compiled some items that you can provide to make sure they feel comfortable and at ease.
The basics should certainly be taken care of first – fresh and clean sheets, pillows, blankets, towels, and toiletries. Many hosts also choose to provide their guests with a few extra items such as snacks, bottled water, coffee or tea bags, cleaning supplies (dish soap, laundry detergent), Wi-Fi information and access code if applicable.[1]
FAQ
How do you style a bedroom on Airbnb?
When styling a bedroom on Airbnb, it's important to think of the space as an extension of you and how you want to welcome your guests. The key is to create a warm and inviting atmosphere that reflects your personality while still being functional and comfortable for visitors.
What do I need in my Airbnb bedroom?
The basic necessities for an Airbnb bedroom include a comfortable bed, clean sheets and blankets, pillows, towels and a place to store personal items. You may also want to add some home decor that reflects your style–things like wall art, throw pillows or rugs can give the room a more inviting feel. Finally, be sure to provide essential amenities like a hair dryer and iron for your guests' convenience.
How do I set up an Airbnb room?
When setting up an Airbnb room, you'll want to start by cleaning and decluttering the space. Remove any unnecessary furniture or items that don't fit with your style, and make sure all surfaces are clean. Next, set up the bed with fresh linens and pillows so guests can have a comfortable night's sleep. Lastly, add any home decor and amenities that you think will enhance the room's appeal.
How do I make my Airbnb unique?
Making your Airbnb bedroom unique is all about personalizing the room with your own style. Think of ways to incorporate elements that reflect who you are and make guests feel at home, such as bookshelves filled with your favorite books, wall art or photographs of places you've been, and cozy blankets and throw pillows in colors that match your personality. You can also provide unique amenities like a coffee maker, breakfast basket or snacks to make the stay even more enjoyable.
How do I make Airbnb look expensive?
Making an Airbnb bedroom look expensive is all about creating a sophisticated and elegant atmosphere. Start by choosing furniture and decor pieces that have a classic, timeless feel, such as wooden tables, velvet chairs or plush rugs. You may also want to add some pops of color with accents like artwork, pillows or throw blankets. Finally, be sure to provide quality amenities like luxe bedding, designer toiletries and a complimentary bottle of wine.  With these tips, you can create an Airbnb bedroom that looks both luxurious and inviting.
What adds the most value to an Airbnb?
The most value-adding elements to an Airbnb bedroom are those that will make guests feel at home. This may include things like fresh linens and towels, a comfortable bed, and amenities such as toiletries and coffee makers. You may also want to add some home decor pieces that reflect your style and personality–things like art, rugs and throw pillows can really make a room come alive. Finally, make sure to provide guests with enough storage space so they can keep their belongings organized during their stay.  With these tips, you can create an Airbnb bedroom that is both inviting and functional for your guests.
Useful Video: How to Create the Perfect Airbnb Bed
Conclusion
Now that you have some great Airbnb bedroom ideas, it's time to get started! You can create a cozy space for guests to enjoy and make sure that their stay is comfortable. Remember to add some personal touches that speak to your style, like artwork or books. Investing in quality bedding, furniture, and lighting can really help elevate the space. With these tips in mind, you can are sure to create a memorable Airbnb bedroom experience for your guests.
Good luck on your journey to becoming an Airbnb host! We hope that with this article, we have provided valuable information and ideas to get you started. Happy hosting!
References:
https://inspireddesigntalk.com/airbnb-bedroom-essentials/