Do you ever feel like your bedroom is missing something? That may be because the ceiling is just a little too plain for your taste. If so, then you need to check out these amazing bedroom ceiling ideas! Not only will they make your room look more stylish and inviting, but they will also add some much-needed functionality. So what are you waiting for? This guide will inspire you to give your bedroom a brand-new look!
What are the different types of ceilings?
Conventional Ceiling
The conventional ceiling is the most common type of ceiling. It is constructed with drywall and framing, which gives it an even finish without any visible joints or seams. This type of ceiling offers a smooth surface that can be painted to match your wall color or left as-is for a more natural look. It also provides excellent soundproofing and temperature control.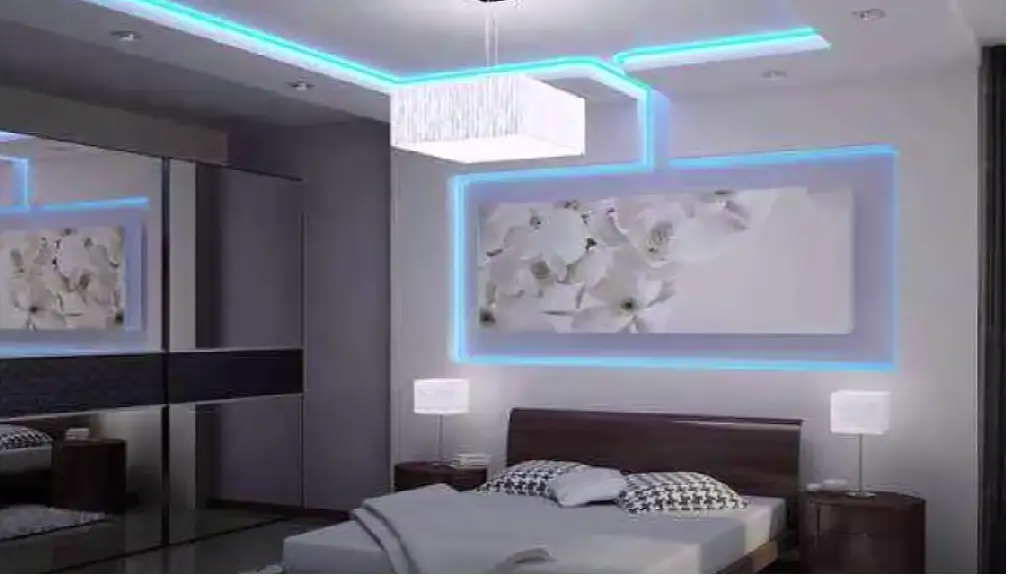 Drop Ceiling
A drop ceiling, also known as a suspended or hung ceiling, consists of metal framing and interconnected tiles that hang from the existing ceiling structure. This type of ceiling allows for easy access to wires, ducts, and other items above it. The drop-down panels come in various sizes, so you can choose the look and style that best suits your space.
Coffered Ceiling
A coffered ceiling adds an elegant architectural touch to any room. This type of ceiling features a series of square or rectangular panels, which can be constructed from wood, plaster, or drywall. The rows of coffers offer a unique design element and can also help reduce noise levels in a room.
Vaulted Ceiling
A vaulted ceiling adds a dramatic touch to any space. This type of ceiling is constructed with arched or sloping walls and an angled roofline, which creates an expansive and open feeling. The vaulted shape also helps to make the room seem larger than it actually is.
Suspended Ceiling
A suspended ceiling is a type of false ceiling that hangs below the main ceiling. This type of ceiling is commonly used in commercial settings, as it can hide wires and other objects above it. Suspended ceilings are made up of metal grid panels that support interlocking tiles. The tiles come in various materials and designs, so you can customize the look of the ceiling to match your décor.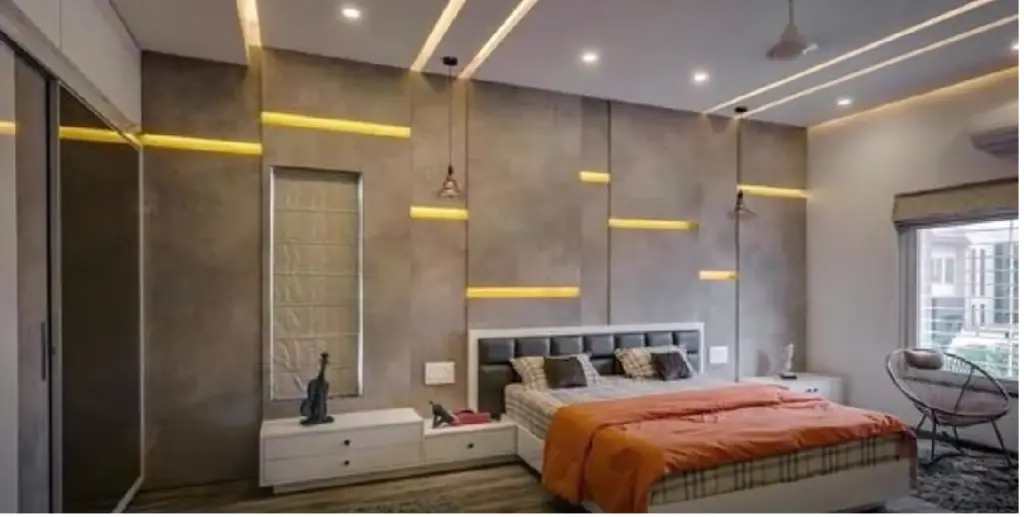 Beamed Ceiling
Beams can be painted or stained to match the existing color scheme, making them a great way to add texture and depth to any room.
Track Lighting Ceiling
Track lighting is a type of ceiling light fixture that can be used to highlight certain areas or objects in a room. This type of ceiling light consists of several individual fixtures connected together on one straight track, which allows you to adjust the direction and amount of illumination in the room. Track lighting is a great way to add functional illumination while adding a modern touch to any space.
Wooden Ceiling
A wooden ceiling adds warmth and texture to any space, making it perfect for traditional or rustic-style homes. This type of ceiling can be constructed from wood planks or beams, creating a natural and inviting look. Wooden ceilings are often best suited for rooms with low ceilings, as they can help make the space feel larger and more open.
Cathedral Ceiling
A cathedral ceiling is an angled and vaulted ceiling that is often found in formal settings. This type of ceiling creates a dramatic effect, as it opens up the room and allows for more natural light to enter. The shape and design of a cathedral ceiling can help to add visual interest and character to any space.
Tray Ceiling
A tray ceiling is a type of ceiling that features a raised center panel. This type of ceiling can add depth and dimension to any room, as the middle section is often painted in a contrasting color or decorated with molding for added detail. Tray ceilings are perfect for formal living rooms, dining rooms, and bedrooms.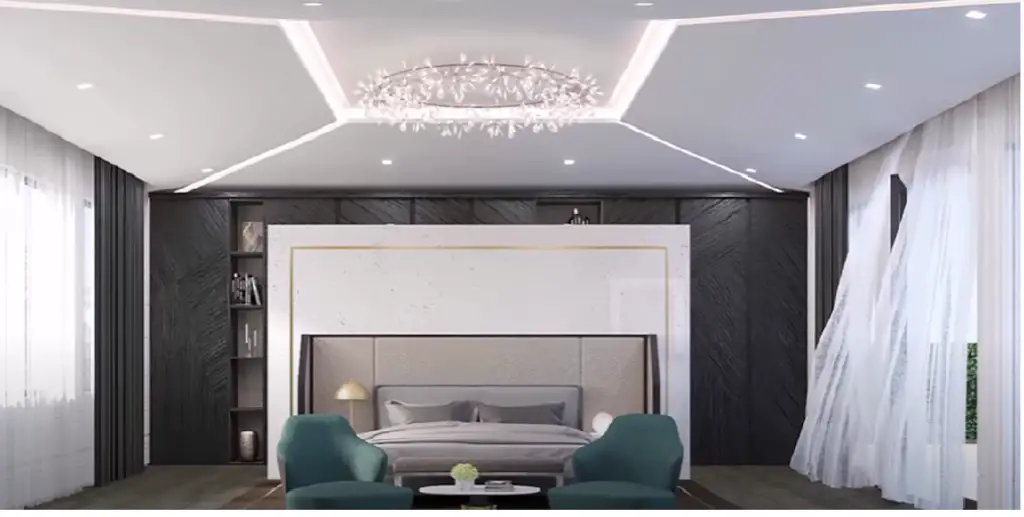 Shed Ceiling
A shed ceiling is a type of sloping ceiling that can be used to create an interesting visual effect. This type of ceiling features one side that slopes downward, creating a unique look. Shed ceilings are perfect for rooms with high ceilings and are often used in loft-style homes [1].
How to choose the right Bedroom Ceiling?
When it comes to choosing the right bedroom ceiling for your home, there are a few things to consider.
You should also consider the type of material that would best suit the design aesthetic you are aiming for in your bedroom.
Depending on the size of your room and its shape, you may want to opt for a patterned or textured ceiling to bring more dimension and texture into the space. Additionally, consider any other decorative elements such as lighting fixtures, wall art, window treatments, and more that could be incorporated into the ceiling.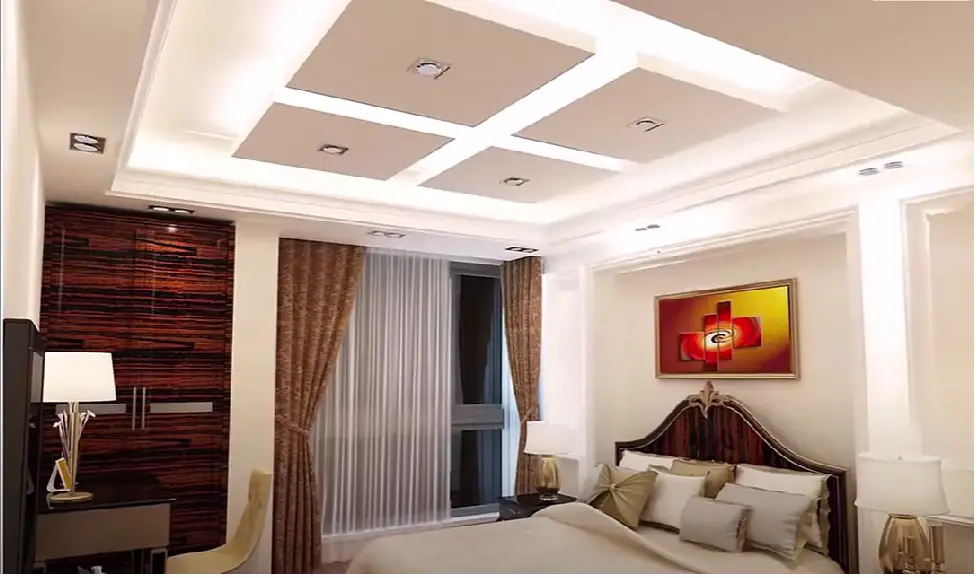 Finally, consider how much maintenance you want to do for your bedroom ceiling and whether or not you want to install something more permanent. Researching different materials and options can help you determine what is best for your home and lifestyle. With the right considerations taken into account, finding the perfect bedroom ceiling can be a breeze.
Once you have chosen your bedroom ceiling, the next step is to ensure proper installation and maintenance. Depending on the material you choose, this could include repainting, sealing the surface with a protective coat, or even cleaning and replacing damaged pieces.
Bedroom ceiling ideas
Create a colorful space
If you're looking for a bright, eye-catching ceiling design for your bedroom, consider painting it in multiple colors. Choose two or three coordinating hues that complement each other and combine them to create a stunning pattern that will draw the eye upwards. You can also use stencils to add geometric shapes or subtle details to the mix.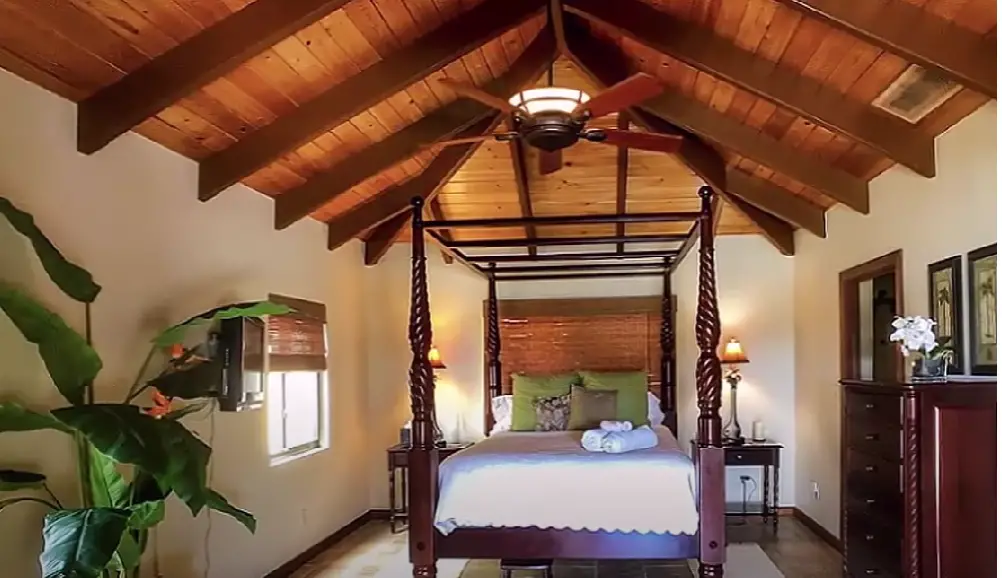 Incorporate wallpapering
Combine wallpapering with paint to give your bedroom's ceiling some serious style. Paint the trim and walls around the room in one color while adding an intricate wallpaper border along the top of the walls at ceiling level. The busy pattern will draw focus away from any imperfections in your ceiling design while adding its own unique touch to the bedroom.
Raise the roof with wood paneling
Wood paneling is a timeless interior design trend that has been brought back into popularity recently. Take it to new heights by covering your bedroom's ceiling with wooden planks or panels in several shades of brown, tan, and other natural colors. The textured look of the wood will make your space feel cozy while adding warmth and charm.
Add some sparkle with metallic accents
Make your bedroom shine by incorporating metallics into its ceiling design. Paint one wall or all four walls around the room in bold hues like navy blue or emerald green, then add gold trim along crown molding or window frames and include shimmery light fixtures in your decor. The metallic accents will add a luxe touch and transform your bedroom into a glamorous sanctuary.
Incorporate statement lighting designs
When it comes to making a statement in your bedroom, don't forget about the ceiling. Hang pendant lights or chandeliers from the center of the room for a bold look that will draw attention and create an eye-catching focal point. You can also add decorative sconces along the walls to illuminate your space while adding some style. Whatever lighting design you choose, make sure it ties into the overall aesthetic of your bedroom.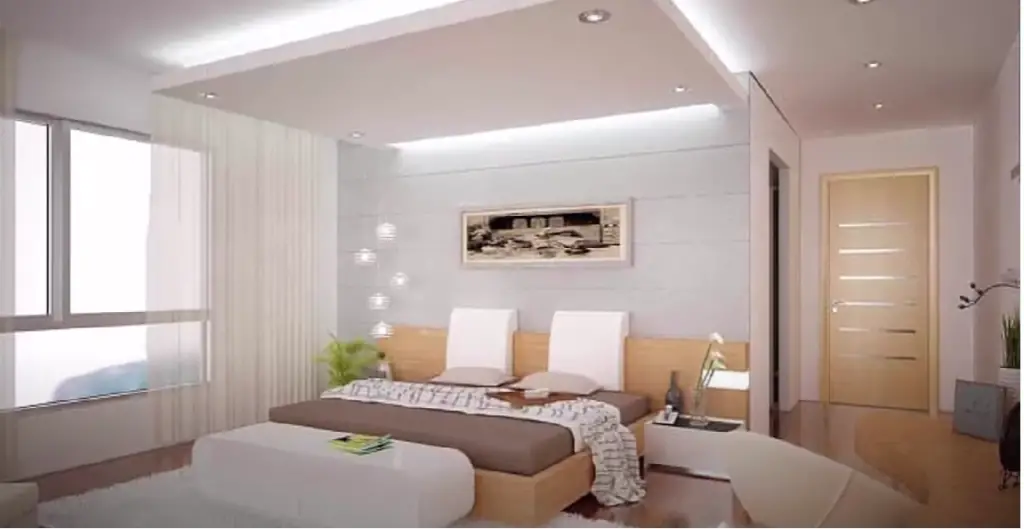 Paint a mural
Add personality to your bedroom's ceiling by painting a beautiful mural on it. Choose inspirational words, images, landscapes, or abstract shapes that fit with your decor and paint them onto your ceiling in vibrant colors or subtle shades. With a little bit of creativity and imagination, you can turn your bedroom ceiling into a stunning work of art.
Add texture with a canopy
Create a dreamy atmosphere in your bedroom by adding a canopy to the ceiling. Hang sheer, floor-length fabric from the center of the room and drape it over a four-poster bed for an elegant look. You can also choose to hang colorful tapestries or thick quilts from the ceiling around the bed to create texture and make your bedroom feel cozy and inviting.
Enhance architectural details
If you have a bedroom with high ceilings, consider emphasizing its architectural details by adding crown molding and ceiling tiles. Paint the entire ceiling in one color or use thin strips of paint to create patterns on the trim. You can also install lighting fixtures along the edges to add a touch of luxury and draw attention to the details.
Establish zones of light and dark
Create a sense of contrast in your bedroom by painting the ceiling with alternating zones of light and dark. Paint one wall in the room in bright color while leaving the other walls white or gray, then introduce another shade of paint onto the ceiling itself to create interest and give your bedroom a unique look.
Add impact with black paint
For a dramatic and bold look, use black paint to cover the entire ceiling. This look is especially effective when paired with white walls, as it will draw focus away from any imperfections in your bedroom design and make it feel larger than life. Just be sure to add plenty of natural light or lighting fixtures so you don't end up in an overly dark room [2].
Materials that are best for ceiling installations
Drywall: Drywall is the most popular material used for ceiling installations, and with good reason: It's durable, easy to install, and available in a variety of thicknesses and sizes.
Acoustical Ceiling Tile: Acoustical ceiling tiles are commonly used in commercial buildings because they absorb sound from conversations or music—making them ideal for office spaces or restaurants. They are also fire-resistant, lightweight, and relatively inexpensive.
Plywood Sheets: Plywood sheets can be used when additional support is needed to keep ceilings flat and even. The plywood increases the strength of the construction while adding an extra layer of insulation against outside temperatures.
Exposed Beams: If you want to add a rustic touch to your ceiling, exposed beams are a great way to do it. These provide additional support while adding character and charm. However, they can be labor-intensive and quite expensive.
Metal Ceiling Tiles: If you're looking for a modern look, metal ceiling tiles feature clean lines and minimalistic details that can give any space an updated feel. They are also very durable and easy to install.
Wood Paneling: For those looking for a more traditional aesthetic, wood paneling is a perfect choice. The panels come in various styles and finishes that can enhance any room's décor with warmth and texture.
Drop Ceilings: Drop ceilings are a great way to hide wiring, pipes, and ductwork without taking up valuable headspace. They are also relatively easy to install and can be painted to match the décor of any room.
PVC Ceiling Tiles: PVC ceiling tiles provide an affordable alternative to other materials while offering similar durability and insulation efficiency. They are available in a variety of colors and textures, making them perfect for any style or budget.
No matter what material you choose for your ceiling installation, make sure you take into consideration the function of the space it's going in as well as the aesthetic that best complements your overall décor. With careful consideration, you can find the perfect material for your ceiling that will serve you well for years to come.
Best designs for bedroom ceilings
Bedroom ceilings are often overlooked, but they have so much potential to be a stunning feature in the room.
Popcorn, textured or stippled ceiling designs are quite common in bedrooms. You can also create patterns with moldings or other trim pieces to add depth and interest to the design. For example, use two different colors of paint on either side of a vertical line which creates an interesting effect as it stands out against the walls and flooring.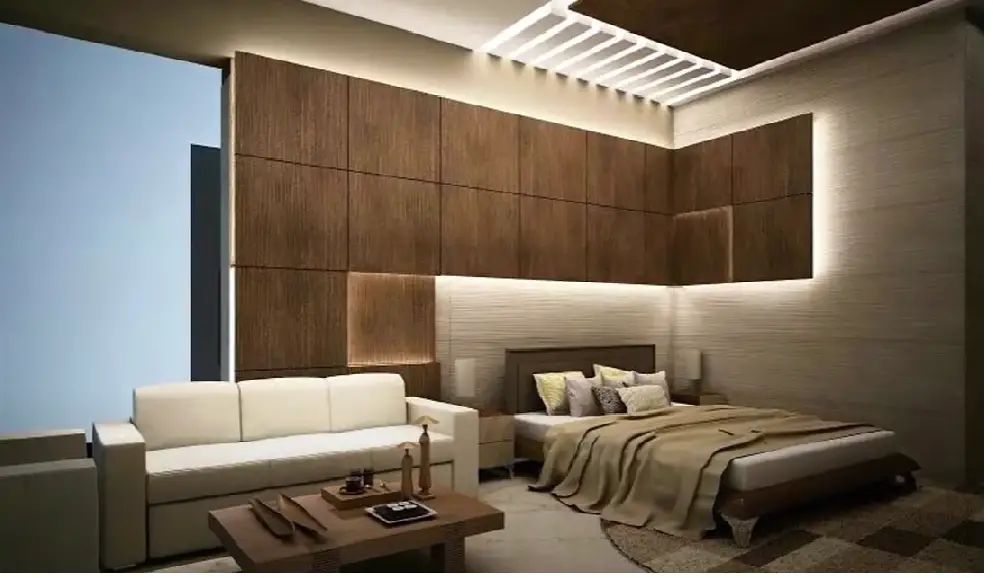 Using wallpapers is another great way to bring texture and pattern into the room's design scheme. Natural materials like wood shakes or bamboo panels can also be used to create a cozy, rustic atmosphere. You can also opt for coffered, suspended, or barrel-vaulted ceiling designs to add elegance and sophistication to the room.
Lighting can play an important role in creating the perfect bedroom look. Recessed lighting, chandeliers, and sconces are ideal options that provide ambient lighting while adding a touch of glamor. With creative ideas, unique materials, and careful consideration you can easily transform your bedroom ceiling into a beautiful feature of the home.
FAQ
Which ceiling is best for the bedroom?
The best ceiling for a bedroom depends on several factors, such as the size of the room, the overall design scheme, and personal preferences. For smaller rooms, a low-profile ceiling is ideal to make the space appear larger. If you are looking for something more dramatic, then tray or coffered ceilings can add a luxurious touch. Furthermore, consider installing light fixtures or other accents to add texture and depth to your ceiling. Ultimately, it's important to choose a style that will work with your existing décor while still creating an inviting atmosphere in your bedroom.
How can I make my bedroom ceiling interesting?
There are a variety of ways to make your bedroom ceiling interesting. One option is to install pendant lights or other accent lighting fixtures, which will add visual interest and help tie the room's design together. Another idea is to use wall decals or paint techniques like ombre or stripes on the ceiling. If you want something more permanent, consider adding a wooden beam for an earthy touch, or paneling for a modern look. Finally, incorporating textured finishes like beadboard can bring an added dimension to your ceiling for a unique style.
What are some creative ideas for bedroom ceilings?
If you're looking for creative ideas for your bedroom ceiling, there are plenty of options available! Paint is always an easy way to freshen up a space, and there are plenty of cool techniques you can use on the ceiling. For example, you could paint ombre stripes across the ceiling to create an interesting visual effect. You could also try adding wallpaper or decals with bold patterns or colors to draw the eye upward. Or, install a wooden beam along the center of the ceiling for a rustic touch. Finally, if you're feeling daring, consider going all out with a mural depicting your favorite scene or dreamscape!
What type of lighting is best for bedroom ceilings?
When it comes to bedroom ceilings, ambient lighting is always a good choice as it creates a cozy atmosphere in any room. A chandelier or pendant light is ideal for creating an ambient glow, while recessed lighting can be used to highlight certain architectural features on the ceiling. Task lighting is also important for reading and other activities in the room, so consider adding wall sconces or table lamps to provide additional light when needed. Finally, a mix of both natural and artificial light will ensure that your bedroom has a comfortable, inviting atmosphere.
Can I insulate my bedroom ceiling?
Yes, you can insulate your bedroom ceiling! Insulation helps keep temperatures consistent throughout the season and saves energy costs in the long run. There are two main types of insulation: fiberglass batting and spray foam insulation. Fiberglass wool is typically installed between joists or studs by cutting it into strips or pieces and stapling them in place, while spray foam insulation is sprayed directly onto the ceiling and expands to fill gaps. Whichever option you choose, make sure to follow all safety precautions for proper installation.
Can I paint my bedroom ceiling?
Yes, you can definitely paint your bedroom ceiling! Before painting, it's important to prepare the surface by sanding down any bumps or uneven spots and cleaning away any dust or dirt. After that, you'll need to select a paint color and finish (such as flat or eggshell) that will work well with your room's décor. Once everything is ready, use painter's tape around edges and fixtures before applying even coats of paint using a brush or roller. Finally, let the paint dry completely before adding any accents or décor to your ceiling.
What type of materials are best for bedroom ceilings?
When it comes to choosing materials for your bedroom ceiling, there are a variety of options available. Wood is always a classic choice that can be used in many different ways, from paneling to beams and more. Drywall is also an economical option that can easily be painted or wallpapered for a custom look. If you want something more durable and long-lasting, consider decorative tiles in ceramic or metal for an eye-catching effect. Finally, textured finishes like beadboard or tongue-and-groove planks offer both structural integrity and visual interest.
What is the cheapest way to do a ceiling?
The cheapest way to do a ceiling is to use drywall. Drywall can easily be cut to fit any size and shape of the room, making it a cost-effective option for many types of ceilings. While installing drywall may require some additional labor and materials, it's still one of the most budget-friendly options available.
Additionally, you can paint or wallpaper over the drywall for a custom look without having to invest in more expensive materials like wood or tile. ​If you're looking for even more savings, consider using recycled material such as old tiles or boards from another project. You can also purchase pre-cut panels that are easy to install and come in various sizes and shapes depending on your needs.
What is the new trend for ceilings?
The new trend for ceilings is using decorative tiles or panels to create a unique and eye-catching look. Decorative tiles in ceramic, metal or even wood can be used to add texture and pattern to any ceiling. You can also opt for faux tin tiles or embossed wallpapers to get the same effect without having to invest in expensive materials. Additionally, creative installations such as geometric patterns with contrasting colors, 3D elements, suspended lighting fixtures, and even integrated art pieces are all on-trend for modern ceilings. Overall, ceilings have come a long way from plain white drywall – so don't be afraid to experiment with different materials and designs!
What can I use instead of a ceiling?
Instead of a traditional ceiling, you can use drop ceilings or suspended ceilings. These are lightweight panels that hang from the existing joists and can be used to create an interesting look while still allowing access to wiring, pipes, and ductwork. You can also opt for fabric acoustic panels which provide sound insulation as well as visual interest. Additionally, exposed beams or steel trusses are other popular options for adding architectural detail without having to install a full ceiling. Finally, don't forget about wall paneling – these days there are many stylish options available that can give your bedroom an eye-catching makeover! ​
What are the most popular ceiling textures?
The most popular ceiling textures are popcorn, knockdown, orange peel, and smooth. Popcorn ceilings are the most common type of texture and consist of tiny bumps created with spray-on acoustic material. Knockdown is a slightly heavier texture that creates an uneven but mottled look over the surface. Orange peel has a more subtle finish with small dimples scattered across the ceiling, while smooth surfaces offer a sleek look with no texture at all. Each type of texture can also be finished in different sheens or colors for a custom look depending on your preferences.
Useful Video: 5 Affordable Ceiling Decor Ideas – Besides super Easy!
Conclusion
Bedroom ceilings play a vital role in protecting us from the elements and providing a comfortable space for us to rest. While traditionally painted flat white, there are so many creative options available when it comes to ceiling decor. From textured surfaces to eye-catching paint colors and wood beams, you can create an amazing new look in your bedroom with the right ceiling design. Whether you're looking for something modern or classic, bold or subtle, there's sure to be a perfect choice for you. A well-designed ceiling will elevate your bedroom into a tranquil oasis that reflects your style. So don't let boring ceilings keep you down; start exploring all of the possibilities today!
References:
https://www.9wood.com/blog/eight-different-types-of-ceilings/
https://www.homesandgardens.com/interior-design/bedrooms/bedroom-ceiling-ideas