Are you looking for ideas to spruce up your bedroom? Tiles are a great way to upgrade the look of any room. Aside from being aesthetically pleasing, tiles also provide durability and strength, making them both beautiful and practical. This article will share some bedroom tile ideas that can help you create an unforgettable space that is sure to turn heads. We'll also answer some of the most frequently asked questions and give useful tips on selecting the right tile for your bedroom. So, whether you're starting from scratch or just looking to upgrade what you already have, let's get started!
BoCoCa Chevron Wood Effect Tiles
Chevron wood effect tiles can add a modern yet classic touch to any bedroom. These tiles come in a variety of colors, sizes, and styles that are sure to suit your design needs. For a unique look, consider using BoCoCa chevron wood effect tiles. These tiles have a subtle herringbone pattern that adds character to any room. The tiles are available in both a light and dark finish, allowing you to create the perfect look for your bedroom.[2]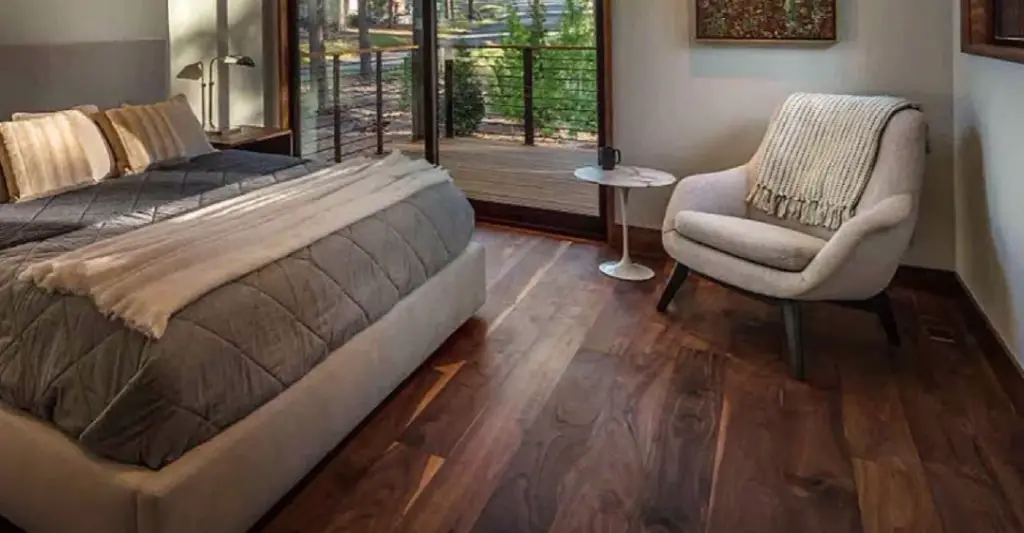 Achilles Seashell Marble Effect Fish Scale Tiles
Achilles seashell marble effect fish scale tiles are a classic choice when it comes to bedroom tiles. These beautiful tiles feature a unique scallop pattern that will bring an air of elegance and sophistication to your space. The marble effect helps create a luxurious feel while the soft off-white color palette creates a natural look. They're highly durable and can easily be cleaned to keep your bedroom looking its best. To get the most out of these tiles, pair them with a complimentary grout color for an even more striking effect. You can also add some texture by incorporating different tile sizes and shapes into your design.[2]
Ivory Mix Mosaic Tiles
Ivory mix mosaic tiles are a wonderful option if you're looking to create an inviting and cozy atmosphere in your bedroom. They come in various sizes, shapes, and textures, allowing you to customize the look of your room. The neutral color palette ensures that these tiles fit with any decor style while still providing plenty of personality.
[2]
Slate Split Face Tiles
If you're looking to add a rustic, earthy feel to your bedroom, split face slate tiles are perfect for the modern farmhouse look you'll love. Split-face tiles feature chiseled edges with uneven surfaces that make them stand out from other types of tile and give off an organic vibe. To complete the look, choose natural stone accessories such as river rocks and driftwood to go with the tiles. These tiles are also ideal for use in wet areas like bathrooms, providing a stylish yet practical solution.[2]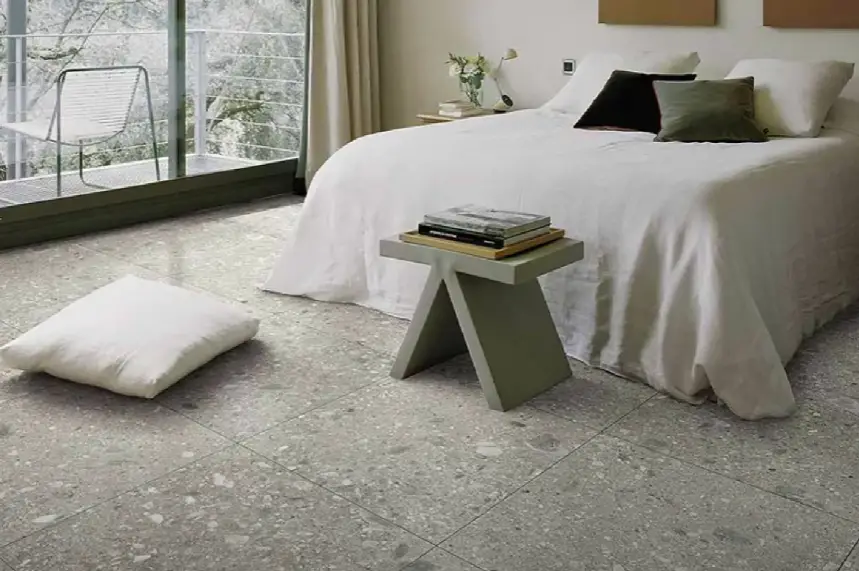 Wood-Look Porcelain Planks
Wood-look porcelain planks create a stunning, wood-inspired look for your bedroom floor. Not only are they stylish and timeless, but their durability stands the test of time. Wood-look porcelain planks require minimal maintenance as they resist scratches and water damage. They're also ideal if you have pets that might scratch and claw at a traditional wood floor. These planks come in a variety of colors, allowing you to choose the perfect shade that suits your bedroom's decor.[2]
Cool Caramel Porcelain
Caramel porcelain tiles are a great choice for bedrooms.
When choosing the caramel color, it's important to remember that darker shades will absorb more light while lighter shades will reflect it more. This can make a huge difference in how the room feels and looks.
Caramel porcelain tiles come in a variety of styles including smooth, textured, and patterned. Depending on your budget and style preference, you can choose from a wide range of options to create the look you want. Installing them is easy as well; they're very durable and will stand up to everyday wear and tear.[2]
Rectangular Tile in Running-Bond Pattern
A classic running-bond pattern, like the one pictured here, helps to visually expand a bedroom space. Composed of rectangular tiles that are laid out in a staggered brick style, this look is timeless yet modern. It's also versatile enough to work with any type of tile material – from porcelain and ceramic to natural stone and glass tiles.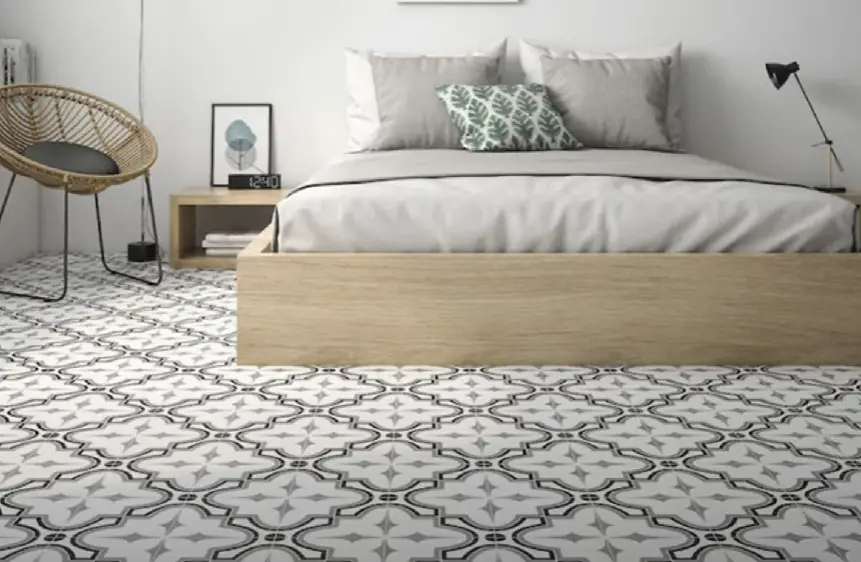 This pattern is easy to install on your own, but it's important to follow the instructions closely so that you end up with a smooth, even surface. Keep in mind that rectangular tiles require more grout lines, so be sure to purchase extra grout just in case.[2]
Marble Look-Alike
If you love the look of marble but don't have the budget for it, then consider using a marble look-alike tile. Porcelain tiles that replicate the look of natural stone are becoming increasingly popular and come in a wide range of sizes, colors, and textures. Not only can these tiles give your bedroom an updated, sophisticated look but they are also easier to maintain and clean than marble. For a truly unique touch, try combining different sizes of tiles together in the same space or even mixing and matching colors and textures![2]
Wood-Look Porcelain
Wood-look porcelain tiles are the perfect way to add a natural element to your bedroom. Porcelain tile is moisture resistant, so it won't be affected by humidity or water spills. Plus, porcelain tiles come in a wide variety of sizes and colors, so you can find the perfect tile to fit your bedroom's decor.
Installing wood-look porcelain tiles is easy and cost-effective because they don't require any special installation techniques or materials. Whether you choose square, plank, or herringbone patterned tiles, you can have the perfect flooring for your bedroom without breaking the bank.[2]
Rustic Terra Cotta
If you're looking to add a bit of rustic charm to your bedroom, terra cotta is the perfect choice. This natural material gives off an earthy vibe and can easily complement any wood furniture or decor pieces you might already have in the room. Terra cotta can be installed as floor tiles or wall tiles, whichever suits your style and needs.
For floor tiles, you'll want to stick to a thicker material that can withstand heavy foot traffic, such as 12×12" or 18×18" terracotta tiles. If you decide to use it on the wall, 4×4" terra cotta mosaic tiles make a great backdrop for your bed.
When it comes to maintenance, terra cotta must be sealed regularly and thoroughly cleaned every 3-6 months with a mild detergent. If you're looking for extra durability, there are ceramic tile options available that mimic the look of terra cotta but come with more longevity.[2]
Ceramic vs. Porcelain vs. Stone Tiles
When it comes to choosing the perfect tiles for your bedroom, you have a few main options: ceramic, porcelain and stone. Each type of tile offers its own unique benefits and drawbacks, so it's important to understand what they each bring to the table before making a decision.
Ceramic tiles are some of the most popular options for bedroom tile. They are affordable, easy to install and come in a variety of colors and styles. Ceramic tiles also absorb less moisture than other materials, so they're perfect for humid environments like bathrooms or kitchens where moisture can be an issue. However, they may not be as durable as other tile materials.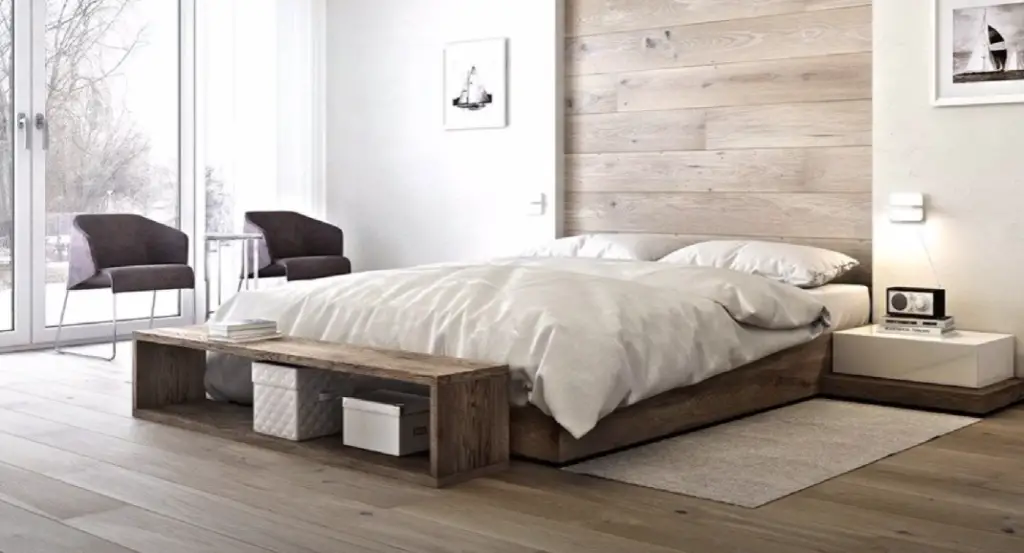 Porcelain tiles are a great option if you're looking for something a bit more durable than ceramic. Porcelain is typically denser and harder than other types of tile, so it's less likely to chip or crack with regular use. It also offers better water resistance, making it ideal for wet areas in your home. The downside to porcelain is that it can be more expensive than ceramic or stone options.
Finally, stone tiles are a great choice for bedrooms due to their natural beauty and timeless look. Stone tiles come in a variety of materials including marble, travertine, slate and granite. While they may cost more than other types of tile, they are extremely durable and long-lasting. Stone tiles can also help regulate temperatures in your bedroom due to their thermal properties.[2]
How To Select The Right Bedroom Tiles
Match Your Aesthetics
When choosing bedroom tiles, you want to make sure they fit in with your overall aesthetic. Neutral colors like beige and gray are popular choices as they create a calming atmosphere that helps promote relaxation. You can also opt for bolder shades of blue, green, or red to create an energizing space. If you're looking to create a rustic feel, consider wood-look tiles or stone tiles.[1]
Pick A Theme That Helps You Unwind
If you're looking for a tile design that really helps promote relaxation, consider choosing a theme. Selecting a tile with an underwater scene or foliage can help create a peaceful atmosphere. You can also opt to have your tiles form a mural – just make sure the colors and images coordinate with your other bedroom decor. If you want something more simple, consider solid-colored tiles in a calming blue or green.[1]
Think About Maintenance
When selecting bedroom tiles, it's important to think about maintenance. Some materials are easier to clean and maintain than others.
[1]
Consider Your Lifestyle
When selecting bedroom tiles, it's important to think about your lifestyle. If you have pets or children, you may want to opt for something that is easy to clean and won't be damaged easily. Consider materials like ceramic or porcelain which are both water-resistant and durable. You should also consider whether the material will be comfortable to walk on – stone tile can be cold and unforgiving, while softer materials, like carpet or cork, are warmer and more inviting.[1]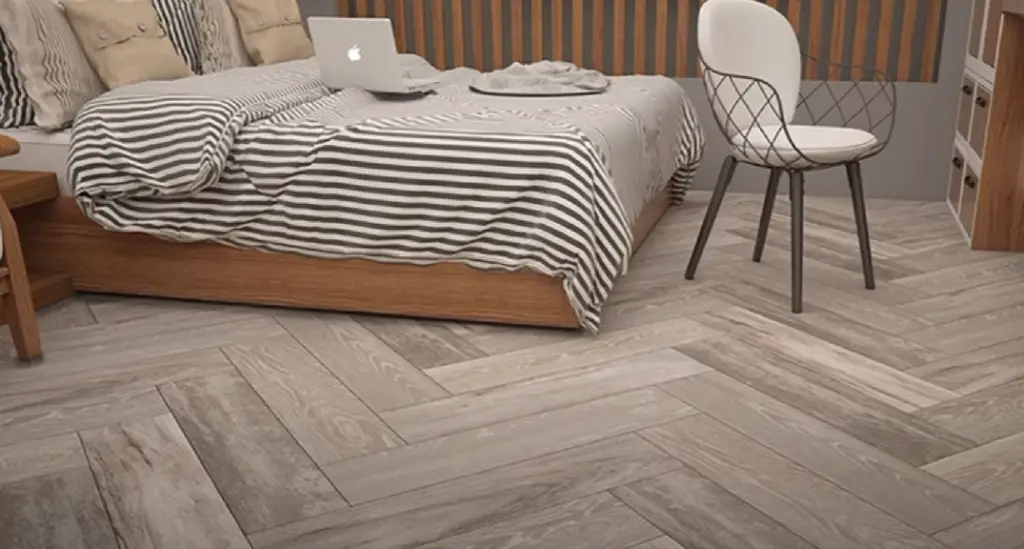 Benefits of having tiles in the Bedroom
For many homeowners, the thought of having tiles in their bedroom can seem a bit strange. But before you completely dismiss the idea, it's important to weigh up the benefits that they can bring.
One of the main advantages of having tiles in your bedroom is that they are incredibly easy to clean and maintain. Tiles don't require any special treatments or difficult cleaning methods; a simple wipe down is usually enough to keep them in top-notch condition.
Tiles are also incredibly durable and can stand up to heavy foot traffic without suffering from wear and tear. This makes them ideal for busy households with multiple family members, as you won't need to worry about damage from items being dropped or knocked over.
In addition, tiles can be a great way to add texture and visual interest to your bedroom. You can find a wide range of styles and colors that will fit perfectly into any design scheme, allowing you to create a unique look for your space.[2]
FAQ
Which Color tiles are best for the bedroom?
When it comes to bedrooms, there are a few key colors that work best for tile. Neutral tones such as whites, creams, and tans are all classic choices that can be used in many different ways. If you want something with more of a pop, darker shades of gray and brown also make great options. Blues and greens can create a relaxing atmosphere, while brighter colors like yellows and oranges can give your bedroom an energetic feel. Consider the overall look you want to create before selecting your tile color.
Is it good to put tiles in the bedroom?
Adding tile to the bedroom can be a great way to create an attractive and functional space. Tiles offer a variety of benefits, including durability, water resistance, and easy cleaning. They also come in a range of styles that can help you achieve any look you want. If you're considering adding tile to your bedroom floor or walls, make sure to select a material that suits your lifestyle and budget.
Are ceramic tiles good for the bedroom?
Ceramic tiles are a popular choice for bedroom flooring because they offer both beauty and durability. Ceramic tiles come in a variety of colors, patterns, and textures, so you can find the perfect look to match your bedroom decor. They're also water-resistant, easy to clean, and relatively inexpensive compared to other materials. Just make sure to choose a glaze that is rated for the type of traffic your bedroom experiences.
What tiles make a bedroom look bigger?
If you want to make your bedroom appear larger, lighter colors can be a great way to achieve the look. Light neutrals such as whites and creams will help create the illusion of more space, while darker tiles in gray and brown tones can offer a cozy feel. You can also use tiles with reflective surfaces to bounce light around the room, making it appear larger and brighter.
Are tiles too cold for the bedroom?
Tiles can sometimes feel cold underfoot, but there are a few steps you can take to make them more comfortable. A rug or carpet is an easy way to add warmth and texture to the bedroom floor. You can also opt for materials such as natural stone or porcelain tiles that naturally retain heat. If you're still worried about cold floors, electric floor heating can be installed to provide even more warmth.
Do tiles crack in winter?
Most tiles are not at risk of cracking in cold temperatures, as long as they have been properly installed and maintained. The most important thing is to make sure that your subfloor is level and free of any debris or imperfections. Additionally, avoid exposing the tiles to large temperature changes—such as moving them from a warm room to an unheated one—as this can cause them to crack. Finally, inspect your tiles periodically for signs of wear and tear and repair any minor damage as quickly as possible.
Which flooring is warmest?
When it comes to warmth, carpets and rugs are the best options for adding softness and comfort to your bedroom floor. Natural materials such as wool, sisal, and jute can hold in heat while creating a cozy atmosphere. For an even more luxurious feel, consider investing in electric floor heating—it can provide efficient warmth throughout the entire room. With a little bit of research, you can find the perfect flooring to keep your bedroom warm and inviting all year round.
Can tiles be used in bedroom walls?
Yes, tiles can be used to create a stylish and long-lasting wall finish in the bedroom. Depending on your style preference, you can choose from traditional ceramic tiles or more modern materials such as glass and metal. Tiles come in a variety of colors, shapes, sizes, and patterns—so you're sure to find the perfect look for your bedroom. Just make sure to use the right adhesive for your material so that it adheres properly and lasts for years to come.
Useful Video: Bedroom Floor Tiles Design | Blowing Ideas
Conclusion
Wood and stone looks great, but ceramic and porcelain are often the most practical options for bedroom tile ideas. Ceramic and porcelain tiles come in a range of styles and colors, so you can find something to suit your personality and décor. Plus, they're durable and easy to clean. If you want to add a bit of flair to your bedroom floor, consider using mosaic tiles or carpet tile for a unique look.
No matter which type of tile you choose, remember to spend some time researching the best installation methods and materials to ensure your new flooring looks amazing and lasts for years to come. Good luck with your project!
References:
https://www.thespruce.com/ceramic-tile-as-bedroom-flooring-1821266
https://www.nitco.in/bedroom-tiles