Are you looking for some ideas on how to decorate your bedroom with Emerald Green and Gold? If so, you have come to the right place. In this article, we will discuss some of the best ways to combine these two colors in a creative way. We will also answer some frequently asked questions about using these colors in a bedroom and provide some useful tips to help you create a beautiful room.
Emerald paired with gold and gray
One of the best ways to use Emerald Green and Gold in a bedroom is pairing them with other colors such as gray. This creates an elegant, sophisticated look that will be sure to impress your guests. Start by painting your walls a light shade of gray and then hang gold curtains or drapes. Add some decorative accents in emerald green, such as throw pillows or an area rug, and complete the look with some gold-accented furniture. This combination will give your bedroom a classic, timeless feel that will never go out of style. [1]
Calming green pastels shades
When it comes to creating a beautiful emerald green and gold bedroom design, you can't go wrong with pastel shades. From soft seafoam greens to muted minty tones, these colors create an atmosphere of relaxation and tranquility in any space. Pairing these calming colors with the luxury of gold is both visually striking and calming. Gold accents can be used for furniture, decor, and light fixtures to add a touch of richness to the room. To ensure that these colors don't feel too bold, stick with lighter shades for the walls and curtains; this will make the space appear much larger and more inviting. You can also use wood furnishings in natural shades to create a sense of balance and bring the outdoors inside. [1]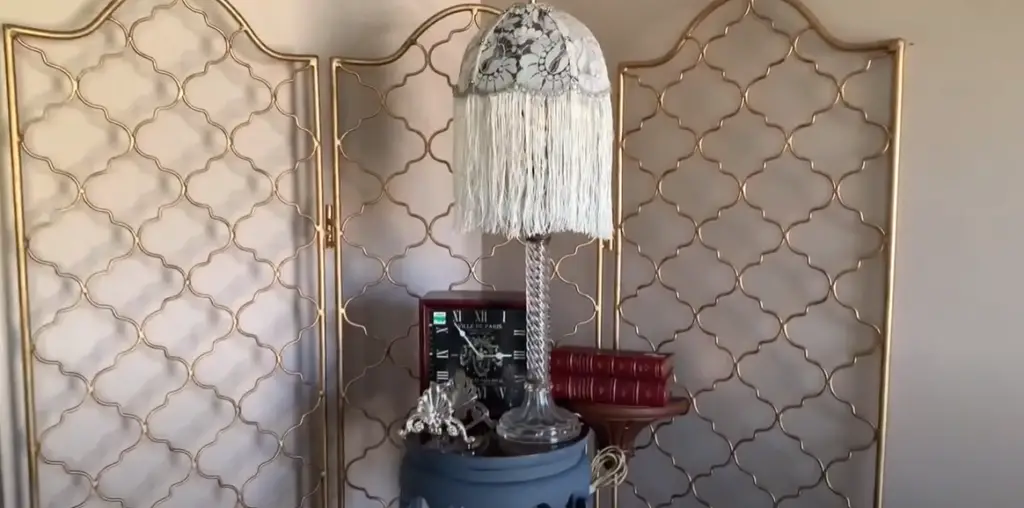 Green paired with vibrant colors
When it comes to Emerald Green and Gold Bedroom Ideas, you can't go wrong when you pair green with brighter colors such as vibrant yellow and gold. A great way to do this is to use a bright and vivid golden bedspread that stands out against the emerald green walls. For accents and accessories, try adding some bold items like geometric throw pillows, shimmering gold curtains, and a vintage-style lamp. These accents will add depth and character to your bedroom space and provide an inviting atmosphere for you to relax in.
When it comes to furniture pieces, try using pieces that have curves or geometric shapes. This will echo the bright colors of your walls and create an overall balanced look. For a luxury feel, you can also add some luxurious pieces of furniture, such as velvet or leather chairs and ottomans. [1]
Festive green with decorative patterns
If you are looking to create a festive ambiance in your bedroom, then why not try incorporating emerald green into the overall design? You can choose from either a single wall or the whole room in this vibrant color. To add more interest, consider using decorative patterns such as stripes or chevrons. If you're feeling really adventurous, why not try a wallpaper mural with an emerald green background? Add accents of gold in the form of light fixtures or furniture to complete the look. [1]
Cool green offset with yellow
Emerald green and gold bedroom ideas are a great way to bring color and dynamism into your home. The combination of these two colors is classic, yet modern, and can easily be combined into a variety of different styles.
For a modern or contemporary style, use brighter shades of both colors that work together in harmony. Soft, warm yellow walls can be complemented with deep emerald green furniture, or light green and gold curtains. Use geometric shapes in the accessories and paints to create a more abstract look that is both stylish and inviting. [1]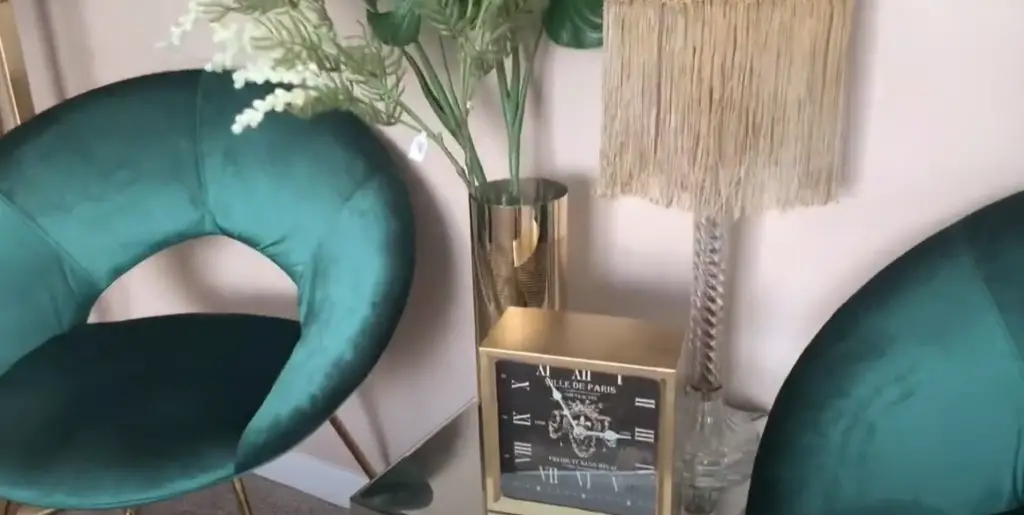 Emerald green meets contemporary
A modern bedroom design can be enhanced by the combination of emerald green and contemporary gold. To achieve this look, choose wall colors in deep shades of green with contrasting tones of gold for accents like furniture, window treatments and decor accessories. For a luxurious feel, introduce metallic accents such as gold lamps or sconces and fixtures made from brass or copper. The texture of the fabrics and furnishings should be soft and plush to give off a sophisticated vibe. Add some sparkle with gold mirrors, frames, or chandeliers for a glamorous touch. [2]
Calming child's bedroom
For a relaxing and calming atmosphere, it's important that children have their own space to retreat to. Emerald green walls paired with gold accents will create the perfect environment for your child to relax. Paint the walls in an emerald green color and add gold floor lamps or hanging lights for an inviting glow. You can also use both colors on the bedding, curtains, and other soft furnishings. To bring a sense of calmness to the room, choose blues and lavenders as accents for pillows and blankets. [2]
Bring it up a tone
Adding a little bit of glamor and luxury to your bedroom has never been easier. By fusing emerald green and gold together in a bedroom, you can create an atmosphere that's warm, inviting and full of charm.
Whether you're looking for something fresh that still feels classic or something modern and eye-catching, there is no shortage of ways to make the most out of emerald green and gold bedroom ideas. Here are some tips to help bring your vision alive. [2]
Emerald green is the distortion of the facts
Emerald green is the distortion of the actual color of lush green plants, and gold is the luxurious hue that brings glamor to a room. Together these two colors create an eye-catching combination that will make your bedroom an unforgettable space.
If you're wondering how to incorporate emerald green and gold into your bedroom design, we've got plenty of ideas for you! Whether you want to keep the colors subtle or make them bold and vibrant, there are plenty of ways to express your style. [2]
Emerald green with an industrial vibe
If you're looking for a unique spin on an emerald green and gold bedroom, why not try adding an industrial vibe? This combination blends the warm hues of gold with the cool tones of emerald to create a modern and sophisticated look. Start by focusing on furniture with clean lines, such as metal bed frames or geometric accent tables. Combine these pieces with emerald green walls and gold accents, like a metallic clock or wall sconce. To complete the look, opt for textured bedding in shades of green and gold, like velvet or linen. This industrial-inspired atmosphere will make any bedroom an inviting and stylish space. [2]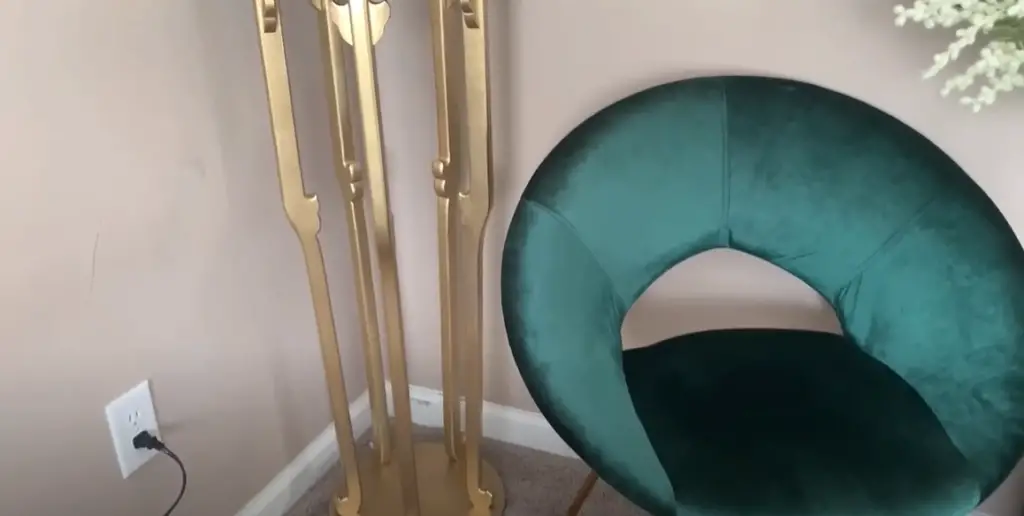 Taking the path of least resistance
When it comes to decorating a room, many people fail to take into account the amount of work that can be required. Fortunately, when it comes to Emerald Green and Gold Bedroom Ideas, you don't need to get too hung up on perfection. It's all about embracing the beauty of these two colors and having fun while doing it.
To help you get started, here are some simple tips to make the process easier:
Start by choosing a few large items that will be the main feature in the room. These could include things like wall art, rugs or furniture pieces. Once these are chosen, use them to select smaller accessories that fit the theme.
If your budget allows, splurge on some new bedding. Bedding is one of the most important aspects of any bedroom and it's a great way to add a touch of luxury in emerald green and gold. Just make sure you choose pieces that are machine washable – this will make it easier to keep the room looking its best.
Don't forget to add some greenery. Plants are not only aesthetically pleasing but they also help to improve air quality. Choose a few small plants that can be placed on shelves or desks for an extra pop of color and texture. [2]
It works in small bedrooms too?
Yes! Even if your bedroom is on the smaller side, you can still create a stunning emerald green and gold bedroom. With careful planning and clever design tricks, it's possible to make the most of your space while creating a beautiful emerald space. To do this, try using lighter shades of both colors to open up the room visually while still retaining the luxurious emerald and gold feel. Also, adding mirrors to your walls will help brighten the room and give it an airier feel. Finally, consider investing in beautiful furniture pieces that are both functional and stylish to maximize your space. [2]
Be creative and experiment with color
When it comes to designing your perfect emerald green and gold bedroom, don't be afraid to get creative and experiment with different color combinations. For instance, if you love the idea of a bright and cheerful room, you can combine emerald green with white or yellow accents. If a more sophisticated look is what you're after, try pairing emerald green with navy blue or black accents. You can also mix and match different shades of green to add depth and dimension to the room.
No matter what color combination you choose, be sure to use a variety of textures for added visual interest. [2]
Emerald green wallpaper.
For those looking to create a lavish and unique space in their bedroom, emerald green wallpaper is a great option. Not only does it add an opulent touch of color, but it also provides a luxurious backdrop for the rest of your gold furnishings and accents. When choosing wallpaper, make sure you opt for one that has a subtle sheen to it, as this will add extra depth and interest. If you want to keep the color muted but still vibrant, opt for a wallpaper with hints of beige and cream. This will help create contrast against the bright emerald hue which is sure to make your space look stunning! [2]

Emerald green accents for that rich accent.
Adding emerald green accents to your bedroom décor is a great way to introduce a sense of luxury and elegance. Emerald green pairs perfectly with gold, so you can use this as an opportunity to bring both colors into the same space. You can choose from various options when it comes to coordinating your emerald green accent pieces, such as curtains, bedding, rugs, and furniture. To really emphasize the emerald green and gold hues, try adding a few pieces with both colors in them like accent pillows or throws. [2]
Emerald mustard and white combo!
If you're looking for a more subtle way to incorporate emerald green into your bedroom decor, consider pairing it with mustard and white. This color combination is ideal if you don't want to overpower the room with too much of one color. Use a mustard-colored wall or area rug as the main focal point, then add in emerald green and white to create a cohesive and inviting look. You can use emerald throw pillows, curtains, or even an ottoman for an extra pop of color. To finish off the room, add in some gold accents like framed art prints or a few pieces of jewelry. With this combination, you'll have an elegant yet cozy space that you'll never want to leave! Go bold with black and emerald
If your style is a bit more daring, consider going bold with a black and emerald green bedroom. Black walls make for a dramatic backdrop that will help bring out the vibrant hue of the emerald green. For furniture, stick to metallic pieces like gold or silver. Add in emerald green accents like curtains and throw pillows to give the room a glamorous touch. Finally, top off the look with some gold-toned lamps or sconces to create an air of sophistication. [2]
Yes, it's on the spectrum.
If you're looking for an exciting and bold color palette for your bedroom, consider emerald green and gold. This combination of colors can create a stunning effect that is both modern and elegant. It's also a great way to make an impressive statement in any room.
You can easily find furniture pieces and accessories in these two colors, allowing you to create an eye-catching space that looks and feels luxurious. The best part is that you don't need to stick to traditional emerald green and gold color schemes; there are plenty of ways to mix and match different shades for a unique look. [2]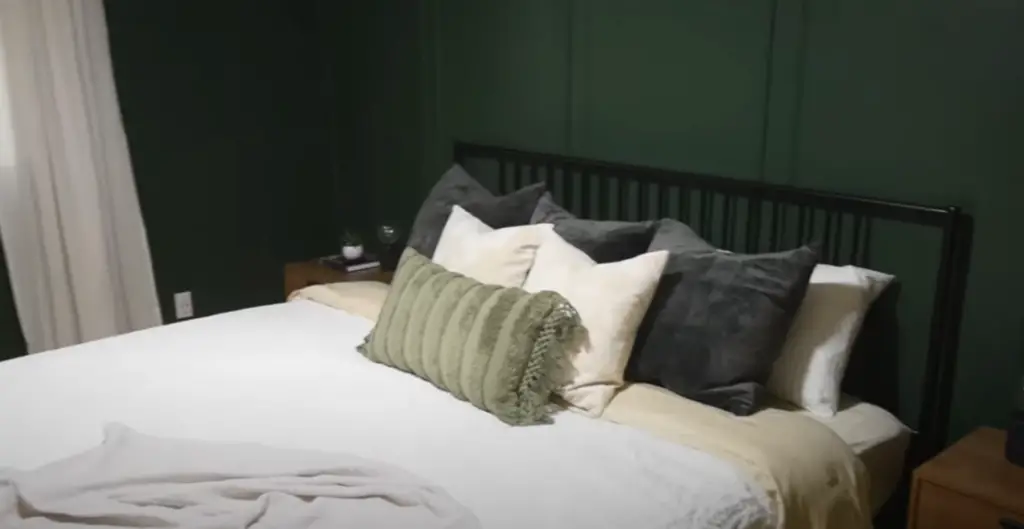 Why do we love green and gold bedrooms?
The combination of green and gold in a bedroom creates an atmosphere that exudes elegance, sophistication, opulence, and serenity. Green is associated with nature and growth while gold is associated with luxury and wealth. Together they create a room that looks both luxurious and peaceful.
Also, the two colors together create enough contrast to make the room stand out. With all of the neutral colors that dominate modern homes, adding a hint of color with emerald green and gold can be just what your bedroom needs to become truly one-of-a-kind. [1]
FAQ
What goes with an emerald-green bedroom?
When it comes to decorating with emerald green, there are plenty of options. You can pair the color with a variety of accent colors such as cream, beige, navy blue, and even gold. Depending on your style preference, you can also opt for deeper jewel-tones like indigo or royal purple in order to create a more glamorous look. As far as furniture, choosing white or natural wood pieces can help to create a balanced look.
What furniture goes with emerald green?
When it comes to furniture, white and natural wood pieces are a great choice. The crispness of these neutral hues helps to keep the emerald green color from feeling too heavy. If you want to add some texture, choose fabrics with subtle patterns such as toile or gingham in complementary colors. As far as accessories go, metallic accents can help to brighten up the room. Opt for gold or brass items such as picture frames, vases, and lamps.
What bedroom colors go with green?
Green pairs well with other colors such as cream, beige, navy blue, and even gold for a warm and inviting look. If you want to create a more glamorous look, you can opt for deeper jewel-tones like indigo or royal purple. Soft pastels like pink, lavender, and mint green can also be used to create a relaxing atmosphere.
What are the three best colors that go together?
The three best colors that go together are blue, yellow, and gray. This combination creates a harmonious look without being overly bold or bright. Blue is calming and soothing while yellow brings an uplifting energy to the room. Gray adds balance and depth, making it a perfect accent hue. Together they create a modern yet timeless palette that works well for a variety of interior design styles.
What color compliments green the most?
The color that compliments green the most is yellow. Yellow and green have a complementary relationship, meaning they are opposite each other on the color wheel. This creates an eye-catching contrast and brings energy to any space. You can also pair it with shades of blue for a more serene look, or opt for creamy neutrals to keep the room feeling fresh and airy.
What colors do not complement green?
Colors that do not complement green are red, orange, and purple. These hues have a clashing relationship on the color wheel which means they can create too much of an overwhelming contrast when used together. If you want to use these colors in your space, make sure to add more neutral tones like white or beige to help balance out the palette.
What color goes against green?
The color that goes against green is red. Red and green are opposite each other on the color wheel, which means they create a bold contrast when used together. If you want to use this color combination, be sure to balance it out with more neutral shades like white or beige. This will help to soften the look and keep the space from feeling too overwhelming.
Useful Video: Thrift Shopping For My Emerald Green and Gold Bedroom
Conclusion
In conclusion, Emerald Green and Gold Bedroom Ideas offer a unique way to create a stylish and inviting atmosphere in any bedroom. Not only are they aesthetically pleasing, but the combination of emerald green and gold also has many positive associations with luxury and prosperity. To make the most out of your bedroom decorating ideas, consider bolder patterns and brighter accents. Don't be afraid to mix textures and materials, as this will add even more visual interest to your space. With some clever styling and planning, you can create a beautiful emerald green and gold bedroom that perfectly reflects your individual personality and style. So go ahead – give it a try!
We hope this article on Emerald Green and Gold Bedroom Ideas has been helpful! If you have any more questions or would like to share your ideas, just leave a comment below – we'd love to hear from you! Thank you for reading and happy decorating!
References:
https://www.obc-uk.net/blog/green-gold-bedroom-ideas
https://www.vsmattress.com/blog/emerald-green-bedroom-ideas