Are you in search of green bedroom ideas that can help you create a clean and earth-friendly environment? Well, look no further! This article will provide answers to frequently asked questions about green bedrooms, as well as some useful tips on how to get started.
Let These Green Bedroom Ideas Inspire A Calming Makeover
When it comes to creating a green bedroom, you'll want to consider how the materials in your room interact with the environment. Think about eco-friendly furniture and linens, energy-efficient lighting, sustainable flooring materials, and even low-VOC (Volatile Organic Compounds) paint for walls. Of course, there are many other green bedroom ideas you can use to create an eco-friendly atmosphere in your home.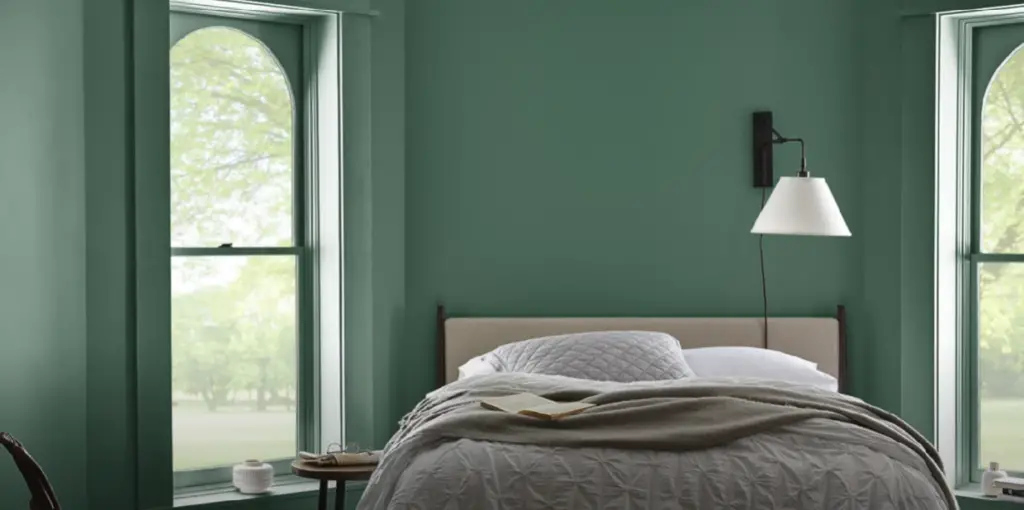 In addition to environmental considerations, you'll want to keep comfort and style in mind when designing your green bedroom.
And when you're ready to give your room an aesthetic boost, try adding a few houseplants for natural decoration.[1]
Pick A Sage Green For A Light And Airy Green Bedroom
If you are looking for a light and airy green bedroom, then sage green is the way to go. This muted hue brings an understated elegance to your space that will have everyone feeling relaxed and at ease. If you're worried about it blending in too much with your walls, just add a few accent pieces or paint one wall a slightly darker shade of green.
To finish off your sage green bedroom, choose bed linens in matching hues or add some jewel tones like deep purple and blue to give the space more depth. Don't forget to include some plants as they are an essential part of any green bedroom theme. Whether you opt for big leafy plants or some succulents, just make sure to keep them watered and happy![1]
Go For A Deep Teal Paired With Blush Pink
This is a beautiful and subtle color combination that can add just enough of an eco-friendly touch to your bedroom. Teal has always been associated with nature, and using it as the main wall color of your bedroom will help bring in a calming, natural vibes. Pairing this lively blue-green hue with a blush pink helps create an elegant, sophisticated atmosphere that still exudes a peaceful vibe. With this color combo, you can use wood elements in the furniture and add some white accents to keep things balanced and minimalistic.[1]
Go Maximalist With A Multi Print Design
If you're looking to make a statement with your green bedroom, why not go all out and opt for an eye-catching multi print design? This look is fun and vibrant, perfect if you want to make sure your room stands out. Plus, it's super easy to put together – just choose some prints that complement each other in color and pattern, then work out how to layer them in the space. Make sure you add texture with some large plants and comfy cushions for a truly inviting feel.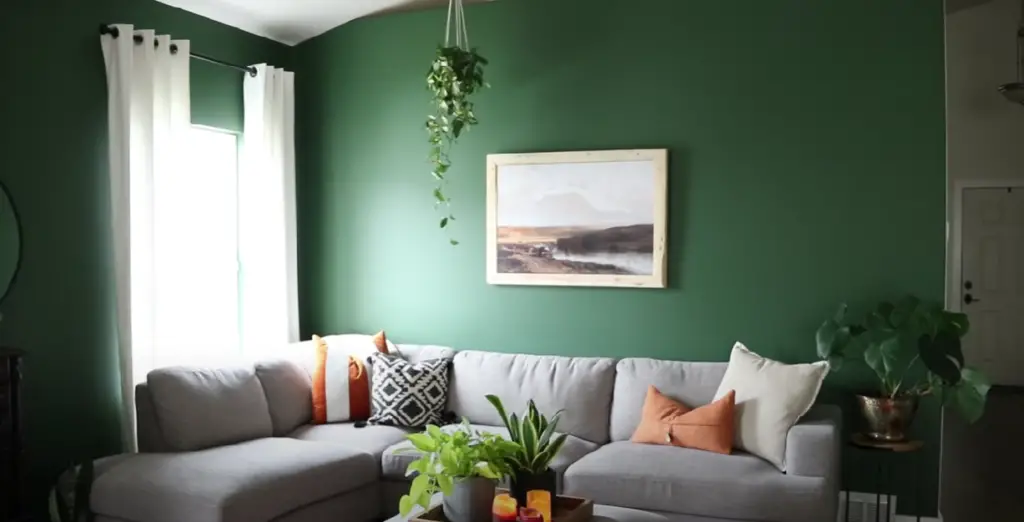 To make this look last through the seasons, go for neutral colors like olive green, beige or brown as your base tones, and add pops of bolder shades like apple green or emerald. If you're after a contemporary feel, try opting for geometric or abstract shapes to give the room a modern edge.
Add A Touch Of Color With A Barely There Green
If you're looking for a subtle way to introduce some green into your bedroom, paint the walls or furniture in shades of soft, barely-there greens and add contrasting pops of color with furnishings in bolder hues. For instance, you could use light sage green walls and pair it with deep emerald curtains and bedding. Or opt for a shabby chic look with pale green walls and white furniture highlighted with eye-catching pieces in emerald.[1]
Create A Stylish Green Bedroom With Olive Walls
If you want to create a stylish green bedroom, consider using an olive wall paint color. The warm earthy hue instantly creates a peaceful atmosphere and complements other shades of green perfectly. To make your room look extra luxurious, use a semi-gloss or high-gloss finish on the walls and accessorize with furniture pieces and décor in a complementary shade of green, such as sage or hunter. For an even more striking look, contrast the walls with white linens and accents.
Olive walls provide endless possibilities for creating a sophisticated green bedroom. You can choose to keep it light by mixing whites and off-whites with the olive color, or you can create an inviting and cozy space with the addition of natural woods, jute rugs, and linen throws. Add splashes of color by having potted plants or wall art in different shades of green to bring a touch of vibrancy to your bedroom.[2]
Pair Paneling With A Dramatic Gray Green Paint
When you think of green bedroom ideas, your first thought may be to paint the whole room a light shade of mint. But why not mix things up? If you want a dramatic look, then opt for pairing wood paneling with a deep gray-green paint on the walls. This will create an interesting contrast that can help create visual interest in the bedroom. To make the look even more interesting, add art pieces or colorful accents that will pop against both colors. Or, choose furniture pieces that are either painted a similar green hue or have an interesting wood grain to further complement your color palette. The possibilities are endless! Whatever you decide, pairing paneling with this sophisticated paint color is sure to give your bedroom a unique and stylish look.[2]
Choose A Vibrant Teal
Teal is a great color to create a calming effect in your bedroom. This warm, deep blue-green hue has been known to promote feelings of relaxation and tranquility. When combined with white or lighter shades of green, it can give the room an airy feeling that will help you relax after a long day. To add visual interest to your bedroom, use teal as an accent color. You can bring it in through pillows, throws, or even artwork. For a more dramatic look, try painting the walls with a vibrant shade of teal for an instant transformation![2]
Or Go Slightly Darker In A Green Bedroom
Darker shades of green can create a more intimate atmosphere in a bedroom. The trick is to avoid going too dark, which can be oppressive and make the room feel smaller.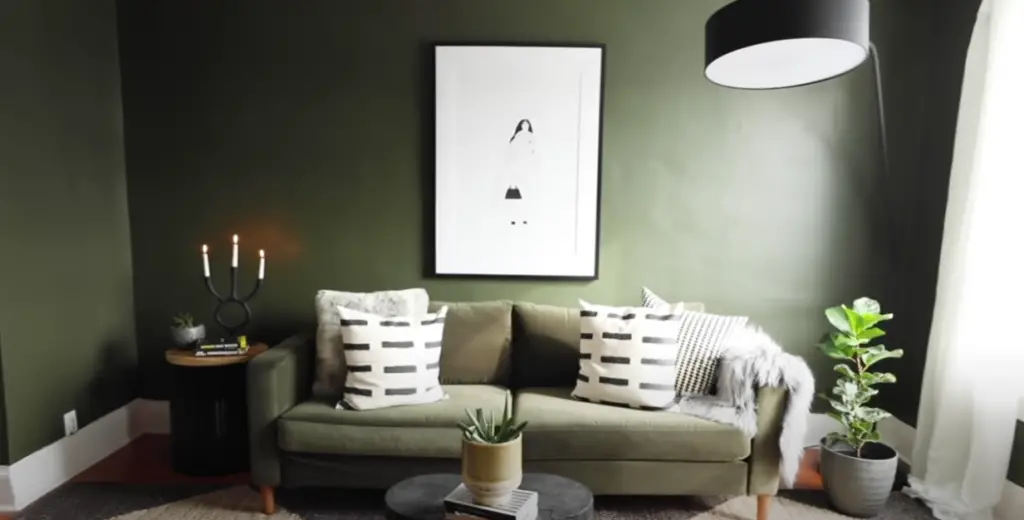 Choose an olive or moss green paint color for your walls and pair with lighter neutrals like white, beige, and gray on furniture pieces and bedding. Oranges, yellows, and blues are great accent colors that will pop against darker green walls.
A few pieces of natural wood—such as an end table or bureau—can also warm up a green bedroom and help to break up the color.[2]
Create A Green Bedroom Quickly With Wallpaper
Wallpaper can be a quick and easy way to give your bedroom an entirely new look in no time. Wallpapers come in all sorts of different styles, colors, and designs; you're sure to find something that matches your green bedroom ideas. Choose a wallpaper with a nature or eco-friendly theme to bring the outdoors into your space. If you want to be more daring, try a bold print or pattern that will really make a statement in your room.
You can also use wallpaper as an accent wall to break up the monotony of your green bedroom ideas. Choose something with fun colors and designs to draw attention to the wall and create a focal point for the room. If you're feeling adventurous, try a wall mural to bring an extra element of nature indoors![2]
Make Your Space A Restful Retreat With Pastels
Using pastels to decorate your bedroom is a great way to create a tranquil and restful atmosphere. Choose shades that are light enough not to be too overwhelming, but still impactful for an inviting look. You can add subtle hints of color with blush tones on the walls and mix in lighter shades like pale blue or mint green for accents. If you want to make a bigger statement, opt for bolder colors like coral or peach. Finish off the look with fresh plants and a cozy throw blanket for maximum relaxation.[1]
Add Greenery To A Neutral Bedroom With Houseplants
Not only are they aesthetically pleasing, but houseplants also help improve air quality. Plants like spider plants, snake plants, and aloe vera will do wonders for your bedroom's atmosphere while adding texture and visual interest. Place a few plants around the room, or combine a few of the same type in one pot to create a full and lush display. If you're feeling adventurous, try adding an indoor garden wall to your bedroom for an even bigger impact. The possibilities are endless![1]
Create A Cocooning Atmosphere With Khaki
Bring the outdoors indoors with a muted khaki-green and brown color palette. This soothing combination will create a calming cocooning atmosphere for your bedroom, ideal for getting much needed restful sleep.
Start by painting your walls in shades of khaki and beige, then add earthy browns to your furnishings. Orate with colorful textiles, such as a patterned quilt or throw pillows that feature subtle green and brown designs.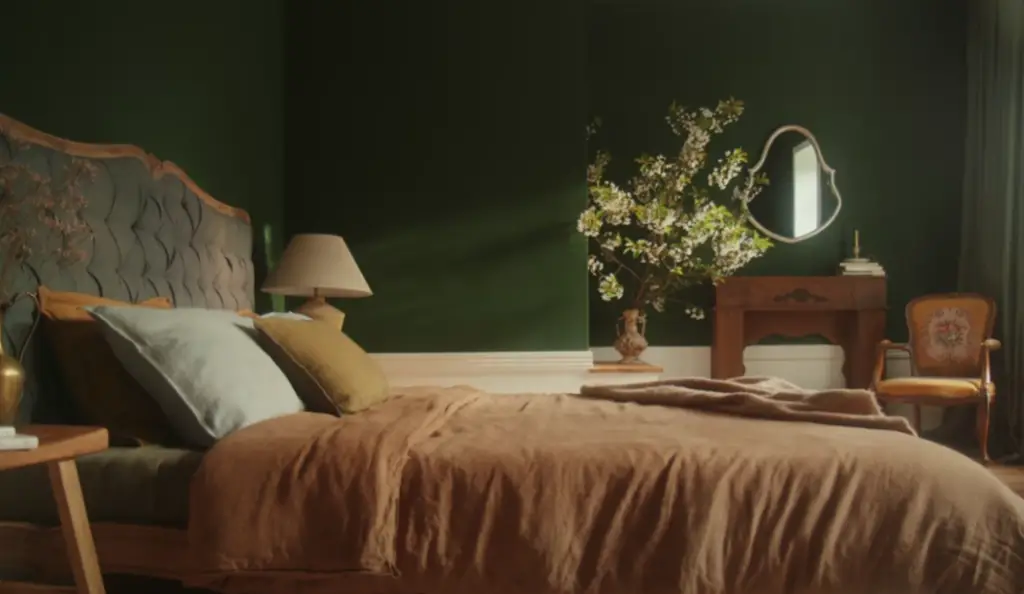 If you want to make the colors stand out even more, you can add some white furniture pieces. White will create a contrast with the khaki-green walls and will also help keep your bedroom looking bright and airy.
Finally, add a few green plants in the bedroom – such as potted plants or a terrarium – to give your bedroom a natural touch.[1]
Muddy Green Teamed With White
For a classic and timeless look, try combining muted shades of green with crisp white. White walls can make any room feel larger and more spacious, so this is a great choice if you want to give the illusion of more space in your bedroom. Try painting one wall a deep shade of green, then opt for light furniture and bedding in white to keep the look neutral. If you want, you can add in a few pops of color with a bright accent cushion or throw for an extra touch of personality.[2]
Use Wallpaper As Artwork
Wallpaper is another great way to add a splash of green to your bedroom. Whether you choose a subtle, nature-inspired print or a bright and bold statement piece, wallpaper adds instant texture and can be used as artwork in its own right. For an extra touch of sustainability, opt for recyclable material such as paper or cork.[2]
Two Tone For Extra Design Points
If you're looking for a way to add visual interest and texture to a bedroom, consider using two different paint colors to create a two tone effect. Choose shades of the same color family – like green – and use one shade as the main wall color and the other as an accent. The combination will bring warmth and depth to your bedroom design, while allowing your green color scheme to shine through. For an extra touch of texture and style, consider using a wall stencil to create a pattern with the accent shade of paint. This is also a great way to add visual interest without overpowering the design.[1]
Create A Feature By Painting Your Shiplap
Shiplap can be an effective way to add texture and visual interest to any bedroom. With a few coats of paint, shiplap can transform from boring white walls into something exciting and unique. If you're looking for green bedroom ideas, consider painting your shiplap in a bright, bold color such as emerald green or deep teal to create a standout feature in the room. You can also use stencils to create interesting patterns on your shiplap walls and take your green bedroom ideas one step further.[2]
Layer Your Greens
This will give your space an interesting look and feel that can't be achieved with just one single color. Choose various shades like mint, olive, sage, kelly or emerald. You can even mix in accent colors like blue, purple, yellow or pink for a more dynamic look.
For instance, you can start with a light shade of green on your walls and then add darker tones to the bedding and accessories. Or use wallpaper in two different shades of green for a unique contrast. Adding plants, such as succulents or ferns, is another great way to add texture and color to the room. You can also bring in some natural elements like wicker or rattan furniture for a cozy vibe.[2]
Be Inventive And Use Vintage Fabric As Panels
If you're looking for a truly unique way to bring some green into your bedroom, why not use vintage fabric as wall panels? Not only does it look amazing, but it also has the added benefit of helping keep your walls insulated. To give your room an extra bit of texture, select fabric with different patterns and colors for each panel. Hang the panels in a pattern that suits your personal style, and you'll have an impressive feature wall that adds a unique touch to any bedroom.[1]
A Rich Shade Of Green Adds Warmth
A rich shade of green is an excellent choice for your bedroom walls. Green has a calming and soothing effect, making it the perfect tone to create a tranquil sleeping environment. The color adds warmth and energy, creating a room that easily transitions from work-mode to relaxation-mode. If you're looking for green paint options, a saturated hue like olive or sage will bring a welcoming feeling to your bedroom. Alternatively, you can use lighter greens for a more subtle effect.
To complete your green color palette, look for accessories and furniture items that are a complementary mix of both dark and light shades. Darker materials such as wood and wicker will add depth and texture to the overall look, while lighter items such as pillows and throws will lighten up the room with a subtle touch.[2]
Prefer Only A Hint Of Green
Green bedroom ideas don't have to mean an entire room in shades of green. Instead, you could get creative and add just a touch of the color with accents like bedding and wall art. This will still create an inviting space that feels calm and soothing—without overwhelming your senses. To get started, look for pillows or bedding with hints of green and pair it with neutral colors like white or beige. You can also add a few small pieces of furniture, like a nightstand or dresser, in a light shade of green to create an accent that ties everything together.[1]
Paint One Wall And Make It Moody
Painting one wall in your bedroom can give it a bold and dramatic effect. However, rather than going for the usual bright paint colors, why not make it moodier with deep and dark green hues? This will create a calming atmosphere that's perfect for a bedroom. You can also mix up shades of green to create an interesting visual.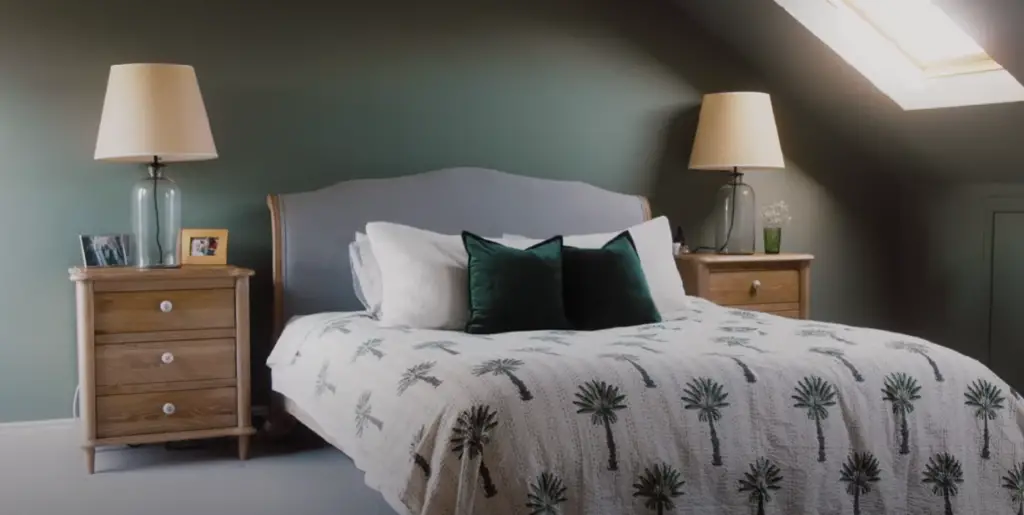 If you're feeling extra daring, you can even paint one wall with a metallic hue and use green for the other walls. This will give your bedroom an edgy and modern vibe that is sure to impress anyone who sees it.[1]
Or Choose A Ditsy Allover Print
If you really want to make a statement with your bedroom, why not go for an allover print? Choose something in light colors and ditsy patterns for a calming effect. Look for prints that feature natural motifs such as leaves, flowers and birds – this is especially effective if you have chosen to add greenery around the room. Make sure to choose curtains in a complementary color and fabric, as this will help to draw the eye around the room.
You can also use cushion covers to add texture and pattern. Look for ones that are made with sustainable fabrics such as organic cotton or bamboo. This is an easy way to add personality to your bedroom without compromising on eco-friendly principles. Additionally, if you're feeling particularly adventurous, why not try a recycled denim quilt or throw? Not only is this an affordable option but also one that looks great and will last for years to come.[1]
Muted Greens With A Hint Of The Tropics
If you want to add a touch of nature and tranquility to your bedroom, muted greens are the way to go. They give off a calming atmosphere, making it the perfect place for winding down. To make the look more interesting, try adding accents from tropical plants or bright florals in hues that complement your base greens. This will give the room a sense of vibrancy, while still maintaining a relaxed atmosphere. If you don't have plants, wallpapers or prints with natural motifs can also work to achieve this look.[2]
Use Green In One Area Only
If you're looking to create a green bedroom without it being too overwhelming, try using green in just one area of the room. Choose something like an accent wall or curtains in an eye-catching pattern or color. This will help to bring some life and vibrancy into your room while still keeping the rest of the design relatively simple.[1]
FAQ
What color goes well with green in a bedroom?
Green is highly versatile and can be paired with a variety of colors. For a calming, neutral look, consider pairing green walls with white trim. To add warmth to the room, opt for an earthy taupe shade on your walls or flooring. Also, shades of yellow or golden hues can complement green and create a cozy atmosphere. For a bolder look, try pairing green with vibrant colors like hot pink or bright orange.
What are the effects of a green bedroom?
Green is a calming color that can promote relaxation and help you to get a restful night's sleep. Its soothing effect is also said to improve concentration and creativity, which can be beneficial if you work in your bedroom or use it as a study area. Additionally, the natural hue of green helps to create an inviting atmosphere, promoting feelings of harmony and balance in the room.
How do you make a green bedroom?
Start by selecting the color of green you'd like to use for your walls, ceiling, and/or flooring. Painting or wallpapering are both great options for achieving a modern look in your bedroom. For an extra pop of color, consider adding a contrasting trim around the room or using patterned wallpaper.
What is the psychology of a green bedroom?
Green is widely known for its calming properties, making it an ideal choice for a bedroom. It promotes feelings of serenity and relaxation, while also creating a sense of harmony in the room. This can help to reduce stress levels and create a space that's perfect for winding down after a long day. Additionally, the natural hue of green is said to improve focus and creativity, making it an ideal choice for a home office or study area.
Is a green bedroom good feng shui?
Yes, green is an excellent choice for a bedroom in terms of feng shui. It's seen as a color of balance, promoting harmony and well-being in the home. Additionally, it can help to create a peaceful atmosphere that's ideal for sleep and relaxation. For best results, opt for light to medium shades of green, such as lime or sage. Avoid using dark greens, which are said to create feelings of anxiety and restlessness.
Useful Video: 10 Top Calming Green Paint Colors For Your Bedroom!
Conclusion
We hope this article has been helpful in giving you some ideas to create a green bedroom. A green bedroom should be an inviting and relaxing space that is good for the environment and your own well-being. With a few simple touches, like eco-friendly furniture and organic materials, you can make your bedroom more sustainable without compromising on comfort or style. Try some of the ideas we've listed here, or come up with your own! With a bit of creativity, you can make your bedroom greener while still having a great looking space that you love.
Good luck and happy decorating!
References:
https://www.thespruce.com/dark-green-bedroom-ideas-6830669
https://www.idealhome.co.uk/bedroom/bedroom-ideas/green-bedroom-decorating-ideas-221424