When it comes to decorating your bedroom, the dresser is a key piece of furniture. It's often one of the first pieces that people see when they walk into the room, so it's important to make sure it looks good! This blog post will show you how to decorate your bedroom dresser in easy steps. By following these tips, you can create a stylish and functional space that you will love spending time in!
Do You Need A Dresser In Your Bedroom?
When deciding on the furniture to add to your bedroom, one item that is often overlooked is a dresser. Dressers can be extremely useful in helping you organize and store important items, but they also look great when placed strategically in the room. If you have been wondering whether or not you need a dresser in your bedroom, here are some factors to consider.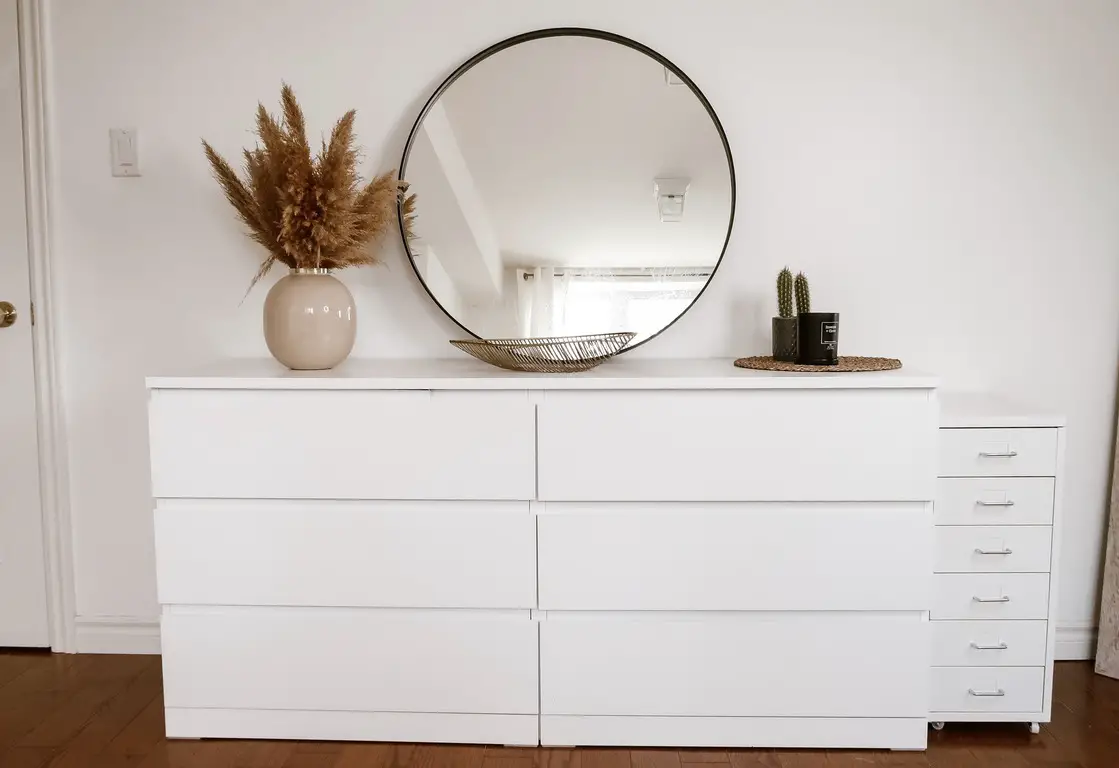 The first thing to think about is how much clothing storage space you need. A large wardrobe might be necessary if you have lots of clothes and accessories, while a small dresser may do fine for those with smaller collections. Additionally, many people opt for only having a dresser without any other type of clothing storage system. This can work especially well if your closet has limited space.
Another factor to consider when deciding if you need a dresser is the amount of usable surface area in the bedroom. A dresser with several drawers can provide an ideal spot for placing items such as books, picture frames, and other decorative items. This way they are easily accessible but not taking up valuable floor space.
Finally, dressers can also add to the overall style and feel of the bedroom. With so many different styles available, there is likely one that will perfectly match your décor preferences and give your bedroom a polished look.
In conclusion, a dresser can be an incredibly useful addition to your bedroom. Whether you need extra storage space or want to add some style and character to the room, a dresser is worth considering. With the right choice, it can become a focal point that ties everything together [1].
How To Choose The Right Dresser For Your Bedroom?
When selecting the perfect dresser for your bedroom, there are several factors to consider to make sure you choose one that fits both your needs and personal style. Here are a few tips on how to make sure you select just the right piece of furniture.
First, think about size and placement. Measure carefully so you know exactly what size dresser will fit in the space you have available. Consider what else is in the bedroom and how the dresser will interact with those pieces of furniture. If there are other large items, such as a bed, armoire, or bookcase, it's important to choose a dresser that won't overpower them.
Second, decide on the type of drawer construction you prefer. Do you want all drawers to be on one side or two? Do you need shallow drawers for delicate items or deep drawers for bulky ones? Also, consider if you would like features such as soft-close drawers or drawer dividers.
Third, pick out your favorite material and finish. Dressers can be constructed from solid wood or particle board, and come in a variety of different finishes.
If you're looking for something more unique, you can always explore painted or distressed options.
Finally, think about which type of hardware you would like on the dresser drawers. This is an important step as it will affect the overall look and feel of the piece. Do you want metal handles or wooden knobs? Would you prefer something sleek and modern or a more traditional style? With all these things in mind, finding the perfect dresser for your bedroom should be easy [2]!
Dresser Placement In A Bedroom
A Corner Dresser
A corner dresser can be a great way to make use of an empty, underutilized corner in your bedroom. Corner dressers provide ample storage space for clothes and other items without taking up too much floor space or blocking access to other pieces of furniture or doorways. By placing a corner dresser in the corner of your bedroom, you'll create a useful storage solution while also breaking up the monotony of the room's layout.
A Dresser Against A Wall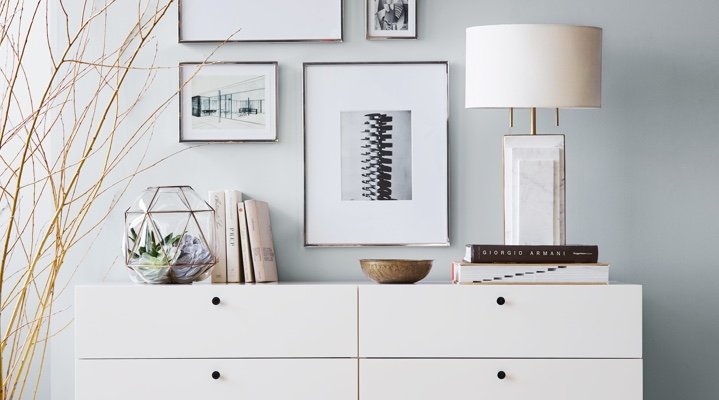 Another option is to place a standard free-standing dresser against a wall. This placement works best if there is plenty of open floor space in front and/or beside it since this will allow you to easily access all drawers.
However, if you don't have a lot of open floor space in your bedroom, this placement can still work by simply placing the dresser as far away from any entryways or other pieces of furniture as possible.
At The Bed's Side
If you don't have a lot of room to spare, you can always place a dresser at the side of your bed.
This will provide easy access to clothing and other items while also creating an attractive focal point in the bedroom. Depending on the size of your bedroom, you may want to choose a smaller dresser that fits snugly against the wall or opt for a larger one if space allows.
Between A Window And Bed
If you have a window in your bedroom, you can also place a dresser between the window and the bed.
This will provide a great balance of light and storage space and is a great way to create an organized look in your bedroom.
Just be sure that you leave enough room for natural light to come into the room while still having easy access to all drawers.
Impromptu Nightstand
If you have an extra dresser in your bedroom, you can turn it into an impromptu nightstand by placing it beside the bed. This is a great way to use up extra furniture while also creating a convenient place for items such as books or glasses. Just be sure that the dresser is positioned at a comfortable height so that you don't strain while reaching for any items placed on top of it.
Aligned With The Bed's Foot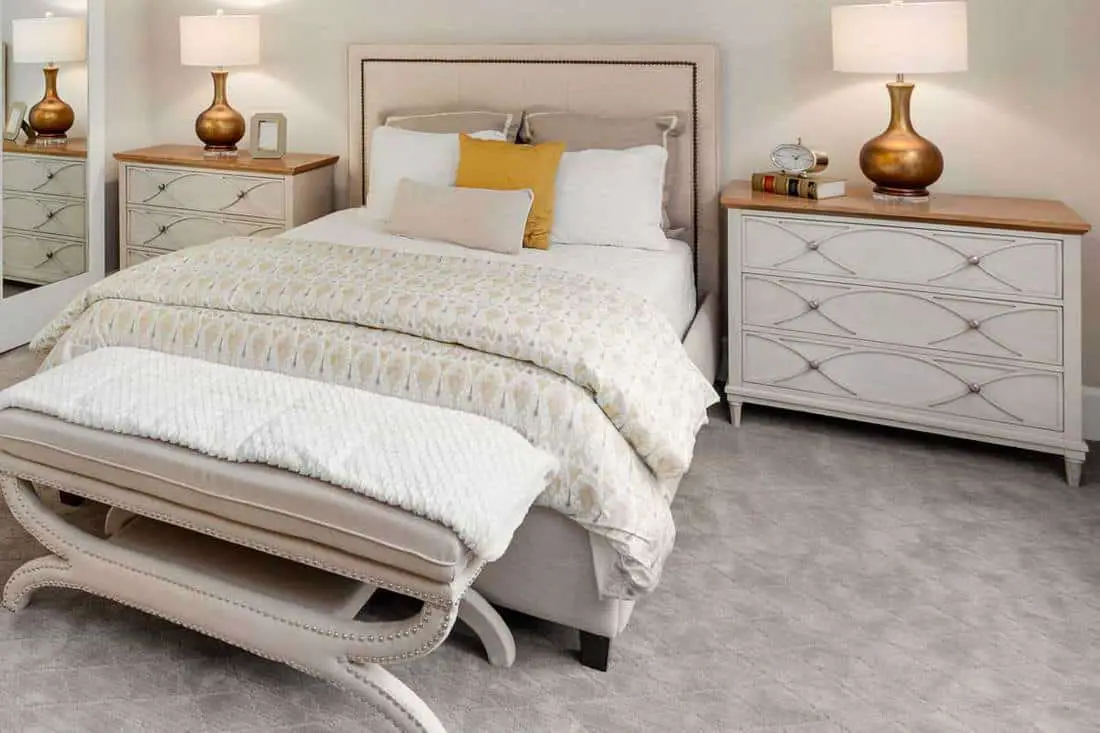 If you have a large bedroom, you can also place the dresser directly opposite the foot of your bed.
This will create a balanced look in the room and provide easy access to the dresser's drawers. This placement also works well if you want to create an organized, cohesive look with other pieces of furniture such as side tables or chairs.
Closet Addition
Finally, if you have a large closet in your bedroom, you can also use it to add extra storage space. Install shelving or rods along the walls of the closet and use them to store clothing and other items. This will provide easy access to the items without taking up floor space. If desired, you can even place a small dresser inside the closet for additional storage [3].
Use these tips to take your dresser from blah to beautiful in eight steps
Start with a Mirror
Start by adding a mirror to the top of your dresser. This will give the room more light and create an airy feel. It also adds interest and style to an otherwise plain piece of furniture. You can opt for either a traditional rectangular mirror or a more decorative wall mirror, depending on your style preferences.
Add Some Color with Paint
Give your dresser a makeover by painting it with a bold color that complements your decor. Whether you choose warm tones like reds, oranges, and yellows or cool tones like blues and greens, this small change can make all the difference in how the dresser looks in your space. If you're feeling extra brave, try creating a pattern with different colors.
Replace the Hardware
Replacing the knobs and pulls on your dresser is a great way to give it an updated look. Choose hardware that matches the color of your paint or opt for something completely different, like brass or chrome. You can also choose unique shapes and sizes, such as round or square knobs with vintage designs.
Light Up Your Space
If your dresser has a top surface, consider adding some accent lighting to it. You can use small table lamps or wall sconces to brighten up the area and give the dresser an inviting feel. Additionally, you can use LED strip lights underneath the dresser to add a soft ambiance without taking up too much space.
Go Green with Plants
Plants are a great way to add life and color to any space, including your dresser. Choose small plants such as succulents or air plants that will fit nicely on top of the dresser. If you don't want to use real plants, opt for faux ones instead – they look just as good!
Add the Crown Jewels
Add some decorative decor items to the top of your dresser. This could be anything from a vase of flowers to an antique clock or a framed photo. Whatever you choose, make sure it fits with the overall style and color scheme of your room. You can also use this space to showcase your favorite trinkets and mementos.
Accessorize with Decorative Pieces
Accessorize your dresser by adding some decorative pieces. This could include vases, trays, picture frames, books, candles, and more. Choose items that will match your style and bring the whole look together.
Organize Small Items on a Tray
If you have a lot of small items that need to be organized, consider placing them on a tray. This will make it easier for you to find what you're looking for and keep the dresser top clutter-free. You can choose from trays made from wood, metal, or ceramic – whatever matches your decor best [4].
Where to start in selecting pieces for bedroom dresser decor?
When it comes to decorating your bedroom dresser, the best place to start is by determining what type of style you're looking for. Do you prefer a modern look or something more classic? Once you have a general direction in mind, start thinking about which pieces are essential for your desired look, and then add accent items as necessary.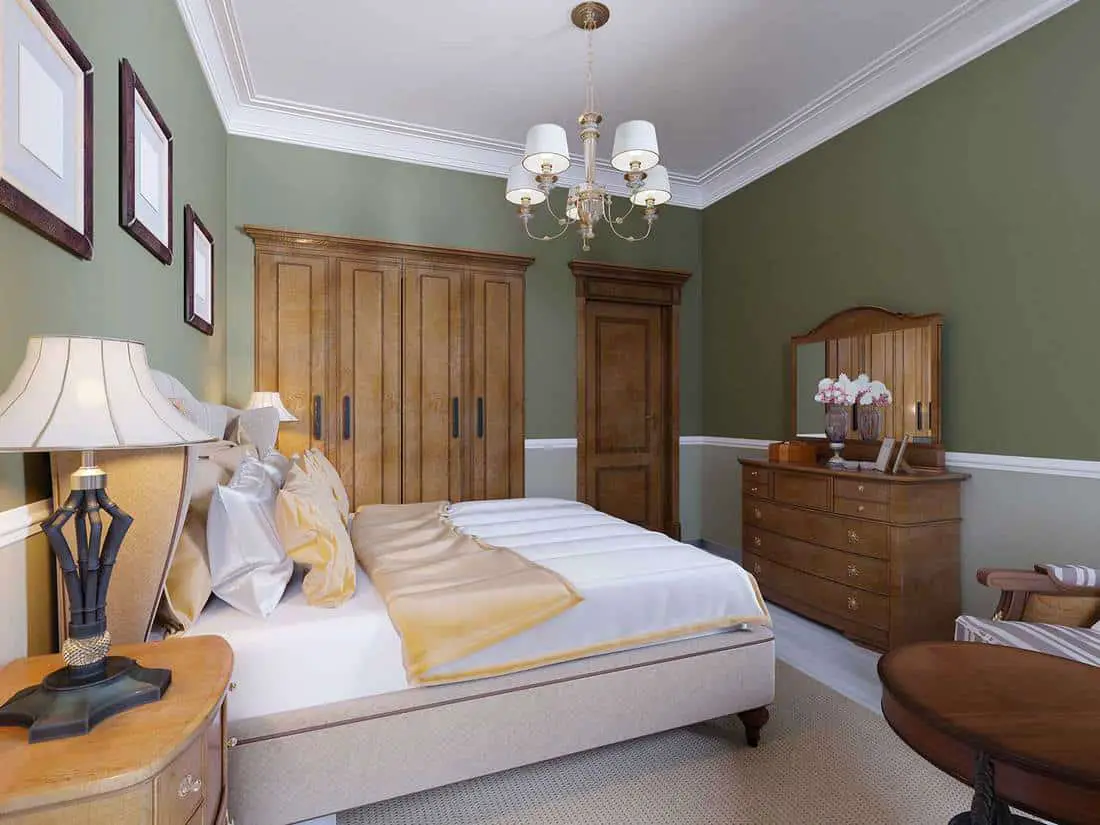 A few common elements that work well with almost any style include artwork, mirrors, vases, candles, and small statuettes. It's also important to consider color when selecting pieces – light colors can help open up the space while bold colors can provide a nice contrast against the furniture itself. Finally, try adding plants or other natural elements if they fit into the overall design vision. With these key elements in mind, you'll be well on your way to creating a beautiful and inviting bedroom dresser.
What should you display on a dresser?
Most people will use their dressers to store clothing items and other personal items that they want access to quickly. Here are some of the most common things you might find on a dresser:
Clothes – This is probably the most obvious! Store folded clothes like sweaters, pants, shirts, and skirts in drawers or hang them up on hooks.
Jewelry – Use a jewelry box or organizer to neatly store your rings, earrings, necklaces, and bracelets.
Shoes – Store your shoes in a shoe rack or bin so they're easy to find when you need them.
Photos – Put framed pictures of family and friends on top of your dresser to bring a bit of life and color into your bedroom.
Beauty Products – Store makeup, perfumes, lotions, and other beauty products in an organized container so you can find what you're looking for quickly.
Accessories – Keep items like scarves, hats, ties, belts, and sunglasses on top of or inside the dresser to easily access them when needed.
Books & Magazines – Use a basket or tray to keep books and magazines neatly stored and within easy reach.
Knickknacks & Decorations – Place small decorations like candles, figurines, vases, flowers, or plants on top of the dresser for a more personalized touch.
Stationary & Writing Supplies – If you use your dresser to write letters or do work, store pens, paper, and other supplies in a drawer.
No matter what kind of items you choose to keep on your dresser, make sure it is organized and neat. It should also reflect your style so that it looks great in your bedroom!
How Can You Style Your Dresser?
Your dresser can be an important part of any room's design, so here are some tips for styling yours:
Choose the Right Color – Pick out a color that will complement the rest of the furniture in your bedroom. A bright or bold color can add a bit of personality to the room.
Go for Accessories – You can easily add a bit of flair to any dresser with accessories like figurines, candles, flowers, or plants.
Add Extra Storage – If you need extra storage space, consider adding bins or baskets to your dresser. This will help keep small items organized and out of sight.
Hang Something Up – Hanging decorations on the wall above your dresser can be an easy way to spice up the room. It could be artwork, mirrors, or even a shelf with knick knacks!
Change it Up – Moving things around now and then is a great way to give your bedroom a fresh look without having to buy anything new. Try switching up the items on your dresser or rearranging them to create a different look.
FAQ
How can I decorate the top of my bedroom dresser?
There are many ways to decorate the top of a bedroom dresser. One popular option is to create an attractive display using things like candles, picture frames, vases, and other decorative items.
Alternatively, you could add some plants or even a lampshade for extra flair. You can also hang wall art above the dresser or use shelves to store small items such as jewelry boxes or books. If you have more space, try adding a few pieces of furniture like baskets or stools for additional storage solutions. Finally, if your dresser has drawers, consider painting them in bright colors for an added pop of personality.
How do you style a small dresser?
Styling a small dresser can be tricky because of limited space. One way to make the most of it is to use vertical storage solutions like wall shelves, hooks, and baskets to display items like books and plants. You can also add decorative knobs or pulls to drawers for an extra touch of personality. Finally, consider using colorful accents such as patterned cushions, rugs, and curtains to bring attention to the dresser without taking up too much space.
How to place dressers in the bedroom?
When placing dressers in the bedroom, it's important to consider both convenience and aesthetics. Ideally, you should place the dresser near your bed for easy access when getting ready.
Additionally, try to arrange it away from any external doors or windows to avoid blocking natural light. If possible, leave some space between the dresser and the wall for air circulation. Finally, remember that symmetrical furniture placement can help create a more balanced look in the bedroom.
How do I organize my bedroom dresser?
Organizing a bedroom dresser can seem daunting at first but with a few simple steps, it can be easily accomplished. Start by removing all items from the drawers and sorting them into categories (e.g., clothing, accessories). Then, use dividers or boxes to keep items separate and make it easier to find what you need. Finally, use drawer organizers like compartments or trays for smaller items such as jewelry. This will help you keep your dresser neat and organized at all times.
Useful Video: Home Decorating and Design: One Dresser Styled In Two Ways | Boho and Country Glam
Conclusion
Decorating a bedroom dresser is an easy and crafty way to add a unique touch to your space. With the right tools, materials, and inspiration, you can transform an ordinary dresser into something special. Whether you choose to go with a rustic or modern look, the results can be very rewarding. Not only will your new piece of furniture look amazing but it'll also be extremely functional as well. So if you're looking for a fun project that doesn't require too much time or money, then decorating a bedroom dresser is worth considering.
---
References
https://unruhfurniture.com/blog/need-dresser-your-bedroom/
https://decortips.com/homes/6-tips-for-choosing-the-right-dresser/
https://craftsonfire.com/2021/12/where-to-put-a-dresser-in-a-bedroom.html
https://www.bhg.com/rooms/bedroom/no-brainer-ways-to-style-your-dresser/