Welcome to Lavender Bedroom Ideas! Everyone dreams of having a beautiful, tranquil and relaxing bedroom. And what better way to create this atmosphere than with the calming color lavender? With a few carefully chosen pieces and some creative decorating ideas, you can turn your bedroom into a soothing place to rest and renew yourself. Here we answer some frequently asked questions and provide helpful tips to get you started on your lavender bedroom dream.
Layer Different Prints
Adding some texture to your lavender bedroom will make it even more inviting. Whether you're using a patterned bedspread or fluffy throw pillows, adding multiple layers of different prints and textures can give your room an interesting look. In addition to fabrics, you can also add texture with wood furniture, metal accents, and other materials. [1]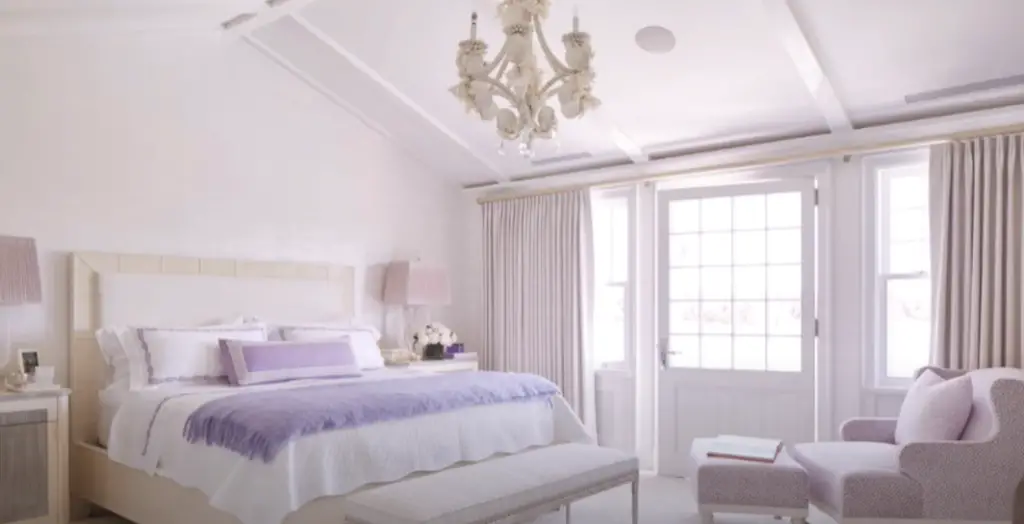 Turn Your Closet Into a Statement Piece
If you're looking for a way to add some flair and style to your lavender-themed bedroom, why not turn your closet into a statement piece? Adding a few accent pieces like purple hangers, drawers, and shelves can create a unique look that will make your space stand out. If you want something even more special, you can paint the inside of your closet to match your bedroom's color scheme. This is an easy and inexpensive way to add a unique touch to your room while still making it look polished and complete. [1]
Add a Pop of Lavender With Your Sheets
Adding a touch of lavender to your sheets is an easy way to bring the color into your bedroom. Lavender sheets can be paired with neutral colors, like white and gray, or with other complementary colors such as green and yellow. You could also coordinate your bedding set with a matching comforter and decorative pillows in shades of lavender. Mixing different shades of lavender in the bedding set will give your bedroom a unique and interesting look. [1]
Hang Lavender Drapes
A great way to add a touch of elegance and warmth to your lavender bedroom is by hanging beautiful lavender drapes. Lavender curtains will instantly bring the color into the room, while creating a sense of coziness and romance. You can also choose from different styles and textures, such as sheer or blockout fabric, depending on the level of light you wish to let in. When shopping for drapes, try sticking to a monochromatic look by keeping all accessories and other items in the same shade family. [1]
Ground Your Space With Earth Tones
Another way to make lavender work in a bedroom is to ground your space with earth tones. Use shades of brown, taupe, or beige for the walls and furniture pieces. This will both neutralize the room and give it some contrast. You can then add a few pops of bright purple here and there as an accent color. Try to keep these accents in the same shades as your lavender, such as deep purples and light lilacs. By doing this, you'll maintain a cohesive look throughout the room and prevent it from looking too cluttered or chaotic. Adding touches of white can also help to break up any potential monotony while still keeping everything in the same color scheme. Use white bedding, curtains, or furniture pieces to keep things looking airy and light while still paying homage to the lavender theme. [1]
Snag a Show Stopping Pillow
Adding statement pillows to your lavender bedroom is a great way to create an eye-catching look. Look for patterned fabrics, like chevron or polka dots, in various shades of purple and lavender. Pair these with solid colored pillows in ivory or white for a classic contrast that will add interest and depth to the room. Alternatively, opt for a bold and unique pillow with an unconventional pattern to add life to your lavender bedroom. [1]
Pair Lavender With Lavender
Lavender is an incredibly versatile color that pairs beautifully with itself. For example, you can have a room filled with lavender walls, furniture and textiles for a soft and serene look. Or you could create a more vibrant space by pairing lighter shades of lavender (such as pastel mauve or dusty rose) with deeper shades of lavender (like dark periwinkle or deep violet). You could even use different hues of lavender within the same room to add a little bit of visual interest.
If you want to create a truly unique look, consider combining lavender with complementary colors such as tan, cream and white. This color palette will create a more subtle and calming atmosphere. You could also add in small touches of green or grey to give the room a touch of life and vibrancy. [1]
Play With Softer Shades
If you don't want to commit to full-on lavender walls, there are lots of other ways to incorporate the hue into your bedroom. Soft shades like mauve, lilac and dusty purple are perfect for adding a hint of color without overwhelming the room. Try painting an accent wall or adding strips of wall paper for a subtle touch. For an even subtler approach, you can add pops of color with rugs and throws in shades of purple or lavender. [1]
Trim Your Headboard
Headboard trim is a great way to bring out the lavender tones of your bedroom. Consider adding an extra layer of fabric or trimming the edges with some ribbons, buttons or beads for a personalized look. Another option is to add some lace around the edges of the headboard for a romantic touch. Depending on the style and size of your headboard, you can easily create a unique look that complements the lavender tones in your bedroom. [1]
Invest in a Few Bold Accents
When decorating with lavender, bold accents add liveliness and interest to the space. Choose several eye-catching furniture pieces or lighting fixtures to make a statement. You can also use statement wall art and large colorful rugs to bring color into the room without overwhelming it. For example, you could hang an oversized abstract painting in shades of lavender and gray to add visual interest. Or, you could use a colorful rug in shades of purple and green to highlight the room's other details. [1]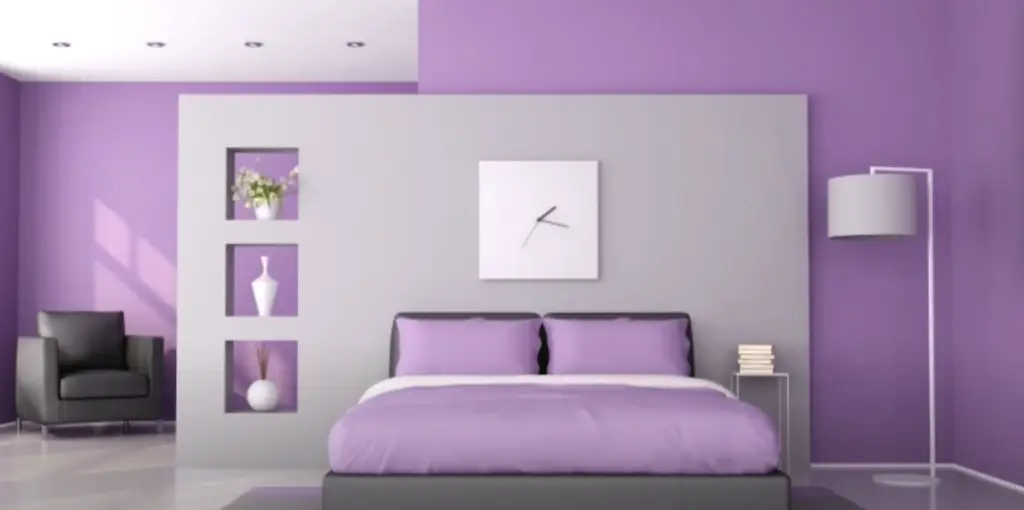 Commit to a Lavender Bedspread
A lavender bedspread is the perfect way to bring your bedroom a touch of calm and serenity. Whether you choose a quilted velvet style, or an embroidered cotton design, make sure it's the centerpiece of your room. Layer with coordinating cushions and curtains in varying shades of purple for extra depth and texture. [1]
Make Lavender Your Accent Color
When it comes to lavender bedroom ideas, the most popular option is to use it as an accent color. If you don't want to commit to a full lavender-themed room then adding touches of the color here and there can be very effective. You could try adding a few items such as delicate cushions or bedding in a pastel shade of lavender, or even hang some fabric wall art featuring a light purple motif. Other options could include painting the walls a pale lavender, buying some window treatments with hints of the color, and adding some accessories like vases and jars that have been painted or dyed a subtle lavender hue. The great thing about using lavender as an accent color is that it can be used to highlight any existing colors in your room. [1]
Set the Scene With an Extra-Wide Pillow
A great way to make a lavender bedroom feel relaxing is by creating an inviting and comfortable atmosphere. One of the most important elements in any bedroom is the bedding, so why not make your lavender bedroom extra special with an extra-wide pillow? Not only will it soften your sleeping surface but it also adds a luxurious look to any space. Choose a pillow in a soothing hue of lavender and pair it with crisp white sheets for an inviting look. [1]
Pair Smaller Decor for a Bigger Impact
If you're looking to add a pop of lavender to your bedroom, consider adding smaller decor pieces like throw pillows, lamps or rugs. Smaller items allow you to fill the space without overwhelming it and can be replaced easily if you want to switch up your color scheme later on. Also, look for pieces that incorporate complementary colors like a deep navy or rustic gold to help add contrast and depth. If you're looking for an even bigger impact, opt for wall art with lavender hues or hanging plants that will bring the outdoors in. [1]
Keep Your Palette Flexible
When it comes to lavender bedroom ideas, you don't have to limit yourself to only one shade of purple. You may want to think about introducing other colors into your room design. For example, if you're looking for a more subtle and relaxing atmosphere, consider pairing light shades of lavender with neutral tones such as soft whites or grays. On the other hand, if you're searching for a bolder look, combine deeper shades of lavender with complementary colors like black or navy. This will give your bedroom an edgy and modern appeal. In either case, make sure to keep your palette flexible so that you can easily switch up your room design as needed! [1]
When in Doubt, Work in Threes
When designing a lavender bedroom, one of the most effective ways to make it look stunning is to work in threes. Whether you're using shades of lavender on walls, accent pieces and furnishings, or even bringing in additional colors like whites and grays – three is the magic number! This allows you to maintain an overall cohesive and balanced look.
For example, if you choose to feature lavender walls, adding a few accent pieces in a slightly different shade can really make the room pop. And don't forget about layering different textures for added dimension and interest! A sheer patterned curtain could be hung over solid drapes for instance, or a fluffy area rug could be layered under a solid-colored one. [1]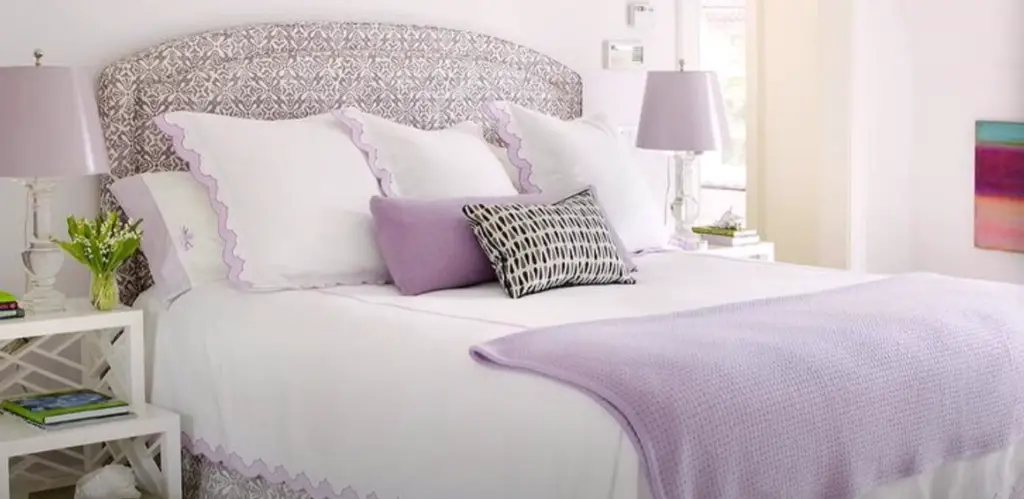 FAQ
What colors go with lavender for a bedroom?
When picking out colors for your lavender bedroom, it's important to consider the overall color scheme. To make a balanced room, you can pair lavender with soft shades of pink, green, and blue. These colors will create an inviting and calming atmosphere in the bedroom. You can also add some whites and beiges for brightness and texture. To bring an extra vibrant touch to the room, you can add brighter hues like yellow or orange.
Is lavender a good color for a bedroom?
Absolutely! Lavender is a versatile color that can help create a peaceful yet vibrant bedroom. It's an ideal choice for those looking to achieve a calming and tranquil atmosphere in their bedroom. The cool tones of the lavender will also help make the room appear larger, which is great for small rooms. Additionally, lavender pairs well with other colors, so you can easily customize the look of your bedroom.
What color bedspread goes with lavender walls?
A bedspread is an important element that can tie the room together and give it a polished look. When choosing a bedspread for your lavender walls, consider selecting one with neutral colors like white or beige. These colors will create a neutral backdrop that won't distract from the lavender walls but still add some warmth to the room. You can also select a bedspread with soft pastel colors, such as pink or light blue, that will help enhance the calming atmosphere of the lavender walls.
Is lavender good for a living room?
Yes, lavender is a great choice for a living room. The calming hue will create an inviting atmosphere in the room and make it feel more spacious. To add some contrast to the walls, you can choose furniture pieces and decorations with other muted colors like green, blue, or light pink. For extra interest, you can also incorporate brighter colors like yellow or orange. With the right furniture and accents, your living room will be transformed into a vibrant space where you can relax and enjoy time with family and friends.
When should you not use lavender?
Lavender is a beautiful color, but it may not be the right choice for every room. If you have very small rooms, the cool tones of lavender could make them appear even smaller. Additionally, if the room has low natural light, lavender can make it feel dark and gloomy. In these cases, you may want to select another color. Additionally, lavender may not be the best choice for rooms with a lot of traffic, as it can easily become dirty or faded over time.
Is it OK to sleep with lavender?
Yes, sleeping with lavender is perfectly safe and can even be beneficial. Lavender has soothing properties that can help promote relaxation and reduce stress levels. Additionally, its calming scent can also help improve sleep quality by creating a peaceful atmosphere in the bedroom. If you want to take advantage of the benefits of lavender, you can add some dried lavender to your pillow or diffuse some essential oils in the bedroom.
Can I put lavender in my bedroom?
Yes, adding lavender to your bedroom is a great way to bring the calming scent of this flower into the room. You can add some dried lavender to your pillow or display it in small vases around the room. Additionally, you can use essential oils diffusers or scented candles to fill the air with its soothing aroma. By incorporating lavender into your bedroom, you can create a peaceful atmosphere where you can relax and unwind.
Is lavender good for breathing?
Yes, lavender is great for your respiratory system. The soothing aroma of lavender can help reduce inflammation in the lungs and relieve congestion. Additionally, its calming scent can also help ease breathing difficulties caused by stress or anxiety. To reap the benefits of lavender, you can add some dried lavender to your pillow or diffuse some essential oils in the bedroom.
Useful Video: 18 Best Purple Rooms – Lavender, Lilac And Violet Decorating Ideas
Conclusion
Lavender bedroom ideas are a great way to bring a peaceful and inviting atmosphere into your home. With just a few simple changes, you can transform a dull room into one that is full of life and beauty. Whether you choose to decorate with lavender bedding, wall art, or paint colors – the possibilities are endless. It's important to keep in mind that this look is best achieved with a balance of light and dark tones. Use the tips provided above, and you'll be sure to have an inviting space that will make any guest feel at home. With some creativity, you can create a beautiful lavender bedroom retreat that you'll love for years to come!
References:
https://www.mydomaine.com/lavender-bedroom-5188155