Orange is an uplifting and energizing color that can breathe life into any room in the house, particularly a bedroom. Whether you're looking to add some vibrancy or just want to bring out the best of your existing decor, orange bedroom ideas are sure to inspire. From bright and bold patterns to lighter shades for subtle hints of color, these ideas can help you create the perfect orange bedroom.
Use Geometry
Geometric shapes are one of the hottest trends in decor, and they make a great choice for introducing some orange into your bedroom. Try using contrasting colors like white and turquoise to break up the orange hues in a geometric pattern on the wall or as an accent rug. To really bring out the beauty of the geometric shapes, consider adding some metallics or natural materials like wood or stone.[1]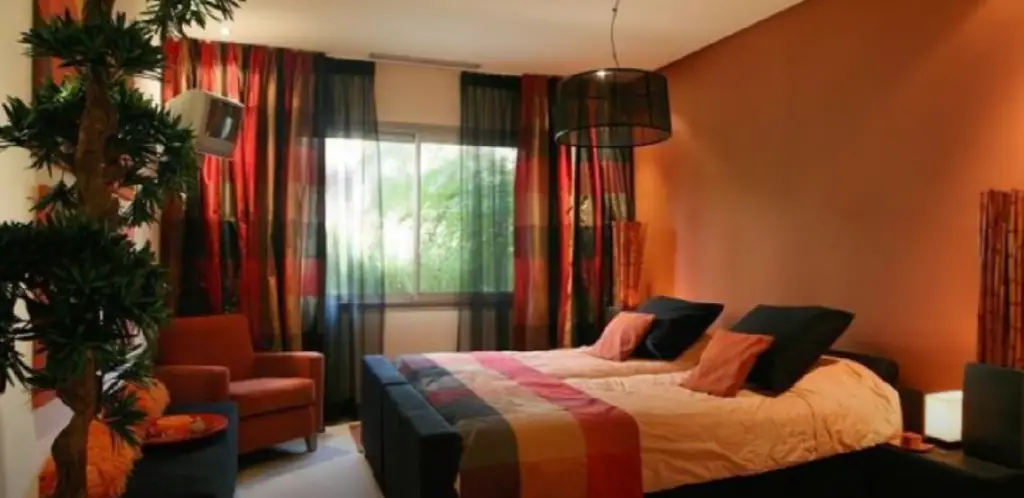 Use Just a Little Orange
Adding a touch of orange to your bedroom décor can freshen it up and make the room appear brighter. You don't need to go overboard with the color; small touches like an orange bedspread or pillowcases will do just fine. To add more interest, you can incorporate other colors such as white, gray, and blue. This helps to tone down the vibrancy of orange while still adding a cheerful and inviting atmosphere.[1]
Use Orange Florals
Bring a little life into your orange room with a couple of floral patterns. If you want to keep it simple, opt for a subtle hint of floral design. Choose bright oranges and pinks or mix in some greens if you want more contrast. Floral prints look great on curtains, bedding, pillows, and other accessories. You could even add a floral wallpaper to one feature wall.[1]
Look for Orange-Accented Wallpaper
If you want a bold, vibrant orange bedroom design without it being too overwhelming, try using an orange-accented wallpaper. This way, the color is featured but not in its full glory – giving your bedroom a more subtle and sophisticated look. You can find wallpaper with different shades of orange ranging from light to dark, so be sure to pick one that best compliments your existing furniture.
It's also a great idea to pair orange-accented wallpaper with other neutral colors such as white, gray, or beige. This will help balance out the bright, vibrant hue of the orange and give your bedroom a more muted yet still stylish feel.[1]
Use Abstract Patterns
Abstract patterns are a great way to incorporate the vibrancy of orange hues into your bedroom without it being too overpowering. You can choose from geometric designs, floral motifs, swirls or any other abstract pattern you like.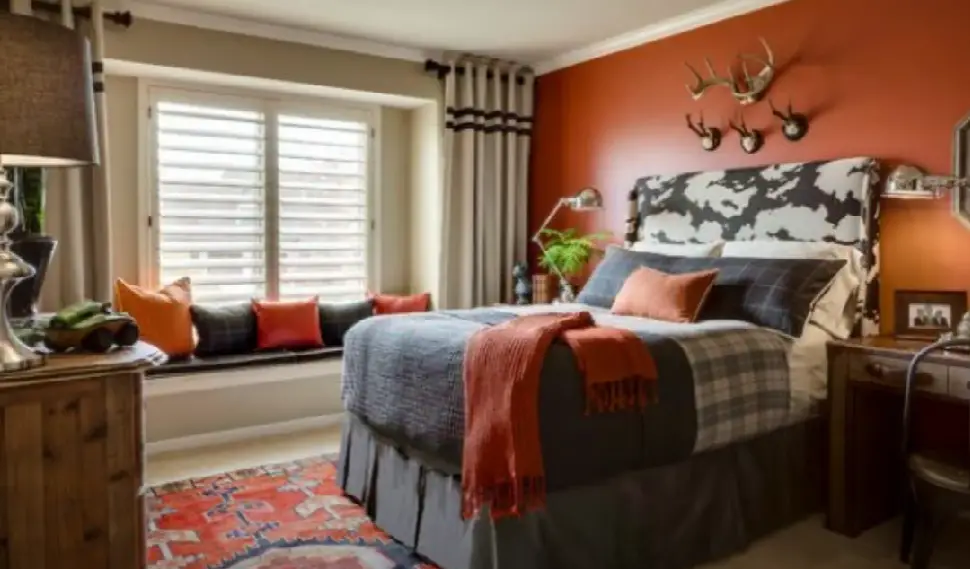 Additionally, abstract patterns will give you plenty of versatility as they can be used in both small and large spaces. You can make them look more subtle by using neutral colors such as white or cream to pair with orange or go bolder by adding vivid colors like yellow and green.[1]
Don't Forget the Curtains
When choosing the perfect curtains for an orange bedroom, you should go for bright and cheerful colors that will add a touch of brightness to the room. Pick out shades like yellow, coral or salmon that complement the existing décor in your bedroom. You can also get creative with bold geometric prints to give your room a modern twist. If you want to keep things simple, opt for plain white or cream curtains that will add a subtle touch of color without overpowering the look.[1]
Break Out the Orange Duvet
A duvet is a great way to add some color to your bedroom without going too overboard with pattern and texture. Orange duvets come in a variety of styles, sizes and materials so you can easily find one that will fit in your space. Plus, it's easy to change up the look if you get tired of it by simply changing out the duvet cover.[1]
Combine Orange and Navy
Combining navy blue and orange can create a beautiful, subtle look. Navy blue is great for adding depth and contrast to the room while still allowing the orange to remain a strong part of the decor. Start by painting all walls navy blue and then add pops of orange in furniture, bedding, or accessories like lamps or rugs. To make the room even more interesting, try incorporating a few accessories in both colors. This way, you can create an eye-catching orange and navy bedroom that will be sure to stand out![1]
Use Orange Art
One of the easiest and most fun ways to add orange into your bedroom is to hang artwork with an orange theme.
Not only will this help fulfill your color scheme, but it will also add a great conversation piece to the room. If you're feeling especially crafty, you could even make some of your own orange art to hang on the walls!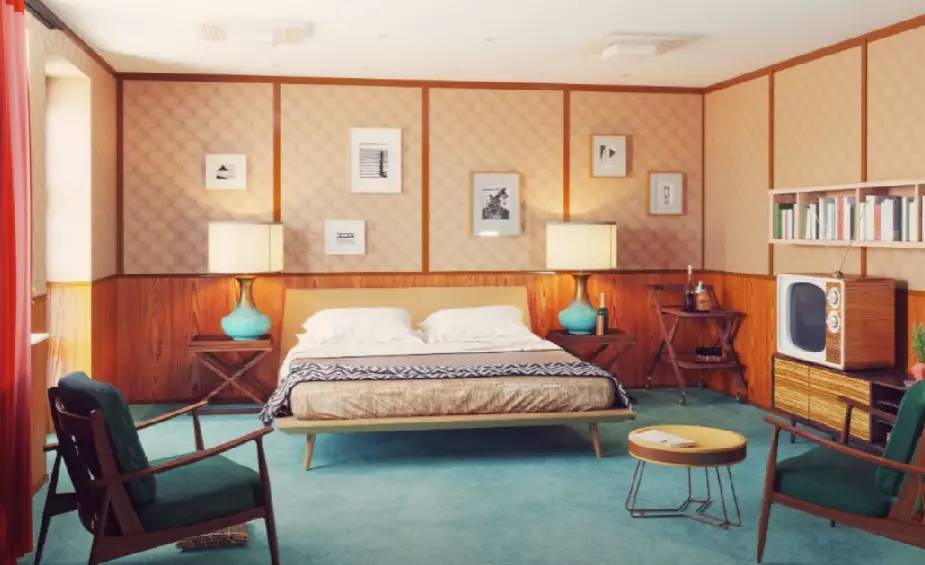 If you don't want to go the artwork route, there are plenty of other ways to add some orange into your bedroom. Look for throw pillows and blankets with an orange hue, or even wall decals that feature oranges or citrus fruit in general. You can also opt for wallpapers with an orange pattern, such as a sun setting on the horizon or some cute citrus slices. Finally, you could paint one wall of your bedroom orange for a particularly bold statement.[1]
Layer Orange
When creating an orange-themed bedroom, it is important to layer the colors in different ways. You can do this by having several shades of orange that are layered with neutrals such as white or cream. This will give your room a warm and cozy feeling while still maintaining its theme. Try incorporating different textures such as satin, velvet, and cotton to add dimension to your space. Consider adding accents of dark wood or metallics such as copper or brass for a modern touch.[1]
Try Orange Throws
If you're looking for a way to spice up your bedroom, try adding an orange throw blanket or pillows. This is a great way to bring in some color without taking away from the natural look and feel of your room. You can find these items at most home decor stores, and they come in a variety of colors so you can choose one that best suits your style. Plus, these throws and pillows can be easily changed out if you want to switch up the look of your room.[1]
Don't Forget the Ceiling
It's easy to get caught up in the walls and décor of a room, but don't forget to consider your ceiling when decorating with orange! If you have an elevated or vaulted ceiling, try painting it a bright or deep shade of burnt orange. This will add depth and interest to the room while echoing the other colors in the décor. For a more subtle look, try adding orange fabric to the ceiling by stretching it taut and stapling it or using hooks. This will add texture and an unexpected touch of color. Finally, don't forget about your lighting options! Installing an orange-hued chandelier or pendant light is a great way to bring the eye up and tie your design together.[1]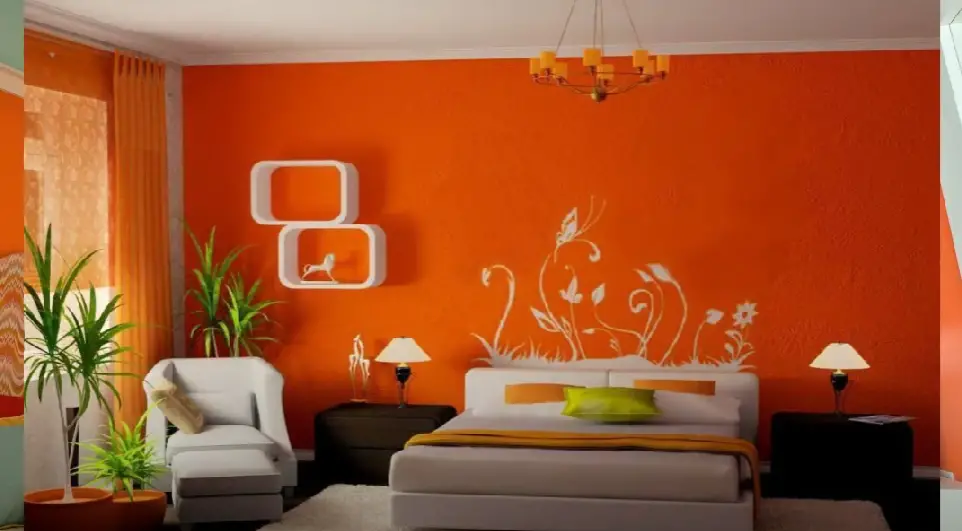 Have Fun With Headboards
Headboards come in a variety of materials and styles, making them perfect for adding a touch of personality to any bedroom.
You can also use wall art above the bed to create a unique headboard that is sure to draw attention. If you're feeling particularly creative, why not make your own headboard? All you'll need is some wood, fabric, and a few screws. Once complete, you can place it behind your bed for a custom look that adds a pop of color and personality to your orange bedroom.[1]
Pair Orange With Wood
Wood and orange pair particularly well together because of the warm and inviting energy it creates in a room. To make this combination really stand out, opt for lighter wood shades like maple or pine. You can incorporate these neutral hues through furniture pieces, flooring, or even as wall accents. Try adding an accent wall that is painted with a light orange shade and then adding wood accents on top. This will create a beautiful, warm backdrop for your bedroom that adds some dimension to the space. Additionally, you can also pair light wood with bright oranges in curtains, rugs, or other linens.[1]
Pair Orange With Brass
When it comes to decorating with orange, brass is an excellent choice. This combination of color and texture gives a warm, inviting atmosphere that works for all kinds of bedroom designs, from modern to traditional. Try pairing your orange walls or bedding with brass lamps, chandeliers, or knobs and pull on furniture pieces. It's a unique look that will add an interesting touch to your bedroom.[1]
Match Your Walls to Your Duvet
When decorating your bedroom, why not make it extra special by matching the walls to your duvet? An orange duvet with a white or cream background can be complemented with wall colors like terracotta, peach and sand. Not only will this create a visually stunning effect, but it will also help you create a sense of unity in your bedroom.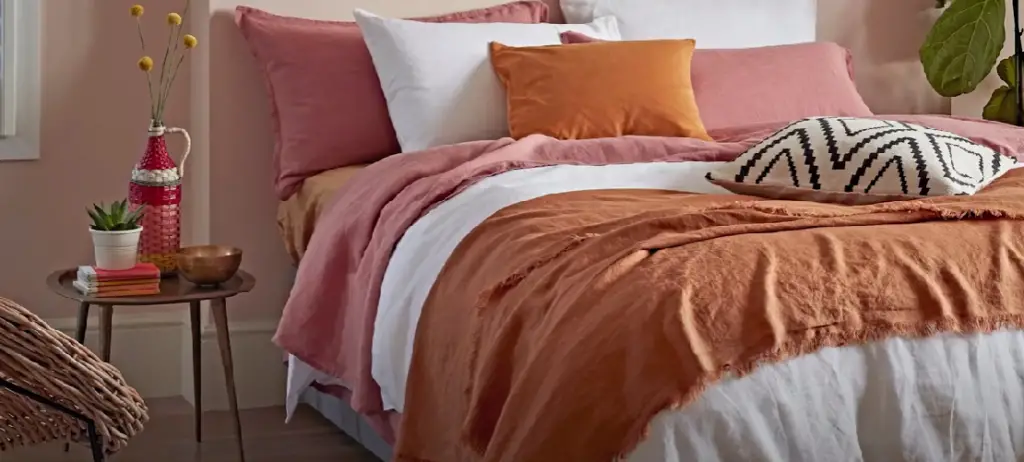 For a more vibrant look, choose an orange duvet with a bold pattern, like stripes or florals. This can be complemented with walls of white to draw attention to the design and add a modern touch to the theme. To make things even more interesting, you could also consider adding wallpaper prints in shades of orange.
You could also opt for a monochromatic look with orange walls and an orange duvet. This is especially effective if your bedroom has plenty of natural light or modern lighting fixtures, as the colors will really pop in the sunlight or under artificial lights.[1]
Use Orange Alongside Velvet
Velvet is one of the richest-looking fabrics out there, and when combined with orange in a bedroom, it creates an opulent look. Use velvet to upholster a headboard or throw pillows for a luxe feel. If you want to go all out, use orange velvet curtains to add even more sophistication to your space.[1]
Try Orange and White
Orange and white can be a great combination for an orange bedroom. Use various shades of the color to layer different tones and depth in your room. White will create a clean, crisp base that will give the space a fresh feel. The orange can then be used as an accent on the walls, furniture, or even in accessories like bedding and curtains.[1]
Use Trim
For a modern twist on orange bedroom ideas, consider using trim and detail in your room. Trim can provide an interesting visual contrast to the overall color of the room and also draw attention to certain features in the room. For example, you could use trim around doorways, windows, or even along walls.
You could also use accent walls with contrasting colors in order to highlight furniture or art pieces in your orange bedroom. By adding these small details, you can make an overall dull-looking room become an interesting and inviting space.[1]
Don't Forget Some Green
Adding a touch of green to your bedroom is an excellent way to balance out the intensity of the orange color palette. You can introduce plants to your room, or choose items with interesting leaf patterns that will also make your space look more vibrant and inviting. If you prefer something a bit more subtle, then opt for some accent pillows or wall art that feature green and orange tones together. This will create a cozy atmosphere that is both inviting and calming at the same time.[1]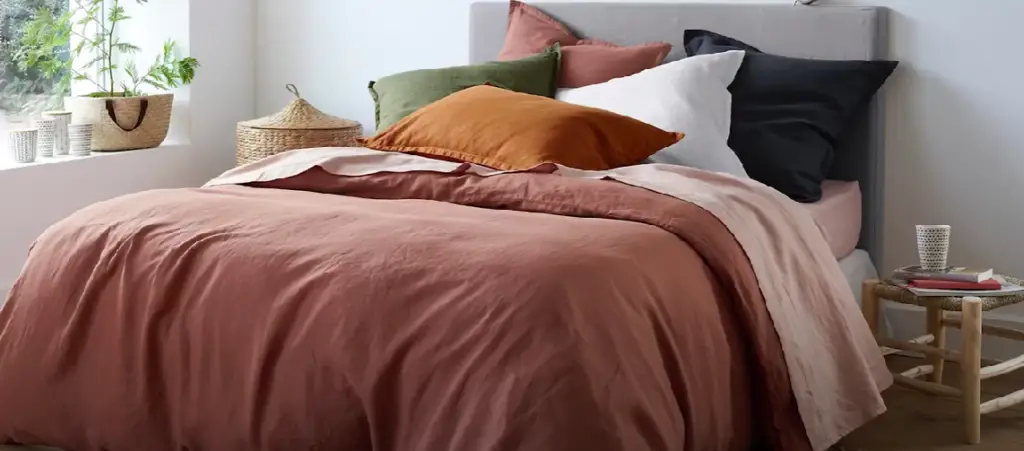 Try Two-Toned
If you want to make a bold statement in your orange bedroom, try two-toned walls. Paint the bottom half of your wall with a lighter shade of orange and the top half with a darker hue. This gives your room more depth and dimension. For an added touch, think about adding some accent colors to your walls such as blue, purple, or yellow. This creates a modern and stylish look that will make your bedroom stand out from the rest.[1]
FAQ
Is burnt orange a good color for a bedroom?
Burnt orange can be a great color for your bedroom! This warm, earthy hue is rich and inviting and adds a cozy atmosphere to any room. It also works well with many other colors, making it easier to match furniture or other decor pieces. Consider pairing burnt orange with shades of pale yellow, turquoise, gray or even green for a look that will stand out. Just remember to keep the other colors subtle so that they don't overpower the orange.
What colors go with burnt orange?
Burnt orange looks great when paired with a variety of other colors. For a classic look, try pairing the orange with cream or white for a timeless appeal. Alternatively, you can go daring and pair it with navy blue, dark green or even purple for a unique statement in your bedroom. If you're looking for something more vibrant, consider pairing the orange with shades of yellow or turquoise for a cheerful feel.
What color goes with orange in a bedroom?
There are many colors that can work well with orange in the bedroom. Pale yellow is a great choice for a sunny, cheerful look, while navy blue or dark green creates a bold contrast. For something more subtle, try pairing it with shades of gray or even brown for an earthy feel. If you want to go for something more vibrant, try pairing it with shades of pink or purple to create an eye-catching look.
What colors go with burnt orange bedding?
There are a variety of colors that look great with burnt orange bedding. Cream or white would make a timeless combination, while navy blue and dark green can create a bold contrast. For something more vibrant, try pairing the burnt orange with shades of yellow or turquoise for an inviting atmosphere. Alternatively, if you want to keep things subtle, try pairing the bedding with shades of gray or brown for an earthy feel.
Is burnt orange a happy color?
Yes, burnt orange can be a very happy color! With its warm, earthy hue, it adds an inviting atmosphere to any room. It also works well with many other colors, so you can easily create a cheerful look by pairing the orange with shades of yellow or turquoise. Just remember to keep the other colors subtle so that they don't overpower the orange.
Is Burnt orange on trend?
Yes, burnt orange is definitely on trend! This warm hue has been popular for a few years now and continues to be a favorite choice for many interior designers. Its rich, inviting color works well with other colors, making it easy to create an eye-catching look in your bedroom. So if you're looking for a way to update your bedroom, consider adding some burnt orange for a fashionable touch.
Who looks good in burnt orange?
Burnt orange looks great on everyone! This earthy hue is very versatile and can be used to create a timeless look or something more modern and edgy. It also pairs well with many other colors, so it's easy to find a look that works for you. Whether you choose to go bold with navy blue or keep things subtle with shades of gray, burnt orange can add a touch of warmth and style to any outfit.
What does the color burnt orange represent?
The color burnt orange is associated with warmth, comfort, and relaxation. It has a calming effect on the mind and can be used to create a cozy atmosphere in any room. The color also symbolizes creativity and enthusiasm, making it a great choice for anyone looking to inject some energy into their space. So if you're looking for a color that's both inviting and inspiring, burnt orange is the perfect choice.
Useful Video: LIVING ROOM TOUR / ORANGE CRUSH VIBES /ROOM DECORATING IDEAS
Conclusion
Designing an orange bedroom can be great fun and help create a cozy atmosphere in your home. Orange is a vibrant color that brings energy into the room, making it a great choice for bedrooms. However, you should keep in mind that too much of the color can be overwhelming, so make sure to choose other colors to balance out your orange bedroom design.
If you're not sure where to start, take some time to look online and get inspired by the different color combinations that other people have used in their orange bedrooms. Once you've chosen your colors, find accessories and furniture that match the theme. Artwork, throw pillows, curtains, rugs, and bedding are all easy ways to incorporate the orange color. Finally, consider adding a few accent pieces to give your bedroom an extra dose of personality.
Although creating an orange bedroom can be tricky, there's no need to get overwhelmed. With some patience and creativity, you can create a beautiful space that you and your family will love. Good luck!
References:
https://www.mydomaine.com/orange-bedroom-5214149