If you're like most parents, you want your toddler's bedroom to be a fun and comfortable space that they will love. But at the same time, you also need it to be functional and easy to clean. It can be tough to find the right balance between style and practicality, but don't worry – this article has got you covered! This blog post will share some toddler bedroom ideas that will make your life easier. So, whether you are starting from scratch or just looking for a few new ideas, read on for inspiration!
What is a Toddler Bedroom?
A toddler bedroom is a room specifically designed for children between the ages of one and three. It provides a safe, comfortable space where toddlers can explore, play, and grow. Toddler bedrooms are typically equipped with beds, dressers, nightstands, and other pieces of furniture that help create an environment suitable for young children. To enhance the safety of your toddler's room and promote learning, you may also choose to add educational toys as well as age-appropriate artwork or wall decorations. With some basic planning, you can easily create a fun and inviting space that your toddler will enjoy being in.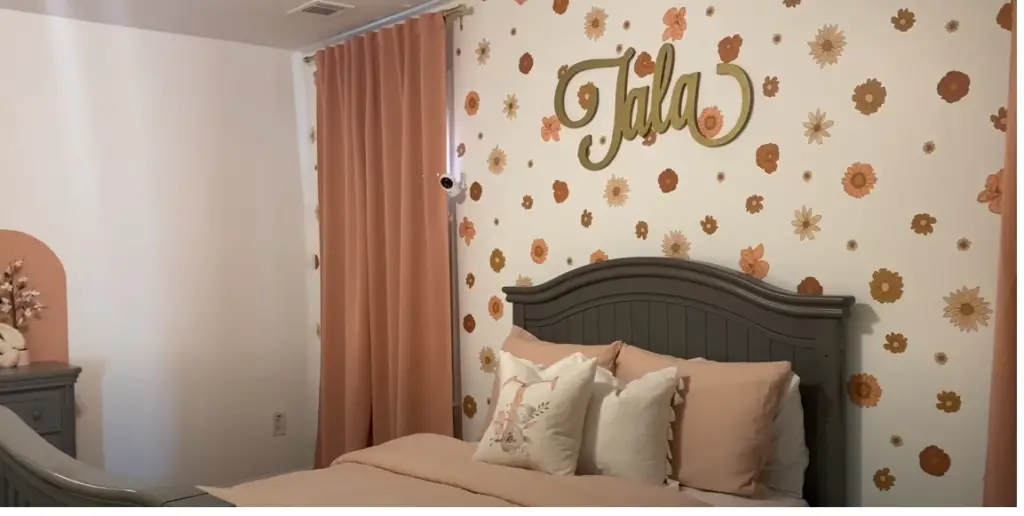 When designing a toddler's bedroom, it is important to consider both the child's needs and your aesthetic preferences.
When selecting toys and decorations for your toddler's room, look for items that will captivate their senses, stimulate their minds, promote learning, and provide fun entertainment. Puzzles, blocks, stuffed animals, and bookshelves full of storybooks are all great options. You may also want to incorporate sensory-stimulating elements such as lights or music into the space. Additionally, choose wall colors and artwork that reflect your toddler's interests or hobbies. This will help them feel connected to their space and will serve as a reminder of their own unique identity.
Toddler Bedroom Decor 8 Genius Ideas
A themed bedroom
A themed bedroom is also a great idea for your toddler's room. Some popular themes that work well for toddlers include animals, outer space, underwater sea life, and fairy tales. Use wall decals and art to create the perfect scene and add furniture or accents that match the theme.
Creating a fun learning environment
Incorporate educational toys and accessories in your toddler's room to foster their curiosity and help them learn as they play. Put up an alphabet wall decal with pictures of things that start with each letter of the alphabet so they can learn as they look around their room. Hang a clock featuring numbers instead of hands so they can begin to understand time concepts such as half-hour intervals and counting down minutes.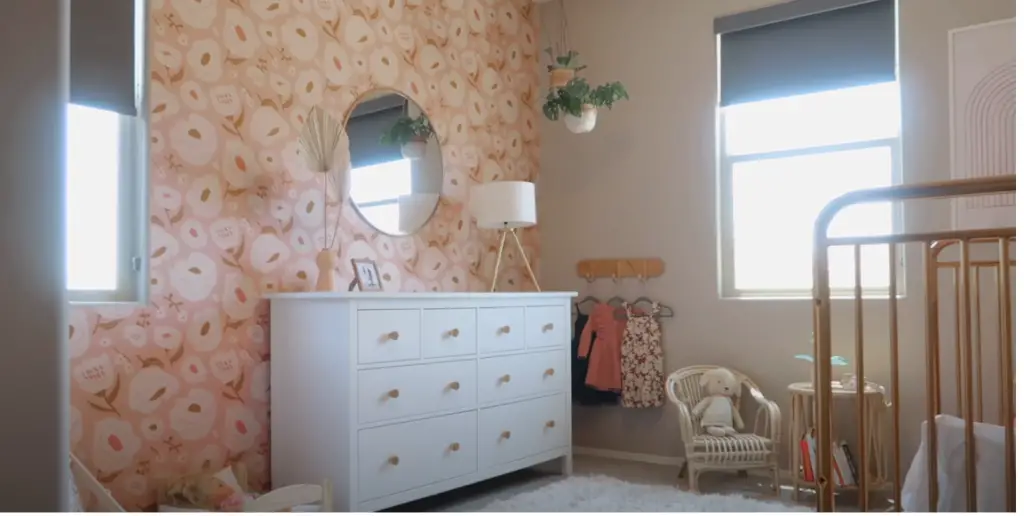 A whimsical, outdoor-inspired space
If you want to create an outdoor-inspired space for your toddler, the possibilities are endless. Hang a tree wall decal and add some birdhouses or nests in the branches. Place butterflies or bugs around the room with 3D wall stickers. Add a few potted plants and soft cuddly animals like bunnies or squirrels to make it feel more natural and outdoorsy.
A cozy reading nook
Turn one corner of your toddler's room into a cozy reading nook so they can curl up with their favorite books. Start by hanging curtains across that section of the room, then add a beanbag chair or comfy floor cushions. Put up shelves with interesting books to read and display all their special stuffed animals.
Incorporate fun storage solutions
Storage can be a challenge when decorating a toddler's room, but it doesn't have to be boring or plain. Choose colorful bins and boxes that will make cleanup fun rather than a chore. Hang some baskets on the wall for small toys and place other larger containers on the floor for bigger items such as dress-up clothes and puzzles.
Make it personal with special touches
Personalize your toddler's bedroom with thoughtful touches that reflect their unique style. Put up wall art featuring their name or initials for an extra special touch.
Soft colors and plenty of storage
When decorating a toddler's bedroom, it's important to choose colors that are soft and calming. Choose light blues, greens, or yellows for a soothing atmosphere. Add plenty of storage space with dressers, closets, and shelves so your toddler can keep their belongings organized. With some creative ideas and thoughtful touches, you can create an adorable bedroom that will be perfect for your growing toddler.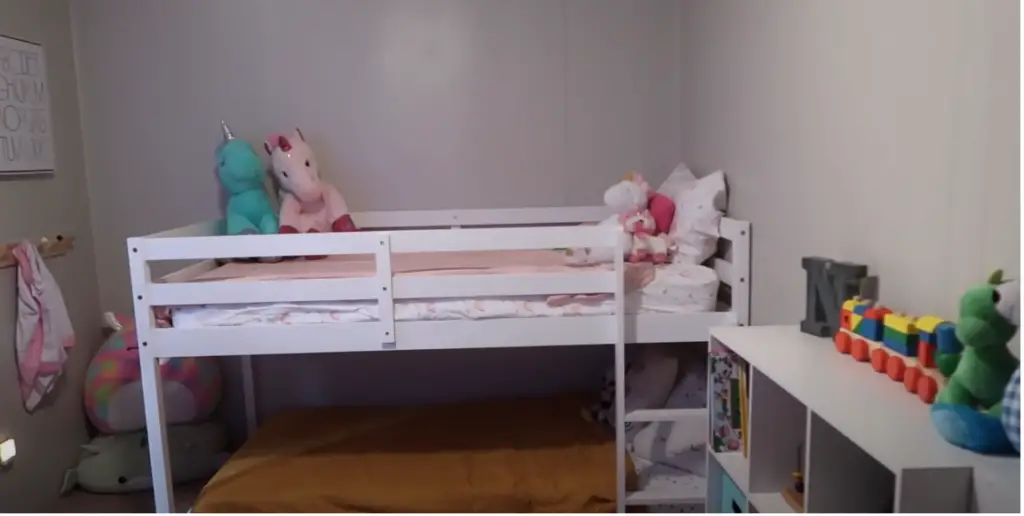 A congenial, shared space
If your toddler shares a room with their sibling or another family member, you can use the same tips to create a congenial shared space. Choose colors that are gender-neutral and decorate with a theme that appeals to both children. Add separate storage solutions so each child can have a designated place for their items. Use wall decals to divide the space without closing it off completely [1].
Small kids' bedroom ideas
Conceal clutter with a curtain
A great way to help your child maximize the space in their bedroom is by creating a neat alternative to storage. A curtain can make it easy for them to hide away toys, clothes, and other items when they're not using them. This gives their room the appearance of being more spacious and decluttered – helping them feel better able to relax in the environment. Additionally, you can opt for colorful curtains that match the theme of your room and make it look even brighter!
Get creative with bookshelves
If your child loves reading, then utilizing wall space with some innovative shelving solutions could be just what they need. Bookshelves are a great way for them to store all their favorite books without having to worry about finding space for them elsewhere. You can choose to make the bookshelves yourself, or you could even look into some interesting pre-made options that will really bring their bedroom to life.
Throw down a colorful rug
Adding a rug to your child's room can help tie the entire look together, as well as provide a cozy spot for them to relax or play. You could opt for something bright and patterned, or keep it simple with one solid color. Whichever you choose, make sure that it's made from durable materials so that it can stand up to wear and tear over time.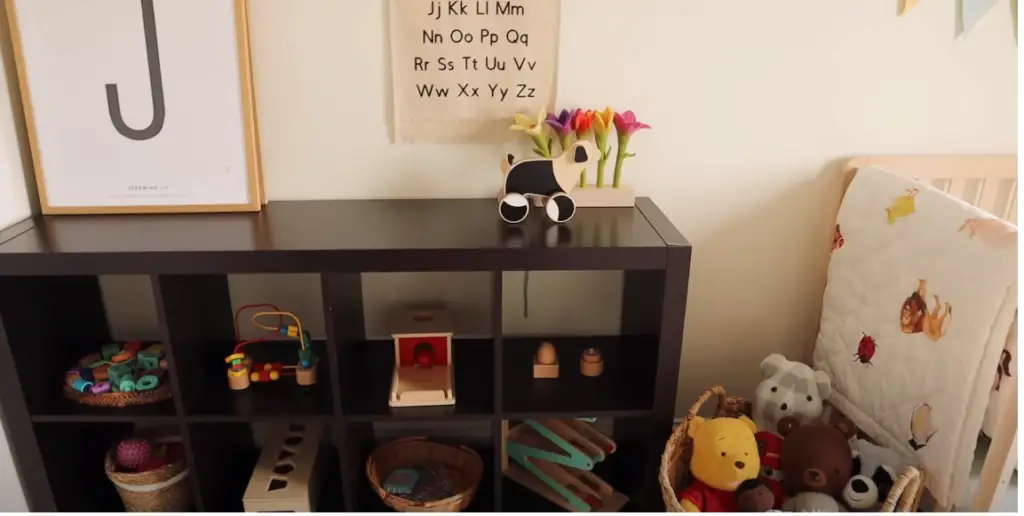 Build a space-savvy window seat
If your child's bedroom includes a window, then you can make the most of the space with an eye-catching window seat. Not only will it look great, but it'll also provide them with a comfortable spot to curl up in when they need some time to relax or read. You can use bookshelves and storage boxes underneath to keep all your essentials close by.
Create a magnetic feature wall
If your child is a fan of art, then why not create a magnetic feature wall? It's an easy way to showcase their favorite pieces while freeing up space around the room. You can buy special magnetic paints that will allow them to stick magnets and notes onto the wall.
Introduce nature-inspired elements
Bringing nature into your child's bedroom could be just what they need. Whether it's a houseplant in one corner or some cute animal-inspired décor, introducing elements from the outdoors will help make the environment feel more calming and inviting. Plus, you can use these features to inspire conversations about the world outside!
Distract with an accent color
If you're looking for a way to add some visual interest to your child's room, then why not introduce an accent color? Pick out one bold hue and use it to balance the monochromatic shades in the rest of the room. You could paint an accent wall or choose colorful furniture pieces which will help keep the atmosphere playful and inviting.
Make a reading corner with floor cushions
Creating a cozy reading corner is always a great idea – especially when your kid loves books. All you need is some floor cushions, pillows and blankets, and maybe even a small bookshelf to store all their favorite reads. This will give them a comfortable spot in which to curl up and relax when they want some time away from the rest of the world.
Keep tiny furniture as long as possible
When it comes to furniture, don't jump on board too quickly with the idea of replacing your child's old pieces. Instead, keep them around for as long as possible – even when they outgrow them. For instance, you can use a small bed for a few years and then switch it out for a larger one once they get older. This will help save some money in the long run and keep their room looking fresh.
Make sure everything is easily accessible
Make sure that everything in your child's bedroom is easily accessible.
Store toys under the bed
Over time, your child's bedroom can easily become cluttered with toys. To combat this issue, think about investing in some under-bed storage options which will help keep their room looking neat and tidy. You can also use baskets or totes to store any extra odds and ends which don't have a home yet. And finally, if you're short on space, try utilizing vertical storage solutions like wall shelves or hanging racks.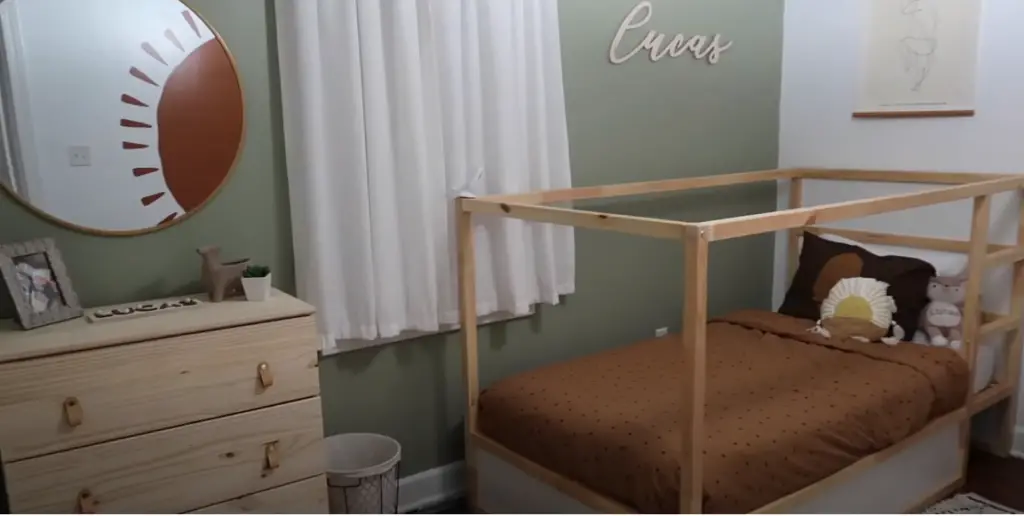 Invest in a toy chest
A toy chest is a great way to store your child's toys while still keeping them close at hand. You can use a traditional wooden chest or something more modern, like a bright and colorful storage bin. Either way, it'll help keep all their playthings organized and within easy reach when they want to play. Plus, it'll make tidying up that much easier!
How can I make the most of a small children's bedroom on a budget?
Creating a stylish and functional bedroom for your child on a budget can be done with careful planning and creative use of space. Here are some tips to help you get started:
Repurpose furniture – If you have pieces that are multipurpose, such as ottomans that open up for storage, or benches that double as seating, this can help save money while also creating extra storage space.
Make use of wall space – Wall shelves and hanging racks take up minimal floor space but can provide plenty of room to store toys, books, games, and other items. A bonus is that they can be easily decorated with favorite artwork or photographs.
Use removable wallpaper – Removable wallpaper provides a visual pop to any room and adds character to the space. Plus, it's easy to install and remove when your child outgrows the current style.
Maximize natural lighting – Make use of natural light sources by keeping windows unblocked and adding mirrors or other reflective surfaces that will help brighten up the room.
Pick pieces with multiple uses – Instead of buying separate items like a headboard, desk, and bookshelf, look for items that offer more than one purpose such as a bunk bed with built-in storage or an armoire that can double as a dresser.
Invest in quality furniture – While you may be looking to save money on furniture, investing in quality pieces can make a huge difference in the look and feel of the room. Quality furniture will last longer, which means you won't have to buy replacements as often.
Accessorize with rugs and throw pillows – Rugs are an inexpensive way to add color and texture to a room, while throw pillows can liven up old furniture or make new additions cozy.
Shop thrift stores – Thrift stores are great sources for unique items that can fit any budget, such as vintage toys, bookshelves, dressers, artwork, and more. Creating a stylish and functional bedroom on a budget is possible with careful planning and creative use of space [2].
How do you fit two kids in a small bedroom?
Utilize under-bed storage: Invest in some plastic bins that fit perfectly under the bed and can be used for storing clothes, books, toys, and other items. This will help to clear up clutter from the floor while also freeing up additional space in the room.
Have a designated play area: Designate an area of the bedroom where both children have access to educational or creative activities. This could include a craft table, a chalkboard wall, or even some magnetic blocks on the side of a dresser drawer. This way they have something fun to do without intruding into each other's personal space.
Make use of vertical storage solutions: Invest in tall storage solutions such as a bookshelf or cubbies that take up less space in the room. This helps to create additional storage for toys, books, and other items without taking up valuable floor space.
Create an organized closet: Maximize the hanging and shelf space of the bedroom's closet by organizing it into sections for each child's items. This will help keep everything neat while providing enough room for both children's belongings.
Utilize convertible furniture: Invest in pieces of furniture such as chairs that can be folded away when not in use or beds with pull-down trundle beds underneath them. This allows you to save on extra bed frames while also creating more sleeping space if needed.
Encourage sharing: Teach your children the importance of sharing by encouraging them to split bedroom items such as toys, clothing, and books with each other. This will help make their shared space more manageable and enjoyable for both of them [3].
FAQ
How to design a toddler's bedroom?
Designing a toddler's bedroom can be both fun and challenging. Start by considering the size of the room, safety concerns, and what colors will best suit your child's personality. Think about how you want to use the space for specific activities such as playing, studying or sleeping. Choose furniture that is sturdy, safe, and easy for your toddler to move around.
Place items like dressers, beds, and chairs against walls rather than in the middle of the room so that there is plenty of open play space for running around or other activities. Pick colorful bedding, curtains, and rugs that are comfortable as well as attractive. Consider adding wall decals featuring their favorite characters or shapes to tie it all together into a cohesive look.
Choose storage solutions that are easily accessible so your toddler can find their toys and books when they need them. Finally, ensure the space is well-lit with task lighting for studying or playing and soft nightlights for a peaceful sleep.
What makes a good toddler room?
A good toddler room should be safe, comfortable, and inviting. Choose furniture that is sturdy and age-appropriate to prevent injuries. Make sure all cords are tucked away so they won't become a hazard. Use bright colors and fun patterns throughout the space to create an inviting atmosphere that your child will love spending time in. Organizing the room is key for creating order from chaos. Find storage solutions that are easy for them to access so they can put their toys away when it's time to clean up. Consider adding fun elements such as wall decals or murals to make it more visually pleasing.
Useful Video: Montessori Toddler Room Makeover & Tour | FUNCTIONAL & PRACTICAL BEDROOM for 3 year old!
Conclusion
Toddler bedrooms can be designed differently depending on the individual needs of the child. A toddler bedroom should be safe and comfortable, but also promote learning and growth. Colorful wall decor and furniture can encourage a comfortable atmosphere for playtime, while educational toys can stimulate an inquisitive mind. A good night's rest is essential for any growing child, so consider investing in a comfortable mattress with breathable bedding to ensure your small one gets the rest they need. With these guidelines in mind, you can create a space that your toddler will love!
References:
https://www.ikea.com/gb/en/ideas/simple-ideas-for-a-childrens-bedroom-update-age-3-7-pub9be2ac01
https://www.idealhome.co.uk/childrens-room/childrens-room-ideas/budget-childrens-room-design-ideas-209442
https://www.bhg.com/rooms/kids-rooms/shared-rooms/shared-spaces-kids-rooms-for-two/