When it comes to bedrooms, creating a cozy and comfortable space is essential. One important element of any successful bedroom design is the choice of window treatments. Blinds are an excellent option for creating privacy and blocking excessive sunlight while also adding style to the room. With so many different styles, colors, materials and sizes to choose from, finding the perfect blinds for your bedroom can be a daunting task. To help you out, we've gathered some helpful tips and ideas on the best Bedroom Blinds Ideas.
Key Factors to Consider When Choosing Your Blinds
Measurement – Bedroom windows come in a wide variety of sizes, so it's important to measure your window accurately before selecting any blinds. Make sure to measure the width and height of both the frame and glass, as well as the depth of any sill or protruding obstructions.
Light Filtering – Consider how much light you want to let in when selecting your blinds. Some materials, such as sheer fabric, will provide a light filtering effect while still providing privacy. Other options, like blackout shades, will block out the sun completely for a darker room.
Style – There are so many different styles of blinds that it can be overwhelming. Consider the existing décor of your bedroom when choosing which style will work best. From contemporary to rustic, there's something for everyone!
Privacy – Privacy is an important consideration when selecting blinds for a bedroom. Choose blinds made from thick materials that can fully block out light and provide a sense of privacy.[3]
Make a chilly room feel cozier
The first thing to consider is the placement of your bedroom blinds. Depending on your room's orientation, you may want to place them either near the ceiling or closer to the floor. By placing them higher up, you'll let more heat out in summer and keep it in during winter—a great way to make a chilly room feel cozier.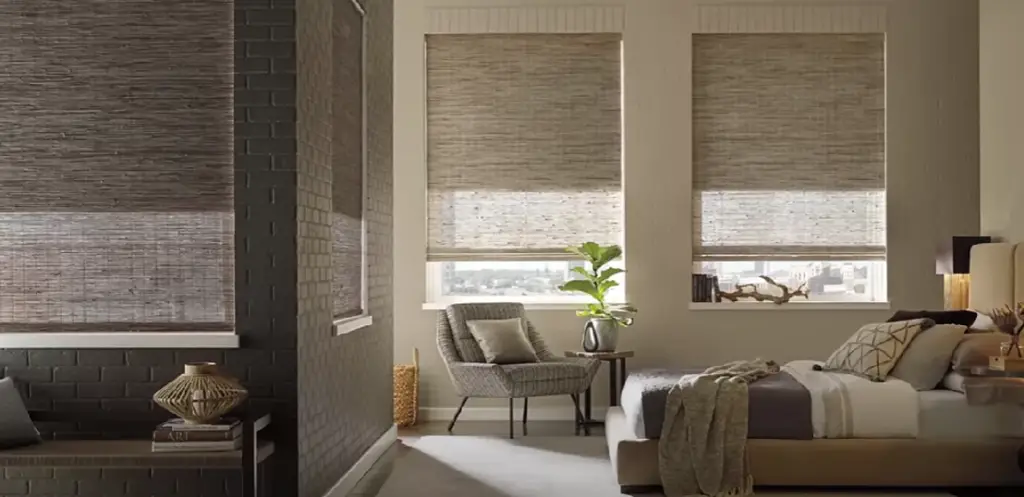 To get around this and still enjoy privacy in your bedroom, look for blackout blinds or thick honeycomb fabric shades which can provide an extra layer of insulation from the outside world.
Lastly, if you're concerned about keeping your room warm in winter, you can add an extra layer of insulation over the windows with blinds. Choose a fabric option that offers additional heat blocking properties and higher R-value rating (indicating how well it will retain heat).[3]
Light and privacy control
The most important aspect of bedroom blinds is that they offer an ideal combination of light control and privacy. The best way to achieve this balance is to choose a blind with adjustable slats, which allow you to adjust the amount of light coming in while still maintaining your desired level of privacy. Venetian blinds are an excellent choice for this, as they allow you to adjust the angle of the slats and also open them up fully or partially. Alternatively, blackout blinds are an ideal choice for bedrooms as they block out all light when required.[3]
Add Roman Voile blinds for daytime privacy
When lowered, the fabric folds in pleats like traditional roman blinds, blocking out most outside light. This type of blind is also available with a blackout lining, which means you won't need to worry about morning sun rays peeking through the window.
Roman voile blinds are a great choice for bedrooms as they provide both privacy and an airy aesthetic at the same time. To make them even more practical, consider adding a blackout lining and motorization for easy operation.[3]
Versatile Venetian blinds
Venetian blinds are an excellent choice for bedrooms. Their versatility makes them a great way to customize the look of any room, while providing privacy and light control. Venetian blinds come in a variety of styles, materials, and colors so you can find exactly what suits your space best. They are also available with cordless operation, making them an ideal choice for bedrooms.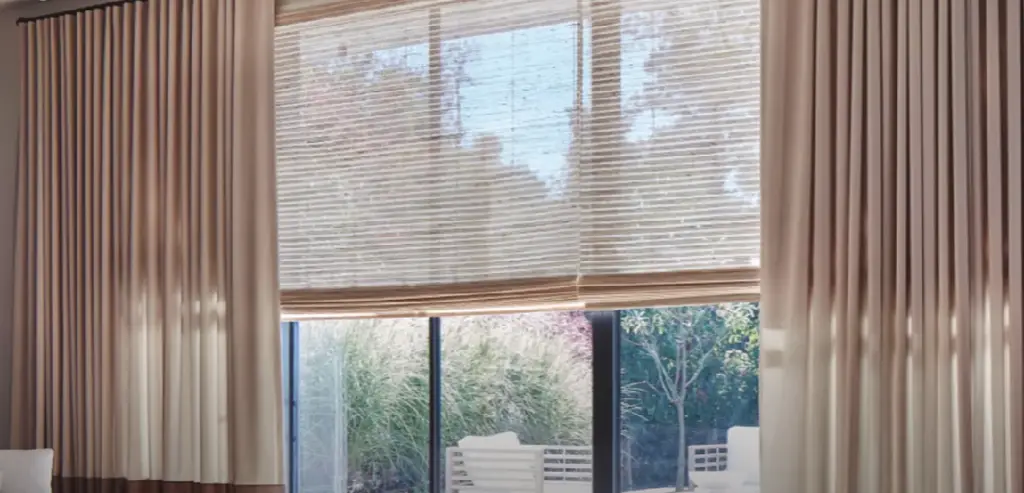 When selecting Venetian blinds for your bedroom, consider options such as slatted wood or faux wood for a rustic look, and aluminum or vinyl materials for a contemporary design. Darker colors will help to block out the light more effectively while lighter colors can brighten up the room.[3]
Beautiful bay window blinds
Adding blinds to a bay window can be tricky. If you have a traditional bowed shape, then measure the width of each side from the center outwards. You'll need an inside mount window blind which will fit within the frame and block out light completely. If you are looking for something that stands out in your bedroom, consider custom-made Roman blinds for the bays. They can be made in a variety of colors and materials and will look great against your wall color.
If you have an angled bay window, then opt for outside-mount blinds. These types of blinds will attach to the outside of the window frame and are often easier to install than inside mounted blinds. You'll also get more privacy and light control with an outside mount blind.[3]
Blinds for skylight windows
Skylight windows can be a great source of natural light, but too much sunlight can make your bedroom look washed out and hot. Blinds are one way to control how much light is coming in from your skylight window.
There are several different types of blinds that you can install on skylights: Venetian blinds, horizontal blinds, and roller shades. Venetian blinds have adjustable slats that can be moved up or down to control light levels, while horizontal blinds feature two or more panels with a cord and pulley system for opening and closing them. Roller shades are great for blocking out light completely when needed.[3]
Roman blinds for sleek, streamlined looks
Roman blinds are a great option for bedrooms because of their sleek, modern look. They're made from lightweight fabric that folds up neatly when opened and can help create an attractive, contemporary design in any bedroom. Roman blinds come in a variety of colors and patterns, so you can easily find one to match your decor. Plus, they provide excellent insulation against heat and cold, making them an attractive choice for energy efficiency.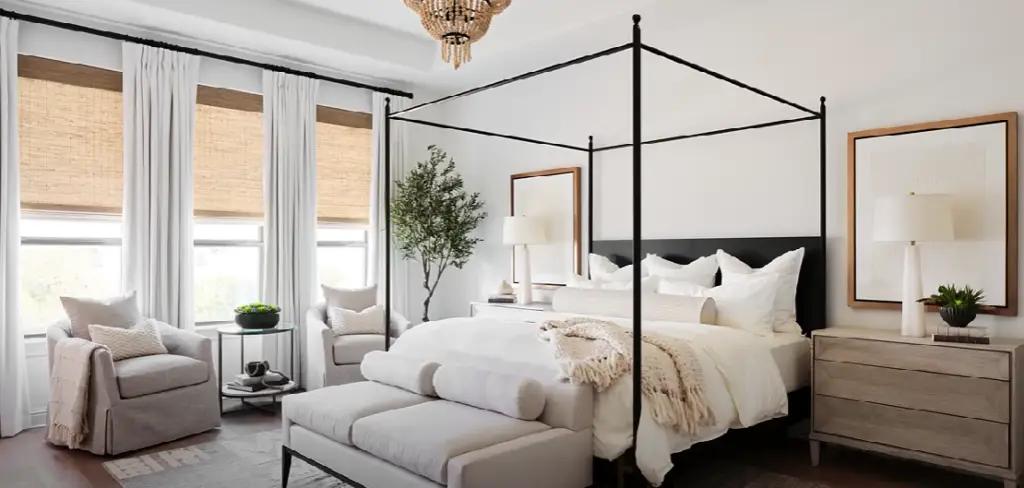 When it comes to installation, Roman blinds are usually easy to install yourself with a few basic tools. They're also relatively inexpensive compared to other window treatments, so you can create a stylish look without breaking the bank.[3]
Bedrooms on a budget
If you're on a tight budget, you don't have to forgo window treatments altogether. There are plenty of affordable options that can give your bedroom the perfect finishing touch without breaking the bank.
One of the most popular budget-friendly tools is vinyl mini blinds. They come in a variety of colors and textures, so you can find something to match your style without spending a fortune.
Café curtains are another great option. They're made of lightweight fabric that hangs from just the top half of the window, allowing natural light to filter through while adding privacy and charm to your bedroom. Plus, they're incredibly easy to install and won't bust your budget.
Finally, roller shades are an affordable solution for blocking out unwanted light and creating a more peaceful sleeping environment. While they don't offer the same level of insulation or privacy as other types of window treatments.[2]
Zebra Blinds
Zebra blinds are a popular choice when it comes to bedroom blinds ideas. They feature two alternating sheer and opaque fabric panels that tilt open and closed to control light levels in the room. Not only do they look great, but zebra blinds also provide insulation for your home, helping to keep your bedroom cool or warm as desired. Zebra blinds come in a variety of colors and sizes to match your existing décor, as well as materials such as cotton or polyester.[2]
Motorized Window Blinds
Motorized window blinds are an increasingly popular choice for bedrooms. Not only do they look stylish and modern, but they also offer a range of benefits that you won't get with manual blinds. Firstly, motorized blinds can be operated remotely using an app or remote control, so you don't have to get out of bed to open or close them. Secondly, they can be programmed so that the blinds automatically adjust in response to changes in light and temperature, saving you time and energy. Finally, motorized window blinds come with an array of features such as timers, voice control, and safety sensors. This makes them a great choice for bedrooms where children are present.
If you're looking for an attractive and practical way to control the light in your bedroom, motorized window blinds could be a great option. It's important to consider the size of the room and window, as well as your budget when selecting motorized blinds.[2]
Fabric Roller Blinds
Fabric roller blinds are a great choice for bedrooms as they provide ample privacy while offering a wide range of colors and textures. Their simple design also makes them easy to fit into any type of decor. Whether you're looking for something subtle or more vibrant, fabric roller blinds can be tailored to fit your own personal style.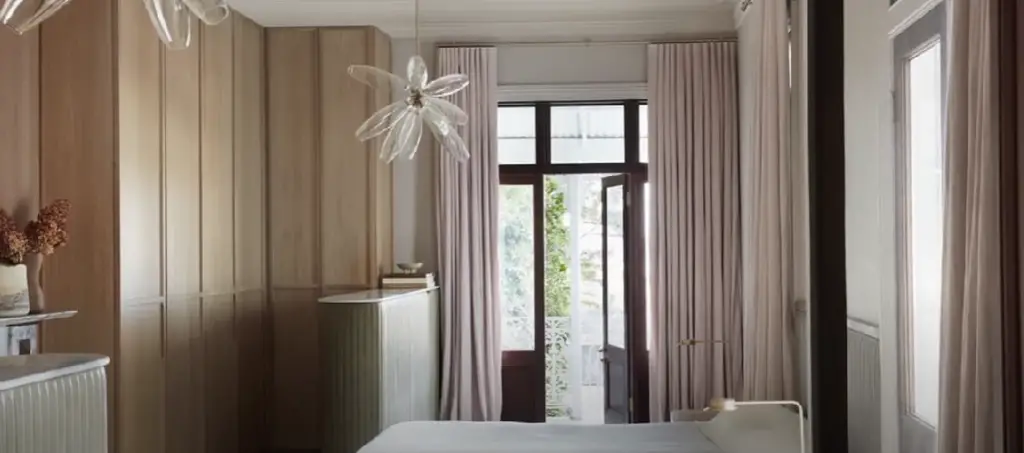 They also have the added benefit of being highly energy efficient and providing additional insulation to keep your bedroom warm in cooler months. Finally, fabric roller blinds are very easy to clean and maintain making them a great choice for busy households.[2]
Rely On Translucent Blinds For Privacy
Translucent blinds are becoming increasingly popular in bedrooms. These blinds have a slatted design, allowing for plenty of natural light to enter the room while still providing adequate privacy. Depending on the material and texture you choose, these blinds can also add an interesting aesthetic element to your bedroom. For example, roman shades are made of a rich, luxurious fabric that will add a timeless elegance to any space. On the other hand, wood blinds are perfect for creating an earthy feel in your bedroom.
If you're concerned about privacy, there are plenty of options available on the market that allow you to customize how much light comes through the slats. This way, you can adjust your blinds to allow for just enough light without letting in too much. Additionally, some manufacturers offer a blackout option that blocks out almost all incoming natural light. This is ideal if you're looking for total privacy while still maintaining an element of style and sophistication in your bedroom.[2]
Add Color And Character With A Roller Blind
Roller blinds are a great way to inject color and character into your bedroom. With such an array of fabrics, patterns, and colors available, you can find something that's perfect for any style. Whether you're after bold geometric shapes or subtle stripes, roller blinds have the option to really liven up a room. If you're looking for a statement piece, these blinds can make a real impact in the look and feel of your bedroom.
The fabric is made with durable materials that won't easily tear or fade in sunlight. You can also find blackout roller blinds that will help keep your room dark and cool for a better night's sleep.[2]
Let Your Windows Inform Blind Positioning
Where you install your bedroom blinds and which type of window coverings you choose depends largely on the bedroom windows themselves. The size, shape, style, orientation, and other factors are important when it comes to deciding which blinds or shades work best in the space.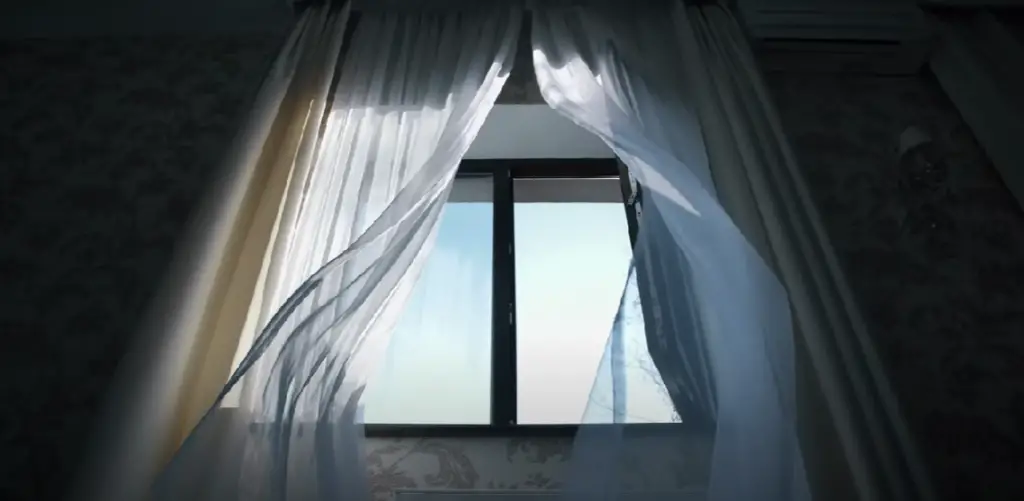 For instance, if your bedroom has a lot of natural light, you may want to opt for a blackout blind or shade that blocks out the sunlight. If your windows are short and wide, then horizontal blinds may be better than vertical ones. Pay attention to the size of each window when selecting window treatments as well; if you choose something too large it will overwhelm the room, but if you go too small it can look out of place.
When considering where to hang the blinds, think about how it will affect your view from the bed. If you don't want to be able to see out the window at night, then install them higher up on the wall or add curtains as well for even more privacy options.[1]
Use Conservatory Blinds To Control Temperature
One of the great things about conservatory blinds is their ability to control temperature. With these blinds, you can keep out some of the summer's heat and also hold in some of the winter warmth.
The advantage of using Conservatory Blinds to manage temperatures is that they are made from materials specifically designed for this purpose. You can choose from fabrics and materials that are lightweight, heat reflective or insulating, depending on the season and the amount of light you want to block out.
With Conservatory Blinds, you can also control incoming sunlight. This is especially important for bedrooms as it allows you to manage how much light comes in so that your sleep isn't disrupted. You can also use the blinds to ensure that there is never too much light in the bedroom, which can be uncomfortable and lead to difficulty sleeping.[1]
Opt For Blackout Blinds To Ensure A Good Night's Sleep
Blackout blinds are a great choice if you want to make sure that your bedroom is dark and cool when you're trying to get a good night's sleep. These blinds come in many shapes and sizes, so they can fit any window size in your room. You can also choose from different types of materials such as vinyl, wood, and metal depending on your style preference.
Another benefit of blackout blinds is that they are energy efficient, meaning you can save money on heating and cooling costs since these blinds will help to regulate the temperature in your bedroom. Lastly, blackout blinds are relatively low maintenance and easy to clean since all you'll need is a damp cloth to wipe them down.[1]
Control Privacy In The Bathroom With Venetian Blinds
If you're looking for a way to control the amount of light and privacy in your bathroom, consider installing Venetian blinds. To start, measure the window to determine the correct size for your Venetian blinds. You can find affordable options at home improvement stores or online sites. When shopping for Venetian blinds, look for moisture-resistant options since the bathroom is a humid environment.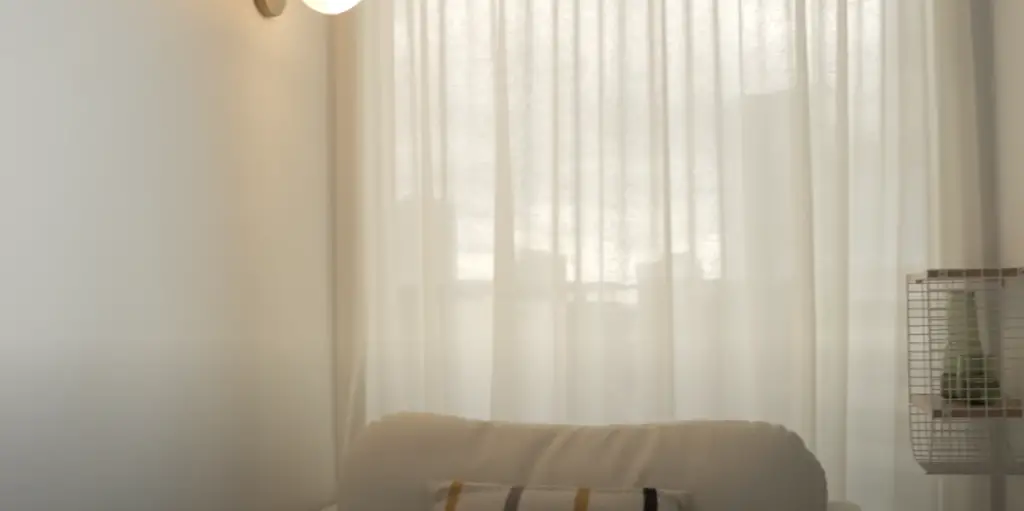 Once you've chosen and installed your Venetian blinds, you'll need to make sure that they are properly adjusted to let in the right amount of light while providing the desired level of privacy. To do this, start by opening the blinds all the way and then slowly close them until you reach your desired level of light and privacy. To ensure that the blinds are properly adjusted, stand in front of the window and look through the slats. You should not be able to see through them when viewed from a distance.[1]
Embrace Country-Charm With Swedish Blinds
Swedish blinds are a timeless look that adds instant charm to any bedroom. These curtains come in a variety of beautiful fabric designs, from paisley and floral patterns to solids, stripes and plaids. Swedish blinds can be operated by a cord or with spring tension rods that allow you to adjust the amount of light filtering into the room.
For a sleek, modern bedroom look, hang Swedish blinds on each window and drape a sheer curtain in between for added privacy. For a more traditional approach, pair them with bold or patterned curtains to create an eye-catching focal point. To make your windows stand out even further, choose coordinating fabrics in complementary colors for the blinds and curtains.
Swedish blinds are perfect for bedrooms that require extra privacy, as they can be easily adjusted to block out or allow in light. They also add texture and depth to the room, as they come in a variety of fabrics with interesting patterns, textures and prints.[1]
FAQ
Should I use blinds or curtains in the bedroom?
The decision is entirely up to you and depends on the look and feel you want to create in your bedroom. Blinds are great if you want a modern or minimalistic style, as they're relatively unobtrusive compared to curtains. On the other hand, curtains work better for creating cozy, traditional-style bedrooms with more fabric-based accents.
What is the modern look for blinds?
Modern bedroom blinds typically feature simple, streamlined designs and neutral colors. If you want to make a statement, consider bolder shades like navy blue or dark green. You could also opt for unique patterns and textures, such as honeycomb cellular shades or wooden blinds.
What blinds are most fashionable?
There's no one-size-fits-all answer here. The blinds you choose will depend on the style of your bedroom and your personal preferences. However, some of the most fashionable options include roller blinds, Venetian blinds, and Roman shades with bold patterns and colors.
What blinds can see out but not in?
Blackout blinds are the best option if you want to keep your bedroom dark and private. These come in a variety of styles, from rollers to Venetian blinds, and they are designed specifically to keep light out.
What blinds give privacy at night?
Blackout blinds are the best for giving you privacy at night, as these will block out all external light and keep your bedroom dark. If you want a little more flexibility during the day, consider installing dim-out or semi-blackout blinds instead. These still provide some light control but let in some natural light during the daytime.
Can people see through my blinds at night?
No, they can't. If you choose blackout blinds, these will completely block out all external light so people won't be able to see through them at night. For added privacy, you could also consider installing a separate privacy liner or film that makes it even harder for people to see inside your bedroom.
Useful Video: BEST Window Coverings for Every Room | Julie Khuu
Conclusion
If you've been looking for ideas and tips on how to make your bedroom look more attractive, adding blinds is a great way to do it. Bedroom blinds come in many different materials, colors, sizes, and styles so you can choose the perfect one that will match your home decor. They also provide much-needed privacy and light control. To get the most out of your bedroom blinds, make sure you consider all of your options and take into account the overall look you're going for in the room. Hopefully these ideas have helped to get your creative juices flowing and inspire you to add some beautiful blinds to your bedroom! Good luck with your window treatment project!
References:
https://www.hillarys.co.uk/inspiration/bedroom-blind-ideas/
https://www.centurianwindowfashions.com/5-impressive-bedroom-blinds-ideas/
https://www.homesandgardens.com/ideas/window-blind-ideas