Welcome to your guide on Earthy Bedroom Ideas. Whether you are looking to create a stunning space for yourself or a loved one, earthy bedroom ideas will help you achieve that dream. We have prepared answers to some frequently asked questions and useful tips to get you started in creating an earthy and tranquil atmosphere. Read on for more information!
Try A Forest Themed Wallpaper
One of the easiest ways to give your bedroom an earthy, forest feel is to use a forest themed wallpaper. This gives you the chance to express yourself and make sure that your bedroom reflects your own individual style. Not only does it look amazing but it also helps to add some texture and warmth to the room.You can easily find these wallpapers in a range of colors and designs to suit your needs.[1]
Go For Green Creepers
When it comes to creating an earthy bedroom, one of the easiest ways to achieve that is with green creepers. You can place them on walls or around windows and doors to create a soft, inviting atmosphere. They look great hanging from rods or draped over furniture, too. Just remember to keep an eye on them as they may need to be pruned occasionally.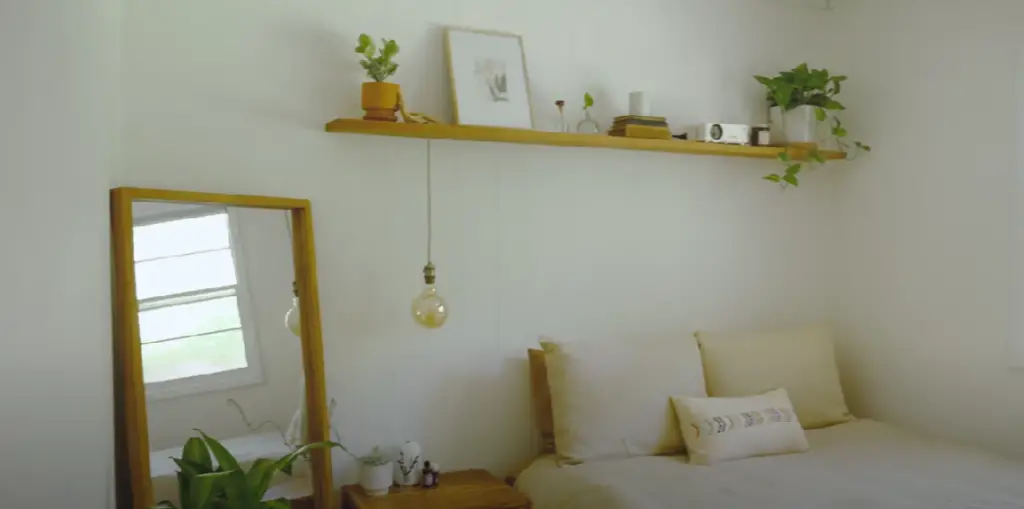 Green creepers are available in a variety of shades, from vibrant emeralds to softer pastel greens. You can also find them in different textures – for example, some varieties have tiny leaves while others have broader leaves. To really bring the outdoors inside, pick out some green creepers with fragrant flowers, such as jasmine or honeysuckle.[1]
Or Float The Pots!
Do you love the look of hanging planters but don't have the wall space or desire to create holes in your walls? Floating pots are a great alternative to accomplish the same relaxed, earthy vibe without making any permanent changes. Choose some large terra-cotta pots and fill them with succulents, herbs, or other flora of your choice. Then, simply suspend them from the ceiling using rope or twine to create a unique and natural feel. This is also a great way to add some much needed height and visual interest to an otherwise mundane space.
[1]
Plants For Your Headboard!
Bring the outdoors into your bedroom with plants! It's a great way to liven up your space and make it feel like an oasis. If you don't have the time or if you're not a green thumb, artificial plants can still add greenery for a natural look. Place them on top of your headboard or add a shelf and hang some potted plants to the wall. Another idea is adding a living wall with succulents![1]
Or How About Plant Wreaths?
Adding a plant wreath to your bedroom walls can be an instant way of bringing that earthy feel inside. This is the kind of statement piece you don't see in many bedrooms and it's sure to impress! Wreaths are available in different sizes, so even if you have limited wall space you can still get creative. For a soothing, earthy look, opt for one with green foliage – it will contrast nicely with the other colors in your bedroom. If you want to go all out, combine a few wreaths of different sizes and textures to create an eye-catching feature wall![1]
Use Cane Furniture
Cane furniture is one of the most popular choices when it comes to creating an earthy look in a bedroom. Cane furniture is lightweight and airy, giving your room an air of naturalness. While cane furniture may be more expensive than some other materials, the natural, light tones of this material make it perfect for achieving a gentle, earthy atmosphere.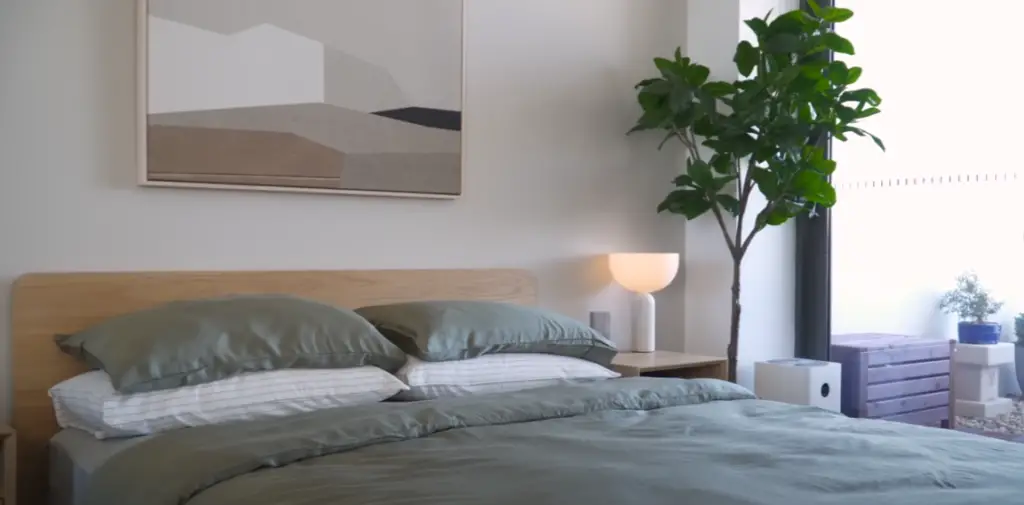 You can find cane furniture in a variety of styles and sizes to fit your bedroom's decor. Cane is flexible, too, so you can shape it into different shapes. For example, if you want to create a cozy corner in your room, you could use cane chairs and tables arranged together to make the perfect seating area.[1]
Add Some Coziness With A Corner Chair!
If you're looking to add some extra comfort and warmth to your earthy bedroom, adding a corner chair can be a great way to do so. Choose an armchair in a natural material like wood or rattan for a rustic vibe, or opt for an upholstered option for a more luxurious feel. If space allows, consider adding a side table or ottoman to create an inviting seating area in your bedroom. Place a few throw pillows and blankets on the chair for extra coziness. Additionally, you can also add a small bookshelf nearby so you have easy access to your favorite reads![1]
Rattan Headboards Can Nail It!
If you are looking for a more natural and earthy vibe to your bedroom, then rattan headboards can be a great option. Not only do they give your room an instant facelift with their unique texture, but they also add a touch of warmth and coziness. To make it even more special, try pairing it with a rattan bench, to create the ultimate earthy look. Finish off the look with neutral bedding and throws for added comfort and style.[1]
Add A Splash Of Orange!
You can add an orange throw pillow or blanket to your bed or try a piece of artwork that incorporates this vibrant hue. To make the space feel more organic, combine different shades of orange and brown together. If you're feeling bold, try painting one wall with an earthy shade of orange for a statement-making piece in your bedroom![1]
Not To Forget Mauve!
Mauve is a color known to add a subtle elegance and sophistication to any bedroom. You can easily incorporate mauve into your earthy bedroom design by simply adding it as an accent color or wall paint. It also pairs well with other colors such as green, brown, and beige. To take things up a notch, try adding a floral pattern or mauve-hued furniture. You can also add texture to the room with textured bedding and throws in shades of mauve, which will bring a cozy feel while still keeping that earthy look.[1]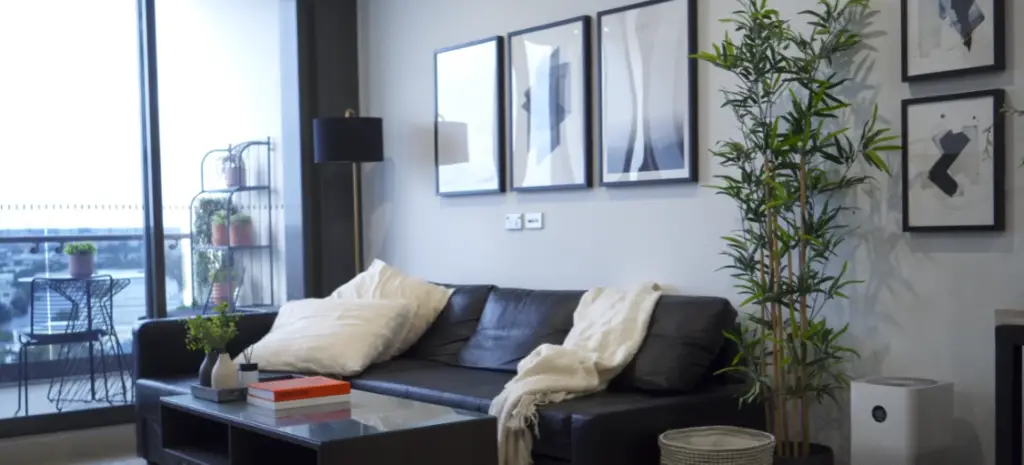 Brown Hues Are Must!
Brown is a classic hue that works great in any bedroom. It's warm, cozy and will help to make any room more inviting. Include earthy brown shades like beige, chestnut and chocolate on walls, window treatments, bedding and furniture for an easy way to create an earthy atmosphere. To add some texture and interest to the room, add some woven accents like a wicker chair or jute rug.[1]
Use Raffia Fabric For Decorative Pillows
When creating an earthy bedroom, raffia fabric gives the perfect natural touch. Raffia is a type of straw made from palm leaves that is often used in furniture and accessories. You can find raffia fabric for decorative pillows, bedding, curtains, lamp shades, and other items to use throughout your room. Use it to add a subtle earthy texture and bring some natural beauty into the room.[1]
Go For Printed Throw Pillows
Printed throw pillows are a great way to add an earthy touch to your bedroom. Go for natural-colored prints, like paisley or floral patterns in greens and browns. These prints will remind you of nature while still being stylish enough to fit with the room's decor. Mix and match different shapes and sizes of printed pillow covers to create a unique, cohesive look. You can also use solid-colored pillows for contrast and to tie in different pieces of furniture or wall art. For an extra cozy touch, opt for velvet print pillow covers that will help bring warmth into the room.[1]
How About Some Hemp Fabric?
If you're looking for a way to add some earthy vibes into your bedroom, why not consider incorporating hemp fabric? Hemp is an incredibly sustainable and durable natural fiber that has been used in textiles since ancient times. Not only is it environmentally friendly but also very stylish! Its natural texture adds depth and interest to any room, while its neutral color palette makes it incredibly versatile. Try adding some simple hemp curtains, bedding, or even throw pillows to give your bedroom a rustic and earthy feel. Not only will you be doing something good for the planet but you'll also be creating a cozy and inviting space for yourself to relax in.[1]
Chunky Crochets
Chunky croquettes are the perfect way to bring a hint of earthy warmth to any bedroom. A crochet throw blanket or afghan spread over your bed will add texture and color to an otherwise plain space. If you're feeling adventurous, why not try using chunky crochets as wall hangings? You could make a feature wall with fun and colorful crochets, giving your bedroom that rustic, homely feel.[1]
Use The Hanging Lamps
Hanging lamps are a great way to spruce up any bedroom. If you want to add an earthy vibe, why not hang some bamboo or wicker lamps? They will provide a warm, natural light that is perfect for relaxing after a long day. You can also opt for paper lanterns that have organic patterns and colors.[1]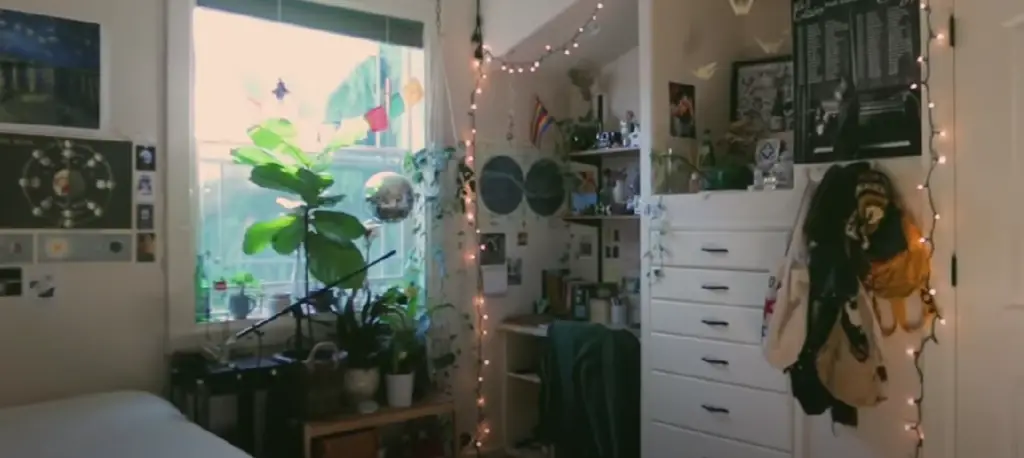 You Can't Skip The Natural Light!
When you are looking for ways to create an earthy atmosphere in your bedroom, natural light is essential. Natural lighting creates a soft and calming ambiance that will bring the whole look of your room together. If you don't have access to natural light through windows or skylights, consider buying some artificial lighting solutions such as LED lamps or light bulbs.[1]
Add A Wooden Ceiling
Adding a wooden ceiling can be a great way to bring an earthy feel into your bedroom. Whether you opt for wood-panel designs, plank ceilings, or even exposed beams, this is an easy way to add warmth and natural beauty to the space. To make it look more polished, you could even paint the wood in shades of browns, tans, or grays. When you're done, the result will be a cozy and inviting bedroom that feels like a comforting refuge from the outside world.[1]
Try A Raw Finish
Whether it's a bed frame, side table, or headboard – raw woods in natural shapes and shades create a modern rustic look that works perfectly with earth tones. To complete the look, add natural textures like knit throws and leather cushions for an earthy-luxe finish.[1]
FAQ
How do you style a natural bedroom?
When designing an earthy bedroom, start by choosing natural materials for the furniture and walls. Incorporate pieces made of wood, stone, or bamboo for a truly organic feel. You can also add natural elements like plants to bring life into the room. If you want to add color, choose muted shades that bring warmth and texture instead of bold primary colors. Adding textures like woven textiles, tweed, and linen onto the walls and furniture can make for a cozy space with an earthy vibe. Finally, accessorize your bedroom with neutral pieces that provide texture and interest without overwhelming the room.
How do you make a dreamy bedroom?
Creating a dreamy bedroom starts with your color scheme. Choose muted hues like blush pink, pale blue, or soft gray that will create a calming atmosphere in the room. Incorporate texture by using different materials like velvet and linen to give the space its own unique feel. Add plenty of layers such as plush pillows and throws for a cozy atmosphere. Finally, add in some natural elements for a subtle touch that brings the room together. This could include pieces like wicker furniture or houseplants. Incorporating these pieces can create an inviting and tranquil space for you to relax in.
How to design a rustic bedroom?
The key to designing a rustic bedroom is incorporating natural materials. Start by choosing furniture pieces made of wood or stone for an authentic feel. You can also add some raw accents like woven baskets and jute rugs that provide texture. To make the room more inviting, incorporate warm textures such as faux fur throws and sheepskin rugs.
What colors make a rustic look?
When it comes to rustic decor, earthy colors are the way to go. Incorporate shades like clay red, olive green, and golden yellow for a warm and inviting atmosphere. To give your room more depth, add in some darker hues like navy blue or charcoal gray. You can also use pops of color here and there to liven up the room. Think of colors like burgundy, burnt orange, or mustard yellow for a cozy yet stylish look.
What Colors are used in rustic style?
When it comes to rustic decor, you want to use colors that evoke a sense of nature. Look for muted tones like warm browns, greens, and blues that create a cozy atmosphere. You can also incorporate shades of yellow and orange for more warmth. Neutral colors such as white, gray, and black are also great for adding depth and contrast to the room. Finally, pops of color like burgundy or mustard yellow can add vibrancy and life to the space. With the right colors, you can create a rustic but stylish bedroom that feels like home.
Does rustic go with gray?
Absolutely! Gray makes a great neutral base for any rustic style bedroom. You can incorporate shades of gray into the walls, furniture, and textiles to create a cohesive look. To give the room more depth, add in some pops of color like burgundy or olive green. Finally, accessorize with natural elements like plants or woven baskets to complete the rustic look. With these pieces, you can create a tranquil and cozy space that is both stylish and inviting.
What are rustic themes?
Rustic themes are all about bringing the outdoors indoors. Incorporate natural materials like wood and stone to give your bedroom an authentic atmosphere. You can also add plants, animal hides, and other organic elements to make the space more inviting. Neutral colors such as whites, grays, and blacks work great in rustic designs. For a pop of color, you can also incorporate shades like burgundy or mustard yellow. With these pieces and colors, you can create a warm and cozy atmosphere that feels like home.
How can I make my interior look rustic?
To make your interior look rustic, start by incorporating natural elements like wood and stone into your design. These materials will give the space an authentic feel. You can also add in some textured pieces such as sheepskin rugs or woven baskets for a cozy touch. Neutral colors like white, gray, and black are great for creating a calming atmosphere. Finally, don't forget to add some pops of color here and there for a vibrant look. With these pieces, you can create an inviting and tranquil rustic bedroom that feels like home.
Useful Video:my earthy, Pinterest-inspired room tour
Conclusion
Creating an earthy bedroom is easy. It all starts with a few basic steps like choosing natural materials such as wood and stone, adding plants, using muted or pastel colors, and incorporating different textures into the room. By following these tips you can create a cozy, warm atmosphere that will make your bedroom feel like home. Finally, remember to always express your own personal style and creativity in order to make the space truly yours. Earthy bedroom ideas are all about finding balance between nature and comfort, so don't forget to have fun with it!
We hope you found this guide helpful in creating a cozy earthy bedroom of your dreams. Happy decorating!
References:
https://roomyoulove.com/natural-earthy-bedroom-decor-ideas/