Are you looking for ideas to give your bedroom a special touch? Lavender is an excellent choice if you're looking to add some color and texture to your space. Not only does lavender have a soft, calming effect, but its hue can easily match any other decorating theme or style. Here are some tips and tricks about lavender bedroom ideas to help you get started.
Layer Different Prints
Layering different prints and patterns is a great way to add a unique touch to your lavender bedroom. Try pairing polka dots with stripes or floral patterns with solids to create a beautiful, eye-catching look.
[1]
Turn Your Closet Into a Statement Piece
If you're looking to add a unique touch to your lavender bedroom, consider transforming your closet into something special. With a few alterations and a few coats of paint, you can turn an ordinary closet space into a beautiful storage area. Consider painting the walls of the closet with light purple, or opt for a bright lilac color if you want a more bold look. Or, get creative and use stencils to create stylish patterns on the closet walls – there are so many possibilities!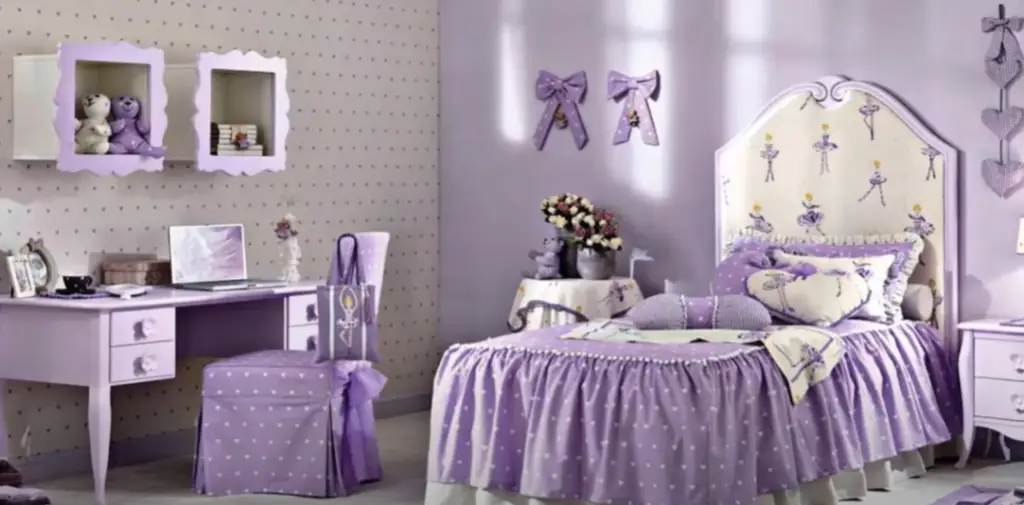 Once your lavender-inspired closet is complete, think about adding accessories like extra shelves or drawers for storage. You can also add a pretty rug or fabric curtains to make it even more inviting. Don't forget to hang some art or add a few decorative items like a mirror or vase for an extra special touch. With a little creativity and imagination, you can turn your closet into a show-stopping statement piece![1]
Add a Pop of Lavender With Your Sheets
One of the easiest ways to incorporate lavender into your bedroom is by adding sheets or blankets in a lavender hue. This can instantly add an elegant, feminine touch to any room and can be easily changed up when you're looking for something new. To make sure that the colors work together, it's best to choose shades of lavender that are in the same color family. You can also add a few throw pillows with different patterns to break up the monotony, or even a comforter![1]
Hang Lavender Drapes
A great way to add a touch of lavender to your bedroom is by hanging lavender drapes. Whether you go for a full-length curtain or panels, this will instantly transform the look and feel of your space.
Add some tiebacks or tassels for a more sophisticated look.[1]
Ground Your Space With Earth Tones
A great way to balance the femininity of a lavender bedroom is by grounding it with earthy tones. Earth tones like grays, beiges, and browns can help temper the sweetness of lavender while still keeping your space soft. For example, go for gray furniture pieces that will be an interesting contrast to the purple walls. You can also add various textures to the room with a beige shag rug or wicker furniture pieces. A few wooden accents like picture frames, shelves, and lamps can also bring a touch of nature into the space for a truly inviting atmosphere.[1]
Snag a Show Stopping Pillow
Pillows are like jewelry for your bedroom and adding a show-stopping piece will transform the look of your lavender bedroom. Consider pillows with unique shapes, bold patterns, or interesting textures that contrast nicely with the calming hue of your lavender walls. For example, using a pillow featuring an unexpected color like teal adds drama to the look. If you're feeling adventurous you can even use a patterned pillow with hues of lavender in it for an eye-catching effect.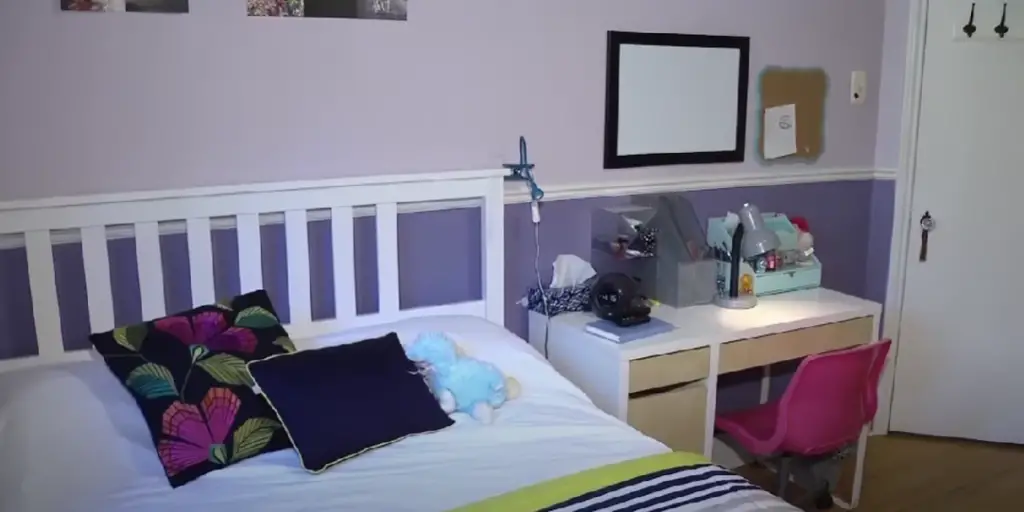 Pillows are also great for adding comfort and texture to your bed, so be sure to include a few plush pillows for snuggling up at night. No matter what style you choose, have fun with your accent pillows to create an inviting bedroom space that you'll be proud of.[1]
Pair Lavender With Lavender
Using lavender in your bedroom doesn't mean you have to use the same shade throughout. To make your color scheme more interesting, pair different shades of lavender together. You can mix a bright pastel with a richer and deeper tone or combine two pale versions for a soft, delicate look. When pairing different shades of lavender, be sure to add in accents of other colors to keep the room from looking monotonous.[1]
Play With Softer Shades
If you have been considering using lavender in your bedroom but are worried it might be too bold, why not try a lighter hue? Pale shades of lavender, such as lilac and powder blue, can help add subtle color to the room while still giving off a soft and calming vibe. You could use these colors on an accent wall, or simply as an alternative to white bedding.
To pull the look together, accessorize with lighter shades of lavender to create a cohesive color palette. Think about adding some sheer curtains in a light shade of purple, or try out some lavender-colored pillows for a cozy touch. This can help keep your bedroom looking fresh and airy while still giving it a hint of color.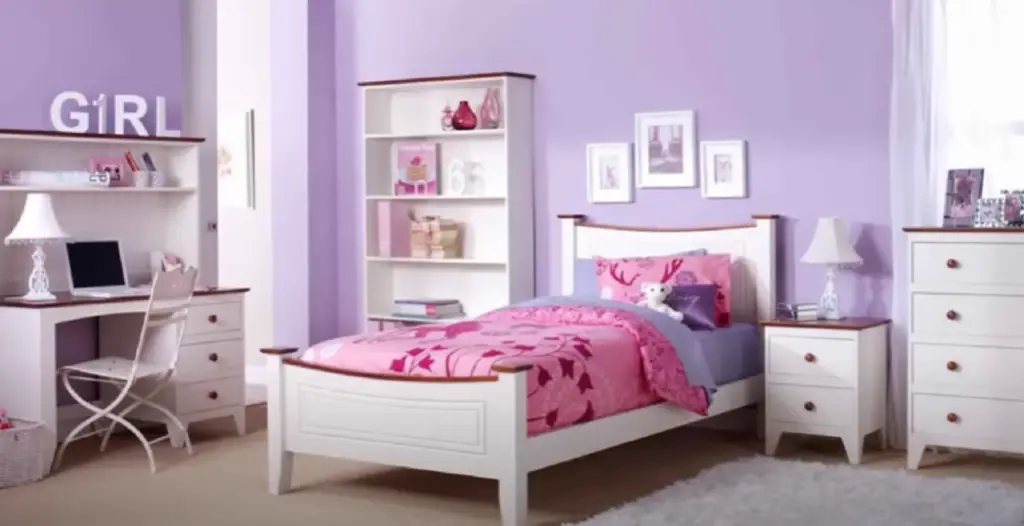 If you're feeling adventurous, you could even try combining lavender with other colors to create an interesting look. Try pairing lavender with green for a natural feel, or mix in some gold accents for a more glamorous aesthetic.[1]
Trim Your Headboard
One of the most common lavender bedroom ideas is to trim your headboard in a matching color. By adding a touch of extra color, you can create an elegant and sophisticated look without spending too much money. To make sure that the colors match perfectly, choose a headboard with a border that is already in the same hue as your bedding. Then, use a coordinating fabric to trim the border in lavender. This look can be further enhanced by adding accent pillows and cushions in various shades of purple. Another great option is to add a few strategically placed throw blankets for an added touch of color and warmth.[1]
Invest in a Few Bold Accents
When it comes to lavender bedrooms, you don't have to overpower the room with the hue. In fact, subtlety is best when creating a space that feels warm and inviting. To do this, invest in a few items that really stand out as bold accents. For example, you could get a gorgeous tufted headboard in a light lavender hue, or opt for a bright and bold piece of art.
Another great way to add a lavender bedroom accent is with throw pillows and blankets. Pick a color that stands out against your bedding or wall paint for a bold look without being too overwhelming. A few brightly colored pillows are also a great way to set the scene for relaxing, as they'll make your room look and feel cozy. Finally, don't forget the lighting! Lavender bedside lamps are a great way to bring more of the color into your bedroom without being too overpowering.[1]
Commit to a Lavender Bedspread
If you're looking to create a bedroom that oozes serenity and tranquility, a lavender bedspread is one of the best places to start. Lavender has long been associated with relaxation and sleep, so it makes perfect sense to create a restful sleeping space with hues of this calming hue. You can choose from a variety of lavender bedspreads, ranging in color intensity and texture. From velvet to plain cotton, you can create a look that is just right for your taste. To complete the perfect bedroom atmosphere, consider adding some matching accent pillows or throws.[1]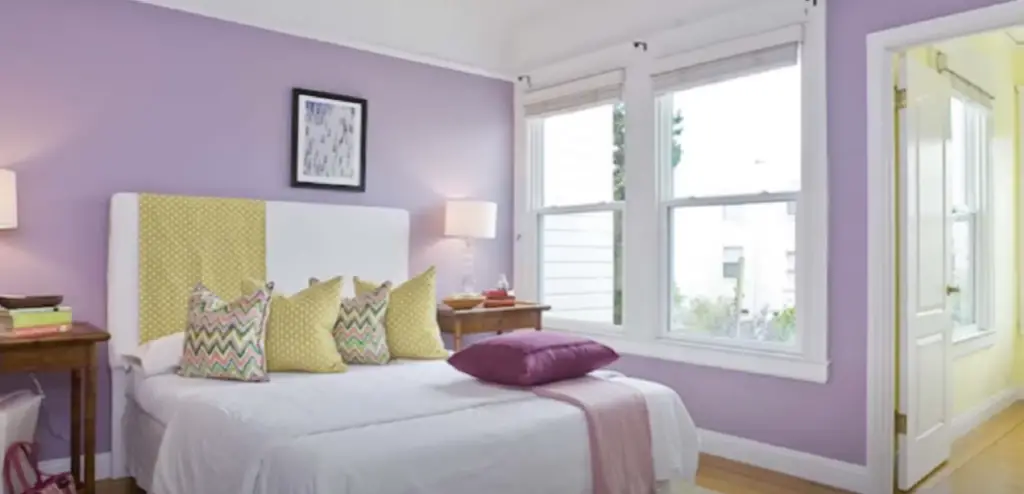 Make Lavender Your Accent Color
If you want to use lavender in your bedroom without making it overly feminine, an accent color is the best way to go. A muted shade of lavender can be a great way to bring some subtle romance into the room without going over-the-top. Use lavender as part of an otherwise neutral palette, or pair it with other colors from the same family to create a cozy, inviting atmosphere. For instance, try adding some lighter shades of purple and blue for an airy feel or use deeper tones to add warmth and intensity. And don't forget about accessories! A lavender throw pillow or blanket can be an easy way to introduce this color into the room. With a few simple additions, you can create a tranquil space that's perfect for snuggling up with your special someone.[1]
Set the Scene With an Extra-Wide Pillow
When it comes to lavender bedroom ideas, the possibilities are truly endless. But one great way to spark some inspiration for your own design is by starting with an extra-wide pillow. This can be a great way to set the tone of the room and create a tranquil atmosphere full of serenity. Look for pillows that feature a unique color combination like muted lavender and gray, or incorporate some texture with a velvet pillow. Add some plush accent pillows in complementary colors for an added sense of luxury.[1]
Pair Smaller Decor for a Bigger Impact
When decorating a lavender bedroom, it's important to remember that smaller pieces can often have the biggest impact. Instead of going for larger items like furniture, focus on small things like accent pillows, rugs and art prints.
[1]
Keep Your Palette Flexible
When creating a lavender bedroom, you don't have to limit yourself to just one shade of the color. Instead, opt for a range of hues to create interest and add texture. Choose lighter purples for walls and curtains, and accessorize with darker shades like deep plum or mauve on throw pillows or a duvet cover.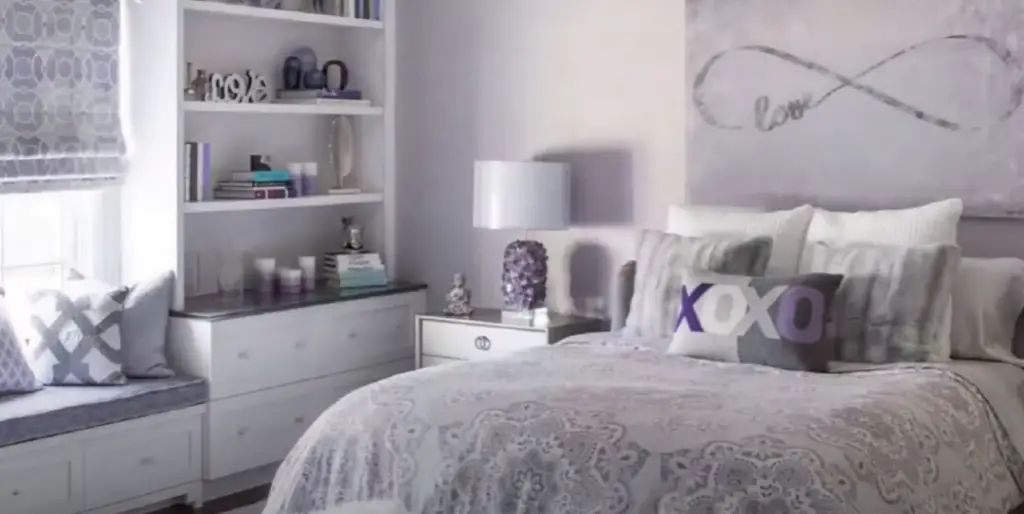 You can also pair lavender with other colors for a sophisticated look. Try combining it with gray or shades of blue, from pale turquoise to deep navy. If your room is on the larger side, you could even try pairing it with darker colors like black or chocolate brown. Don't be afraid to get creative with your palette—a little experimentation can go a long way!
Overall, make sure you're comfortable with the colors you've chosen and take into account the overall design of your space. With a few thoughtful touches, you can create an inviting lavender bedroom that is uniquely yours.[1]
When in Doubt, Work in Threes
A great way to bring balance and beauty to your lavender bedroom is by using the color in threes. This could be achieved through art, accessories, or even furniture pieces. For example, hang three different pieces of wall art with lavender accents, or use a combination of small throw pillows featuring shades of purple on your bed and sofa. The power of the "Rule of Three" will help to create a cohesive look that's pleasing to the eye.[1]
FAQ
What colors go with lavender for a bedroom?
For a bedroom, colors that go well with lavender include cream, white, pale gray, and light pink. All of these shades are known for creating a peaceful atmosphere in space. You can also add an accent color to your walls or accessories such as navy blue or muted yellow for a pop of contrast.
Is lavender a good color for a bedroom?
Yes, lavender is a great color for a bedroom because it promotes relaxation and comfort. It also has a calming effect that can help create an inviting atmosphere in the space. To make the room look even more soothing, add in accents of soft blues and greens or gentle earth tones like beige.
What color bedspread goes with lavender walls?
If you have lavender walls in your bedroom, it's best to choose a bedspread that has calming shades of blue and green. You can also opt for bedding that is white or cream-colored to create contrast against the lavender wall color. Additionally, adding in splashes of warm colors such as peach or muted yellow can help brighten up the space and make it look more inviting.
Is lavender good for a living room?
Yes, lavender can be a great color for a living room. It helps create an inviting atmosphere in the space and can provide a calming environment for guests. To add further depth to the room, choose accessories and furniture pieces that are in shades of cream or white to bring out the best in the lavender color. You can also try adding in pops of bolder colors for an extra pop of contrast.
When should you not use lavender?
Lavender should be avoided in spaces where you want more energy and excitement. For example, it may not be ideal for a playroom or home theater since these areas need to be more vivid and lively. Additionally, while lavender can help create a calming atmosphere in the bedroom, it might not be suitable if that room is used as an office or workspace since it can lead to feelings of lethargy.
Overall, lavender is a great choice for creating a peaceful and relaxing atmosphere in any room. With the right mix of colors and accessories, you can create a beautiful space that is both inviting and calming.
Is it OK to sleep with lavender?
Yes, it is perfectly safe to sleep with lavender in your bedroom. In fact, lavender can help promote better sleep due to its calming properties. Studies have even shown that the scent of lavender can reduce stress and anxiety levels, which is beneficial when trying to get a good night's rest. To make the most of this effect, try using a lavender-scented pillow spray or diffuser to fill the room with its relaxing aroma.
Can I put lavender in my bedroom?
Yes, you can certainly put lavender in your bedroom. Whether it comes in the form of fresh flowers, decorative accents, or essential oils, lavender is known for its calming properties and can be a great addition to any room. Additionally, you can also use light purple or lavender wall paint to give the space an even more soothing atmosphere.
Is lavender good for breathing?
Yes, lavender is known to have many beneficial properties for the respiratory system. It can help clear airways, reduce inflammation, and increase oxygen levels, which can all lead to improved breathing. Additionally, the scent of lavender is also known to be calming and relaxing, making it a great choice for people who are looking for relief from stress.
Useful Video: MY EXTREME ROOM TRANSFORMATION + MAKEOVER…THE FINAL REVEAL!! *lavender aesthetic bedroom*
Conclusion
We hope this article helped you to find some lavender bedroom ideas that suit your style, theme, and budget. Go ahead and get creative with lavender in your bedroom and don't forget to have fun! Just remember to keep things balanced; too much of anything can become overwhelming. If you choose statement pieces, consider toning down other elements in the room. And, of course, make sure to keep your bedroom a place where you can relax and feel comfortable. Best of luck!
For more helpful tips on decorating with lavender, check out our blog post on styling with pastel purple hues. We've got plenty of advice and inspiration to help you create the bedroom of your dreams. Thanks for reading!
References:
https://www.homedit.com/lavender-bedrooms/