Are you looking for a warm and cozy bedroom? Brown is the perfect color to bring that feeling into your home. Whether it's a light tan, dark chocolate, or even a deep espresso hue, brown hues can add depth and create an inviting atmosphere in any bedroom. This article will cover everything you need to know about brown bedroom ideas. We'll go over why people choose brown, different shades and hues of brown to use in a bedroom, tips for using brown furniture, and more. So grab your paint swatches and get ready to create the perfect cozy bedroom!
Brown Crush
One of the main reasons people choose to decorate with brown is because it creates a warm and inviting atmosphere. Brown is associated with comfort, relaxation, and security. It's also a timeless color that can look great in both traditional and contemporary spaces. Plus, brown hues are incredibly versatile and can be used in a wide variety of color schemes.[1]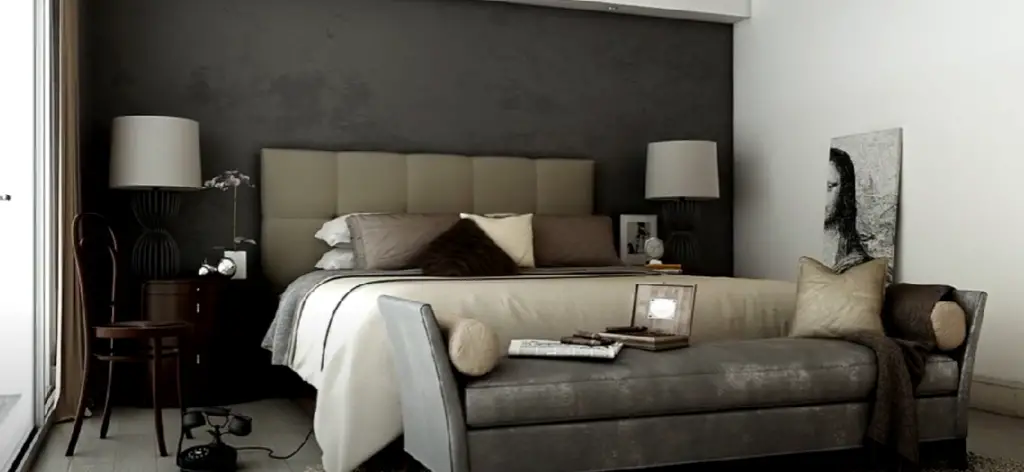 Brown Velvet
You can create a luxurious and inviting atmosphere in your bedroom with brown velvet. Brown is a versatile color that works well with many different design styles, from traditional to modern. With the right fabrics and accessories, you can make a warm and cozy space that has an elegant feel. Here are some ideas for incorporating brown velvet into your bedroom:
Add a velvet headboard. A statement-making headboard in brown velvet can be the perfect way to add some texture and warmth to your room.
Incorporate velvet curtains. Velvet curtains can also help create a luxe atmosphere and are especially good for blocking out light when you want a dark, cozy space.
Choose velvet bedding. Velvet duvet covers, sheets, and pillowcases are a great way to add warmth and texture to your bedroom.
Look for fabrics in different shades of brown so you can play with color while still keeping a unified look.
Use velvet décor pieces. A velvet ottoman, poufs, or throw pillows are great for adding texture and interest to your bedroom space.
Add velvet accents. Consider adding smaller accents like a velvet jewelry dish or accent chairs to bring in more of the brown hue.[1]
Scrawl on the Walls
One of the most creative ways to bring brown into your bedroom is with art. Whether you're a talented artist or a novice sketcher, scrawling some colorful figures on the walls can do wonders in bringing out the brown elements in your room. Plus, it also adds your personal touch and makes the room look more unique. You can choose to draw something abstract or go for some plain fun doodles. And if you're feeling a bit daring, why not put up a full-blown mural? After all, who said brown has to be dull?[1]
Brown Geometrics
Geometric patterns are a great way to infuse color into your brown bedroom. Whether you choose chevron, stripes, or polka dots, they can bring a subtle touch of fun and style while still staying in the same neutral family. You can find geometric patterned bedding, rugs, wallpapers, and even art prints to create a unique and fresh look. Plus, because brown is such a versatile color, it can easily be combined with other colors like blue, gray, or yellow for an even more dynamic effect.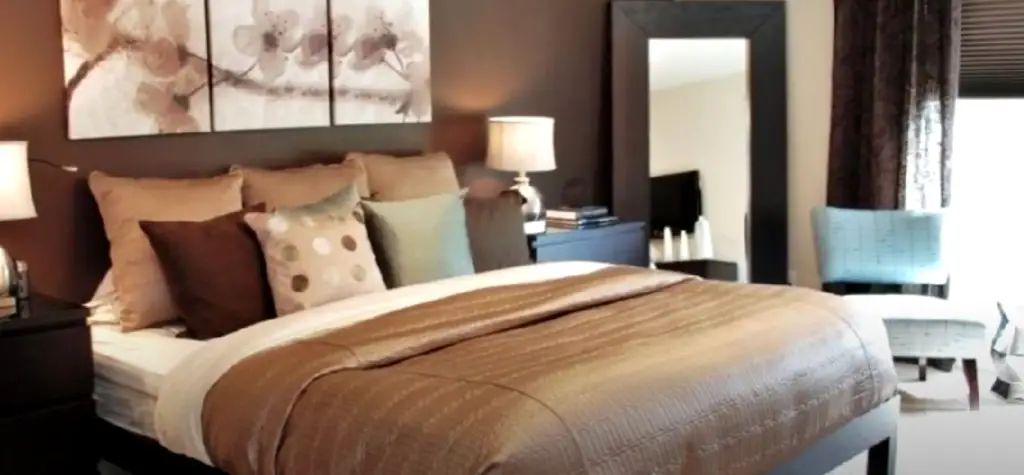 Another great idea is to use different shades of brown in your geometric pattern. This will add depth without making the room feel cluttered or overwhelming.
[1]
Indigo World
Indigo world refers to a style of bedroom décor that uses shades of blue and brown. The colors create a calming atmosphere while still allowing for fun and creative touches. Brown is used as an anchor color in this style, while blues such as indigo, navy and turquoise add depth and drama. This look can be achieved with furniture, artwork, and accessories.
To start with the basics, choose a bed frame in wood tones such as walnut, mahogany or cherry. Add layers of texture by using patterned quilts and blankets in shades that complement the browns and blues. For a more modern look, try adding some geometric shapes to your bedspread or headboard.[1]
Brown Romance
Whether your bedroom is a cozy retreat or an inviting oasis, brown can provide the perfect backdrop to create a romantic atmosphere. A few ideas for creating ambiance with shades of brown include:
Soften up the room by using warm tones like tans and beiges for walls and curtains. Balance this out with chocolate browns and muted blues for furniture.
Create a cozy atmosphere with warm lighting. Consider adding lamps or wall sconces with a dimmer switch to control the tone of light in the room.
Bring in texture by layering rugs, throws, and pillows on the bed and seating areas. You can also incorporate woven baskets, wood furniture, and other natural materials to add texture.
Add a touch of romance with candles. Place them on nightstands or dressers for an intimate glow in the evening hours.
Choose soothing colors like cream tones, light blues, and greens for bedding and window treatments to create a soothing atmosphere.
Hang sheer curtains that let in light while also creating privacy.[1]
Royal Brown & Plush
Create a royal, plush atmosphere in your brown bedroom with luxurious fabrics and colorful accents. Choose velvet curtains or drapes in deep chocolate hues to frame the window and hang sheer fabric behind them for a bit of light diffusion. Hang an ornate chandelier from the ceiling or choose several table lamps with dark wood bases for a subtle, yet elegant touch. Place a large area rug in the center of the room to create an inviting atmosphere and add comfortable seating close by.
[1]
Brown Rhapsody
Do you love the look of brown bedrooms? Have you been looking for ideas and inspiration to make your own bedroom more stylish and warm? Look no further! Here are some great tips on how to use brown in your bedroom decor.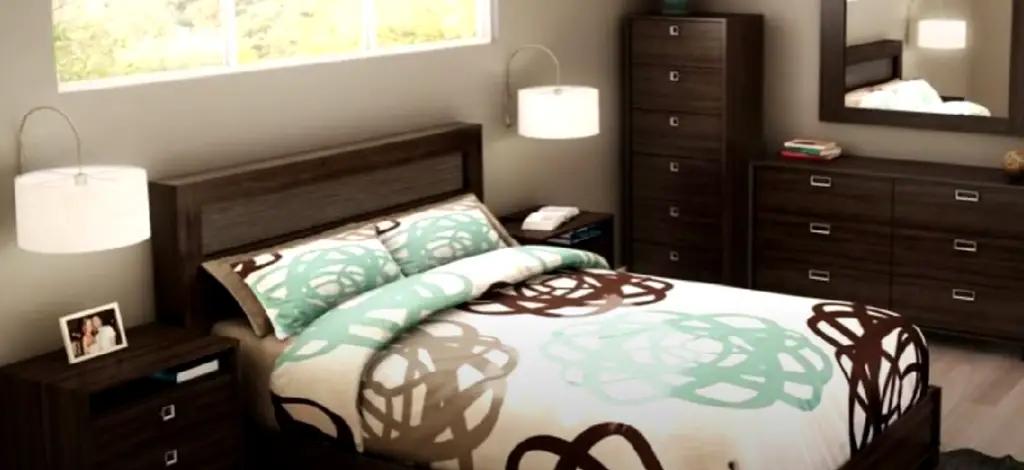 First, consider adding an accent wall or two. Accent walls can create a focal point in your room, and a brown wall can easily be used to warm up the aesthetics of your bedroom. For an even bolder look, consider painting the walls in a two-tone pattern, with lighter shades on top and darker shades on bottom.
Another great way to incorporate brown into your bedroom is by using throws and pillows. You can create a cozy yet sophisticated look with some soft, velvet throws in neutral brown shades. Or if you're looking for a bolder touch, try mixing and matching pillows in different shades of brown.[1]
True Glory
Brown bedrooms offer a unique way to express your style and create a peaceful atmosphere. From warm shades of chocolate and espresso to cozy neutrals, brown bedroom ideas can be used in any home to bring out the best of the room's features.
When selecting furniture for a brown bedroom, consider pieces with an interesting shape or texture. Upholstered headboards or vintage armchairs add a touch of luxury, while simple wood pieces create a classic feel. Choose a bed frame with clean lines and consider an interesting shape to make the space more unique.[1]
Fresh Powder
Interior design trends are constantly changing, but brown bedrooms have been a timeless classic. If you're looking for ways to make your bedroom stand out in all its cozy glory, here are some fresh powder brown bedroom ideas that might help!
First off, start by painting the walls in a soft shade of chocolate or taupe. This will create the perfect backdrop for your cushy bed and pillow set. To bring a bit of contrast to the room, add accents in mocha or caramel colors – think throw pillows, blankets, rugs and curtains.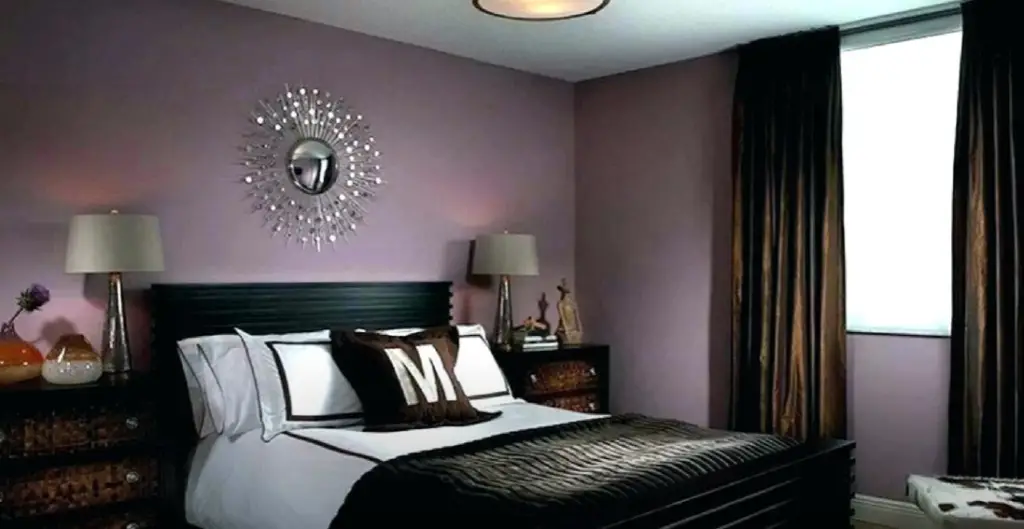 Don't forget about lighting! Lighting is key when creating an inviting atmosphere in your bedroom. Consider installing a dimmer switch that allows you to adjust the brightness of your lighting – perfect for creating a cozy ambiance when cuddling up with a good book or movie![1]
Brown Skies Overhead
When it comes to decorating a bedroom, brown is an excellent choice as it allows for a variety of design choices from warm and inviting to modern and sophisticated. Brown bedrooms can be cozy, inviting havens that are perfect for relaxing after a long day or they can be chic spaces with plenty of character. Whether you're looking for ways to bring life to an existing room or you're starting with a blank canvas, there are plenty of ideas and tips when it comes to decorating with brown.[1]
Cerulean Rule
When it comes to brown bedroom ideas, the Cerulean Rule is a must-follow. It states that when decorating with brown tones, cerulean should be used as an accent color. This bright, cheerful hue helps to break up the monotony of brown and adds a touch of vibrancy to your space. Try incorporating it through accent pillows, throw blankets or artwork. This will give your brown bedroom ideas a fresh, modern look that won't be too overpowering.[1]
Cozy in Cobalt
If you're looking for a chic way to incorporate brown into your bedroom, consider cobalt blue. This bold pairing will bring a modern touch while still keeping the room warm and inviting. Start by painting your walls a deep navy or muted gray-blue and use lighter shades of brown for the furniture and accessories around the room. Accessories like area rugs, throw pillows, and art can all be used to create a cohesive look. Add in some metallic accents and fairylights for a hint of sparkle to complete the look.[1]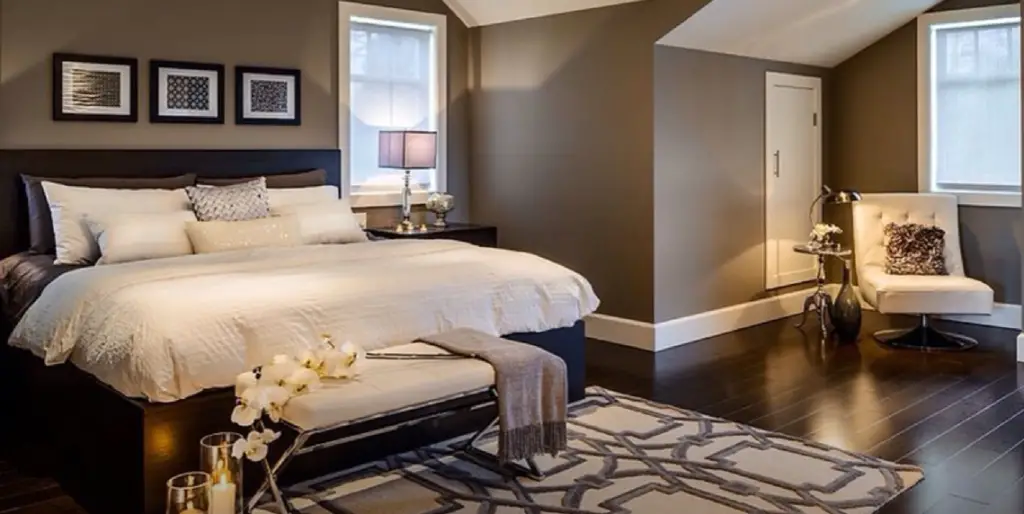 Indigo Statement Wall
If you're looking for a bold way to incorporate brown into your bedroom, an indigo statement wall is one of the best options. A deep blue-purple hue like Indigonite will create a dramatic and luxurious contrast against light brown walls or furniture pieces. You can even add texture with metallic accents, wallpaper, rugs, and other wall decor. To keep the look from being too overpowering, you can stick to one statement wall and keep other walls neutral or use lighter shades of brown. With this style, it's all about creating a beautiful balance between the two colors![1]
Brown Mood
If you're looking to create a cozy, warm and inviting space in your bedroom, consider brown-toned furnishings! Brown is the perfect hue for creating a relaxing atmosphere. With its earthy tones and natural vibes, it can help bring a sense of comfort and tranquility to any room. From chocolate brown walls to beige bedding, brown bedroom ideas are a great way to give your space an inviting atmosphere.[1]
Earning Your Stripes
There are so many ways to incorporate brown into your bedroom decor – you just need to get creative! One of the most popular techniques is to use stripes. Stripes can be used on walls, bedding, window treatments and furniture for an attractive look. You don't have to go all out with a bold pattern – thin neutral-colored stripes are just as effective.[1]
Deploy the Navy
For a timeless style, try deploying navy tones in your brown bedroom. Navy is a classic color that looks great with brown and can add depth to the space. You could use navy paint on an accent wall or upholster the bed headboard in it. Alternatively, you could incorporate navy through various accessories such as cushions, rugs, and bed linen. Navy curtains or blinds could also be used to frame the windows. Just be sure not to use too much navy, as this could overshadow the brown tones in the bedroom.[1]
Brown and Green
Brown and green is an earthy combination that creates a calming, serene atmosphere in bedrooms. To create this look in your own home, try using brown paint on the walls with lighter colors of green used for accents such as bedding and curtains. If you're feeling adventurous, you could even go bolder with dark green accent walls or wall art. Accessorize with rustic wood or wicker furniture, and add plants to complete the look.[1]
Cyan Dream
If you want to create a romantic and dreamy brown bedroom, why not add some touches of cyan? This combination creates a tranquil atmosphere and can make your bedroom feel like an oasis. Start by adding some cushions in shades of cyan and navy blue to the bed. Then you could hang up some teal curtains, and maybe add a few mint-colored throws to the bed.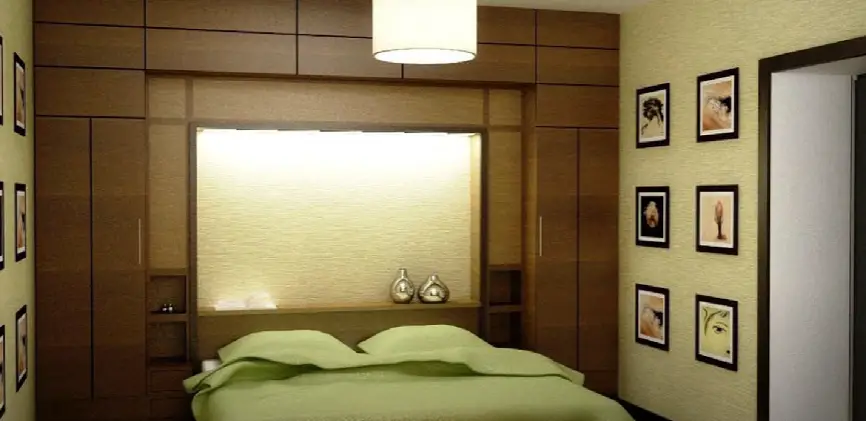 You could also try adding some artwork in shades of cyan to create contrast against the brown walls.
All these details together will bring your brown bedroom to life!
For a more classic look, choose shades of taupe and beige along with your browns. You could opt for dark wood furniture and add some light-colored bedding in creams or beiges.[1]
Airy Aerie
For a cozy but airy bedroom look, try decorating with greens and blues to create an inviting feel. Use light neutrals like beige and taupe to keep the space from feeling too overwhelming. For subtle contrast, add some brown elements such as wood furniture, leather accents or geometric shapes. A comfy bedding set in brown and tan hues creates a peaceful atmosphere. Incorporate an area rug, curtains and wall art in shades of green and blue to bring the room together.[1]
Brown, White & Breezy
Brown bedrooms can be both cozy and inviting, and they don't have to be too dark or dull. By using a combination of brown, white, and breezy elements, you can create an interesting yet calming space that will make you feel right at home. Here are some tips for getting started with your brown bedroom design:
Choose your base color. Start by choosing the main color for your room, which will be brown. This could be a light tan, a deep chocolate hue, or any other shade of brown that you prefer.
Add some white elements to brighten up the space. Choose white furniture pieces, window treatments, and accessories such as bedding, throw pillows, and artwork to help lighten up the room and give it a fresh look.
Add some breezy elements for contrast. To complete the design, add some soft blues or greens in accents like curtains, rugs, or wall art. These colors will provide a nice contrast to the browns and whites, creating a calming atmosphere.[1]
Burnished & Brown
If you're looking for a warm and inviting bedroom, then brown is the perfect choice. Brown is versatile and timeless, making it a great base color for any decorating style. From contemporary to traditional, there are so many ways to incorporate brown into your bedroom design. [1]
Brown Belle
There's something so inviting about a brown bedroom, isn't there? Whether it be the deep shades of chocolate or the warm hues of caramel, brown is one of those colors that creates a cozy atmosphere and can make your bedroom feel like a tranquil haven.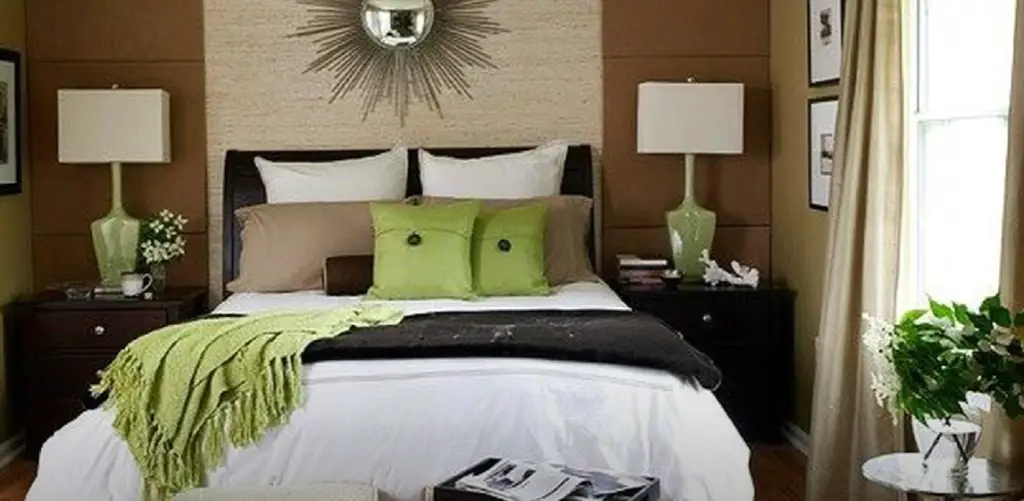 If you're looking for inspiration on how to incorporate brown into your bedroom, we've got you covered! We'll go over some popular ideas and provide a few tips on how to make the most of your brown bedroom.[1]
Brown Side
For those who prefer a warm and inviting atmosphere in their bedroom, brown is an excellent choice. Brown brings a sense of comfort and warmth to any room, making it an ideal color for bedrooms. Here are some tips on how to incorporate shades of brown into your bedroom:
Use different shades of brown to create dimension and interest in the room. Incorporate lighter shades of brown on the walls or as accent pieces, like throw pillows, for a softer look. Darker shades of brown can be used for furniture to bring a sense of grounding to the space.
Add texture into your brown bedroom with natural fabrics such as wool rugs, chenille bedding, or canvas wall art.
If you want to add a touch of glamor into your bedroom, try metallic accents like gold or bronze frames. These will help bring out the warmth of the brown and make the room look more inviting.[1]
FAQ
What goes with a brown wall bedroom?
When it comes to choosing the right accessories for a brown wall bedroom, there are several options that you can choose from. From textiles to artwork, adding a few pieces will help bring your room together. Consider layering different shades of brown and beiges on bedding, curtains, and rugs for added texture or add pops of color with accent pillows or wall art. You can also add a touch of glamor to your room by adding metallic accents such as gold mirrors and silver chandeliers.
How to decorate a bedroom with dark brown walls?
Dark brown walls can be a gorgeous backdrop to create a cozy bedroom. To start, choose bedding in neutrals like white or cream and layer on blankets and throws for added warmth and comfort. Choose furniture in natural wood tones such as walnut or oak to keep the room looking balanced and add texture with woven rugs or leather pieces.
Do gray and brown go together?
Yes, gray and brown can be a great color combination for a bedroom. Create a cohesive look by using shades of the same hue in different intensities. For example, add lighter accents such as taupe throw pillows to pair with dark brown furniture or use light gray bedding paired with darker walls for contrast. Adding pops of bright colors like red or pink can also bring the room together.
What colors go with brown?
Brown is a very versatile color and can be paired with many other colors in the spectrum. For a neutral bedroom, choose lighter shades such as cream, taupe, or white to balance out the room. If you're looking for something more vibrant, add pops of bright colors like blues, oranges, and yellows to liven up the room. You can even mix and match different shades of brown to create a unique look for your bedroom.
What colors match well with brown?
Brown is a great neutral color that can be paired with many other colors. For a classic look, pair brown with neutrals such as black, white, and taupe for an understated yet elegant feel. Accentuate the room by adding pops of bright colors like yellows, blues, and greens to give it some life.
What is the opposite color of brown?
The opposite color of brown is cyan. On the color wheel, it's located directly across from brown. You can use this to create a beautiful contrast in your bedroom by pairing brown furniture and accents with cyan bedding or curtains. This will add an interesting touch of drama to your room while still keeping it neutral and peaceful.
Can you wear brown with black?
Yes, you can definitely wear brown and black together! This classic combination will never go out of style. To create a timeless look, opt for darker shades of both colors such as espresso browns and charcoal blacks. You can also mix and match lighter shades to give your outfit more dimension. If you want even more contrast, try adding pops of bright colors like red or yellow for a bold statement.
Does blue go with brown?
Yes, blue and brown go together very nicely! This color combination adds a touch of sophistication to any bedroom. To create a balanced look, use shades of blue that are similar in hue and intensity as the brown accents in your room. For example, if you have dark chocolate brown furniture, opt for darker navy or teal blues. You can also add lighter blues like sky blue or powder blue for a more subtle look. You can even mix and match different shades to create your own unique style!
Useful Video: My Modern Minimalist Tech Bedroom Tour | Dark Mode
Conclusion
When it comes to designing a brown bedroom, the possibilities are endless. From rustic and cozy to modern and chic, you can make your room reflect your own unique style with the use of brown tones. Consider using multiple shades of brown for contrast or combine colors like cream, blue, gray, yellow and green for an eclectic mix. When it comes to décor, consider interesting pieces like vintage furniture, macramé tapestries or tile backsplashes. Creating a brown bedroom is all about finding the right balance between colors, textures and patterns. With these tips in mind, you'll be sure to create a room that you love spending time in!
Good luck and happy decorating!
References:
https://nimvo.com/20-gorgeous-brown-bedroom-ideas/