Silver bedroom ideas are a great way to bring sophistication and sparkle into your home. Silver has always been associated with glamor, luxury, and modernity. It's the perfect color for making a bold statement in your bedroom! Whether you're looking to makeover an entire room or just add some small touches of silver here and there, this article will provide you with some great ideas. We'll answer some frequently asked questions and offer useful tips to help make your silver bedroom dreams a reality. So, let's get started!
Get the Antique Look on an Upscale Silver Bedroom
The first step to creating an elegant silver bedroom is to get the antique look. To do this, you'll need some antique pieces of furniture like a bed frame and night table. Then, accessorize with metal pieces such as wall sconces or lamps. You can also hang vintage paintings or photographs on the walls for a more sophisticated look. To take it one step further, consider adding some vintage-style rugs or curtains to the room. [1]
Create a Luxurious Bedroom with Soft Silver Accents
The right shade of silver can create a luxurious and inviting atmosphere in any bedroom. With the perfect combination of textures, fabrics, and accent pieces, you can transform your room into a chic, modern retreat. Whether you're looking for a serene, elegant space or something more contemporary and bold, silver is the way to go. Here are some tips to help you create the perfect silver bedroom. [1]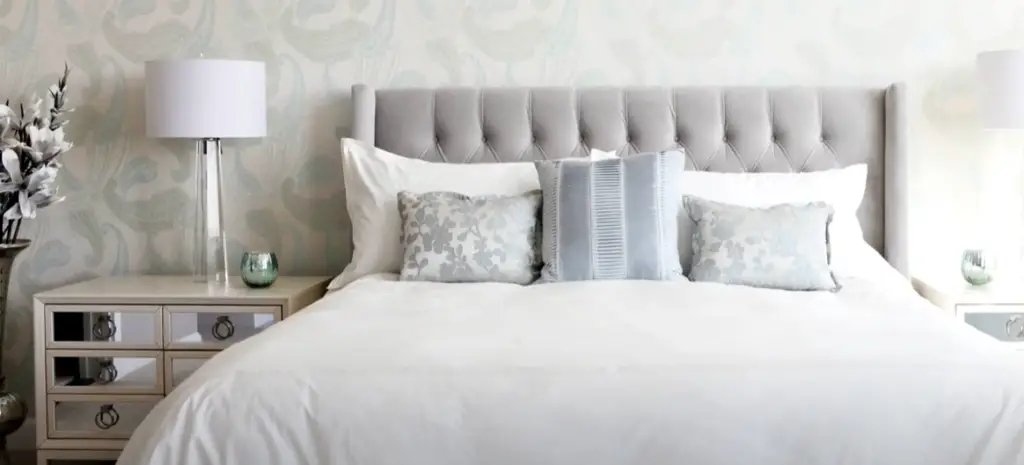 Achieve Cozy Luxury with Tufted Silver and Velvet Textures
If you're looking for a luxurious and modern look in your bedroom, tufted silver velvet textiles can create just that. This combination of textures is sure to bring a cozy yet elegant feel to any space. To achieve this, you can use one or two large pieces such as headboards, bedspreads, or chairs upholstered in this material. You can also choose to accessorize with smaller items such as pillows, throws or area rugs.
When it comes to silver bedroom ideas, don't be afraid to take risks with your design. Incorporate some statement pieces such as chandeliers or mirrors with silver frames. [1]
Transform Your Bedroom with Soft Textures and Furniture
Silver bedroom ideas can be used to create a luxurious and inviting atmosphere in your sleeping space. Whether you are looking for subtle silver accents or an overwhelming silver theme, there are many ways to make the color shine in your bedroom.
Start by changing the textures of your bedding, curtains and carpets to give them more of a silver feel. You can use sheets and pillowcases in shades of grey to add a touch of sophistication, or select silky fabrics for a more glamorous look. Soft velvet cushions and rugs with silver details will also help to create a luxurious atmosphere.
Furniture is an important part of the overall design scheme in any room and silver bedroom ideas should include an eye-catching choice of pieces. Choose a bed frame with ornate details, such as floral designs or intricate scrollwork, to create a focal point in the room. Add a glossy silver dresser and chest of drawers for an elegant feel, and choose shelves with decorative trim for an added touch of sophistication. Finish the look with a full-length mirror in a silver frame to create an air of opulence.
Finally, accessories are the cherry on top of any bedroom design. Consider lighting pieces such as statement lamps with silver bases and shades, or pendant lights that add subtle sparkle to the room. [1]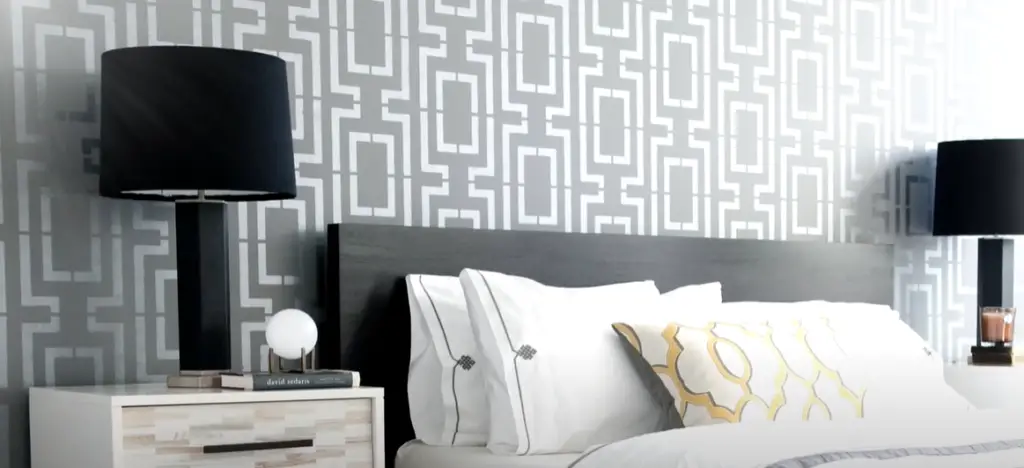 Add Romance to Your Room with Black and White Accents
One of the great ways to add an air of romance to your silver bedroom is by adding black and white accents. For example, you can choose a beautiful black headboard and pair it with matching nightstands, or hang curtains in a contrasting color such as black or white. You can also incorporate decorative touches like a chevron patterned rug or black and white art for the walls. This contrast of light and dark colors will add visual interest to your space and give it an inviting, romantic look. [1]
Create the Perfect Ambiance with a Silver Chrome Metal Bed Frame
A metal bed frame with a silver chrome finish is a great way to create a unique look in your bedroom. Not only do they offer a modern, sophisticated feel, but they also provide support and durability for your mattress. Plus, these frames are easy to assemble and usually come with slats so you don't need a box spring.
If you're looking for a luxurious touch, opt for a tufted headboard to complete your silver chrome metal bed frame. These headboards come in different shapes, sizes and textures, so you can find the perfect one to fit your style and budget. For added glamour, add some velvet cushions or a quilted blanket in shades of silver, white or gray. [1]
Capture a Stylish Look with a Silver Metal Bedroom
A silver metal bedroom is a great way to make a statement in your home, as it adds an elegant and sophisticated touch. Silver is the perfect color choice for bedrooms because it can be paired with so many different colors and shades, allowing you to customize the look of your room while still maintaining a polished aesthetic. Plus, silver provides a timeless look that will never go out of style!
When you're starting to plan your silver metal bedroom, there are a few things to keep in mind. First, choose furniture and decor pieces that work with the color palette of your room, such as light grey or soft off-white wall colors. Silver is best paired with lighter shades so that it stands out and creates a stylish contrast. Additionally, think about the size of your room – silver metal pieces can take up a lot of space, so make sure you plan accordingly. [1]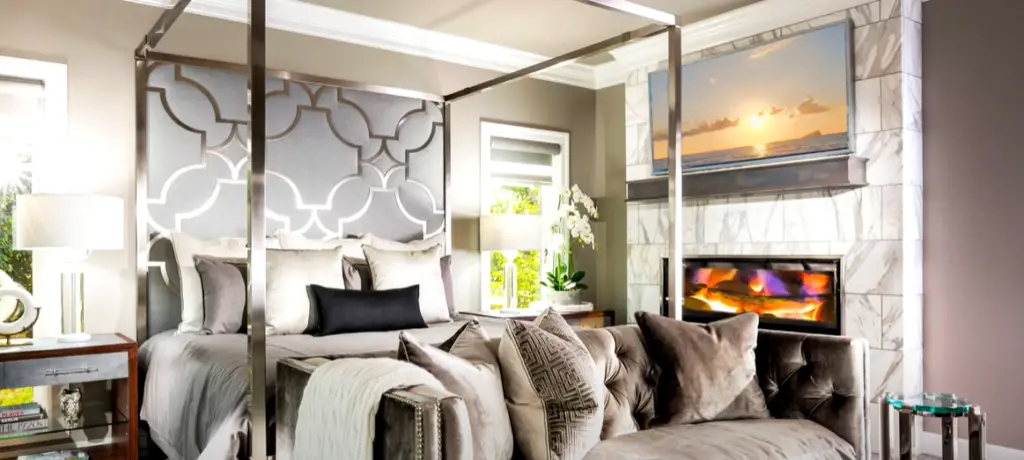 Create an Oasis of Comfort with Faux Fur Rugs and Twinkle Lights
When it comes to creating the perfect silver bedroom, comfort is key! To give your space a cozy and inviting feeling, try adding some faux fur rugs and twinkle lights. Faux fur rugs can add warmth and texture to any room; choose a soft silver or white faux fur for an extra luxurious touch. Twinkle lights provide a soft, gentle light that can make your bedroom feel like a serene oasis. Hang them along the walls or drape them over furniture to get the perfect ambience. Together, these two elements will create an inviting atmosphere and an understated sophistication that no other decor can provide! [1]
Unveil Your Modern Gothic Style with Mirrored Surfaces
Although silver bedroom ideas may appear to be a modern concept, the gothic style of mirrored surfaces is more traditional than you think. Mirrored surfaces are often associated with luxury and glamor, which is why they have been used for centuries as a way to spice up a dull interior design. With the right furniture and accents, you can easily create a beautiful and timeless space, with the added bonus of reflecting light around your room.
If you're looking to add a hint of luxury to your bedroom, mirrored silver surfaces are an excellent choice. Not only can they make any room look larger, but they also give off a subtle sparkle that is sure to leave you feeling relaxed and content. To create a modern gothic look, try adding silver mirrors to your walls or furniture pieces. You can also use these surfaces as accents on furniture pieces such as nightstands or dressers. [1]
Elevate Your Bedroom with Contrasting Accents
Using silver accents in your bedroom gives the room a classic, elegant feel. But to really make it stand out, look for ways to contrast its sleek metallic shine with other colors and elements. For example, opt for crisp white sheets and comforter sets instead of plain silver ones. Or add touches of black or navy blue with subtle furnishings or wall art. You can also add texture by introducing a plush rug, cozy throw pillow, or fuzzy blanket to your bedroom. By combining metallic silver with contrasting colors and textures, you can create a stunning and inviting atmosphere in any bedroom. [1]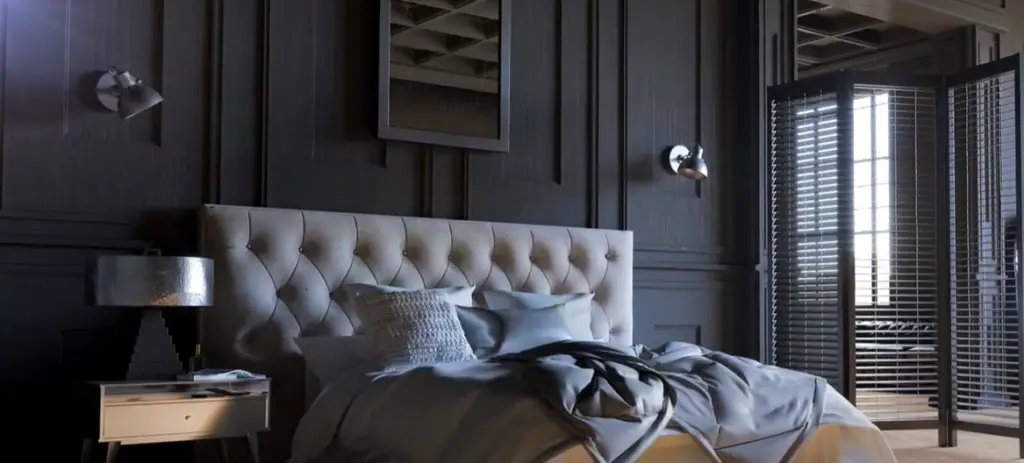 Upgrade Your Room with a Neutral Beige Carpet
A beige carpet is a great option for adding a neutral color to your silver bedroom theme. It will provide warmth and character to the room while still creating an overall subtle look. Beige carpets come in various textures, such as plush velvet or durable berber, so you can find one that matches the rest of your decor perfectly. When it comes to bedroom decor, adding a beige carpet is a great way to bring the color of silver into your room without overwhelming it. This will ensure that your space looks timeless and elegant for years to come.
Finally, don't forget about lighting! Lighting plays an important role in setting the mood of a room and can also be used to create a sense of warmth. Try adding wall sconces or chandeliers in the silver bedroom for an added touch of sophistication and luxury. [1]
Get the Perfect Combination of Comfort and Style with Silver and Black
Do you want to design a bedroom that radiates elegance and sophistication? If so, look no further than silver and black bedroom ideas. This color combination is perfect for creating an atmosphere of luxury in any room. Whether you're looking to create an air of serenity or a touch of modern minimalism, silver and black is an ideal choice.
When it comes to choosing silver and black bedroom ideas, you'll want to consider the size of your room and the amount of light that enters it. Silver works best in well-lit rooms as it tends to reflect light beautifully, while darker shades of black can work better for smaller spaces or those with less light. [1]
Furnish Your Bedroom with Light Gray Accents
Gray is a great accent color for your silver bedroom. To add balance and depth to the room, consider decorating with light gray accents. From pillows and throws to area rugs and lamps, incorporating several shades of gray will help tie together the look. You could go modern with geometric patterns or classic with soft stripes or plaids. Adding pops of color, such as vibrant blues or reds, can create a bold contrast that will draw the eye and make your silver bedroom stand out. [1]
Create a Relaxing Environment with Silver and Gray
Silver and gray are the perfect colors to create a relaxing and tranquil environment in your bedroom. With just a few simple touches, you can turn your dull and drab room into a modern oasis of serenity that will make you feel relaxed after long days of work or stress. [1]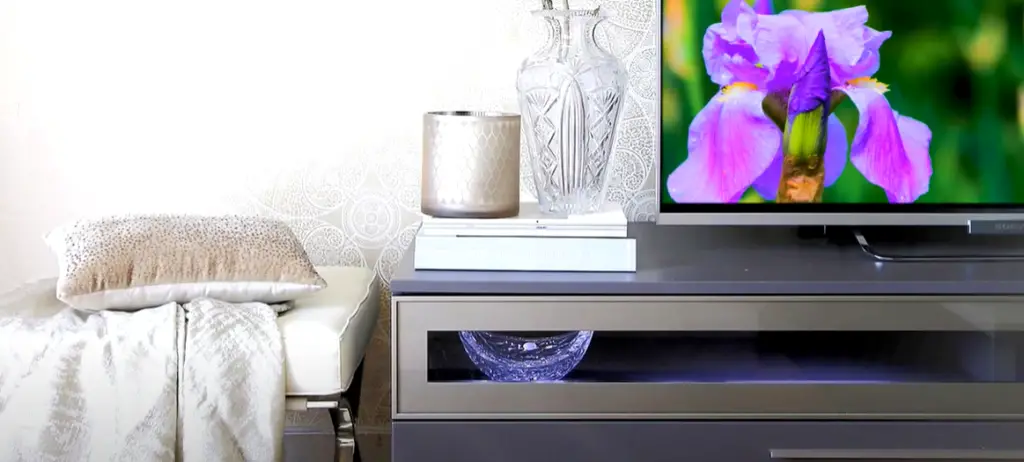 Revive Your Room with a Touch of Glamour
Silver is a timeless and elegant interior decor color that can bring your bedroom to life. Whether you're looking for a subtle touch of silver or want to go all out and make it the star of your room, silver bedroom ideas can help you create a look you'll love coming home to.
When used correctly, silver can give your bedroom a modern and glamorous look without being too overwhelming. Here are some tips to help you get the most out of silver in your bedroom design:
Incorporate silver accents into your color scheme – Pillows, throws, rugs and wall art are all great ways to add a hint of shimmer to your room. To create a balanced and inviting look, combine silver with complementary colors like whites, creams, beiges and even blues.
Make use of texture – Whether you're looking for a glossy silver finish or something more understated, there are plenty of ways to incorporate metallic tones into your bedroom furniture. From luxuriously tufted headboards to sleek metallic bed frames, silver furniture can help bring a hint of glamor and sophistication to your room.
Embrace the power of lighting – Lighting is one of the most effective ways to transform any space. Incorporating adjustable dimmers, statement pendant lights or even chandeliers into your bedroom design will instantly give it more depth and visual appeal. [1]
Indulge Yourself with Silver Wallpaper and Light Gray Accents
If you're looking to add a touch of sophistication, silver wallpaper is a great way to go. Pick out a light gray tone that suits the existing color palette in your bedroom, and use it as an accent wall or all around the room. To tie together the look, be sure to find coordinating pillows and soft furnishings that feature silver accents. You can also use a light gray rug if you want to emphasize the color and add texture to your space. To really make it look expensive, consider adding in some mirrored furniture or pieces with glass surfaces that will highlight the silver tones even more! [1]
Make a Lasting Impression with an Even Tone Room
Silver is a classic color that has been used in bedrooms for centuries. The even tone of silver is calming and can help create an atmosphere of peace and serenity. Silver bedroom ideas can be used to create an elegant, modern or eclectic look depending on your taste and how you decide to incorporate the color into your space. [1]
Create a Luxurious Modern Look with an Oversized Headboard
An oversized headboard can become the main focal point in a modern silver bedroom. It adds a luxurious feel and is sure to make your room stand out from the rest. To achieve this look, choose an upholstered headboard that is large enough to fit your bed frame, preferably one with fabric or leather detailing. You can also opt for a more minimalist design with a wooden or metal frame. A bit of extra padding will provide the perfect finishing touch to ensure optimal comfort. As for colors, think beyond neutrals and go for something bolder like a deep purple shade or a vibrant blue tone. The headboard will easily become the centerpiece of your silver bedroom and give it that classic and timeless look. [1]
Make Your Bedroom a Functional Space without Sacrificing Style
When decorating a silver bedroom, you don't have to sacrifice style for functionality. By finding the perfect balance between the two, you can create an inviting and stylish space that serves its purpose.
To get started, visualize how much storage space you'll need in your silver bedroom. Consider what items you want to store such as clothing, bed linens, books, and other bedroom essentials. Once you know how much storage space you'll need, you can choose the right pieces to fit your vision.
Consider adding a dresser or armoire with plenty of drawers or shelves to keep your things organized while also creating an eye-catching focal point. For a modern touch, opt for sleek lines and metallic accents like silver table lamps or mirrored nightstands. [1]
Unwind in Total Comfort with a Lush White And Silver Room
Nothing says luxury quite like a white and silver bedroom. This timeless combination of colors creates an inviting atmosphere that's perfect for relaxation after a long day's work. Whether you opt for a minimalist look or one with plenty of bling, there are plenty of ways to make your room feel cozy and chic. [1]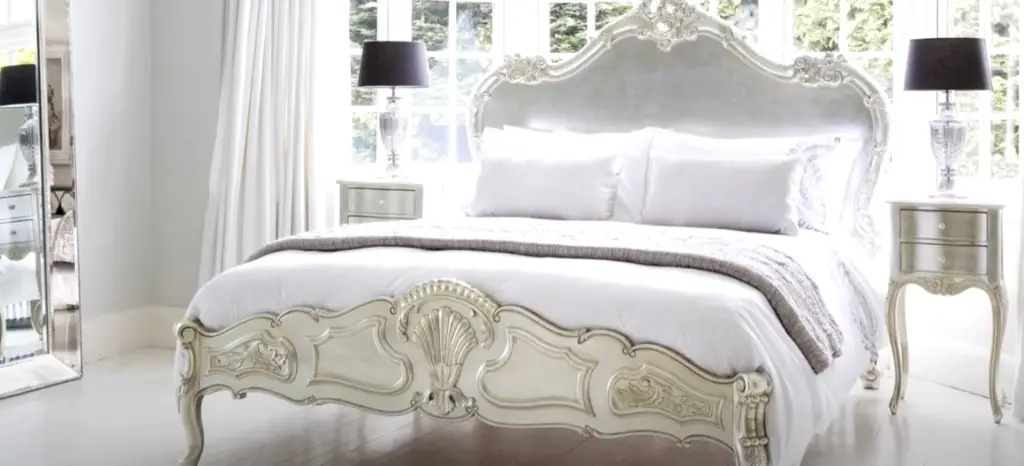 FAQ
Is Silver a good color for a bedroom?
Yes, silver is an excellent color for a bedroom. It is classic and timeless, yet modern and chic. Silver can create a sense of elegance and luxury in any room, and it can be paired with other colors to create beautiful, eye-catching designs. Additionally, silver reflects the light well—making your bedroom feel brighter and more open.
What Colors go with silver and gray in a bedroom?
Silver and gray are neutral colors, so they go well with a wide range of colors. To create a softer look, pair silver and gray with pastel colors like light pink or yellow. You can also add pops of bolder colors like blue or green to give your bedroom extra character. If you want to stay in the family of neutrals, silver and gray look great with tan, cream, or white.
What Colors to mix with gray for a bedroom?
Gray is a versatile color that can be paired with almost any other color. It looks especially good when mixed with bright colors, like pink or yellow. You can also pair gray with navy blue for a sophisticated look, or add earthy tones like brown and green to create a cozy atmosphere. If you want something more subtle, try pairing gray with lighter shades of pastel colors.
What color compliments gray the most?
The color that best complements gray is navy blue. Navy blue and gray create a classic combination that looks elegant in any bedroom. You can also pair gray with other shades of blue, like light or teal, for a softer look. To add further contrast, combine gray with white or black for an eye-catching effect. Lastly, don't forget that other colors like pink, yellow, and even green can be used to create a more vibrant look.
What color best compliments gray?
The best color to compliment gray is navy blue. Navy blue gives you a classic look with modern edge, and it pairs perfectly with shades of gray. For a more subtle approach, try combining gray with other shades of blue like light or teal. If you want to add contrast, pair gray with white or black for a striking effect.
Does beige go with gray?
Yes, beige and gray are a great combination. Beige has warm undertones that balance out the cool tones of gray, creating an inviting and cozy atmosphere. You can also add pops of bold colors like blue or green to give your bedroom some character. To create a softer look, combine beige with pastel colors like pink or yellow.
What is the new gray in interior design?
The new gray in interior design is Charcoal. Charcoal is a deep, dark shade of gray that has become increasingly popular over the last few years. It pairs well with both cool and warm colors like blue, pink, yellow, and brown. This color is perfect for anyone who wants to create a modern yet timeless look in their bedroom.
What warm color compliments gray?
Warm colors that look great with gray include yellow, tan, and brown. These colors create a cozy atmosphere in any bedroom. You can also pair gray with pink for a softer look. If you want to add contrast, combine gray with navy blue or black for an eye-catching effect.
Useful Video: 19 Silver Bedroom Ideas
Conclusion
No matter what your tastes or budget, there are plenty of silver bedroom ideas that you can use to create a stunning and unique look in your home. Consider adding some silver accents to add some sparkle and shine to an otherwise dull room. You can also opt for an all-silver design if you want a more modern feel. With the right combination of furniture, accessories, and accents, you can create a bedroom that is both cozy and stylish. Don't forget to take into consideration the size of the room when considering silver bedroom ideas. With these tips in mind, you will be able to find the perfect look for your home that is sure to make any guests feel welcome.
References:
https://www.decorhomeideas.com/silver-bedroom-ideas/