Burnt orange bedroom ideas are a great way to add warmth and vibrancy to your space. Whether you want to create an inviting, cozy atmosphere or make a bold statement with vibrant colors, burnt orange provides the perfect backdrop for any style of decorating. With its distinctive hue and range of shades, it is easy to find the perfect shade to suit your taste and create a stunning bedroom. In this article, we will explore some of the best burnt orange bedroom ideas, as well as answer some frequently asked questions about the color. We'll also look at how you can successfully incorporate burnt orange into your bedroom decor, so that you get the perfect look you desire. Let's get started!
Use Geometry
Geometric patterns and shapes are a great way to incorporate burnt orange into your bedroom decor. Whether you choose a bold, geometric wallpaper or simply use a few geometric pillows or throws, they will add an interesting element of texture to your room that is both inviting and comforting. You could also choose an ottoman in a geometric pattern, which will add depth to your bedroom. [1]
Use Just a Little Orange
When it comes to creating a burnt orange bedroom, you don't need to go overboard. A small burst of color can be enough. Start by adding orange accents, such as pillows and throws, to add a pop of color in the room. You could even use wall art with an orange theme to add a touch of drama. Another great way to use orange in the bedroom is to create an accent wall with burnt orange paint or wallpaper. This will help you add a bit of warmth and energy to the room without it feeling overwhelmingly orange. [1]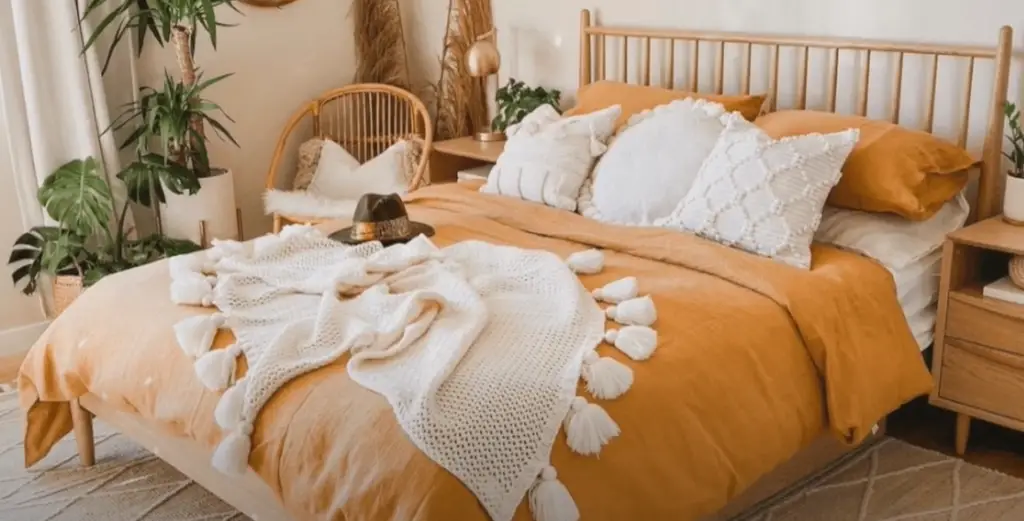 Use Orange Florals
Using orange floral patterns or designs can give your bedroom an energetic look, while still being comfortable and inviting. If you want to add a splash of color without committing to an orange wall, try adding some orange-hued florals such as daisies, poppies, or sunflowers. You can also find printed fabric with an orange floral pattern that can be used for window treatments, throw pillows, or bedding. [1]
Look for Orange-Accented Wallpaper
One of the most popular burnt orange bedroom ideas is to use wallpaper with an orange accent. This can help you make a bold statement in your space without having to invest too much money or time. You can choose from many different types of wallpaper, including ones that feature geometric patterns, floral prints, and even abstract designs. Consider adding stripes or other patterns to add visual interest and dimension. [1]
Use Abstract Patterns
Using abstract patterns in burnt orange is an easy and effective way to add texture and visual interest to a bedroom. Try painting a feature wall with a geometric pattern or wallpaper, adding curtains or cushions in various shades of burnt orange, or installing textured carpeting to create interesting shapes and lines. To further draw the eye, consider adding pops of other colors such as white, blue or green. This will create an eye-catching and inviting space that is modern yet classic. [1]
Don't Forget the Curtains
If you want a complete burnt orange bedroom design, then don't forget to add the perfect curtains. When it comes to choosing curtains for your burnt orange bedroom, there are so many options available that you can truly make this room look unique and interesting. Choose something in a bold color or pattern to really make a statement. If you're looking for something more subtle, then go with a neutral color like white or cream. Either way, the curtains will complete your burnt orange bedroom perfectly and add an extra layer of warmth and coziness. [1]
Break Out the Orange Duvet
Add an orange duvet cover to the bed for a burst of color. It's easy to find one that matches your style, whether you're looking for organic florals or modern geometric designs. If you want something lighter, try adding an orange top sheet instead. You can also go bold with a duvet in a bright burnt orange hue. [1]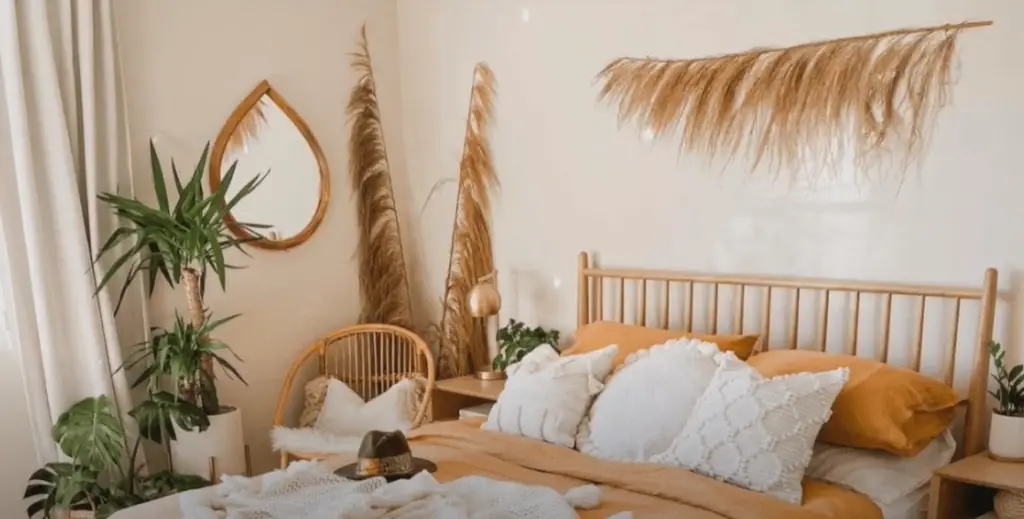 Combine Orange and Navy
Combining navy blue and burnt orange is a great way to create an inviting bedroom. Navy blue and burnt orange will give the room a bold look that's perfect for modern, contemporary or traditional decor. Choose navy blue furniture, like a bed frame or nightstands and pair them with burnt orange accents like pillows, throws and wall art. For a more subtle look, stick to different shades of navy and burnt orange, like light blue and light orange. To keep the room from looking too busy, try pairing these colors with neutrals like white or beige. You can also add pops of other colors to accentuate the navy and burnt orange palette for a more dynamic look. [1]
Use Orange Art
Adding artwork to the walls is a great way to accentuate an orange-themed bedroom. Look for art prints or canvas pieces that feature oranges, such as sunsets with hints of orange, still life images with oranges in them, or abstract paintings featuring shades of burnt orange. Even if you can't find exactly what you're looking for, you can always get a custom piece made. Art is an easy way to bring color and life into a room, and it also adds visual interest. [1]
Layer Orange
Orange is a vibrant color that can make any room stand out, and it looks especially great when paired with other neutrals. When decorating with burnt orange, try adding pops of the color in subtle places like throw pillows, rugs, and wall art. This will add a touch of warmth to your room without overwhelming it. Additionally, layering shades of burnt orange with other colors like white and beige will create a cuddly atmosphere. Try experimenting with different textures to achieve an eye-catching effect. For example, hang a soft velvet curtain against the wall paired with some sleek metallic accents for an interesting contrast. [1]
Try Orange Throws
When designing your burnt orange bedroom, throws and cushions can be an easy way to add a burst of color. Throws and cushions come in a variety of sizes and textures so you can mix and match the items for some added interest. To keep things neutral, try pairing the burnt orange with grays or browns. This can create a sense of warmth, comfort and sophistication that is sure to be appreciated by all who enter the room. [1]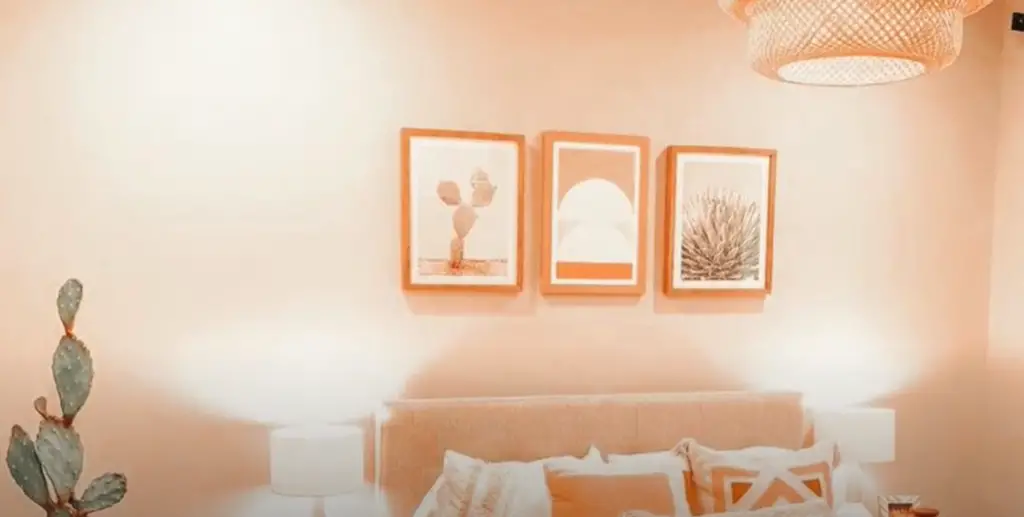 Don't Forget the Ceiling
When considering Burnt Orange Bedroom Ideas, don't forget the ceiling! Try a bold choice like an orange ombre effect. Paint the walls a lighter shade of burnt orange and paint the ceiling with a darker hue or even black for dramatic contrast. Or go for something more subtle by painting three-quarters of the wall in burnt orange and the remaining upper quarter in white. This will draw attention to any decorative elements you hang on the walls, such as artwork or wall mirrors.
Alternatively, you could opt for a simple painted effect. Paint the ceiling a pale burnt orange with an accent of white, or use a traditional chevron print to create visual interest that won't overpower the rest of your décor. [1]
Have Fun With Headboards
Headboards are a great way to accentuate any bedroom design and burnt orange is a great color choice for a bedroom. Choose from wood, metal or upholstered varieties in various shades of burnt orange. A bold patterned headboard will be the focal point of your room and bring some personality to the space. Consider adding additional accents like throws and pillows in complementary shades or textures for a cozier look. You could even add artwork to the walls around the headboard to create an art gallery feel in your bedroom. [1]
Pair Orange With Wood
One of the best ways to create a warm and inviting bedroom design is to pair burnt orange with wood. Natural wood furniture pieces and decor items can add an earthy, organic vibe to your space that will be enhanced by the bright hue of the orange walls or accents.
Whatever route you decide on, make sure your shades of wood match the color palette of the rest of your bedroom. If you want to create an inviting atmosphere, consider going for lighter shades with a natural finish, such as oak or maple. But if you'd like to add some depth and drama to the room, go for darker shades like walnut or mahogany. [1]
Pair Orange With Brass
A brass bed frame is a great way to incorporate some glamor into your burnt orange bedroom. Pair it with a light shade of orange on the walls and accents like lampshades, draperies, or throw pillows. You can also pair it with deep shades of red for an even bolder statement. Finish off the look with some gold accents for a truly luxurious effect. [1]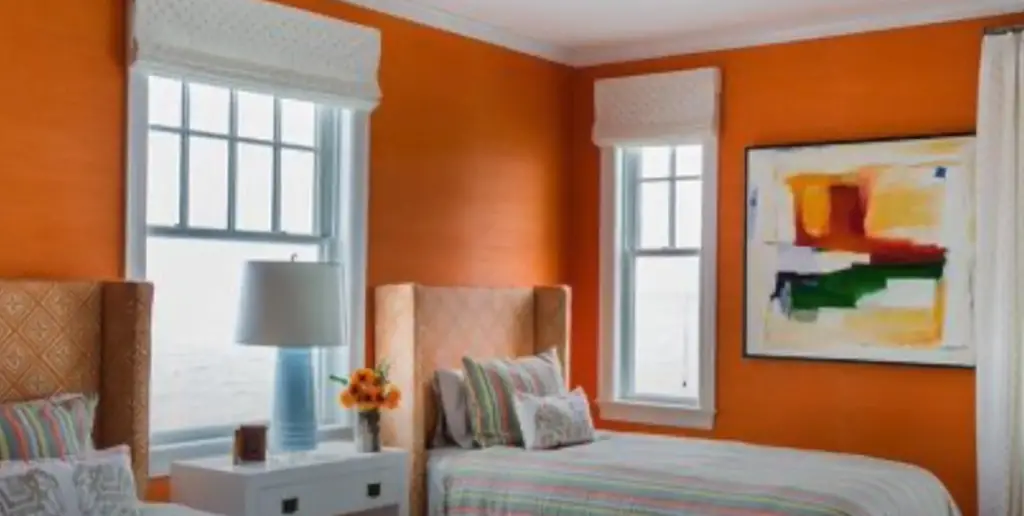 Match Your Walls to Your Duvet
Making a burnt orange theme in your bedroom is all about bringing together the different elements. One way to do this is to match the walls with your duvet cover, especially if it's one of the main features of the room. It can help bring out an inviting atmosphere, and also make sure that everything ties in nicely.
When looking for the perfect color, look to shades like terracotta or copper orange. These colors are subtle enough not to be too overwhelming but still bring out the vibrancy of the burnt orange theme. You can also pair these wall colors with a bedspread in a complementary shade that has hints of burnt orange throughout it. This will bring out the warmth of the space and create a sense of homeliness. [1]
Use Orange Alongside Velvet
Velvet is one of the timeless materials that never goes out of style. The combination of velvet and orange offers a unique and luxurious feel to your bedroom space. Use burnt orange velvet accent pillows, curtains or even upholster your headboard with it for an extra touch of sophistication!
You can also use other materials such as velvet in combination with the burnt orange color. A velvet ottoman placed at the foot of your bed brings a homely touch to any bedroom and also doubles up as storage!
If you're feeling adventurous, incorporate patterned wallpaper or textured wall art into your walls to add some dimension and interest. Complement these with bronze lamps, glass-encased vases and geometric figures to create an atmosphere of relaxation. [1]
Try Orange and White
If you want to create a truly stunning burnt orange bedroom, consider using white as a complementary color. Using white will help to make the room appear larger and brighter, while still keeping all of the warmth and energy that comes with an orange-themed space. You can use white in many ways – paint the walls, hang curtains or add furniture. To really make the white stand out, consider using different shades and textures of orange throughout the room, such as a burnt orange sofa or armchair with a lighter shade of orange on the walls. This will create an interesting contrast between the two colors while still keeping your overall color scheme cohesive and vibrant. [1]
Use Trim
For a contemporary and modern look, you can use trim to add an edge to your Burnt Orange Bedroom ideas. Trim is made from various materials such as wood, vinyl, or metal and comes in a variety of colors. Adding trim around the edges of walls, cabinets, furniture pieces, windows or even door frames can create a more finished, unified look. Trim also helps to bring the colors of your space together and can make a statement when used in unexpected areas like around door frames or even windows. [1]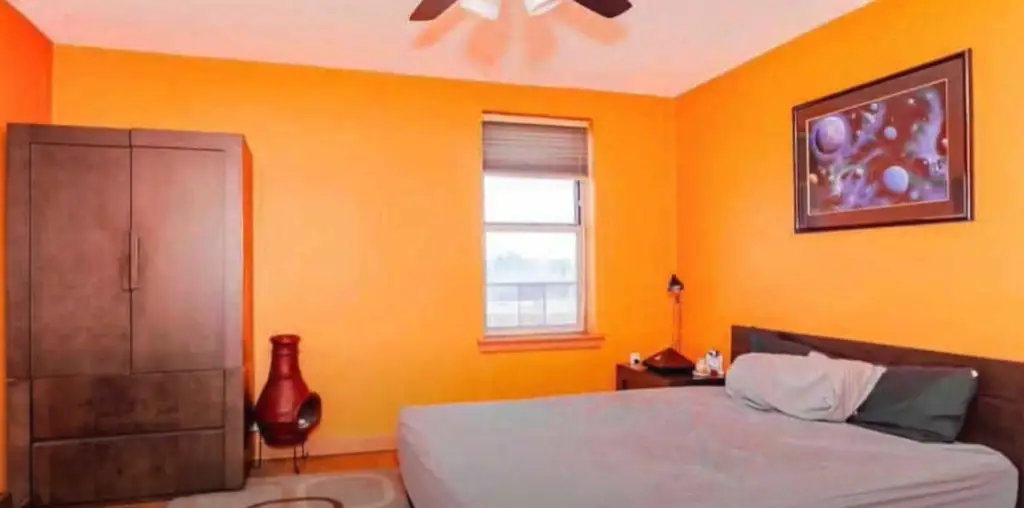 Don't Forget Some Green
Green is a great way to cool down the vividness of burnt orange. Add some plants and other green accents throughout the room or consider using a muted, mossy green as an accent color on one wall or your bedding. A mix of different shades of green can help to create visual interest in a room you might want to keep more low-key. You can also choose to go with small bursts of green, like a few plants here and there or through the use of accents such as pillows, bedding, rugs, curtains and other decor. [1]
Try Two-Toned
One of the best ways to incorporate Burnt Orange into your bedroom is through two-toned walls. This way, you can break up the color and add contrast in a single stroke! An easy way to achieve this is by painting one wall Burnt Orange and the other a more neutral tone like white or gray. For an even bolder look, you can even opt for two shades of the same color! You can also use wallpaper or wall decals to create interesting patterns and textures. [1]
FAQ
Is burnt orange a good color for a bedroom?
Yes! Burnt orange is a great color for bedrooms as it gives off a warm, cozy vibrant vibe. The bright hue of orange will create an inviting atmosphere in your bedroom, also offering plenty of fun decorating opportunities. Plus, color works well with many different styles, from modern to bohemian.
What colors go with burnt orange?
When it comes to decorating with burnt orange, there are a few colors that will look great together. Neutral shades like white, gray, and beige can help tone down the brightness of the orange, while bolder colors like navy blue or black make for an eye-catching contrast. Other complementary colors include pink, yellow, burgundy, and teal.
What color goes with orange in a bedroom?
When using orange in a bedroom, you can create an inviting atmosphere by surrounding it with warm and cozy colors. For instance, shades of yellow or tan are great options if you want to create a bright and cheerful space. Alternatively, darker colors such as gray and navy blue can provide contrast to the vibrant color. Finally, for a more modern, minimalistic feel, you can pair orange with white and black.
What colors go with burnt orange bedding?
When picking out bedding to match burnt orange, you have plenty of options. Neutral colors like white, beige, and gray will help tone down the intensity of the hue so it doesn't overpower the rest of the room. You can also choose complementary colors such as yellow or deep burgundy for a more vibrant look. Finally, for a more modern feel, consider pairing burnt orange with black and white.
Is burnt orange a happy color?
Yes, burnt orange has a warm and inviting energy that can evoke feelings of joy and optimism. The color is associated with enthusiasm, creativity, and energy – perfect for creating a cheerful atmosphere in any room!
Is Burnt orange on trend?
Yes, burnt orange is an on-trend color for both fashion and home decor. It's a great way to add warmth and energy to any space, while still being subtle enough that it won't overpower the rest of the room. Plus, with so many different shades of orange available, you can find one that perfectly fits your style.
Who looks good in burnt orange?
Burnt orange looks best on people with warmer skin tones as it can help bring out their natural glow. If you have cooler undertones, try pairing burnt orange with lighter colors such as white or beige to create a more balanced look.
What does the color burnt orange represent?
The color burnt orange is associated with enthusiasm, creativity, and energy. It can evoke feelings of joy and optimism, making it a great choice for creating an inviting atmosphere in any room. Additionally, the warm hue has a calming effect on the mind and body, which can help promote relaxation and peace.
Useful Video: Orange Bedroom Home Decor Home Design | And Then There Was Style
Conclusion
When it comes to burnt orange bedroom ideas, the possibilities are endless – so don't be afraid to get creative! From bold walls and unique furniture pieces to a few thoughtful accent pieces, you can easily create a beautiful and eye-catching room. There are also lots of ways to incorporate different textures, materials, and colors into your space to create a cozy and inviting atmosphere. With a few simple tips and tricks, you can easily make burnt orange bedroom ideas the perfect choice for your home decor!
No matter what style you choose, be sure to take into account the size of the room and other factors like lighting and ventilation. You should also check out different sources for inspiration, such as interior design magazines or Pinterest. Finally, don't forget to enjoy the process of creating your own unique burnt orange bedroom ideas!  Good luck, and we hope you have fun bringing your vision to life!
References:
https://www.mydomaine.com/orange-bedroom-5214149