The bedroom is one of the most important places in our home. It should be a place of relaxation and rest, and it's also a great spot to watch TV or movies. But if you have an old-fashioned bulky television that doesn't fit with the decor, it can feel like anything but a sanctuary. This is where bedroom TV stand ideas come in.
A bedroom TV stand can be a great way to bring style and convenience into your bedroom. Not only will it help keep your television from taking up too much space, but it'll also give you an organizing solution for all of those cords, remotes, and other accessories.
Unite The Old With The New
One of the best bedroom TV stand ideas is to choose a stand that will integrate with your existing decor. For example, if you have vintage-style furniture in your bedroom, consider a wooden armoire with doors and drawers. This will help achieve a cohesive look while giving you plenty of storage space for all of your remotes, controllers, and other accessories.

Alternatively, you could go for a modern-style stand with streamlined features. This will help create a more contemporary atmosphere in your bedroom while still providing plenty of storage options for all your media needs.[1]
Disguise Your TV As A Beautiful Work Of Art
If you want your bedroom TV stand to be both stylish and practical, then disguising it as a piece of art is the way to go. Hang artwork around the television that serves as camouflage, or use a thin frame with some sort of backing behind it. This will make it look like a painting from afar but still allow you to clearly see the TV. You can also use digital frames to make custom art featuring your own photos or images that match your bedroom decor.
[1]
Incorporate A Sliding Screen
If you don't want a bulky TV stand in your bedroom, why not opt for something that can double up as a divider or wall feature? Incorporating a sliding screen with an embedded television allows you to divide the room without compromising on style. This option works well if your bedroom has multiple uses, allowing you to change the ambiance of the room quickly and easily.[1]
Hide Unsightly Wire With A Bespoke Design
If you have a bedroom television, chances are there will be unsightly wires that run from the wall to the TV. Unsightly wires can be easily hidden with a bespoke design for your stand which allows you to thread the cables through and out of sight. This way, not only does it make your stand look neat and tidy, but it also keeps the wires from being a tripping hazard. This is especially important if your stand is not secured to the wall. [1]
Invest In A Modular Design
If you're looking for bedroom TV stand ideas, then one great option is a modular design. This type of furniture offers the convenience and flexibility that many people need in their bedrooms. Modular designs are available in different sizes, so you can easily fit them into almost any kind of space. You can also mix and match pieces to create a unique look that works best for your bedroom. The ability to customize is what makes this type of furniture so appealing.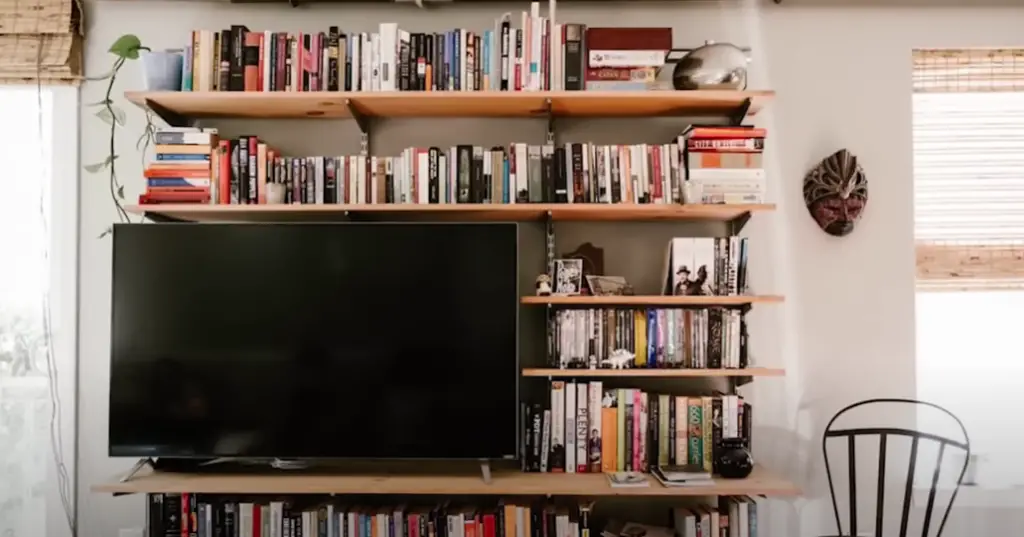 Another great feature of modular designs is their durability. There are many different materials and finishes available, so you can choose something that will last a long time and stand up to daily use. This means you won't have to worry about replacing your bedroom TV stand anytime soon.
Finally, modular designs are easy to assemble and disassemble, which makes them an ideal choice for people who move frequently or for those who live in small spaces. With a modular design, you can easily take your TV stand with you wherever you go.[1]
Provide A Central Storage Area
This type of setup is especially helpful if you want to keep things like remote controls, DVDs and gaming consoles organized and easily accessible. You can find great bedroom TV stands with several shelves and cubby holes so you can store all of your entertainment items in one place.
Another great idea is to combine the bedroom TV stand with a storage dresser, allowing you to put away clothes and other items while also having a spot for your media devices. This will help keep clutter out of sight but still within easy reach when needed.You may want to consider adding a side table or coffee table in addition to the stand, giving you more storage space.[1]
Design Your TV Stand Around You Scheme
Your bedroom is your sanctuary, and with that in mind, it's important to make sure that the design of your TV stand reflects that. When deciding on a TV stand for your bedroom, make sure you take into account all the items and furniture you have in the room so you can create a cohesive look. Consider both form and function when selecting a stand, as you'll want something that fits your style and is practical as well. If you need some bedroom TV stand ideas, here are some tips to get you started:
Choose a piece that fits your space. When selecting a TV stand for your bedroom, make sure it will fit comfortably between the other pieces of furniture in the room, such as your bed and dresser. Measure the area carefully before shopping, so you know exactly what size stand you need.
Consider the material and color of your TV stand. The material and color of your TV stand should complement the overall look and feel of the bedroom. Wood is a common choice for bedrooms, as it has a classic look and feel. However, you might also consider an acrylic or glass stand if you are looking for something more modern.
Think about storage options. You'll want to make sure your TV stand offers enough room to store all of your electronics, such as DVDs and gaming systems.[1]
Go Entirely Bespoke
Sometimes, you can find the perfect TV stand for your bedroom, but it doesn't quite fit in with the rest of your décor. That's ok! You don't have to settle for a piece that isn't ideal. Customizing and creating something entirely bespoke is an exciting option and won't break the bank.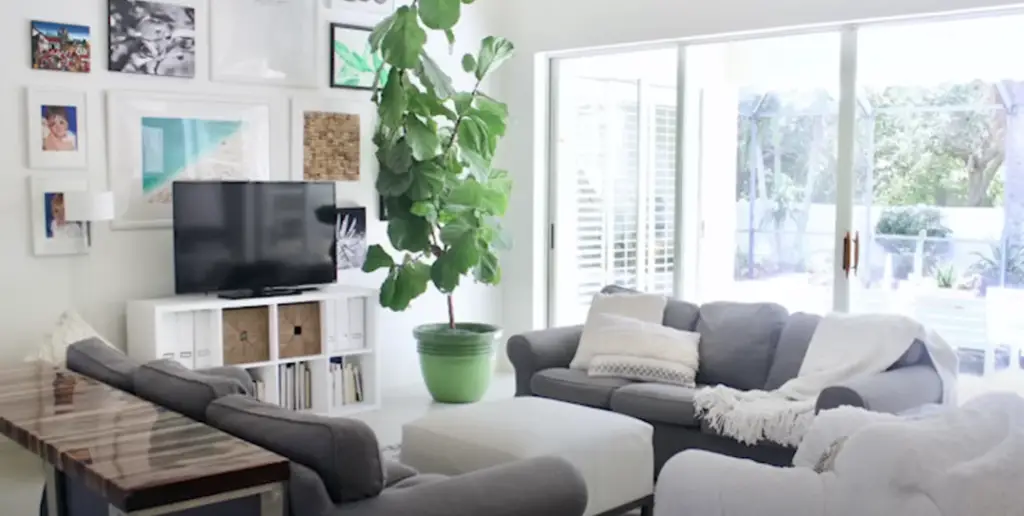 Finding a carpenter or woodworker to craft something special for you is easy, and most of them are willing to work with your ideas and requirements. All it takes is a couple of measurements to get started, so you can be sure that when your new TV stand arrives, it will fit perfectly in your bedroom.
If you're feeling creative, you can even design something yourself, using salvaged wood or other easy-to-find materials. With a bit of patience and dedication, you could have the perfect TV stand that's unique to your bedroom![1]
Blend It Into The Background
If you don't feel comfortable having a big bulky TV stand in your bedroom, why not blend it into the background instead? This can be done with stylish cabinets that can double as entertainment centers. You can also find low and wide dressers that have shelves or drawers for storing items like DVDs, game consoles, and other media-related items. You can also find chests of drawers with glass doors that allow you to show off your favorite movies or TV shows without taking up too much space in your bedroom.
[1]
Opt For A Freestanding Unit
A freestanding TV stand is the perfect solution for those who have a small space or simply don't want to mount the television on their wall. Freestanding units come in a variety of shapes and sizes, so you can find one that fits your bedroom perfectly.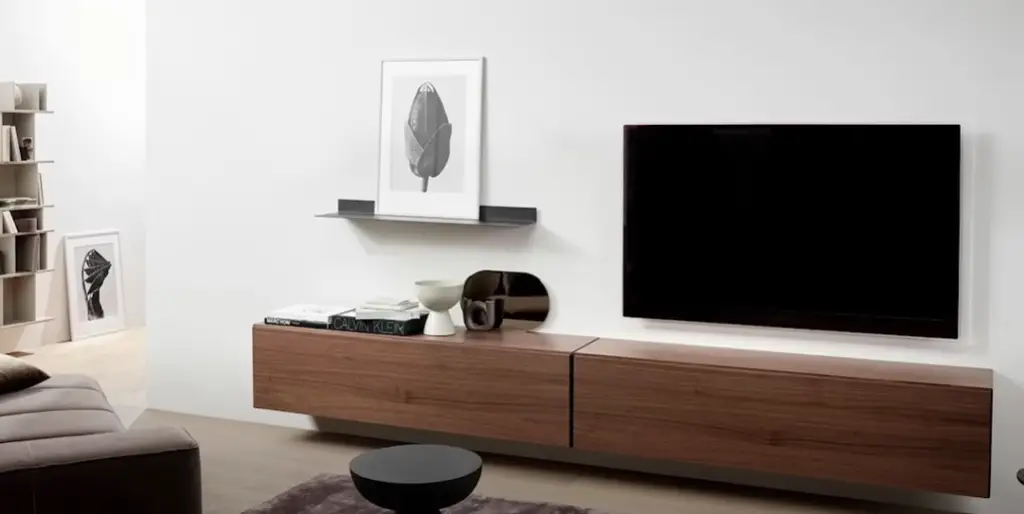 You can get creative with it too; some freestanding units come with built-in shelves, while others can be used as a makeshift bar. If you're looking for something a bit more modern, opt for one that has an open design and/or is made of sturdy materials like metal or wood.[1]
Put It On Full Display
If you're looking for a modern way to incorporate your TV stand into the bedroom, why not put it on full display? This could mean mounting it directly onto a wall, where it will take up minimal space. Or, if you don't want to install something permanent, there are plenty of wall-mounted units that can be easily moved. This solution also enables you to keep all of your cords and wires tucked away neatly, for a sleek, clean look.[1]
Build A Storage Wall
When it comes to bedroom TV stands, one of the best and most creative ideas is to build a storage wall. You can use standard shelves or floor-to-ceiling shelves to create a beautiful and functional wall of storage that also holds your television. This idea works great for smaller bedrooms where you don't have enough space for a separate piece of furniture.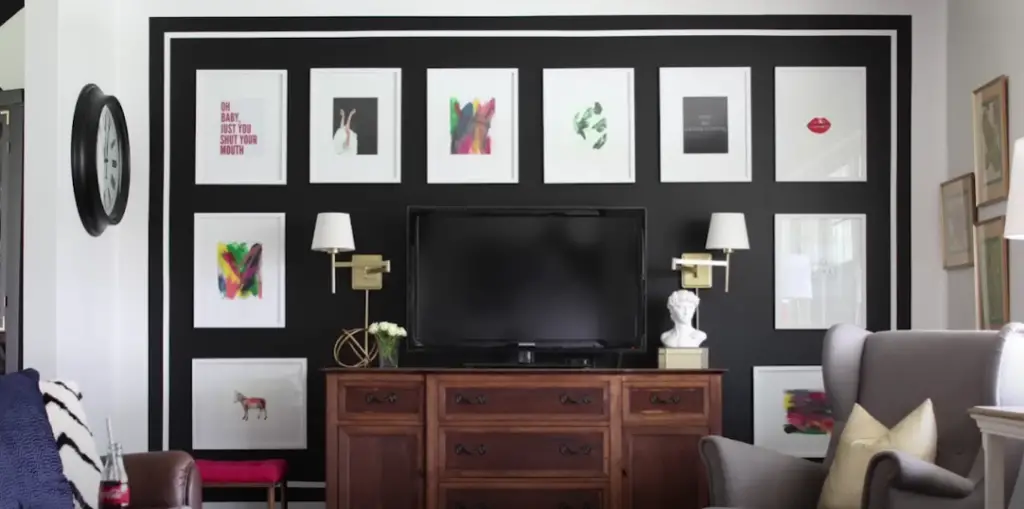 You can use the shelves to store books, DVDs, games, and other items that you may want to keep close at hand while you watch TV. You can also add baskets or other organizers for media accessories such as remotes and game controllers. This idea is perfect for those who have limited floor space but still want a place to store their electronics.[1]
Paint Your TV Stand The Same Color As The Wall
One great way to make your bedroom TV stand blend into the background is by painting it the same color as the wall. This works particularly well if you choose a muted color for both, such as light gray or beige. If you want to make a more dramatic statement, try painting both in a bold hue like cobalt blue or emerald green. This will draw the eye to your entertainment center and make it a focal point of the room. Whichever color you choose, make sure it's one you love since you'll be looking at it every day![1]
FAQ
What can I sit my TV on in my bedroom?
When it comes to bedroom TV stand ideas, you have several options. You could mount the television on the wall using a wall-mounted bracket, place it on top of a piece of furniture such as a chest of drawers or dresser, or even look into getting yourself a dedicated bedroom TV stand which can provide plenty of storage space. Wall-mounting your TV is an increasingly popular choice for bedrooms, as it frees up space and can create a more contemporary look to the room. If you're not keen on wall mounting, however, you could opt for a bedroom TV stand instead.
How to decorate a bedroom TV stand?
Decorating a bedroom TV stand is similar to decorating any other piece of furniture in your home. Firstly, consider the overall style and design of the room – if it's a modern look you're going for, then a sleek, minimalist TV stand may be best. Alternatively, if you want something more traditional, you could look for a TV stand with ornate detailing or use distressed paint finishes.
How high should a TV stand be in a bedroom?
When considering bedroom TV stand ideas, it's important to consider the height of your television. Generally speaking, your TV should be at eye level when you are standing or sitting in front of it. If this isn't possible, try to position the screen so that it is slightly lower than eye-level – this will help reduce any neck strain. Additionally, make sure that the stand is stable and secure – you don't want your TV toppling over when it's in use!
Is it OK if the TV is bigger than the stand?
Yes, it is absolutely fine if the TV you own is bigger than your bedroom TV stand. However, you should use caution when positioning a big screen on top of a small stand – make sure that the stand is strong and stable enough to support the weight of your television. Additionally, be aware that the wider base of larger TVs can impede viewing angles.
Should the TV stand be wider than the TV?
The general rule when it comes to bedroom TV stand ideas is that the stand should be wider than the TV. This helps to ensure stability and gives you a better viewing angle, which can improve your overall viewing experience. Additionally, if the stand is too narrow for your television, there's a risk of strain on cables or connectors when you move the TV.
Is the TV better on the wall or the stand?
The answer to this question really depends on your personal preference. Wall mounting is a great option if you want to free up floor space, while opting for a TV stand can provide plenty of storage solutions and help create a focal point in the bedroom. Both options have their advantages and disadvantages, so it's worth considering each carefully before making a decision.
Do TVs look better on the wall?
Wall mounting a TV can certainly create a modern look in any room, and it is often the most efficient solution when it comes to saving space. However, there are some drawbacks – wall-mounted TVs can be difficult to move around and adjust, and they may require additional wiring if you want all of your components connected. Additionally, many people find that they don't get the best viewing angle from a wall-mounted television. Ultimately, it depends on your own personal preference and the available space in your bedroom.
Useful Video: HOW TO DECORATE WITH A HUGE TV?! 📺
Conclusion
When it comes to furnishing your bedroom with a TV stand, there are many options available. You can choose from classic styles like console tables or metal and glass-top stands, as well as more modern designs. Consider the size of the room, how much storage space you need, and what type of materials will fit with your decor.
TV stands have come a long way and can now be used to create beautiful living spaces that are both comfortable and stylish. With the right bedroom TV stand, you'll be able to take your bedroom entertainment experience to the next level! So start exploring your options today and find the perfect piece for your home!
References:
https://www.homesandgardens.com/interior-design/tv-stand-ideas