Sitting areas are a great way to add function and style to your bedroom. They provide a comfortable place to relax, read, or watch TV. And, if you include a few key pieces, they can also be stylish and elegant. This article will discuss some of the best ways to create a sitting area in your bedroom. It will also provide some tips on how to choose the right furniture and decor for your space. So, if you're looking for some inspiration, keep reading!
Why do you need a Bedroom Sitting Area?
Having a dedicated space in your bedroom for sitting and relaxing can provide you with many benefits. Having an area that is set aside just for relaxation, helps to reduce stress, boost creativity, and make the most of any downtime. It also allows for a more comfortable setting when entertaining guests or spending quality time with loved ones.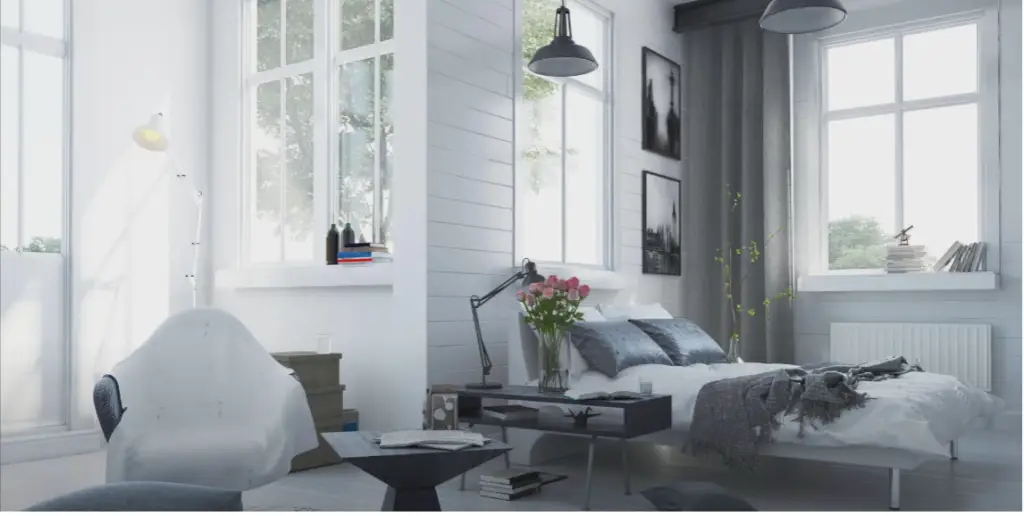 A bedroom sitting area can give you the perfect spot to read, play board games or cards, watch TV, have tea or cocktails with friends and family, take naps, do yoga stretches, or practice meditation. The possibilities are endless! Creating a designated spot in your bedroom also helps to create a sense of order by organizing items like books and magazines into one space instead of having them scattered all over the room.
Furthermore, the area can be decorated to reflect the overall style and mood of your bedroom, providing an inviting and comfortable atmosphere.
[1]
.
Best Bedroom Sitting Area Ideas
Keep Your Favorite Drinks Within Reach
Having a designated mini-fridge or end table with drinks nearby can be the perfect way to unwind after a long day. Whether it's your favorite soda, tea, coffee, or even beer and wine, having it all within reach can help you relax and enjoy some "me time" without having to go out of your comfort zone.
Create an Inviting Reading Nook
Your sitting area can easily become a cozy reading nook. Find some comfy pillows and blankets that you love and set them up in your space. Add some bookshelves for easy access to your favorite reads and keep a nightstand lamp close by when natural light isn't available. You'll quickly fall into relaxation mode when you're surrounded by your favorite stories.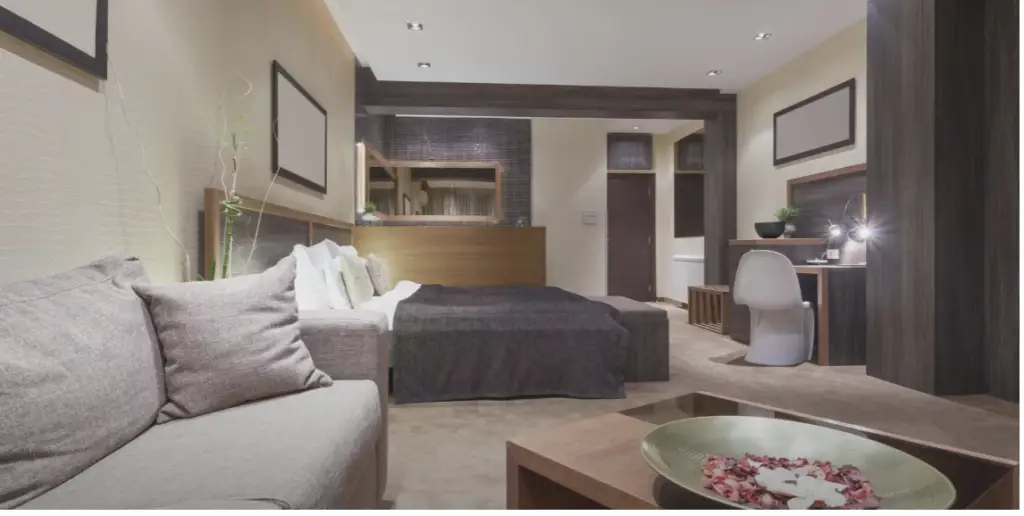 Create a Movie Night Corner
Make movie night extra special by creating a separate area in your bedroom just for watching films. Choose comfy seating, dim the lights, and make sure you have plenty of snacks and drinks nearby. You can even go the extra mile and install a projector to get that theater-like feel right at home! It's the perfect way to cuddle up with someone special or enjoy some time alone.
Space-Saving End of Bed Bench
Adding a bench at the foot of your bed can help you maximize storage space and create an area to relax. Place some throw pillows on top for extra comfort and style, and use the underneath portion as extra storage for linens, shoes, books, or whatever else you might need. It's a great way to make the most out of what you have!
Bring Out Your Creative Side With Colorful Throw Pillows
If you want to add a bit of pizzazz to your sitting area, opt for colorful throw pillows that will bring life into the room. Take it one step further by adding some DIY-style patterned wall art nearby for a unique touch. You can even get creative with furniture pieces by painting them yourself to give your bedroom a custom look.
Create a Zen Zone With Plants
Bring some nature into your bedroom by placing potted plants near your sitting area. Not only will this create a calming and tranquil atmosphere, but it'll also help you breathe easier. From cacti to succulents, select the best greenery that fits your style and watch as they bring life to your space!
Get Cozy With an Oversized Chair
An oversized chair can be just what you need for maximum comfort when unwinding in the bedroom. Whether it be an armchair or bean bag chair, getting cozy with one of these pieces is the perfect way to kick back and relax after a long day. Add some accent pillows and a side table to complete the look.
Built-In Window Bench
If you have the luxury of extra space in your bedroom, try creating a built-in window bench. It's the perfect place to curl up with a good book and admire the view outside without having to leave your room. Add some colorful cushions for a cozy spot that will be sure to make you want to stay put for hours on end!
Oversized Bedroom Sitting Area Furniture
When it comes to sitting areas, size does matter! Give yourself plenty of room to spread out by opting for oversized bedroom furniture pieces. From daybeds to chaise lounges, these pieces will give you all the space you need to relax and enjoy your time in the bedroom. Don't forget some throw pillows and blankets too!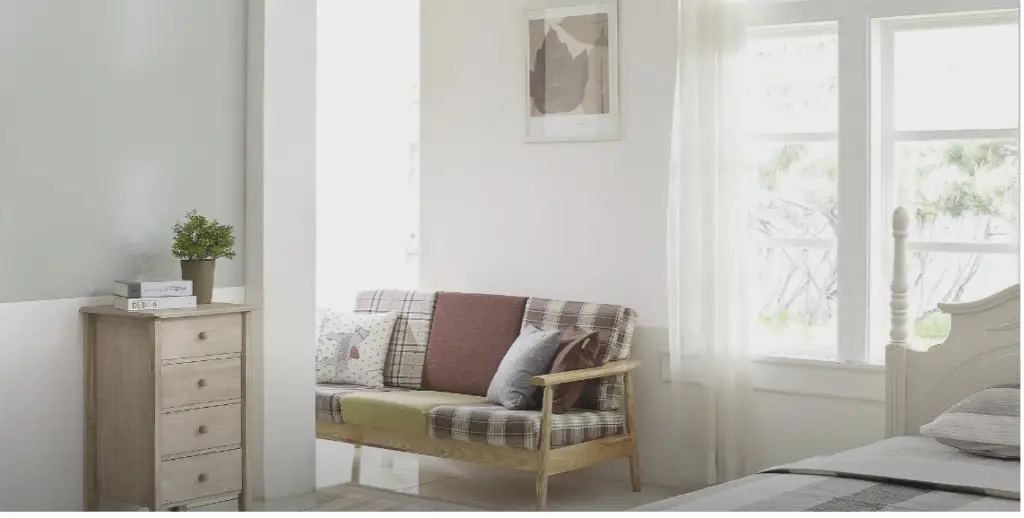 Add a Swing or Hammock
Make your bedroom feel like an escape with a hanging swing or hammock. Whether indoors or outside, these unique features can provide just the right amount of fun and relaxation that you're looking for. Plus, if installed outdoors, it can make for a great spot to stargaze at night!
Give Your Feet a Place to Rest
If you need something a bit more practical, try adding an ottoman or footstool to your bedroom. This is the perfect piece for propping up your feet after a long day or for seating extra guests if needed. Plus, it can double as a storage space for all those items that don't quite have a home yet!
Spacious Sitting Room in Master Bedroom
Whether you have a large or small bedroom, adding a sitting area can make all the difference. It's the perfect spot to relax and unwind after a long day or entertain guests on special occasions. If you have the space, try to keep it open and airy for a bright and inviting feel. And don't forget to add some personal touches that reflect your style!
Cozy Around the Fireplace
If you're lucky enough to have a fireplace in your bedroom, make it the focal point of the room. Add some comfortable furniture pieces and cozy throws or blankets for extra warmth. And on chilly nights, light up the fireplace and relax with a good book or glass of wine – this is the perfect spot for winding down after a long day!
Don't Forget About the Kids
Whether it's a miniature sofa or bean bag chairs, create an area that they can call their own. Add some colorful wall art and shelves for extra storage and you're all set! Creating a comfortable sitting area in your bedroom is the perfect way to unwind after a long day [2].
Tips for Creating a Bedroom Seating Area the Right Way
Make Your Bedroom Seats Comfortable and Welcoming
When creating a seating area in your bedroom, always remember to make sure it is comfortable and inviting. Invest in good-quality chairs or couches that are designed for sitting and lounging. If you want to go the extra mile, add some cozy pillows and throws too!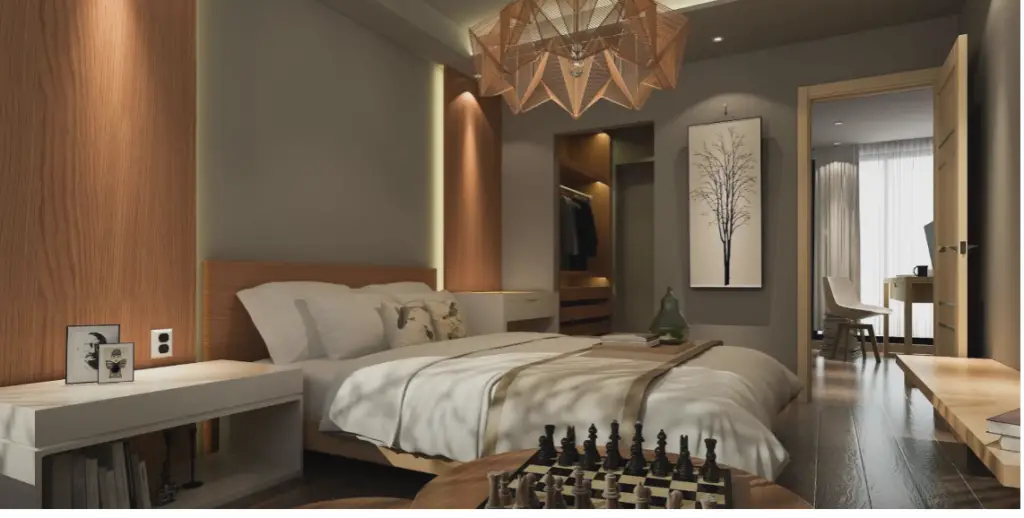 Choose Your Seating Area's Location Wisely
You don't want your seating area to take up valuable floor space – consider wall-mounted benches and cubes if space is limited. Make sure to put enough distance between the seating area and other furniture like the bed or dresser so that both pieces of furniture fit comfortably without crowding one another.
Plan the Lighting Scheme Tactically
Lighting can make or break a room. When creating a seating area in your bedroom, decide how much light you want by choosing the right bulbs and fixtures.
Add Greenery to Your Bedroom Seating Area
Adding greenery to your bedroom seating area is a great way to bring in some color and life into the room. You can choose any kind of houseplants that suit your style, such as succulents, potted plants, or bonsai trees. Be sure to place them close enough so that you can enjoy their beauty while relaxing in the seating area.
Consider Multiple Bedroom Seats
Having multiple seats in your bedroom seating area will give you and your family or guests more room to stretch out and relax. Consider adding a loveseat, chairs, and ottomans to make the space feel more inviting. You can also use rugs and cushions to create a cozy feel that is perfect for reading or having conversations with friends.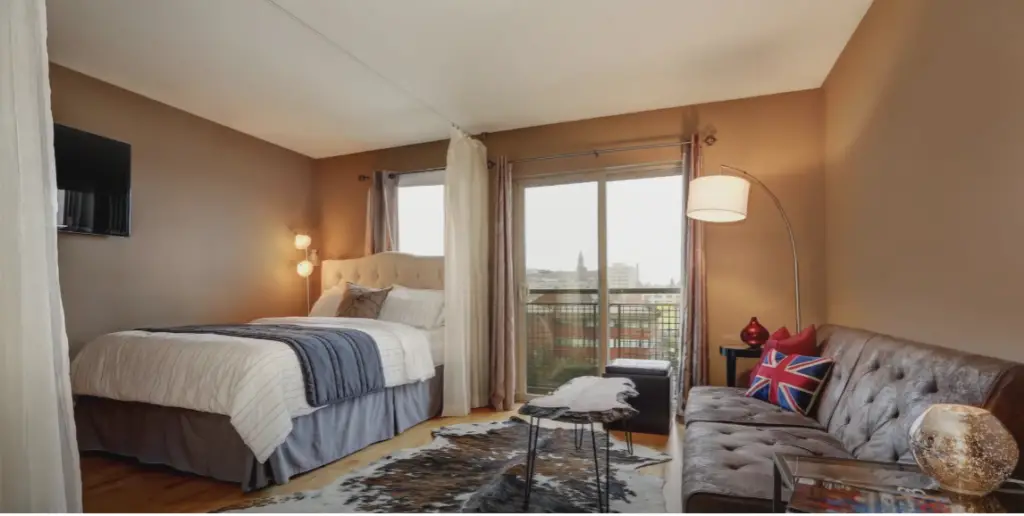 Mix Different Textures When Crafting Your Bedroom Seating Area
To create an interesting look in your bedroom seating area, mix different textures like wood, metal, fabric, and wicker. This will add depth and warmth to the space while creating an attractive focal point. Try using textured throw pillows on the chairs or couches to bring the look together.
Secure a High Level of Privacy for Your Bedroom With a Seating Area
Make sure to secure a high level of privacy for your bedroom seating area. Consider closing off the area with curtains or wall dividers if you don't want to be disturbed. This will create a more intimate space that is perfect for relaxing, talking, and spending quality time with family and friends.
Create an Inviting Atmosphere in Your Bedroom With Seating Area Decor
Once you have chosen the furniture and layout of your bedroom seating area, it's time to focus on decorating it. To achieve an inviting atmosphere in your bedroom, choose accents like artwork, throws, cushions, candles, and bookshelves that speak to your style and personality. Adding small touches such as these will make the space feel more like home and help you create a cozy retreat.
Make Your Bedroom Seating Area Connected Yet Accessible
Finally, make sure to create a seating area in your bedroom that is both connected and accessible. By making sure all the furniture pieces are easy to access and move around, you can ensure that everyone can enjoy the space without feeling crowded. Also, try to keep the seating area visible from other parts of your bedroom so that it creates a visual connection between the two areas [3].
What else can be put in a bedroom for more comfort?
There are a few things that can be added to a bedroom for more comfort. A bedside table with a lamp is always nice, as well as an alarm clock. Soft blankets and pillows can also make a big difference. Some people like to have a small television in their bedroom, while others prefer to read in bed. Whatever your preference, there are ways to make your bedroom more comfortable.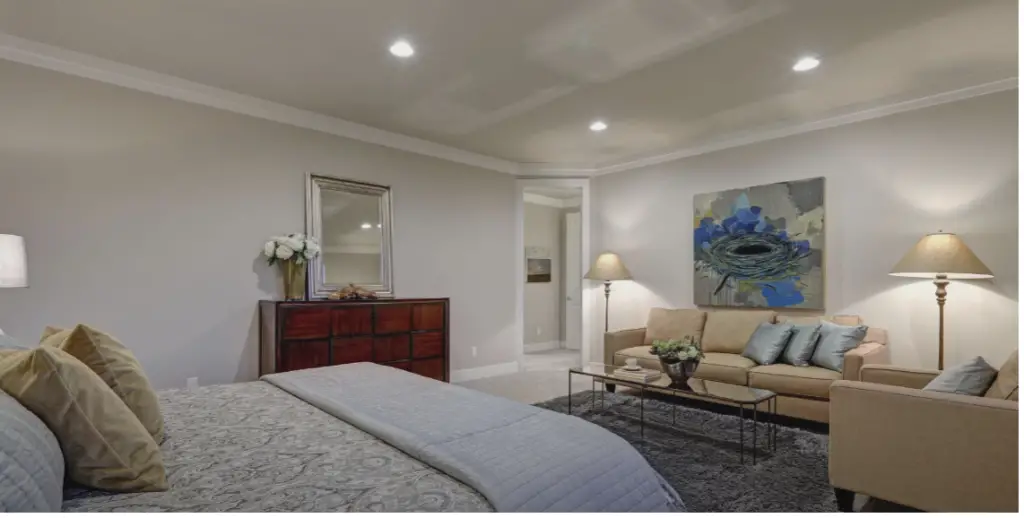 Rugs can help keep feet warm, especially on cold nights. Throw pillows are also great for adding a cozy touch and come in many styles and colors. Many people like to add some artwork or photographs to their bedroom walls for a more personal feel. A comfortable chair or chaise lounge is also a great addition for relaxing in the evening.
Finally, don't forget the power of aromatherapy – candles, incense, or air fresheners can all help to create a calming atmosphere in your bedroom. With just a few small additions and changes, your bedroom can be transformed into a cozy oasis that you'll never want to leave!
Best materials and designs for bedroom seatings
When it comes to bedroom seating, it's important to find a piece that fits the space and your style. Leather is a popular choice for bedrooms because of its luxurious look and comfort. If you would prefer something softer, velvet or corduroy can be just as stylish.
For smaller spaces, an ottoman might be a better option than a full chair or sofa. An armchair with slim lines is also great for taking up less visual space while still providing comfortable seating. If you want something more unique, rattan can provide texture and dimension to any bedroom decor style. Wicker pieces are often lighter in color and come in many shapes and sizes. No matter what material or design you choose, make sure it's comfortable and fits your room perfectly. With the right seating, you can create a comfortable retreat in your bedroom [4].
FAQ
How do I build a sitting area in my bedroom?
Building a sitting area in your bedroom is a great way to create an inviting and comfortable space. To start, you will need to decide how much open floor space you want to use for the seating area. You can also think about what type of furniture you would like to include, such as a sofa or armchairs. Additionally, consider adding accent pieces such as throw pillows, blankets, and rugs to make the area more inviting and cozy. Once you have determined the size of your room and chosen the furniture, it's time to arrange it in an aesthetically pleasing way.
Make sure that any small items like lamps or bookshelves are within easy reach of both guests and yourself when seated. Finally, choose decorations such as artwork or plants to add a personal touch to the area. With these tips, you'll be on your way to creating a beautiful and functional seating area in no time!
How do I make my living room more cozy?
There are many ways to make your living room cozier. One way is to add more layers of lighting. This can be done by adding table lamps, floor lamps, or even candles. Another way to add coziness is by layering textures. This can be done with throws, pillows, rugs, and blankets. You can also add warmth with fireplaces, wood-burning stoves, or electric blankets. Finally, consider adding personal touches such as photos, books, and plants to give the room a more homely feel.
What are some decorating ideas for my bedroom?
One way to add personality to your bedroom is by adding color. Consider painting the walls in an eye-catching hue or incorporating accent pieces like artwork, curtains, or bedding that has bold shades. You can also add texture through rugs, throw pillows, and blankets. Adding a few wall hangings such as shelves or mirrors can help break up large spaces and give your bedroom more depth. Finally, don't forget about lighting; try using lampshades or string lights for decorative touches.
What is a sitting room in a bedroom?
A sitting room in a bedroom is an area that has been designed for relaxation and conversation. It can be used as an extension of the bedroom or as a separate space altogether. Sitting rooms usually feature comfortable furniture like sofas, armchairs, and ottomans that are arranged invitingly. They're also typically decorated with items like throw pillows, blankets, rugs, artwork, and bookshelves. Sitting rooms offer a great place to host guests or take some time out for yourself after a long day.
What is the best way to space a small bedroom?
When it comes to small bedrooms, the organization is key. It's important to make sure that everything has a place and that there isn't too much furniture or clutter in the room. If possible, try to keep the bed against a wall and out of the way of any doorways or windows. You can also look for multifunctional pieces like ottomans with storage or beds with built-in shelves. Finally, don't forget about lighting; use task lamps or wall sconces to brighten up dark corners and create more depth in the space.
What can you do with a sitting area?
A sitting area is a great place to relax, entertain guests, or take some time for yourself. You can use it for conversations, as an office space, or even as a reading nook. Depending on the size of your furniture and the amount of open floor space you have available, you can also use the area for yoga sessions or game nights with friends. Additionally, if you're feeling creative, you could turn the sitting area into an art station where you can work on projects or just sit back and enjoy your favorite tunes.
How do I decorate a small bedroom?
When decorating a small bedroom, it's important to think about how to make the most of your space. Instead of bulky furniture pieces, try to find items that are both functional and take up minimal space. Incorporate storage options like bookshelves or under-bed drawers to help keep things organized. Additionally, adding a rug can make the room appear larger and more inviting. Finally, use light colors to open up the area and create an airy atmosphere.
Why do people put a chair in the bedroom?
A chair in the bedroom serves multiple purposes. It can be used as a spot to rest after a long day or to relax and read a book. People may also use it for conversations with their partner, or as an additional seating option when entertaining guests. Chairs are also helpful if you need extra storage space; some styles come with built-in drawers or shelves that can help keep things organized. Ultimately, having a comfortable chair in the bedroom is essential for creating a cozy atmosphere and providing comfort and relaxation.
Useful Video: BEDROOM SITTING AREA | MY SETTEE | DECORATE WITH ME | NEW BEDROOM DECOR
Conclusion Paragraph
Bedroom sitting areas create a sense of warmth and coziness that makes them the perfect spot to relax or entertain guests. By combining comfortable seating with thoughtful accents like art, books, or plants, you can create an inviting space in any bedroom. With careful consideration, you can also maximize your space by using multi-purpose furniture pieces that serve as both seating and storage solutions. And lastly, it's important to remember that bedroom sitting areas should be tailored to fit your style! With some imagination and creativity, you too can have the perfect nook for quiet time or conversation.
References:
https://www.homestratosphere.com/why-do-bedrooms-have-sitting-areas/
https://www.decorilla.com/online-decorating/bedroom-sitting-area-ideas/
https://www.mydomaine.com/sitting-area-5195373
https://www.arredaremoderno.com/blog/en/the-best-materials-for-furniture-everything-you-need-to-know/