Welcome to Bohemian Bedroom Ideas on a Budget. Here, you will find helpful tips and inspiration to create a cozy and stylish bedroom with boho vibes without breaking the bank. Whether you're redecorating your current space or starting fresh from scratch, you'll find plenty of budget-friendly ideas that won't compromise on style. Ready to get started? Let's dive in!
Rug beneath beds
One of the simplest and cheapest ways to upgrade your bedroom is to add a rug underneath the bed. Rugs instantly warm up any room, creating an inviting and cozy atmosphere. Plus, they come in so many colors, patterns, sizes, and textures that you are sure to find one that will fit perfectly with your boho design scheme.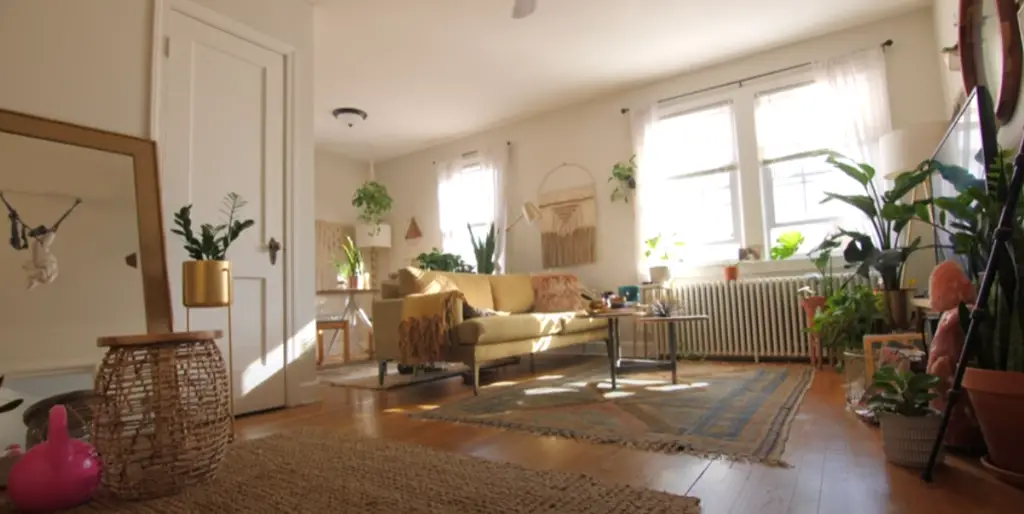 [1]
Show off lots of boho accents and accessories
Boho decor can take many forms, from dreamy macramé wall hangings to colorful floor pillows. If you're looking for a way to make your bedroom look bohemian without breaking the bank, try adding lots of different boho-style accents and accessories to your room. Use thrift stores and flea markets to find affordable items such as wall hangings, rugs, and cushions. If you're crafty, try making your own boho-style home decor pieces like macramé or weaving.
Layer colorful rugs, pillows and throws to create a cozy atmosphere for your bedroom. Hang tapestries, dreamcatchers or wall hangings on the walls for an eclectic look. Incorporate plants wherever possible to bring in nature-inspired elements to your boho space.[1]
Place the bed in the room's center
The placement of your bed in the room's center can really help to create a bohemian feel. If you are on a budget, try adding some colorful bedsheets and pillow covers. You can also add some wall hangings behind the headboard for a more eclectic look.[1]
Use interesting wall accents
Using interesting wall accents is a great way to add character to your Bohemian bedroom. Hang a tapestry, artwork from thrift stores or simply framed photographs. These will all create an interesting and unique atmosphere in the room without overspending on expensive items. Additionally, you can also hang macrame pieces or dreamcatchers for a truly boho vibe.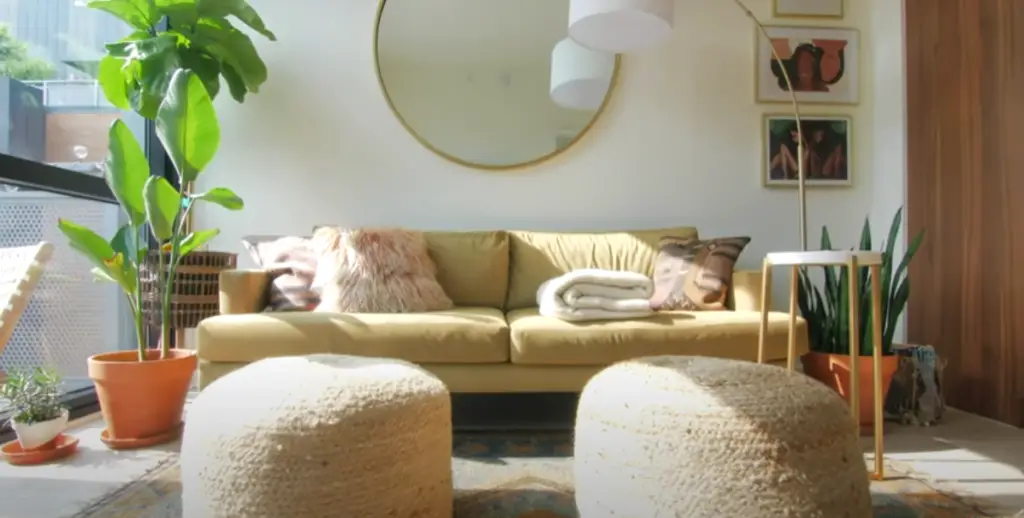 You can also add a bit of texture to your bedroom walls by painting them with a sponged paint technique. By alternating two colors on the wall, you will create an interesting depth that will enhance your Bohemian décor even further.[1]
Fill your boho bedroom with plants
If you're looking for an affordable way to update your boho bedroom, adding plants is definitely a great way to go. Not only do houseplants improve the air quality of your home and make it look more inviting, but they also create a beautiful addition to any room's decor. You can find many low-cost plants at a local nursery or garden center. Or, if you prefer, you can purchase smaller potted plants online.
[1]
Keep the walls bare
One of the best Bohemian bedroom ideas on a budget is to use what you have and keep your walls bare. Doing this will help create an atmosphere of tranquility, while still giving your room a unique and creative flair. If you do want to add a bit of color or texture, look for removable wallpaper that can be changed out with the seasons, or consider painting a single wall in a bright hue. You could also hang fabric on the walls as a unique and creative way to add texture without spending too much money.[1]
Create a hat gallery accents
Accentuate the walls of your boho-style bedroom with a hat gallery. Put together an arrangement of hats you own, or purchase some new ones for a reasonable cost. Place them in strategic locations around the room to give it that eclectic touch. Hang the hats from hooks or pegs on the wall, as well as place them over clothes hangers. Alternatively, you can arrange the hats on shelves or stack them in a corner. The possibilities are endless![1]
Including natural elements
When it comes to creating a Bohemian bedroom, one of the main elements you want to incorporate is natural elements. Whether it's plants, wood furniture, or woven textures – these all help create that bohemian feel and don't need to break the bank. You can find inexpensive items like wall hangings, wicker furniture or second-hand items that can help you achieve the look while sticking to your budget. If you are looking for a more permanent addition to your room, adding a hanging chair or some repurposed wood shelving can really transform the space.[1]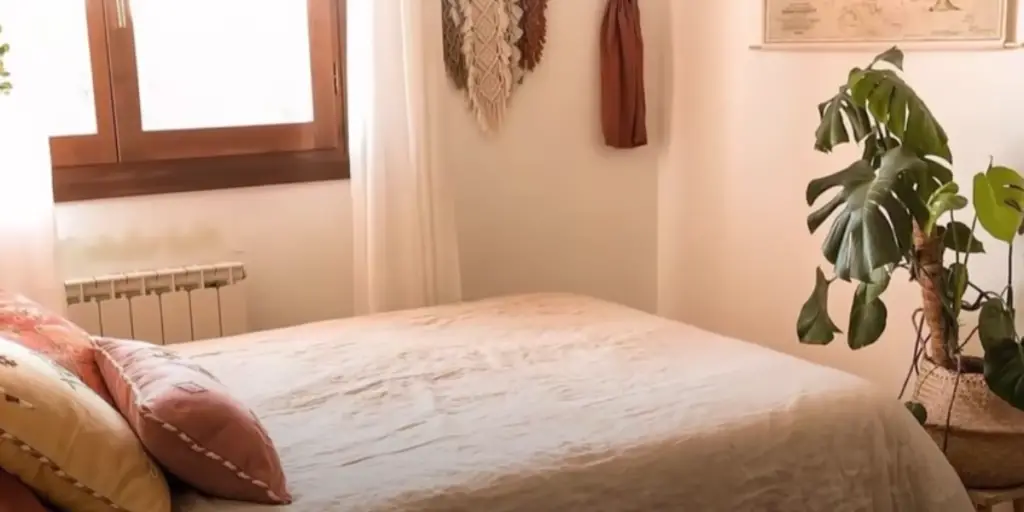 Use solid colors
One of the most effective Bohemian bedroom ideas on a budget is to use solid colors. If you're looking for an affordable way to add some bohemian vibes, then simply paint your walls in bright and bold hues – this will instantly give your room a boho feel without breaking the bank. You can also accessorize with solid-colored rugs, curtains and pillows for an even more authentic boho look.[1]
Leave the boxspring on the floor
Creating a Bohemian bedroom on a budget doesn't mean you have to sacrifice style. A great way to save money is to skip the boxspring and simply lay your mattress on the floor or atop a low platform bed frame. This can give your room an interesting, modern look with lots of visual interest. Plus, since there's no traditional boxspring, you can use throw blankets and accent pillows to create a unique look.[1]
Cozy bed canopy
A canopy bed can add a romantic and bohemian touch to your bedroom. You don't need to spend much on this, as you can make your own canopy using curtains or an old sheet. Hang it from the ceiling or above the headboard of your bed with some fairy lights for a cozy boho ambiance. Another great tip is to add a few strands of artificial ivy or cotton around the canopy for a truly bohemian look.[1]
Add an eclectic egg chair
Adding an egg chair to your bedroom is a great way to give your Bohemian bedroom a unique touch. Egg chairs are great for relaxing and unwinding, and they can easily be moved around the room to shift the focus of your space. If you're on a tight budget, consider shopping at second-hand stores or online for a more affordable option. For a truly unique twist, choose an egg chair with an interesting design or pattern that will stand out and make your room look even more inviting.[1]
Distress an accent wall
If you want to create a Bohemian-style bedroom but are strapped for cash, one of the easiest ways to do this is by distressing an accent wall. Bring in some vintage furniture and decorative pieces that can be used on the wall as decor. You can also add old-fashioned wallpaper, DIY artwork, or use stencils to create a unique look. To finish off the wall, hang up an old rug or tapestry to add texture and color.[1]
Use bleached wood accents
Bleached wood accents can give any room a boho-chic vibe without breaking the bank. Whether it's a headboard, accent wall or shelving unit, bleached wood adds warmth and texture that is sure to draw the eye. You can also use birch logs or reclaimed wood pieces for an even more rustic feel.[1]
Use accent lights
Accent lights are a great way to add an element of bohemian style to your bedroom without spending too much. You can hang some string lights around the bed or in the corner of the room to create a cozy atmosphere. They also come in different colors and styles, so you can play around with them until you find something that suits your aesthetic. Plus, they're relatively inexpensive and easy to install![1]
Use chic fabrics
Fabric can be an inexpensive way to dress up your bedroom in a bohemian style. Think about using shabby chic fabrics that are light and airy, such as muslin or even sheer curtains. You can also find interesting throws and bedding made from vintage-inspired materials like cotton, linen, and wool.
[1]
Display your books
Books are an integral part of a boho style bedroom. Whether you're reading them or just showcasing them, books can add color and texture to your room that is hard to do with any other type of decor. You don't need a lot either; just stack a few books on the nightstand, on open shelves, or in your dresser drawers. And if you're feeling extra creative, try making a bookshelf wall to add even more style to your room.[1]
Add a statement headboard
One of the easiest and most budget-friendly ways to give your bedroom a bohemian look is with an eye-catching statement headboard. You don't have to buy one either – you can easily make one yourself with some scrap wood, fabric, and a few other craft items. A statement headboard adds texture and interest to your bedroom, and it will instantly make the room look more on-trend. Plus, you can easily change the headboard if you want to switch up your style in the future![1]
Paint a cloud wall
Adding a dreamy cloud wall to your bedroom is an amazing way to bring the boho style into any room! This will create a peaceful and calming atmosphere that mirrors a relaxing nature. Painting clouds on your walls isn't as hard as it may seem! You can use stencils or masking tape to make the job easier, but if you're feeling daring, freehand painting will give you a truly unique look. To keep the project within budget, be sure to use cheaper paint and a brush or roller for large areas. You can also add some accent colors to really make your clouds pop out![1]
Palette beds
A Bohemian bedroom often has a unique palette bed. This type of bed is made with fabrics in different colors and patterns that blend together to create the perfect look. The result is an eye-catching and eclectic style that will instantly bring some bohemian vibes into your bedroom. You can easily make one yourself at home, using any fabrics you like. To create a cost-effective Bohemian bed, you can search for second-hand materials or upcycle old items from around your house and turn them into something new. For example, an old quilt cover can be repurposed to make a beautiful patchwork design on the headboard.[1]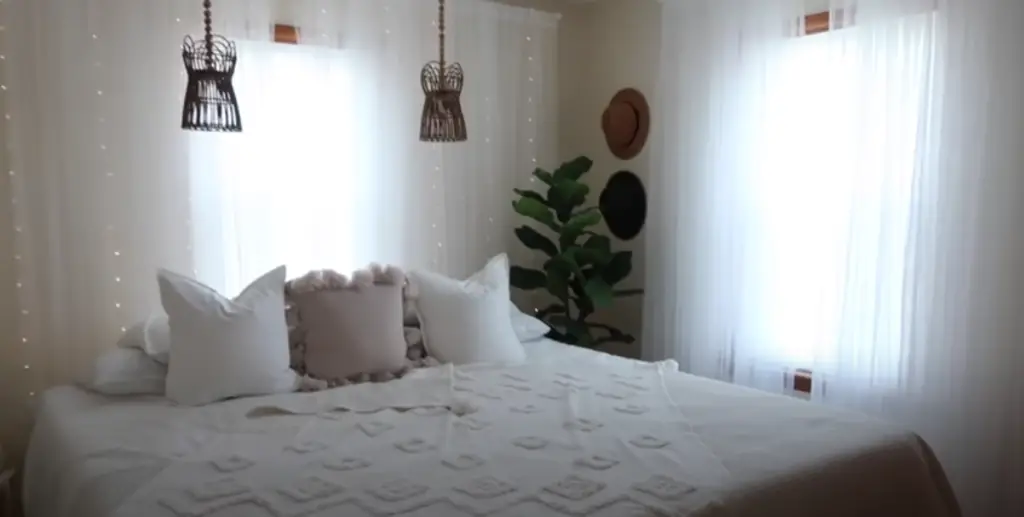 Paint the headboard on the wall
If you want to add a bohemian feel to your bedroom but don't have enough money for a new headboard, why not paint one directly onto the wall? Choose a bold color or pattern that reflects your enjoyment of bright and lively aesthetics. You can draw inspiration from Marrakech-style patterns, gypsy-inspired designs, or a colorful mandala-style stencil.[1]
Add a gallery shelf
Not only that, but it is also one of the most affordable Bohemian bedroom ideas on a budget. To create a truly boho-chic look, fill up your shelf with vintage finds and colorful trinkets. Choose a few pieces of artwork that reflect your personal style, and hang them on the wall above your shelf.[1]
FAQ
What colors look good in a bohemian bedroom?
A bohemian bedroom should incorporate colors that reflect your style. Bright and vibrant colors such as pink, purple, green, orange, red and yellow are all great options to bring life into your boho space. Don't be afraid to mix these bright colors together or pair them with natural earth tones like brown or white for a unique boho look.
How can I make my bedroom look luxurious on a budget?
A luxurious bedroom doesn't have to be expensive. You can achieve a luxurious look with just a few affordable updates, such as adding some plush bedding or cozy blankets and pillows, installing dimmable wall sconces for added ambiance at night, and investing in quality furniture pieces. If you want to go the extra mile, you can also add luxe touches like velvet curtains or a statement rug.
How do you style a bohemian room?
When styling a bohemian room, it's important to incorporate pieces that reflect your personality and style. Include texture with rugs, tapestries or macrames on the wall, incorporate plants of all sizes throughout the space for added life, and accessorize with vintage furniture and decorative items such as patterned pillows, beaded curtains, and hanging planters. With bohemian style, the sky's the limit!
What is the difference between boho and bohemian?
The terms "boho" and "bohemian" are often used interchangeably when referring to a free-spirited, laid back style. However, boho is more of a modern term for the bohemian style; it's derived from the French word "bohémien," which means gypsy or traveler. Bohemian style is all about expressing yourself and being creative with your home decor, while boho style is a more contemporary take on the trend.
What are boho colors?
Boho colors typically include bright and vivid hues such as pink, purple, green, orange, red and yellow. These colors can be mixed together or paired with earth tones like brown or white to create a unique boho look. It's all about expressing yourself and having fun with your color choices!
What is the opposite of bohemian style?
The opposite of bohemian style would be more traditional, minimalist, or modern styles. These styles tend to focus on clean lines and neutral colors for a streamlined look. In contrast, bohemian style encourages bright colors and layered elements that are unique to your individual personality.
Is Gray a boho color?
Gray can be used as a boho color, but it's best to use it as an accent rather than the main hue. Gray pairs well with bright and vibrant colors like pink, purple, green and yellow for a unique look. You could also try adding gray accents such as patterned pillows or textured rugs to your bohemian room.
What are the most popular boho colors?
The most popular boho colors are pink, purple, green, orange, red and yellow. These bright colors can be mixed and matched or paired with earth tones like brown or white for a unique bohemian look. You can also incorporate gray as an accent color to create a softer contrast against the vivid hues.
Useful Video: BOHEMIAN BEDROOM MAKEOVER (Apartment Makeover Part 3) | XO, MaCenna
Conclusion
By now you know how to create a bohemian bedroom on a budget. The key is to focus on the few items that make the biggest statement in your room. Use patterned fabric, bright colors, and texture to create an atmospheric oasis without breaking the bank.
When it comes time for decorating, don't be afraid to mix and match different elements of bohemian style. This will create a unique, one-of-a-kind look that is sure to make your space stand out!
Finally, don't forget the essential details, like lighting and art pieces. These can be affordable purchases if you know where to look and will add the finishing touches to your masterpiece. With patience, creativity, and a bit of ingenuity, you can create a beautiful bohemian bedroom on a budget that is sure to leave you feeling relaxed and inspired.
Good luck!
References:
https://thefashionfrill.com/home-design/boho-bedroom-decor-ideas/?utm_source=rss&utm_medium=rss&utm_campaign=boho-bedroom-decor-ideas