Here are some tips for how to incorporate dark green into your bedroom decor:
Dark green bedrooms can be a beautiful and stylish way to spruce up any space. Whether you're looking for a rich, luxurious feel or a modern, vibrant look, dark green is sure to add some character. From accent walls to statement furniture pieces, there are plenty of ways to incorporate this color into your bedroom decor. In this guide, we'll provide some of our top tips and ideas for creating the perfect dark green bedroom. Read on to get inspired!
Dark Green Room Decor Using Wall Art
Wall art is a great way to add color and personality to any room. With dark green, the possibilities are endless! Try using lighter shades of greens or browns in your artwork to draw attention to the walls without making them overpowering. Alternatively, you can opt for black-and-white artwork with pops of bright emerald green for a more subtle, contemporary feel.[1]
Dark Green Wall Clock
A wall clock can be a great addition to any dark green bedroom. Choose one with a unique design that complements the green walls and furniture in the room. Hang it at eye level so it is easy to read, and consider adding other wall accents such as photos or artwork near the clock to complete the look.[1]
Dark Green Decor for Bedroom Using String Light
String light is a great way to add a touch of glamor to any bedroom. A dark green theme is even more special because it creates a moody atmosphere that is perfect for relaxing or entertaining guests. String lights can be hung from the ceiling, over the bed frame, or even around the room as accents. You can also incorporate LED bulbs in your string lights for a more modern look. You can choose from various colors and sizes to match the dark green decor of your bedroom.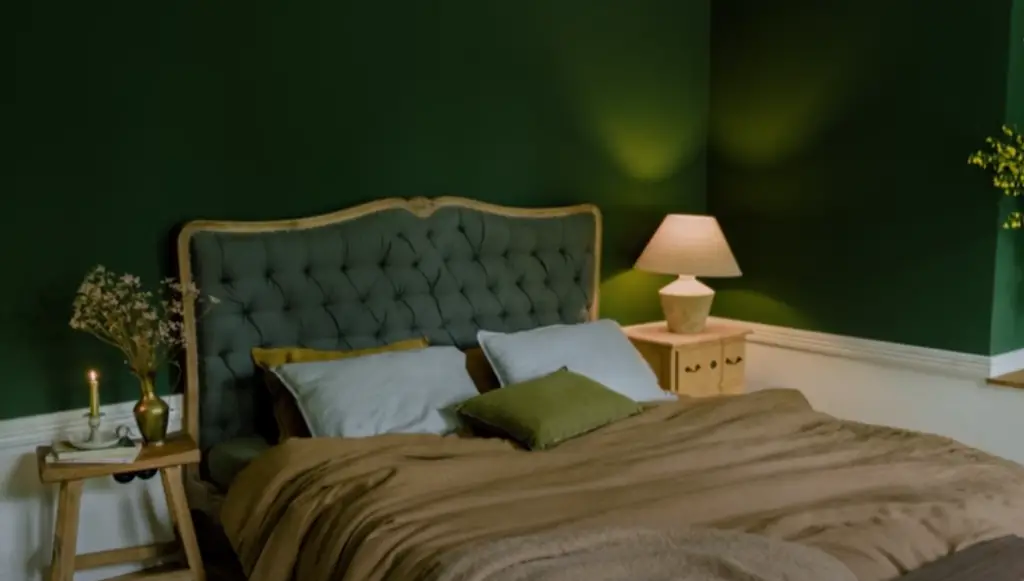 To complete the dark green color scheme, you can add some furniture pieces that are also in dark green shades. A velvet upholstered bed frame would give off an elegant feel while an armchair in a slightly lighter shade of green would be great for lounging. If you are looking to add more color into the room, throw pillows or rugs in different shades of green are also wonderful options.[1]
Dark Green Headboard
A dark green headboard is a great way to make your bedroom stand out. You can choose from wood, leather or fabric in myriad shades of dark green. Wooden headboards are timeless and classic, while leather offers a more modern look. Alternatively, you could opt for an upholstered fabric headboard with a unique pattern or texture.
To complement the dark green headboard, go for light walls and neutral bedding and furnishings. Or if you want a bolder look, opt for furniture pieces in complementary shades of dark green, like emerald or olive. Add some patterned pillows and curtains to make your bedroom truly unique.[1]
Dark Green Nightstand
Adding dark green nightstands to any bedroom is the perfect way to add a subtle pop of color to your space. Dark green nightstands can be found in many different shapes and styles, from classic rectangular tables to modern curvy designs. The deep hue of the green will bring a cozy atmosphere into your room while still looking stylish and trendy.
When it comes to choosing a nightstand, consider the size of your room and the other elements in your bedroom. For smaller bedrooms, choose a more petite table with simple detailing like sleek lines or a single drawer for storage. If you have a larger space, you can go bigger and bolder with a statement-making style.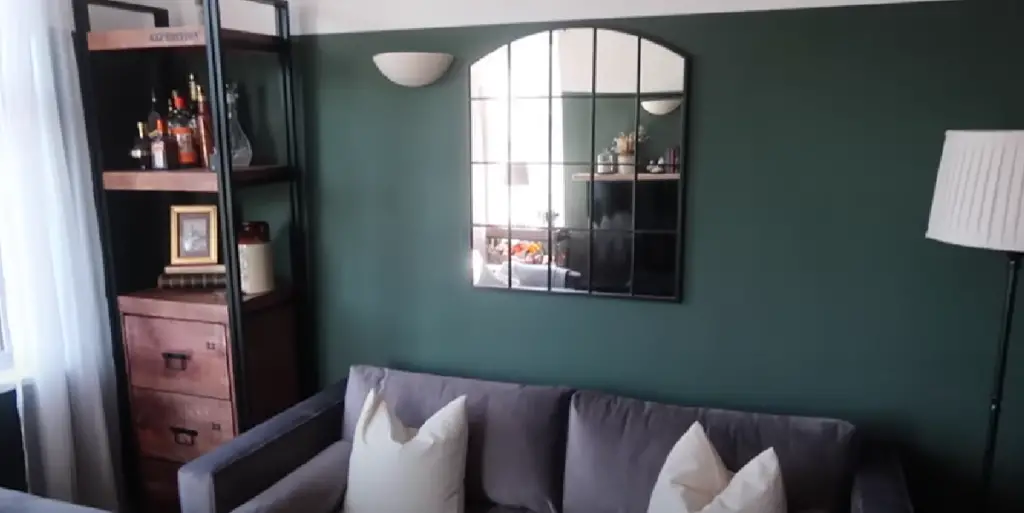 In terms of styling, there are many options to choose from. You could pair your dark green nightstand with an abstract painting or a vintage mirror for a modern-meets-antique look.
[2]
Dark Green Bedroom using Wall Mirror
Adding a wall mirror is an easy way to add character and light into your dark green bedroom. It can create the illusion of more space, as well as reflect the beauty of the walls around it. For a chic look, choose a stylish floor-length or full-length mirror with ornate details that will elevate the room's overall style. If you're going for a more modern look, opt for an oversized mirror with a minimal frame to help the walls stand out. Mirrors are also great for reflecting natural light and creating a cozy atmosphere in the bedroom.[2]
Dark Green Pendant Light
One of the most elegant and sophisticated ways to introduce dark green color into your bedroom is by adding a beautiful dark green pendant light. This type of lighting can be used as a statement piece for the room or it can help to create an intimate atmosphere in the space. When choosing your pendant light, consider using a dimmer switch to give you the maximum flexibility in terms of light intensity. You can also choose to combine different colors for a more modern look.[2]
Dark Green Area Rug
Adding a dark green area rug to the bedroom is an affordable way to bring some color and pattern into the space. Not only will it add a nice contrast against lighter walls or flooring, but it can also help absorb sound and create a cozy atmosphere. Dark green rugs come in various sizes, so you should be able to find one that fits perfectly in your bedroom. An interesting tip is to combine two different shades of dark green for an eye-catching look.[2]
Dark Green and Black Bedroom
Dark green and black bedrooms offer an intriguing mix of colors that you can use in a variety of ways. From bold visuals to subtle hues, there are countless possibilities for creating an atmosphere that is both unique and aesthetically pleasing. Whether your style is modern or traditional, dark green and black make for the perfect bedroom color palette.
A great way to start your dark green and black bedroom is to choose a few pieces that feature both colors. A simple but striking duvet cover with two-toned stripes works well for an understated look, while an accent wall featuring a bold black-and-green pattern will bring more drama. You can also introduce texture into the room by using dark green curtains or rugs.[2]
Dark Green Decoration for Bedroom using Vases/Planters
Adding dark green decoration to your bedroom can create a sleek and sophisticated atmosphere. One way to bring in some dark green color is by adding vases or planters around the room. You can use different sizes, shapes, and types of planters for an interesting look. Use taller ones for creating a focal point on your dresser or nightstand. For a softer look, add shorter planters to your side tables or shelves. You can also line up several small vases on windowsills for an eye-catching display.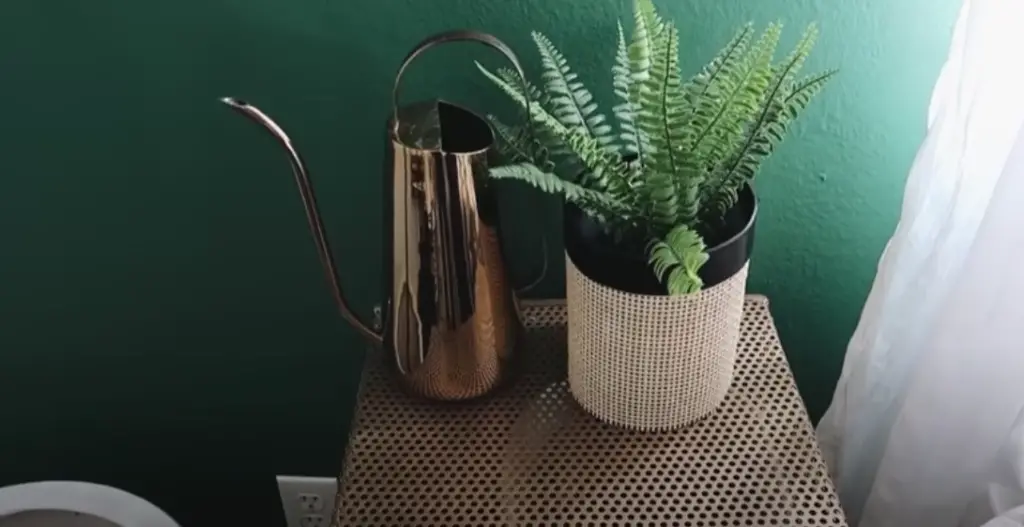 [1]
Dark Green Table Lamp
Adding a dark green table lamp to your bedroom is an easy way to bring a hint of drama and sophistication into the space. It can also help create a relaxing atmosphere for sleeping and lounging. For the best effect, choose one with a diffuser or shade that casts soft light in all directions. You might even consider adding several lamps in different sizes and heights to your bedroom for a unique look.
When it comes to selecting the perfect lamp, consider pairing it with other dark green accents in the room such as curtains or bedding. Or you can opt for contrast by choosing a lighter shade of green for the lampshade. Additionally, think about how much light you need when choosing a wattage for the bulb.[1]
Dark Green Bedroom Using Wallpaper
If you're looking to add an extra touch of style to your bedroom, why not go for dark green wallpaper? Wallpaper is a great way to transform the look of any room in the house and dark green is no different. Not only can wallpaper instantly elevate the look and feel of a space but it also adds texture and depth to the room.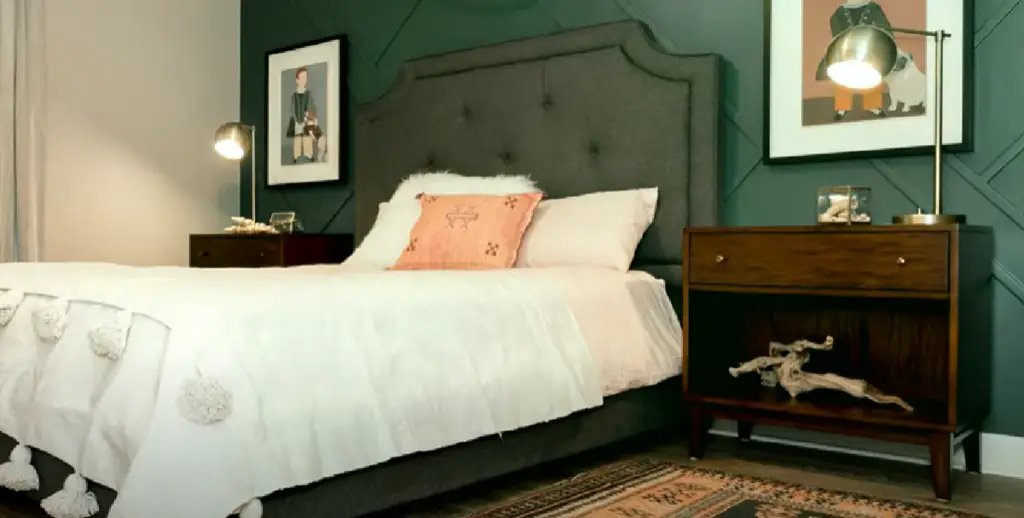 When it comes to dark green wallpaper, there are plenty of options to choose from. You can go for a bold and vibrant pattern or something more subtle and classy. As always, be sure to pick the right size that fits your bedroom perfectly.
When it comes to styling the dark green wallpaper, keep the rest of the bedroom's furniture and decor minimalistic. Allowing the wallpaper to be the main focus will create a successful look. You can also choose one or two statement pieces that complement it nicely.[1]
Dark Green Wall Shelf
If you are looking for a way to spruce up your dark green bedroom, consider adding wall shelves. Wall shelves can be used to store and display books, photos and other items in your bedroom. Here are some ideas that will help make the most of this decorating trend:
Hang floating shelves along one wall of the bedroom. Floating shelves are great for displaying decorative items and can be customized to fit your space perfectly.
Use a dark green wall shelf with several compartments to organize books, magazines and DVDs.
Opt for an industrial style wall shelf that adds a unique touch to the room while also providing storage for items such as blankets and pillows.
For a more creative look, hang wall shelves of varying depths in the shape of a "V" or an inverted "U". This can create a great focal point in your bedroom while also adding extra storage space.[2]
Dark Green Wall Stickers
Dark green wall stickers are a great way to bring a dark green theme into your bedroom. They come in an array of designs and sizes, so you can easily find one that works for your space. Plus, they're easy to install and remove when it's time for a change.[2]
Bohemian Style Dark Green Decor
Dark green is a great color to use when creating beautiful Bohemian-style decor in your bedroom. Think romantic, layered textiles, and tribal accents. To get the look, start by using dark green paint on the walls and then layer with plenty of greenery for an earthy feel (think house plants like pothos, philodendron, and snake plants).Select a light-colored bedspread with textured throw pillows in deep green. Hang a macrame wall hanging behind your headboard for an added touch of texture. Accessorize with tribal-style rugs and wooden accents to bring the look together.[2]
Modern Decor Tips
When it comes to modern bedroom ideas, dark green is an elegant and classic choice. Green has a calming effect on the space while still being stylish and sophisticated. Here are some tips for how to incorporate dark green into your bedroom decor:
Add texture with textured wallpaper or patterned curtains. Textures will add depth to the space and create a sense of coziness.
Balance out the dark green with lighter shades such as cream or ivory. This will help to brighten up the room and keep it from feeling too heavy.
Use metal accents like gold picture frames or chrome nightstands to add a modern touch. The contrast between the dark green and metallic accents is eye-catching and will draw attention to the space.
Use strategically placed lighting to create an inviting atmosphere. Hang a few pendant lights or choose lamps with interesting shades for a contemporary look that still has a cozy feel.[1]
Romantic Dark Green Bedroom Ideas
Creating a romantic dark green bedroom is easy when you incorporate the right elements to create a cozy and inviting atmosphere. There are many ways to implement dark green into your bedroom oasis, from wall colors to furniture choices and decor. Here are some ideas on how to turn your bedroom into a haven of romance with dark green shades.[1]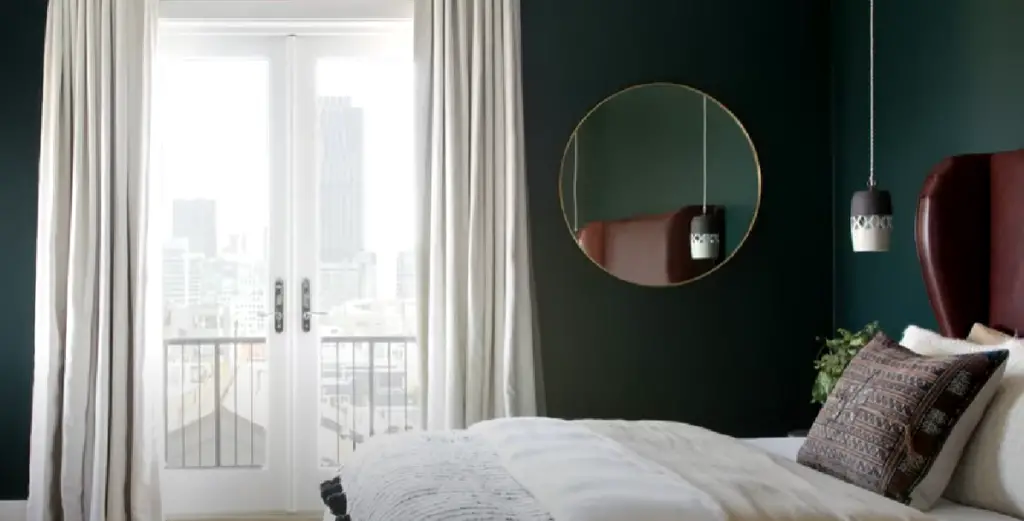 Dark Green-Colored Glasses
Dark green bedrooms can be a great way to make your bedroom feel tranquil and inviting. Whether you're looking for an earthy and natural look or something more bold, dark green is the perfect color to use in your bedroom. With its calming hue, it can help create a calming atmosphere that encourages relaxation and restful sleep.[1]
Moody Dark Green Bedroom Decor
Dark green walls are a great way to create a moody atmosphere in your bedroom. You can incorporate dark green into your decor in different ways, such as painting the walls, adding wallpaper, using furniture and accessories like bedding or curtains with dark green elements. Dark green is also a great neutral color that works well with other colors like warm browns and creamy whites.[1]
FAQ
What color goes with dark green for the bedroom?
When it comes to choosing colors to combine with a dark green bedroom, you have lots of options. You can go for a classic look by pairing the green walls with white furniture and accents in neutral shades like beige, gray or ivory. For a bolder look, choose another shade of green to use as an accent color in curtains, rugs or artwork. You can also use shades of blue, purple or even yellow to create a vibrant, colorful space.
Which dark color is best for the bedroom?
When deciding which dark color to use for the bedroom, it really comes down to personal preference. If you want to create a cozy or intimate atmosphere, then deep shades of gray, navy blue or black can provide a great backdrop. For a brighter and more energizing atmosphere, opt for bold colors such as red, orange or even pink!
Is green a calming color for the bedroom?
Yes, green is a very calming color for the bedroom. Darker shades of green, like forest green or olive, can help create a serene atmosphere that encourages relaxation. The color green is also known to have restorative and healing properties, so it's perfect for those looking to create a soothing environment in their space.
What is the happiest color for a bedroom?
The happiest color for a bedroom is typically a bright, cheerful shade – think yellow, pink or even orange. These colors evoke feelings of optimism and joy, making them perfect for creating a happy and uplifting space. You can also experiment with adding pops of brighter colors in artwork or bedding to add an extra bit of cheerfulness to your bedroom.
What is the most stressful color?
The most stressful color is usually dark shades like black, gray or navy blue. These colors can evoke feelings of depression and sadness, so they're not ideal choices for the bedroom. If you want to create a calming atmosphere in your space, opt for lighter shades of green, blue or even purple.
Is dark green a depressing color?
No, dark green is not a depressing color. In fact, it can be quite calming and tranquilizing when used in the bedroom. Darker shades of green are associated with nature and evoke feelings of renewal and growth. So, if you want to create a cozy or serene atmosphere in your space, dark green may be the perfect choice.
What is the most depressing color?
The most depressing color is typically dark shades like black, gray or navy blue. These colors evoke feelings of sadness and despair, so they're not ideal choices for the bedroom. If you want to create a calming atmosphere in your space, opt for lighter shades of green, blue or even purple.
What is the most disliked color?
The most disliked color is typically a bright, neon shade like yellow or orange. These colors can be too intense and garish for some people, making them unpopular choices for interior design. If you want to create a pleasant atmosphere in your space, opt for softer shades of green, blue or even purple.
Useful Video: *#71 COMPLETE Bedroom Makeover | From beginning to end | Countryside Home*
Conclusion
Creating a dark green bedroom is a great way to show off your personal style and create a cozy, inviting atmosphere. With the right furniture, accessories, and décor, you can add a touch of sophistication and elegance while still keeping your room comfortable and welcoming. Whether you go for subtle accents or bold statements with your dark green bedroom ideas, the right touches will bring your space to life. Take some time to explore different options and experiment with color combinations until you find a unique look that works for you. With a few simple tweaks, you can create a dark green bedroom that looks stunning and feels great!
References:
https://www.home-designing.com/green-bedroom-interior-design-ideas-photos-tips-accessories
https://poshpennies.com/green-bedrooms-tips-inspiration/