Shiplap is the perfect wall element to incorporate into any bedroom. It's warm, inviting and adds an eye-catching touch of texture that can be used in a variety of ways. In this article we'll discuss shiplap bedroom wall ideas and provide answers to frequently asked questions about this type of décor. We'll also offer some useful tips on how to incorporate shiplap into your bedroom décor. Let's get started!
Dark Gray Shiplap Accent Wall
If you want a subtle way to add an accent wall, try dark gray shiplap. This color will look great against any other neutral colors in your bedroom and can be used to create a cozy atmosphere. Make sure to use a high-quality wood sealer prior to installation to ensure that the wood won't warp or expand over time. [1]
Vertical Shiplap Accent Wall
One of the most popular shiplap bedroom wall ideas is a vertical accent wall. This type of feature adds depth and texture to the room, making it look much more interesting and inviting. It also creates an eye-catching focal point that will draw the attention of anyone entering the room. To create a vertical shiplap feature in your bedroom, you will need to purchase a few planks of shiplap and cut them into the desired measurements. You can then mount the boards onto your wall using nails or screws. Try painting the wood in a different color than the rest of the walls for a more visual impact! [1]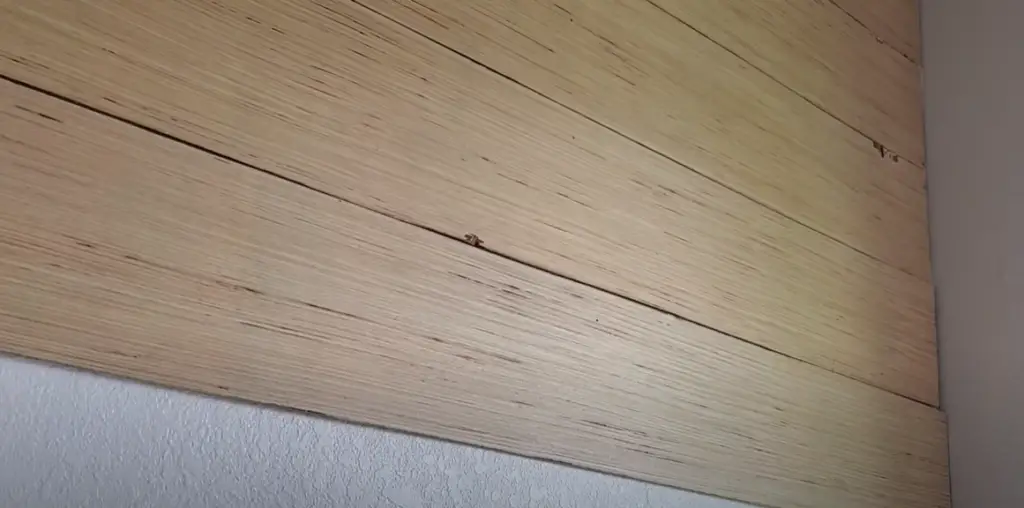 Wood-stained Shiplap Panels
Wood-stained shiplap panels can add a rustic, textured look to your bedroom walls. This is an easy and inexpensive way to create a feature wall in your bedroom, without the need for expensive wallpaper or wall covering. You can purchase pre-stained wood shiplap paneling from any home improvement store and install it yourself. Staining the wood yourself can also be a fun DIY project.
The first step in creating a wood-stained shiplap wall is to measure your walls and cut the panels to size. Be sure to use safety measures such as goggles, gloves, and a mask when cutting the wood. Once you have the pieces cut, it's time to stain them. You can use any wood stain you like, but it is important to follow the instructions on the product label for best results. Once dry, install your panels one at a time with nails or glue. [1]
Dreamy + Cozy.
When it comes to creating a cozy and stylish bedroom, shiplap walls are the ultimate go-to. Shiplap has a classic look that adds character and charm to any room in your home. Whether you're looking for something white and bright or warm and inviting, there's a shiplap wall idea out there for you.
From rustic farmhouse style to a chic modern look, the possibilities are endless when it comes to creating a shiplap bedroom. Here are some great shiplap ideas that can help you achieve the cozy and dreamy look of your dreams:
Paint It White – A simple white shiplap wall is the perfect way to brighten up any bedroom. This classic look is timeless and pairs perfectly with a variety of bedding options.
Add Rustic Charm – If you're looking for something with a more rustic feel, consider adding some weathered shiplap planks in warm shades like grey or brown. You can even distress the planks to add more depth and texture.
Create a Focal Point – Shiplap walls are great for creating a focal point in any bedroom. Consider installing one wall of shiplap behind your bed, or painting an accent wall with shiplap planks for a bold statement look.
Accent with Color – If you're looking to add some color and pattern to your shiplap wall, consider painting the planks in a bright hue or adding a bold wallpaper accent behind the bed. This is a great way to infuse your bedroom with personality and style. [1]
Christmas-themed Shiplap Wall
If your bedroom needs a little festive cheer, then why not try out some Christmas-themed shiplap wall ideas? A classic white shiplap wall with holiday decor can give your room a cozy and inviting atmosphere. With the right decorations, you can create a magical winter wonderland in your own home!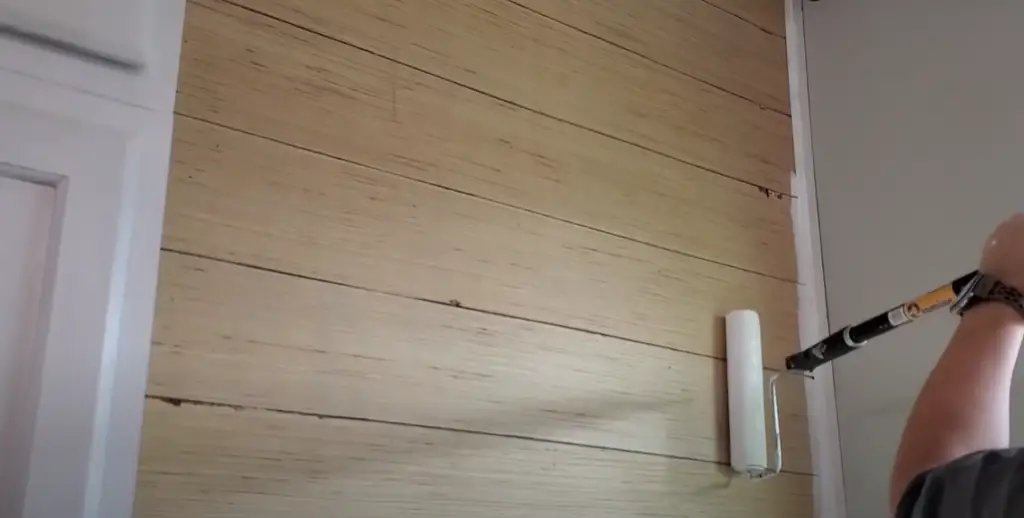 Here are some tips to help you out:
Start by choosing a color palette that reflects the Christmas spirit. Red and green are traditional favorites, but you can also use shades of blue or purple to give your room a unique look.
For an extra special touch, try adding LED lights or wall art with Christmas motifs to your shiplap wall.
Use festive accessories like twinkling garlands, snowy tree branches, or shimmery tinsel to bring an extra bit of holiday cheer to your walls.
Hang up a wreath or some Christmas stockings near the top of the wall for a finishing touch. [1]
Exposed Brick Style Shiplap
Exposed brick style shiplap is an easy and affordable way to add texture and character to a bedroom. This unique wall treatment can be installed in a variety of ways, depending on the look you're going for. You could cover an entire wall with thin strips of wood that are laid horizontally and nailed down, creating a classic shiplap look. Or, you could lay the wood strips in a herringbone pattern to create a more modern feel.
If you're looking for an even bolder statement, consider combining exposed brick and shiplap together. Start with a brick wall as your base and then install strips of wood over it in whatever pattern you like. The combination of the two textures will create a unique and eye-catching look in your bedroom. [1]
Blue Shiplap for Nautical Vibes
Adding a blue shiplap wall to your bedroom can instantly bring a nautical feel. You can opt for a lighter shade of navy blue, or go with an all-out beachy light ocean blue look. To add texture and dimension, you can use different shades of the same color in alternating rows. If you're not sure how to start, check out some existing shiplap bedroom walls for inspiration. To make the look more interesting, you can hang a few artwork pieces or frames that feature ocean elements like waves and shells. You might also consider adding a white trim to create contrast and visual interest.
Finally, accessorizing with items such as nautical-themed lamps or throw pillows can bring the nautical theme to life. Remember, when it comes to home decorating, there's no need to be too matchy-matchy. Experiment with different colors and textures for a unique look that reflects your personality. [1]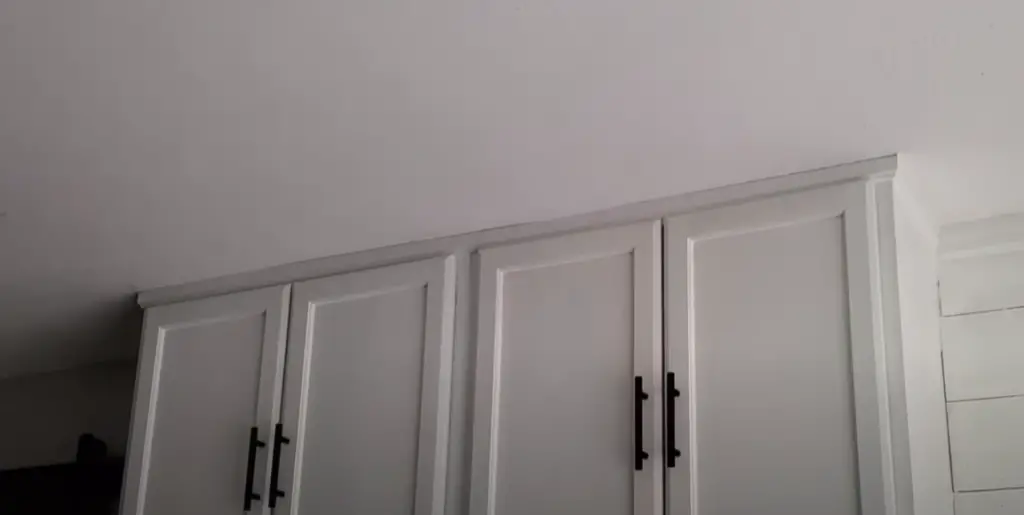 Classic Shiplap Christmas Wall
If you want to give your bedroom a festive makeover this Christmas, consider using classic shiplap. It's a great way to add texture and charm to a room while adding the holiday spirit!
To get started, decide which wall or walls you'd like to cover in shiplap. You can use plain white boards or choose from a variety of colors and textures. Once you have your boards, measure the wall to determine how much material you need to purchase. [1]
Off-White Shiplap Wall
Off-white shiplap walls can be a great way to put a modern spin on the classic look of shiplap. This neutral hue is perfect for any bedroom and can match any aesthetic, from coastal to farmhouse. You can achieve this look with either real wood planks or MDF faux boards, which come pre-primed and ready to paint.
If you want the look of real wood but don't have the budget, MDF is a great alternative because it's easy to install, more cost effective, and doesn't require sanding or priming before painting. To get an authentic finish on your shiplap wall, make sure to use a "tick" pattern when installing the boards. This means that each board overlaps slightly over the previous one, creating an X-shaped pattern along your wall. [1]
Wide Plank Shiplap
Wide plank shiplap is a great option for a bedroom wall. The wide planks give the room a rustic and cozy feel, while still maintaining a modern aesthetic. The wide planks also provide plenty of space for hanging pictures or other decorations. Additionally, this type of shiplap can easily be painted in any color to match your design style. [1]
Dark Gray Shiplap for a Cozy Christmas
If you are looking for a way to create a cozy, inviting bedroom during the holiday season, then dark gray shiplap walls may be worth considering. Not only does this color choice provide an elegant backdrop for your winter décor, but it also creates a unique look that sets your home apart from the rest.  To complete the look, add rustic wood décor pieces and a few Christmas lights. The contrast between the warm wood and dark gray shiplap will create a stunning effect that will make your bedroom inviting and cozy all winter long. [1]
Moody Black Shiplap Wall
A dramatic look for your bedroom can be achieved with a black shiplap wall. The deep, moody hue of the boards creates a chic and timeless appeal that can add personality and depth to any room. To create this look, start by painting your shiplap wall in a flat black paint. Next, use lighter colored wood to accent the dark boards with a contrast. You can use a few pieces of furniture, such as an armchair or dresser, to add a splash of color and complete your look. [1]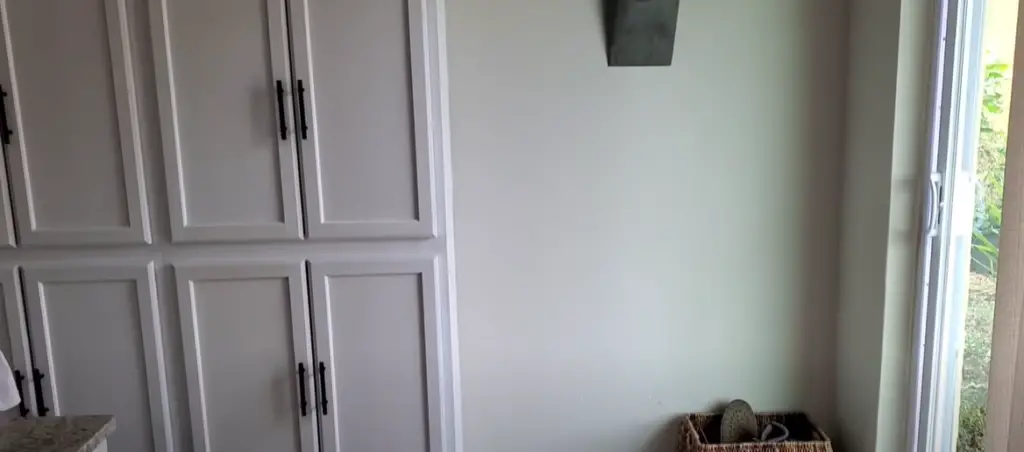 Reclaimed Wood Shiplap Wall
A popular trend in bedrooms these days is adding a shiplap wall. Reclaimed wood shiplap has become particularly popular because of its rustic, vintage charm. This type of wood adds an interesting texture to any room and doesn't take away from the overall décor so it's easy to incorporate into your existing bedroom style.
The best way to install a reclaimed wood shiplap wall is to start with the top and bottom rows of planks, leaving space between them. Then you'll measure out each plank in order and nail them into the wall. Be sure to caulk all of the seams to give the wall a seamless look. Once the wall is completely installed, you can paint it whatever color you like. [1]
Dark-stained Wooden Shiplap
Using dark-stained wooden shiplap to create a feature wall in the bedroom is a great way to add character and rustic charm. The deep, smoky stain will give the room an invitingly cozy atmosphere and bring out the natural beauty of the wood grain. With this type of shiplap, you can choose from a variety of colors to match your bedroom's existing décor.
The dark-stained wooden shiplap can also be installed on the ceiling for a dramatic effect. This gives the room a feeling of height and adds texture and contrast against the white walls and furnishings. The trick is to install it in a way that will emphasize any architectural details, such as beams or columns. [1]
Diagonal Shiplap Accent Wall
Create a bold focal point in your bedroom with a diagonal shiplap accent wall. It's a great way to add texture and interest to the room, as well as catching the eye of anyone who enters. The best part about this idea is that you can customize it by choosing different colors and sizes for each board – think pale blues, grays and whites for a modern look, or warm browns and creams for a more rustic feel.
To get the job done, start by measuring the wall so you're sure of its size. Then purchase enough shiplap boards to cover it, remembering to add an extra 10% in case of errors. You'll also need a saw for cutting the boards and screws for attaching them to the wall.[1]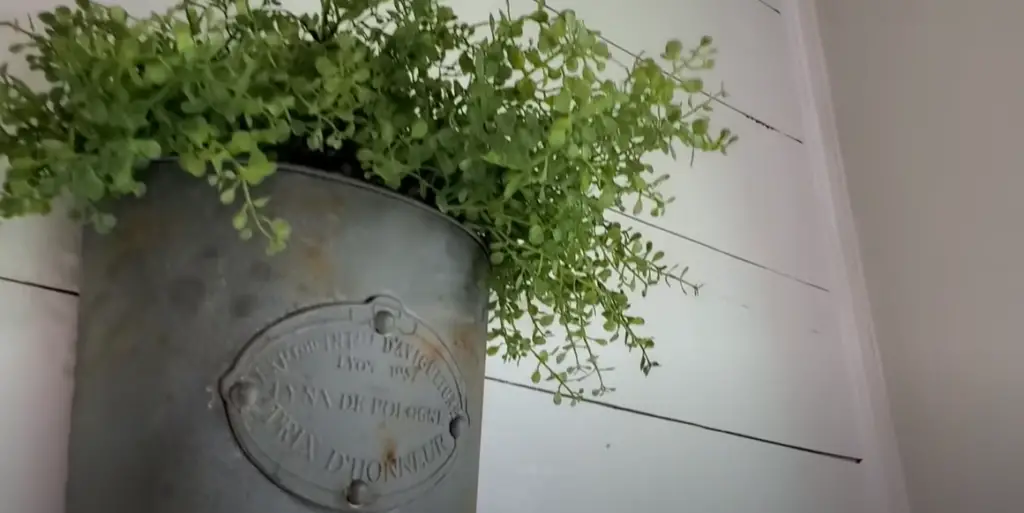 White Oak-stained Diagonal Shiplap
Adding a modern twist on traditional shiplap walls is as easy as angling the boards. White oak-stained diagonal shiplap creates an eye-catching pattern in any bedroom. To make sure that the boards line up properly and give your walls a clean, crisp look, use a square to mark lines at 45° angles before beginning installation. This is an important step, as it will ensure that the boards are properly aligned.
In terms of maintenance, white oak-stained shiplap is relatively low-maintenance and easy to care for. Simply dust the boards with a microfiber cloth or vacuum them periodically to keep them looking clean and pristine. [1]
Dreamy Shiplap Wall and Ceiling
Shiplap walls and ceilings are an amazing way to add texture, warmth, and personality to your bedroom. Shiplap boards come in a variety of woods and shapes and can be used in all kinds of creative ways to make your bedroom look unique.  Here are a few shiplap bedroom wall ideas to get you started: 
If you're looking for a bold statement piece in your bedroom, consider creating an accent wall with shiplap boards. You can choose one wall and dress it up with custom paint colors or even wallpaper to make it stand out. Or use a natural wood tone board to create an interesting texture.
Shiplap walls are great for creating an eye-catching focal point in your bedroom. You can frame an artwork or mirror with a shiplap board, and choose rustic colors to create an interesting contrast. Or, use the boards to frame out a sleeping area or seating area for additional functionality.
Shiplap boards make beautiful ceilings, too! Create a rustic look by installing the boards in a diagonal pattern or use them to create an interesting chevron pattern. You can also add decorative molding to give your shiplap ceiling more of a designer feel. [1]
Vintage-themed Shiplap
Are you looking for ways to add vintage vibes to your bedroom decor? Shiplap is a great way to do so! This classic wall covering is easy to install and adds instant style with its rustic charm. Here are some shiplap bedroom wall ideas that you can use to make your space feel cozy and inviting.
The classic white shiplap look is a timeless option for your bedroom walls. You can create a rustic aesthetic with the crisp lines of white shiplap or opt for something more dramatic with dark, stained wood. Either way, it's sure to make your space look cozy and inviting.
If you're feeling more daring, you can add a pop of color to your shiplap walls. Opt for a bold hue like aqua blue or sunshine yellow for an eye-catching look. You can also try mixing and matching different shades of paint to create an ombre effect that will take your space to the next level. [1]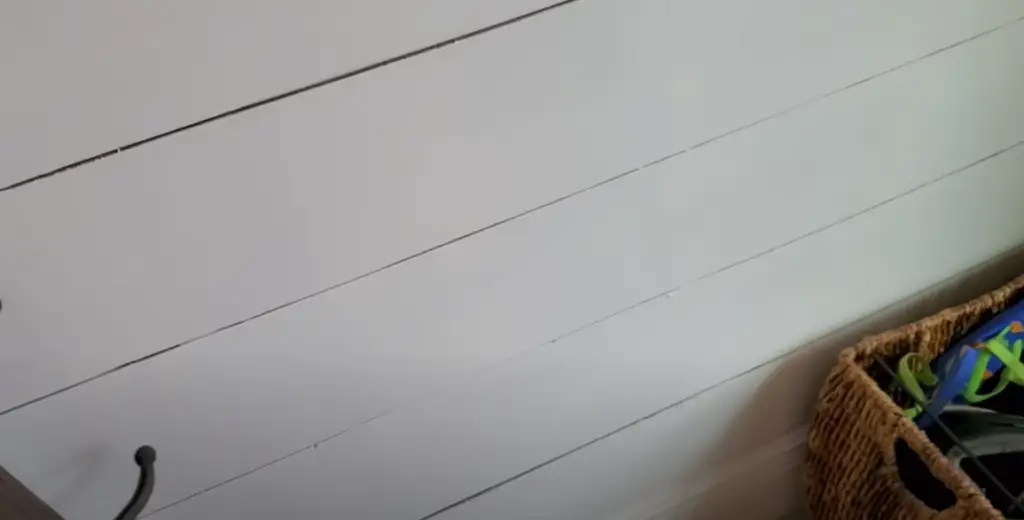 FAQ
Can you put a shiplap in a bedroom?
Yes, you can put a shiplap in a bedroom. Shiplap adds texture and character to any room of the house, creating an inviting space for relaxation or sleep. It's also great for covering up wall imperfections and creating an interesting focal point.
Is Shiplap in style 2023?
Yes, Shiplap is definitely still in style for 2023. In fact, it's becoming more popular than ever as homeowners are looking to add a touch of character and charm to their homes. It's easy to incorporate into your decor with the many styles and colors available on the market today.
Is shiplap a dying trend?
No, shiplap is not a dying trend. In fact, it's becoming increasingly popular as more people are looking to add character and charm to their homes. Shiplap has the ability to instantly transform a room with its unique look and texture. It can be used in any area of the house, from bedrooms to living rooms, and even bathrooms.
Is it cheaper to drywall or shiplap?
It depends on the project you're undertaking. If you're looking to save money, drywalling is typically cheaper than shiplap. However, if you're looking for a more unique look, shiplap may be a better choice. It requires more work and attention to detail in order to get it just right, but the end result is worth it.
Does shiplap make a room look bigger or smaller?
Shiplap can make a room look both bigger and smaller, depending on how it's used. If you use light-colored shiplap, it will reflect the light and create an illusion of a larger space. On the other hand, if you use dark-colored shiplap, it can absorb light and make the room appear smaller.
What is better than shiplap?
There are many other materials that can be used to create an interesting and inviting space in a bedroom. For example, paneling is a great option for adding texture and color to the walls. Wallpaper is another popular choice as it comes in a variety of colors and styles. Finally, wood wall planks can bring warmth and character to any room.
What is a negative of shiplap?
Shiplap can be difficult to install properly and requires a certain amount of skill. It's also more expensive than some other materials, such as drywall or wood planks. Additionally, if it's not installed correctly, it can lead to water damage which can be expensive to fix.
What is the new trend instead of shiplap?
The new trend in home decor is textured walls. Textured walls are a great way to add character and interest to any space without the hassle of installing shiplap. Textured wall treatments come in many different styles, from rustic brick to modern geometric patterns. Another popular option is wallpaper, which offers an array of designs and colors to choose from.
What is the cheapest alternative to shiplap?
The cheapest alternative to shiplap is drywall. Drywall is relatively inexpensive and much easier to install than shiplap, which can save time and money in the long run. Additionally, it's a great choice for covering up wall imperfections or creating an interesting focal point.
Useful Video: HOW TO SHIPLAP A WALL | IT'S EASY CHEAP!
Conclusion
Shiplap bedroom walls can be a beautiful, cozy addition to any bedroom. Whether you choose to use traditional shiplap boards or other materials such as reclaimed wood, faux planks, wallpaper, and paintable textured panels, there are plenty of design options that will add warmth and character to your space. No matter what style you choose, remember that with a little bit of work and imagination, you can create an inviting atmosphere. Shiplap bedroom walls are sure to give your space a unique touch and add visual interest to your room. With the right materials and creative vision, you can transform any bedroom into a cozy haven.
Happy designing!
References:
https://www.soulandlane.com/shiplap-accent-walls-in-bedroom/