Do you want to create an exciting and unique bedroom for your child? Are you looking for some space-themed bedroom ideas? You are in the right place. Here, we will provide you with all sorts of fun, imaginative and creative ways to bring a little bit of outer space into your home. We will answer frequently asked questions about space-themed bedrooms and provide some useful tips to make sure your space-themed bedroom is a hit with the little ones. So, let's get started!
Start with Giant White Moon on The Corner
A giant white moon in the corner of your child's bedroom is a simple yet effective way to add some space-inspired flair. You can get them painted or make it yourself with felt and stuffing, making sure it is big enough for your child to rest in! The best part about this is you can create a fun atmosphere without spending much money or taking up too much space. [1]
Apply Glow In The Dark Style
If you're looking for a unique take on your space-themed bedroom, then glow in the dark paint is the perfect choice! Not only will it add an unexpected element of fun to your room, but it can also be used to create all kinds of exciting shapes and designs. You could use this style of paint to draw stars, create constellation patterns or even paint your own rocket ship! You could use glow in the dark paints along with other bedroom décor to tie everything together and make your space-themed bedroom truly one of a kind.
Glow in the dark paints are relatively easy to apply and come in a range of colors, so you'll be able to find one that works for your space-themed bedroom. Just make sure you follow the instructions on the package carefully and apply a few coats if necessary. Once it's finished, turn off all the lights in your room and watch as your special designs come to life! [1]
Planet On The Ceiling
An out-of-this-world way to make your bedroom look bigger and more interesting is to add a planet design on the ceiling. Choose a vinyl wall sticker, or paint it yourself using glow-in-the-dark paint for an extra fun touch. You can also use LED strips to recreate real starry skies in your room! If it's too complicated for you, try adding star-shaped fairy lights around the edges of your room. [1]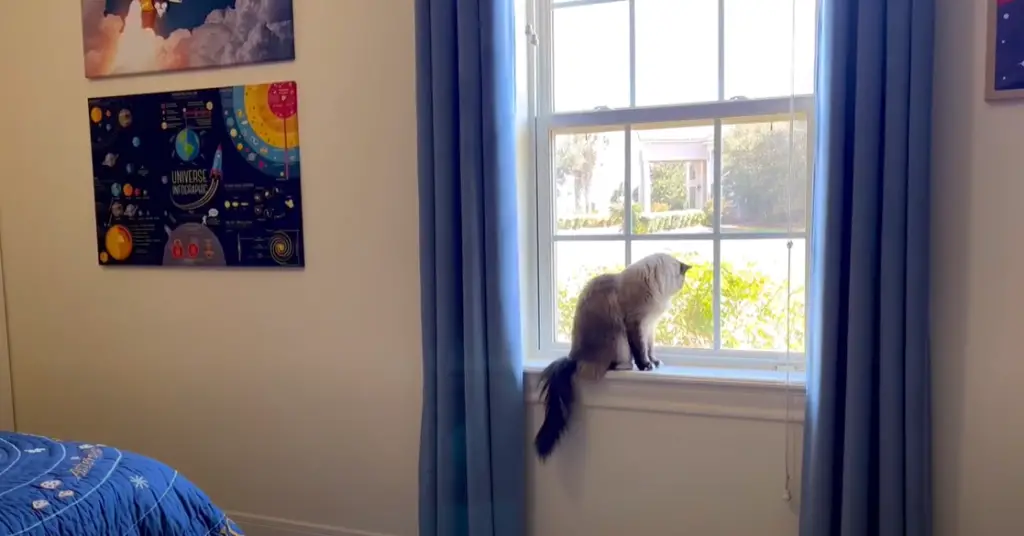 Space-Themed Bedroom For Kids
Transform your little one's bedroom into a world of wonder with these space-themed bedroom ideas! From starry night ceilings to astronaut wallpapers, your child can explore outer space in the comfort of their own room. Here are some tips to get you started:
Start With The Walls – Bring the stars and planets to your child's bedroom by painting the walls with a space-themed mural. You can even go for a more subtle approach and opt for wallpapers that feature starry skies, rocket ships and planets.
Add An Astronaut – Get an astronaut figurine or toy to place on their bedside table or dresser for a cute and fun touch.
Go For A Starry Night Ceiling – Create the illusion of a night sky in your child's bedroom by adding star-shaped LED light fixtures to the ceiling. It will look like they are sleeping underneath the stars!
Get Creative With Bedding – Go all out with bedding that features astronauts, rockets and more. You can even pick up some glow-in-the-dark sheets for a truly magical look! [1]
DIY Space-Themed Bedroom
One of the best ways to create a space-themed bedroom is with DIY decorations. Even if you're not particularly crafty, there are plenty of easy and affordable ideas that make transforming your room into an interstellar wonderland a breeze.
For starters, consider adding star motifs around the room. This can easily be achieved with star-shaped wall decals, or even cutouts made of construction paper. For a more 3D look, you can incorporate stars into the ceiling using glow in the dark paint. [1]
Wall Art Space-Themed Bedroom
If you want to bring some of the wonders of outer space into your bedroom, wall art is a great way to do it. From awe-inspiring photos and artwork of nebulae and galaxies to astronaut posters and spacecraft prints, there are plenty of ways to decorate your walls with an extraterrestrial feel. To make your space-themed bedroom even more immersive, consider adding glow-in-the-dark stars and planets to the walls or even a wall mural featuring the night sky.
If you don't feel like spending too much money on decorations, you can use some of your own creative ideas. Use string and adhesive dots to hang pictures of space-related items like stars, planets, rockets and galaxies. You can also make your own artwork to hang on the wall by drawing or painting a celestial scene. [1]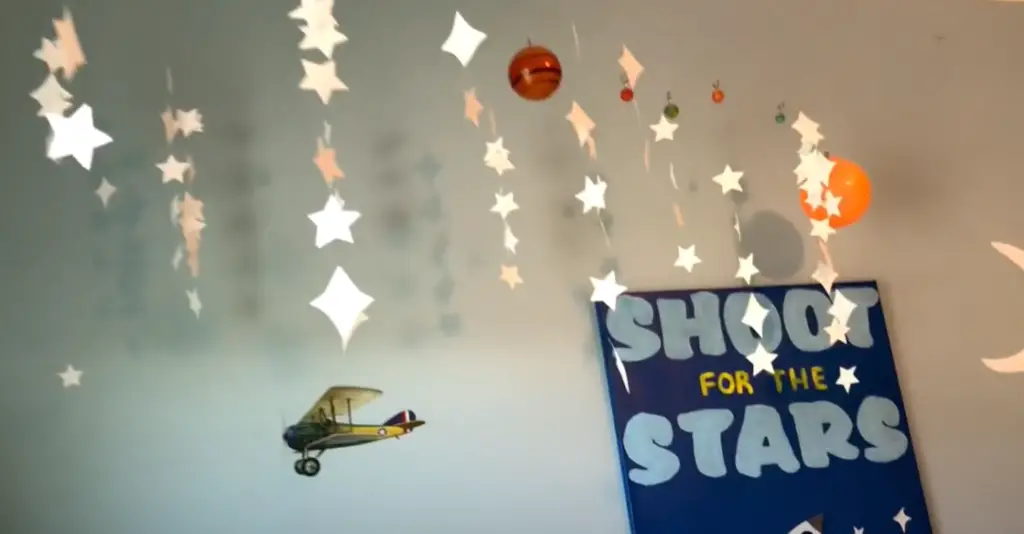 DIY Constellations – Star-themed bedroom
One way to bring the night sky indoors is to create your own constellations on the wall or ceiling. You can use a variety of materials like glow-in-the-dark stars, twinkle lights, and more. If you want an even bigger impact, paint entire star shapes onto your walls and ceilings for a truly out of this world bedroom!
Don't forget to add constellations of other galaxies, planets and asteroids for a truly unique space-themed bedroom. You can even try creating special themed constellations like the Big Dipper or Orion's Belt. The possibilities are endless! [1]
Space-Themed Bedroom For Boys
If you're looking for a fun way to decorate your child's bedroom, consider going all-out with a space-inspired theme. With bright colors and creative wall decals, you can turn their room into an outer-space oasis!
To make your child's room extra special, look for furniture with stars or rockets printed on them. This can include a space-themed bed frame, dresser or nightstand. Look for a desk with drawers shaped like planets and moons as well!
Finally, don't forget about the accessories. Hang up some rocket-shaped lamps on either side of the bed. [1]
Space-Themed Bedroom Reveal
When it comes to creating a space-themed bedroom, the possibilities are endless. From rocket ships and planets to stars and aliens, you can explore a variety of themes that your little one will love. To get you started, here's an in-depth look at how we created our own space-themed bedroom for our 3 year old. [1]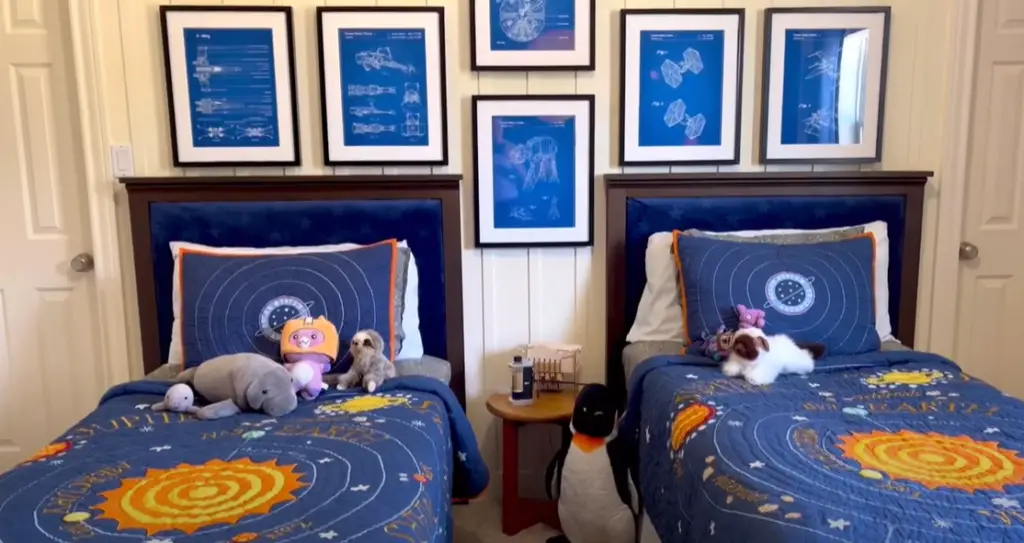 Space-Themed Bedroom Mural
Are you looking for a creative way to turn your child's bedroom into an out-of-this world space odyssey? Consider adding a space mural to their room! Here are some ideas for space-themed murals that can be used to create an incredible, otherworldly atmosphere.
Stars and Planets: This is the perfect option for a classic look that never goes out of style. Paint stars and planets on your child's wall for an intergalactic scene. Add different colors to make it stand out more, or keep it monochromatic with whites and silvers.
Spaceman: Create a mural of a spaceman in a colorful spacesuit, ready to explore the cosmos. You can even personalize it by adding your child's face or name to the spacesuit.
Space Station: Perfect for kids who are always dreaming of space exploration and adventure, a space station mural gives them the chance to imagine themselves as astronauts on an interplanetary mission. Include details like control panels and computer monitors to make it even more realistic.
Rocket Ship: A rocket ship is a classic symbol of space travel and exploration, so why not include one in your child's bedroom mural? It can be as large or small as you want, and adding stars and planets in the background will make it look even more impressive. [1]
How To Deal With The Small Space?
If you have limited space for a bedroom, it can be tricky to incorporate all the design elements of a Space-Themed Bedroom. However, there are some tips and tricks you can use to make the most out of your room.
Firstly, go vertical! Maximize storage by using wall shelves or even hanging storage baskets for extra blankets and clothes. Also try using bright and bold colors to make the room feel bigger, or opt for a wall mural that can be used as a visual focal point.
Secondly, use furniture pieces that are both functional and aesthetically pleasing. A bed with built-in shelves or drawers is perfect for storing your space-themed items and other accessories. You can also use a space-inspired desk with a comfortable chair to create an extra study area.
Finally, don't forget the small details! Hang up some star garlands or LED string lights to add a bit of sparkle, place cushions, throws and bedding with space motifs, or even put up some space-themed posters. These small touches will really pull together the overall look of your bedroom. [1]
Space-Themed Bedroom For Twins
If you have twins, decorating the bedroom can be a challenge. But when it comes to space-themed bedrooms for twins, there's so much potential! You could opt for two twin beds with space-themed bedding sets and use colors like navy blue, gray and white as accents. Or you could go for bunk beds that are inspired by space travel. You could also hang some cool star maps on the walls to make it look even cooler!
Also, you can use furniture pieces that are designed with a space-theme in mind. For instance, there are dressers and nightstands made from recycled materials that have a stellar design. You can also add some fun accessories to the space, like a rocket lamp and some star-themed throw pillows. [1]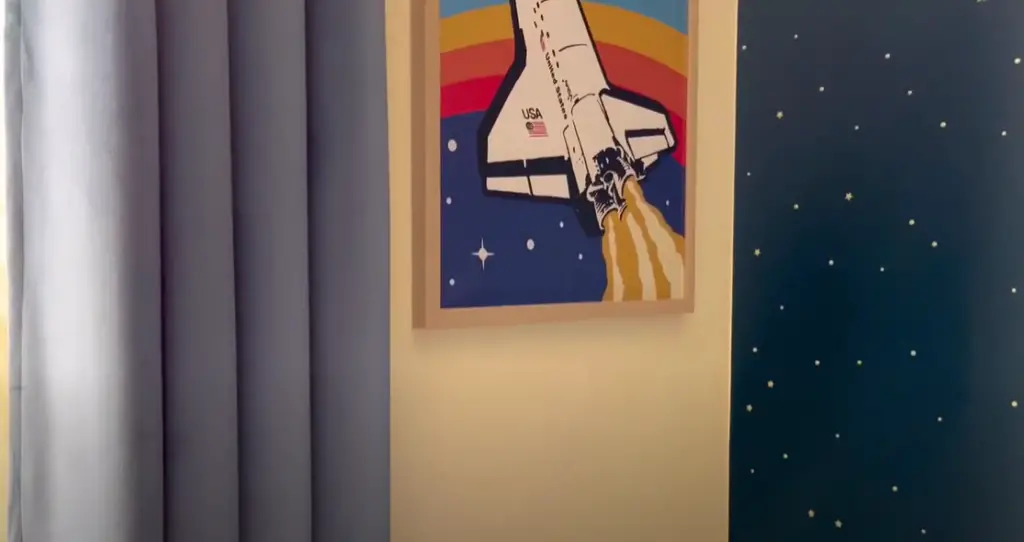 Space-Themed Bedroom Makeover
Getting a space-themed bedroom makeover is the perfect way to show your inner astronaut who's boss. There are so many ways you can incorporate space into your decor, giving your room a cosmic overhaul. Here are some great ideas on how to get started:
Paint – Painting is one of the easiest ways to make a statement. Choose a bold color that reflects the vastness of the universe, like navy blue or black with stars and planets. You can even add glow-in-the-dark paint to create a sense of mystery.
Wall Decals – Use wall decals to give your room an out-of-this-world feel. Choose designs of planets, stars, rockets, and galaxies that can be easily removed when you're ready for a new look.
Furniture – Add furniture to your room that looks like it came from another planet. Consider pieces made out of metal or plastic with space-inspired shapes, colors, and patterns.
Bedding – Choose bedding that reflects the colors of the universe, like blues and purples with starry designs and planets. If you're feeling adventurous, add a glow-in-the-dark blanket or sheets for an extra cosmic touch!
Accessories – Complete your space-theme with fun accessories like a moon pillow, rocket lamp, or space-themed artwork. You can also find an array of knickknacks like solar system erasers and plush astronauts that are perfect for completing your look. [1]
Simple And Adorable
When it comes to decorating a bedroom, nothing is quite as fun or creative as a space-themed room! With the right colors, accessories, and furniture pieces, you can create a cozy yet out of this world atmosphere for your little astronauts. Whether you're seeking inspiration for an existing space-themed room or just getting started, here are some simple and adorable ideas to get you going.
Furnishings can also be fun and creative in a space-themed bedroom. Look for furniture pieces with an out of this world feel – think rocketships, aliens, or even space-themed prints. If you're looking for a unique piece, consider an old telescope or spaceship nightstand to make the room feel extra special! [1]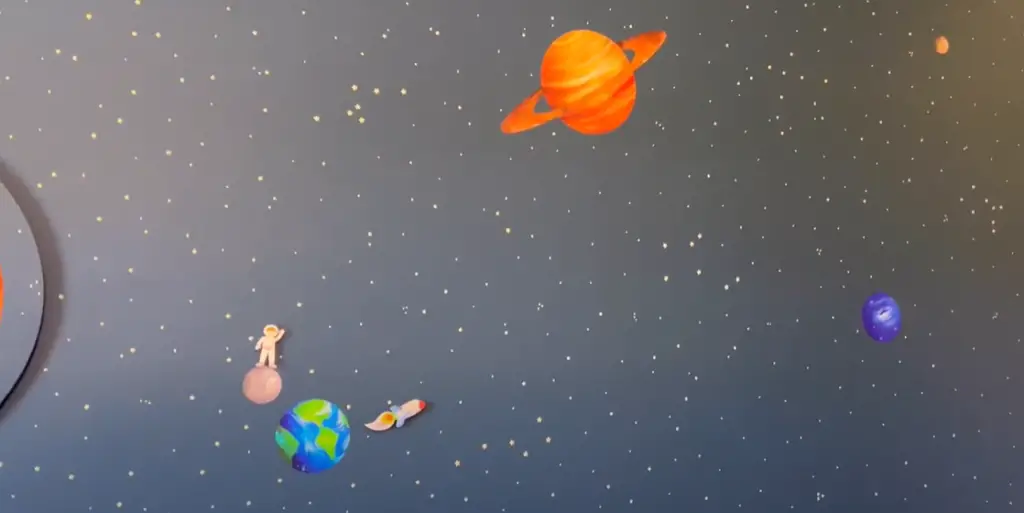 Cartoon Wallpaper
If you're looking to create a space-themed bedroom, cartoon wallpaper is an easy and cost-effective way to get the job done. Cartoon wallpapers come in a variety of sizes and styles, from classic black and white designs to colorful, vibrant murals. You can even find wallpapers with your favorite characters from popular shows or movies. This can be a great way to show off your love for space and help to create an inviting atmosphere in the bedroom.
When choosing wallpaper, you'll want to consider the overall theme of your room as well as the size of it. If you have a smaller space, then you may want to opt for lighter colors so that it doesn't overwhelm the room. For larger rooms, bolder and brighter designs can be used to create an exciting atmosphere. [1]
Space-Themed Bedroom For Baby
A space-themed bedroom for babies is a great way to introduce your little one to the world of exploration and adventure. You can make their room look like a miniature spaceship, complete with stars and planets on the walls, or go for a more subtle approach and simply use bedding featuring astronauts and rockets. There are plenty of fun decor options to choose from that will make your little one feel like they're on an intergalactic journey!
When it comes to creating a space-themed nursery for babies, there are many options. The key is to make sure everything is safe and comfortable for your infant. Soft rugs on the floor provide a warm base, while adding a few space-themed wall decals can bring the theme to life. If you want to go beyond traditional pictures, consider hanging a mobile featuring planets and stars. This will provide a mesmerizing distraction during naptime!
For finishing touches, look for items that are functional as well as fun and inspiring. [1]
Follow The Trend
When it comes to decorating a bedroom, one of the hottest trends right now is space-themed bedrooms. Whether you're an astronomy enthusiast or just looking for a fun way to liven up your kid's room with something out-of-this world, these ideas can help you create a look that's both stylish and unique. [1]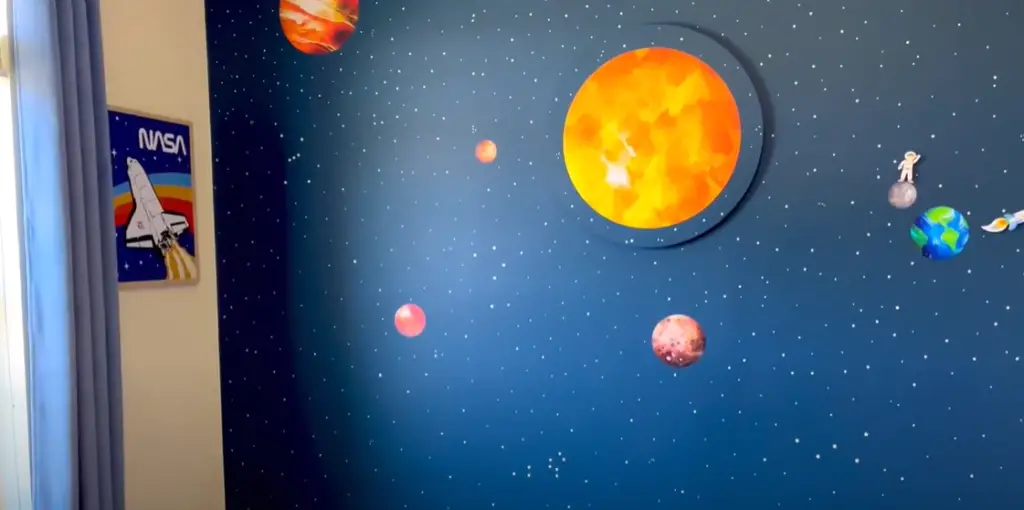 Adult Space-Themed Bedroom
If you're looking for a way to escape the world and explore the stars, a space-themed bedroom may be just what you're searching for. Here are some ideas on how to create an adult space-themed bedroom:
Add a night sky mural in dark tones such as dark blues and purples. Paint or use wall decals for a realistic look and feel.
Install a programmable LED lighting system that allows you to customize the colors of your room from soothing blues and purples during the night to bright oranges and yellows during the day.
Place celestial-themed decor such as pictures, wall art, and sculptures around the room.
Place an illuminated globe or star chart on the wall to act as a night sky during the day.
Replace your bed with a space-themed one that looks like stars, planets, and galaxies are surrounding you at night while you sleep.[1]
Wall Decal
One of the most popular ways to decorate a space-themed bedroom is with wall decals. Wall decals are large stickers usually made of vinyl that adhere to walls and other surfaces. They can be used to create an amazing outer space scene on your bedroom walls! Popular choices include galaxies, planets, stars, rockets, UFOs and more. Before you go to purchase your decals, measure the walls and decide how large of a scene you want to create. [1]
Space-Themed Bedroom Bedding
Choosing the right bedding for a space-themed bedroom can be tricky. You want to find something that will fit in with your overall theme but also be comfortable and stylish. If you're feeling overwhelmed, don't worry! Here are some tips to help you find the perfect bedding for your space-themed bedroom:
Look for bedding that features space-themed prints, such as stars, planets, rockets, and galaxies. This will help to reinforce the theme throughout the room.
Consider colors that are commonly associated with outer space, such as blues, purples and whites. These colors can be used in everything from sheets to comforters to curtains.
If you're going for a more realistic space-themed bedroom, look for bedding that features images of actual stars and galaxies. Companies like Hubble have collections of beautiful space photography that can be used to create one-of-a-kind bedding pieces.
Experiment with different textures, such as velvet or satin, to bring more texture and dimension into the room.
Don't forget about the pillows! Pillows are a great way to add an extra layer of comfort and style to your bedding. Look for pillows that feature space-inspired designs or colors. [1]
DIY Galaxies Painting
Painting galaxies on your bedroom walls is one of the easiest and most cost-effective ways to create a space-themed look. All you need is some black, white and blue paint, a brush or sponge, and a bit of creativity. Start by painting the wall with your chosen base color. For this idea, black works beautifully to create the feeling of vast space. Then, using a sponge and white paint, gently dab stars across your wall. Finally, use the blue paint and brush to add some clouds or galaxies for extra texture. Be sure to practice on paper first before attempting on your walls! Once you're done, it'll look like you have a starry night sky in your very own bedroom. [1]
Opt for The Minimal Style
If you're looking for a way to bring the space theme into your bedroom without it being too overwhelming, opt for the minimal style. This means keeping the colors simple and sticking to only a few patterns and textures. Choose furniture with clean lines that won't dominate the room and don't forget to add some plants or other decorations in earthy tones to add a subtle hint of the space theme.
When it comes to lighting, don't be afraid to go for bold and modern fixtures that will make your bedroom feel like it's from another planet. Install fixtures such as star-shaped pendants or even glow-in-the-dark wall decals for an extra fun touch.
Finally, don't forget to add some space-themed accessories such as futuristic clocks, artwork depicting galaxies and stars, or even a telescope! These pieces will help tie the whole room together and give it that extra sparkle. [1]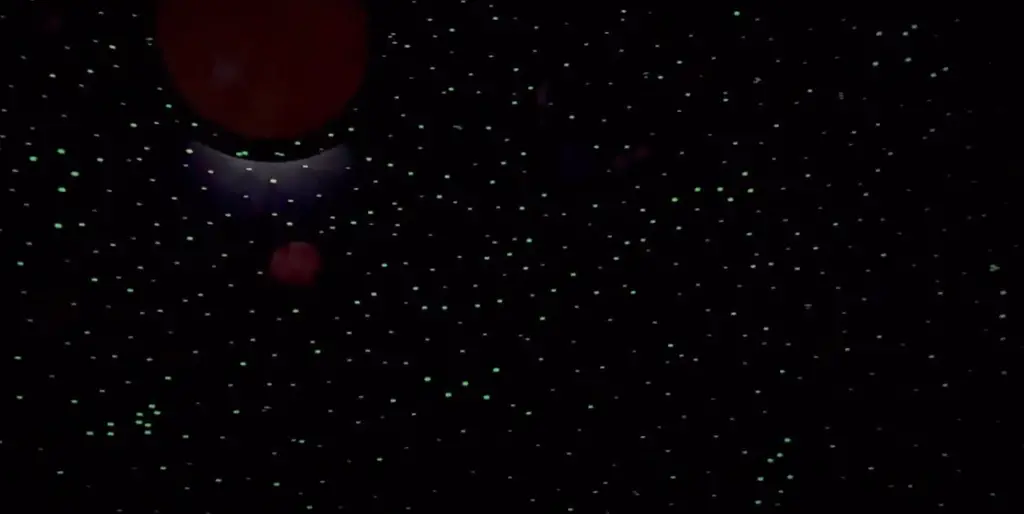 FAQ
How can I make my bedroom a nice space?
There are lots of ways to make your bedroom a cozy and inviting space. You can add some decorative touches like wall decals, posters, or other artwork featuring elements related to space. Soft lighting, such as fairy lights or Himalayan salt lamps, will also help create a relaxed atmosphere. For furniture and bedding, opt for neutral tones such as grey, beige, or white to provide a calming environment. If you prefer a pop of color in your bedroom, blues, purples and greens can add a nice touch.
How to make space room decor?
There are many ways to create a space-themed room. Wall decals and posters featuring planets, stars, galaxies, or spacecrafts can make a great focal point for the room. You could also add in soft furnishings such as rugs and cushions with space designs to complete the look. Other accessories like lamps or clocks with cosmic-inspired motifs can also be used to create a space-themed bedroom. Additionally, you could consider using metallic or chrome accents on furniture pieces like bed frames, nightstands, and dressers to bring in an extra touch of sparkle.
What are some good bedroom themes?
Bedroom themes can range from classic and traditional to modern or futuristic. A space-themed bedroom is one of the most popular options due to its versatility, allowing you to be creative with colors, patterns, and textures while still creating a beautiful atmosphere. You could also consider other cosmic-inspired themes such as galaxies, stars, and planets.
What can I turn extra rooms into?
Extra rooms can be used for just about anything! Depending on your preference and available space, they could be turned into a home office, library, game room, gym, craft room, or even a guest bedroom. If you're looking for something unique and fun, why not try creating a special space-themed bedroom? With the right decor and furniture pieces, you could transform the room into a cozy and inviting space that's out of this world.
What is a flex room?
A flex room is a multi-purpose area that can be used for a variety of activities. It could be equipped with furniture, storage solutions, and other amenities to make it suitable for different types of uses. For example, you could turn an extra room into a flex room by adding in things like a desk and shelving units for work or study, or a pull-out bed and sofa for guests. Of course, you could also opt to create an amazing space-themed bedroom in the flex room!
What can I do with two empty bedrooms?
Two empty bedrooms can be turned into separate spaces for different activities. For example, you could convert one bedroom into a comfortable office or study area and the other into an inviting guest bedroom. Alternatively, if you're feeling creative, why not turn the two rooms into a beautiful cosmic-inspired space? You could use wall decals and posters to create a stunning feature wall, and then coordinate the furniture and bedding to complete the look.
How do you style an empty bedroom?
Styling an empty bedroom is a great opportunity to create a space that reflects your personality and interests. For a space-themed bedroom, start with wall decals or artwork featuring galaxies, stars, planets or spacecrafts. From there, you can incorporate other elements such as furniture, bedding and accessories in neutral tones like grey, beige and white. Soft lighting, like fairy lights or Himalayan salt lamps, and metallic accents can also help to elevate the look of your space-themed bedroom.
Useful Video: Outer Space Bedroom Ideas
Conclusion
When it comes to creating a space-themed bedroom, there are many creative options. The most important thing is to choose something that fits your child's individual interests and makes them feel special. Don't be afraid to get creative and have fun with the theme! From outer-space inspired wallpaper to glow in the dark stars, there are plenty of ways to create a unique and enjoyable space-themed bedroom. With the right ideas, you can make your child's dreams come true and give them an out of this world room that they will love for years to come.
We hope these space-themed bedroom ideas have inspired you in planning your own project. With the help of these tips, you can create a dream bedroom for your child that will take them to the stars and beyond! So go ahead and let your imagination soar and make their wildest dreams come true.  Happy decorating!
References:
https://definebottle.com/space-themed-bedroom/