Do you want to feel like a celebrity when you walk into your bedroom? If so, then you need to read on! This article will discuss some simple ways that you can glam up your bedroom and make it look like a million bucks. Whether you are looking for a new paint color, new furniture, or just some new accessories, you will find something here to help you achieve the perfect glam look. So, sit back, relax, and get ready to be inspired!
What is a Glam Bedroom?
A glam bedroom is a luxurious, sophisticated space filled with glamorous elements. It typically features vibrant colors, plush furniture, and ornate pieces that create an elegant atmosphere. Glamorous bedrooms are often designed to be the perfect retreat from the hustle and bustle of everyday life.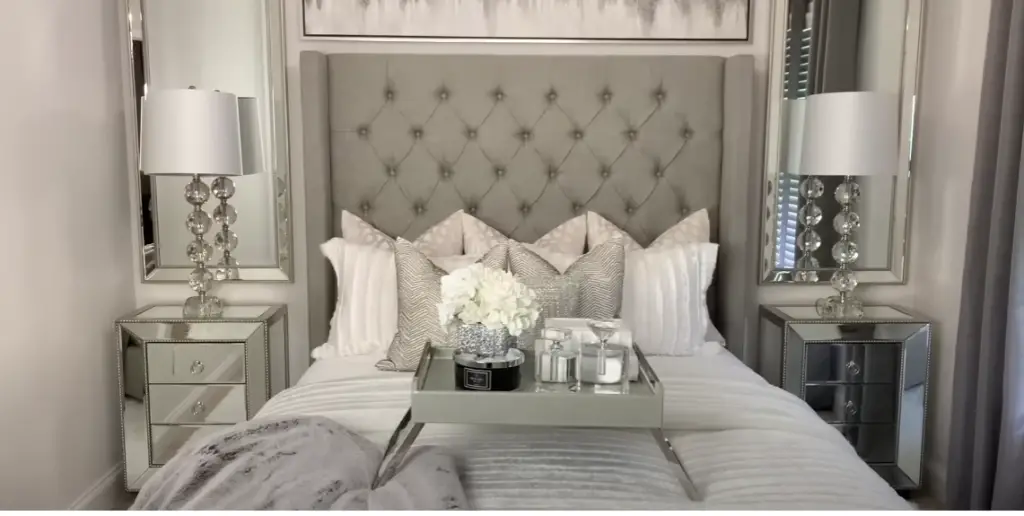 From crystal chandeliers and velvet upholstery to mirrored nightstands and lush rugs, a glam bedroom can make you feel like royalty! By adding just the right amount of luxury, you can create an oasis in your home. Whether you're looking for a master suite or something more casual, there's no limit to how glamorous your bedroom can be! Here are some tips on how to get started:
Start with statement pieces: Consider adding an eye-catching headboard, bold artwork, and a large mirror to the walls. These are the first things people will notice when they enter the room and can instantly add glamor.
Choose saturated colors: Go for rich, vivid hues like sapphire blue or emerald green when it comes to your color palette. Accentuate these shades by mixing in neutral tones such as ivory and beige.
Invest in luxurious fabrics: Velvet is a must-have! It's both comfortable and glamorous. Choose plush bedding and upholstery in soft velvet or faux fur to create a cozy oasis.
Add gold accents: Gold hardware and fixtures are great for adding a touch of sparkle to your bedroom. From sconces and light fixtures to drawer pulls and door knobs, gold accents add an element of sophistication.
Incorporate texture: Texture is key when it comes to creating a glamorous bedroom. Layer rugs over plush carpets or hang sheer curtains over heavier drapes to create depth and dimension.
With these tips in mind, you'll be well on your way to creating the perfect glamorous bedroom space! Don't forget that furniture and accessories are also important for completing the look – think velvet-upholstered armchairs, tufted ottomans, shimmering chandeliers, art deco lamps, and lush potted plants. Get creative and have fun [1]!
The Perfect Glam Bedroom Ideas for Your Home
Gold Color Scheme
If you are looking for a luxurious and glamorous bedroom, a gold color scheme is a way to go. Rich shades of gold can make your room look warm and inviting while also giving it an upscale feel. Start by painting the walls in a pale or medium shade of gold and add accents such as pillows, curtains, rugs, and artwork that feature various tones of gold to give depth and texture to the space. If you want to add even more luxury, consider incorporating velvet furniture pieces or tufted headboards for added glamour.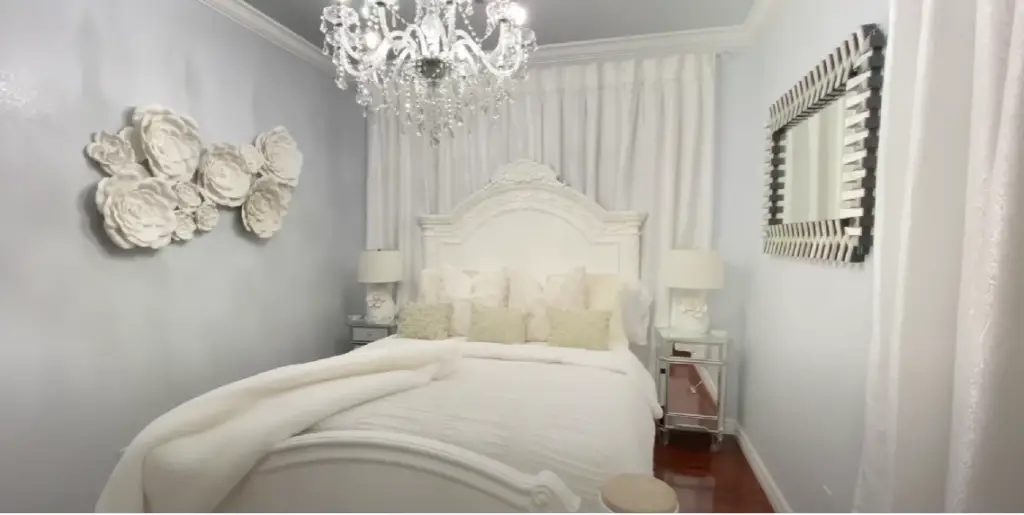 Glitzy Décor
Adding glitzy décor like mirrored furniture pieces or crystal chandeliers can take your bedroom from basic to glamorous in no time. You don't have to go overboard with the glitz, however. Incorporate just enough pieces throughout the room to give it an opulent feel without overwhelming it with too much shine and sparkle.
Neutral Color Scheme with Dark Accents
For a more understated and elegant look, try using a neutral color scheme in your bedroom with dark accents. Choose soothing colors such as taupe, grey, or cream for the walls, and use darker shades of brown or black on accent pieces like furniture, art pieces, and accessories to add texture and depth to the room. This is an easy way to give your bedroom a glamorous yet relaxing vibe.
Statement Wallpaper
If you want to make a bold statement in your bedroom then consider adding statement wallpaper in either a glam print or metallic hue. Be sure to choose a wallpaper that complements the overall style of the room, such as floral prints for a feminine touch or geometric designs for a modern twist. The wallpaper will instantly bring personality and character to the bedroom and make it look luxuriously glamorous.
Pink Color Scheme
A pink color scheme is a must for any glamorous bedroom. This vibrant hue can instantly inject life and energy into the space while also making it feel soft and romantic. Start by painting your walls in a soft shade of blush or pastel pink, then add accents such as rugs, pillows, and furniture pieces in different shades of pink to create texture and depth. Be sure to keep the overall look polished by adding gold or silver accents throughout the room for an extra touch of glamor.
Wall Sconces and Lamps
Wall sconces and lamps are a great way to add some extra light and shine to your bedroom. Choose wall sconces with gold or crystal finishes for an elegant touch, or opt for more modern styles for a contemporary feel.
Crystal Chandelier
If you're looking to make a truly glamorous statement in your bedroom, then consider installing a crystal chandelier. This gorgeous lighting fixture will instantly add luxury and sparkle to the room while also providing ample light for nighttime activities. Be sure to choose a chandelier that works with the overall design of your room and is big enough to give off enough light but not so large that it overwhelms the space. Glamorous bedrooms don't have to be over-the-top or extravagant.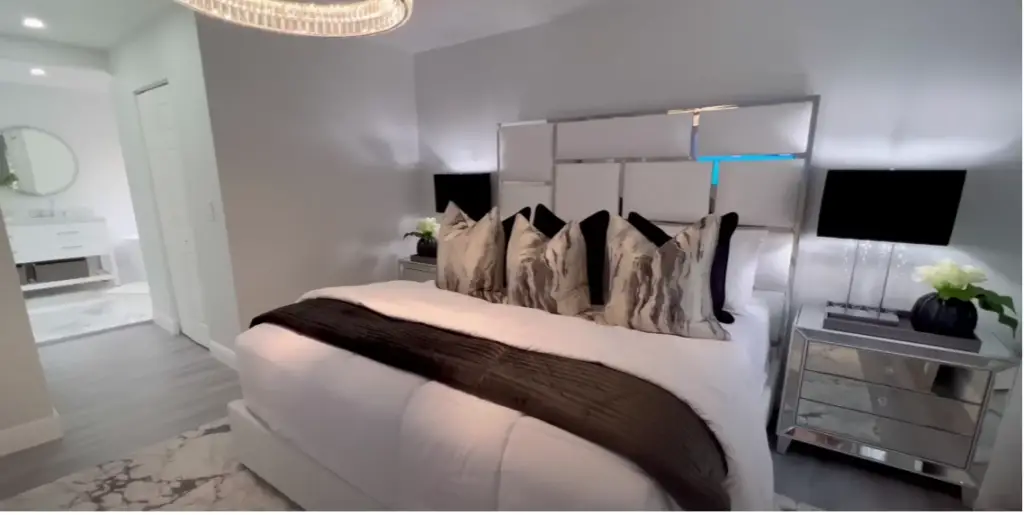 Hang Mirrors Around Your Bedroom
Adding mirrors is an easy and inexpensive way to make your bedroom look more glamorous. Hang a few large, statement mirrors around the room to give it an instant upscale feel. Mirrors will also reflect light throughout the room, making it appear brighter and airier. If you have a larger space, consider installing floor-to-ceiling mirrors for added opulence.
Statement Furniture Pieces
For a truly luxurious touch, choose a few statement furniture pieces for your bedroom. Opt for pieces with gold or chrome accents, bold colors, patterns, or crystal details to elevate the overall look of the room. Look for one or two special pieces that can be used as focal points in the room and help to create a sense of glamor.
Glam Accessories
The right accessories can also help to give your bedroom an instantly glamorous feel. Incorporate pieces such as fur throws, velvet pillows, crystal lamps, and mirrored trays throughout the room for a touch of sophistication and luxury. This is an easy way to glam up any space without having to do major renovations or overhauls.
Luxurious Fabrics
Using luxurious fabrics can also help add glamor to your bedroom.
Mixing different textures like velvet and silk can create interest and depth in the room while still keeping it looking glamorous.
Use Shimmering Furniture
For an extra touch of sparkle, choose furniture pieces with shimmering finishes. A dresser or nightstand with gold or silver accents can instantly make the room look more luxurious and glamorous. This is a great way to add some shine and glitz to your bedroom without taking away from its overall aesthetic.
Metallic Accents
Metallic accents, such as gold or silver picture frames and mirrors, are also a great way to add glamor to your bedroom. These accents will reflect light and help make the room appear brighter and more luxurious. Choose items with different finishes to create texture and interest in your space, while still keeping it looking elegant.
Shiny Surfaces
Shiny surfaces, such as glass and mirrored furniture pieces, can also give your bedroom a glamorous feel. Incorporate these pieces throughout the room to create an elegant and stylish look. Choose items with interesting shapes and patterns for an extra touch of elegance that will make your bedroom stand out.
Faux Blankets
Faux fur blankets and throws can also add a touch of luxury to your bedroom. Choose faux fur in shades like white, cream, or gray for a more subtle look, or opt for bolder colors like pink or purple if you want to make a statement. Faux fur is both comfortable and glamorous and will help instantly elevate the overall look of your room.
Candles
Consider adding candles throughout your room for an extra touch of glamour. Candles will create a cozy atmosphere while also providing ample light for nighttime activities. Place candles on side tables, mantels, and shelves to give your bedroom an upscale yet comforting feel.
Wall Art
Adding artwork can also be a great way to make your bedroom look luxe. Look for pieces that incorporate metallic or mirrored materials, or choose abstract prints in bold colors for a more modern feel. Wall art is an easy and inexpensive way to instantly dress up any space, making it feel more luxurious and glamorous.
Mix in Natural Materials like Houseplants
Don't forget to mix in some natural materials like houseplants to add life and texture to the space. Houseplants can help bring the outside in and give your bedroom a refreshing and calming atmosphere. Just be sure to choose plants that will thrive in low-light conditions for the best results.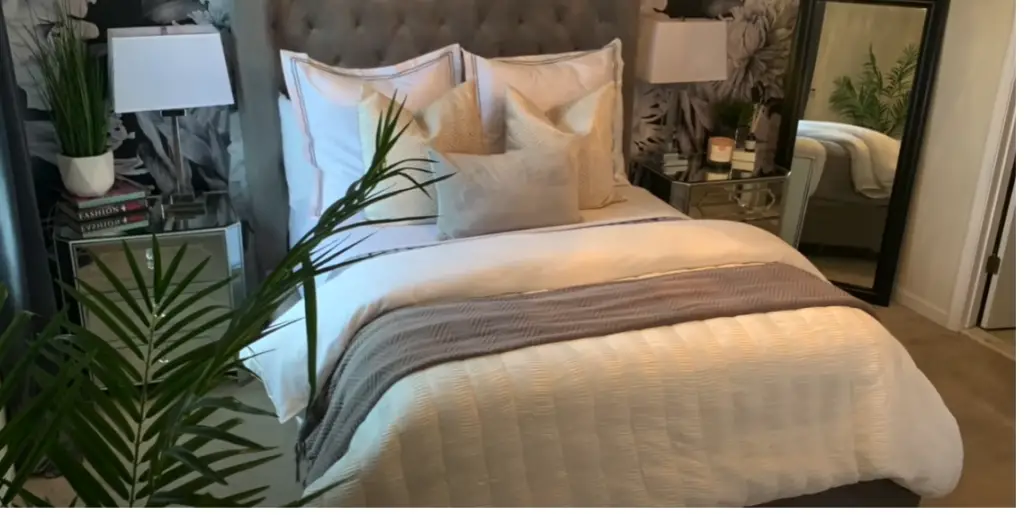 Luxury Bed Frame
Choose a bed frame that will give your bedroom an instant boost of glamor. Look for frames with intricate details and luxurious fabrics like velvet or suede to create a truly sophisticated look. This is an easy way to make your bedroom look more expensive and glamorous without breaking the bank.
Matte walls
Matte walls are also a great way to create an elegant and sophisticated atmosphere in your bedroom. These walls give off a subtle shine and will help reflect light without overpowering the space. Choose neutral tones like white, gray, or beige for a clean look, or go bolder with deeper hues like navy blue or emerald green.
Comfortable Bedding
Invest in comfortable bedding to really make your bedroom look and feel luxurious. Look for sheets with high thread counts and blankets made of materials like cashmere or silk. Choose colors and patterns that will complement the rest of your decor for an inviting vibe that will help you relax after a long day. By incorporating these elements into your bedroom design, you can easily create a glamorous and sophisticated space.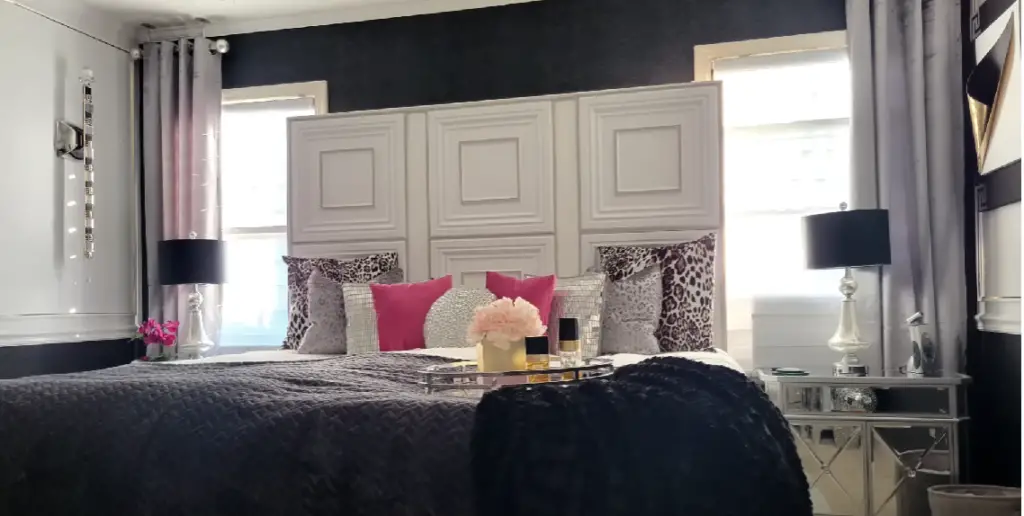 Use Light Area Rugs or Flooring
Light area rugs or flooring can also help make your bedroom look luxurious. Look for options in natural materials like sisal, jute, or bamboo to create a cozy and inviting atmosphere. Choosing light shades such as white or cream will give the space an airy feel while still making it feel luxe.
Consider Vintage Elements
Incorporating vintage elements can also give your bedroom a classic and timeless look. Look for items with ornate details and intricate designs to create an elegant atmosphere. Vintage furniture pieces, lighting fixtures, or artwork can all be great options if you're looking to add a touch of glamor to your space [2].
Other modern styles for bedrooms
In addition to traditional themes, more contemporary design styles are becoming increasingly popular for bedrooms. Minimalism is a popular style, where the focus is on clean lines and uncluttered spaces.
Another modern style is an industrial look, where metal accents such as pipe frames and exposed brick walls are used to create a unique atmosphere. Finally, boho chic is also gaining traction in bedroom designs, which often include colorful textiles, eclectic patterned rugs, and vintage-style furniture. All of these trends offer exciting possibilities when it comes to creating the perfect bedroom retreat.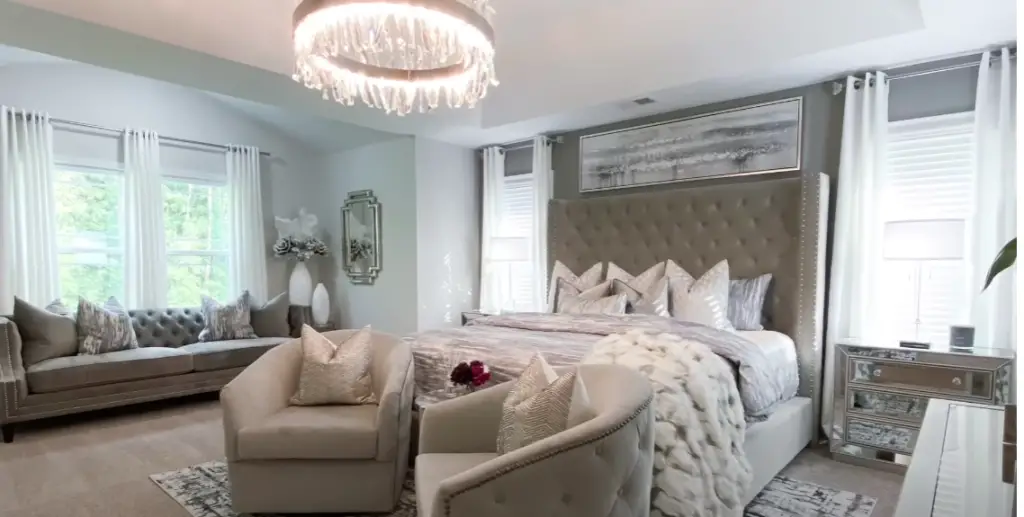 To choose the right style for your bedroom, consider your tastes and preferences. What colors and patterns do you like? Do you prefer a more traditional look or something new and different? Regardless of the style you choose, always be sure to create a room that reflects your personality. After all, the bedroom should be an oasis of relaxation – a place where you can escape from the chaos of everyday life. By taking some time to make it uniquely yours, you can ensure that it will be a place both comfortable and beautiful!
FAQ
How do I make my bedroom glamorous with simple things?
There are a few simple things you can do to make your bedroom look more glamorous:
Add some sparkle with accessories such as mirrors, metallic frames, and sequined pillows or throws.
Use lighting to create a warm and inviting atmosphere by adding table lamps, wall sconces, or even string lights. Choose bulbs that give off a soft light for the best effect.
Hang curtains in bold colors or patterns to add visual interest and divide the space if needed.
Incorporate luxurious touches such as plush rugs, velvet upholstery, and other fabrics that evoke luxury and sophistication.

Investing in quality bedding can make all the difference. Choose high thread count sheets and pillows in colors that coordinate with your decor. 

Add some plants for a touch of nature and life to your bedroom. 

Use artwork or photographs to finish off the look, creating a personalized space that truly represents your style and personality.
What are some tips for making a small bedroom look bigger?
Creating the illusion of more space in a small bedroom is easy when you know the right tricks. First, declutter the room and keep only essential furniture pieces that you need. Then, incorporate the following tips:
Use light colors on the walls to make them appear larger.
Place furniture away from walls to create a more open space.
Hang curtains high near the ceiling to draw eyes upwards and increase the sense of height in the room.
Invest in strategically placed mirrors to create depth and reflect light around the room, making it appear larger than it is.
Keep window treatments simple for maximum natural light and an airy feel, or add sheer curtains for a touch of elegance without sacrificing any precious space.
Lastly, choose slim-line furniture with plenty of storage options such as under-bed drawers and hanging shelves.
What is the best way to organize my bedroom?
Organizing your bedroom is an important step in creating a calming environment. Start by getting rid of anything you don't need or use, then create zones that work for you. Then, you should make your bed the focal point of the room and use clean, crisp sheets for a stylish look. Consider investing in furniture with built-in storage, such as a bed frame with drawers or shelves. Finally, add organizational tools such as hanging shoe organizers and drawer dividers to keep items tidy and easily accessible. Having a designated spot for everything will help you maintain an orderly space while still allowing your style and personality to shine through.
What are some tips for creating a relaxing atmosphere in my bedroom?
Creating a relaxing atmosphere in your room is the key to having a peaceful environment that promotes restful sleep. Control lighting by adding curtains or blinds for darkness when needed and incorporating dimmable light fixtures for softer illumination at night. Include soothing colors and textures, such as blues and soft fabrics, to create a calming atmosphere. Incorporate plants for fresh air and natural beauty. Finishing touches like candles or essential oils can also help promote relaxation. Most importantly, keep the clutter at bay by dedicating enough time to regularly clean and organize your bedroom. This will help give you peace of mind knowing that your space is tidy and inviting.
How can I make my bedroom cozy?
Creating a cozy atmosphere in your bedroom is about more than just adding blankets and pillows – it's about creating the perfect environment for unwinding after a long day. Start with temperature control-adjusting the thermostat to create a comfortable sleeping space. Next, add layers of texture such as velvet and wool to add warmth to the room. Use cozy lighting, like string lights or fairy lights, for a soft glow. Include personal touches like favorite books, photographs, and artwork to make it feel more inviting. Lastly, invest in quality bedding that's both comfortable and stylish – this will become the centerpiece of your bedroom.
How do you style a romantic bedroom?
Styling a romantic bedroom involves creating an inviting atmosphere that promotes relaxation and intimacy. Start with the basics by incorporating comfortable, plush bedding in neutral or bold colors. Add some texture to the room with sheer curtains, velvet pillows, throws, or fuzzy rugs. Incorporate soft lights like ambient lamps or candles for a warm glow. Display meaningful items like photographs of special moments you've shared. Finally, add your personal touch to make it feel more intimate – this could be anything from love letters to heart-shaped trinkets. With these tips, you'll have the ultimate romantic retreat!
Useful Video: SMALL GLAM BEdROOM DECORATING IDEAS | DECORATE WITH ME
Conclusion
Glam bedrooms are now a popular way to add a modern and luxurious touch to the bedroom. They offer an opportunity to create a unique space that is both stylish and relaxing. With careful planning and attention to detail, anyone can create a glamorous bedroom look that will make them feel like they have stepped into their oasis. From luxe bedding and glam décor accessories, adding some glitz to the bedroom is not only easy but also cost-effective. Whether you are looking for a subtle sparkle or something bolder and more daring, creating a glam bedroom look adds personality, comfort, and style. With the right pieces, you can transform your bedroom in no time at all!
References:
https://floridahomesandliving.com/glam-bedroom-ideas/
https://www.wayfair.com/sca/ideas-and-advice/styles/the-ultimate-guide-to-glam-style-T1477