Valentine's Day is a special day to celebrate love and affection. If you are looking for some simple tips on how to decorate your bedroom for Valentine's Day, look no further! This blog post will give you some great ideas that will help make your bedroom look festive and romantic. Whether you are single or in a relationship, these tips will help you create a cozy and inviting space for the most romantic day of the year!
Valentine's Day: history and traditions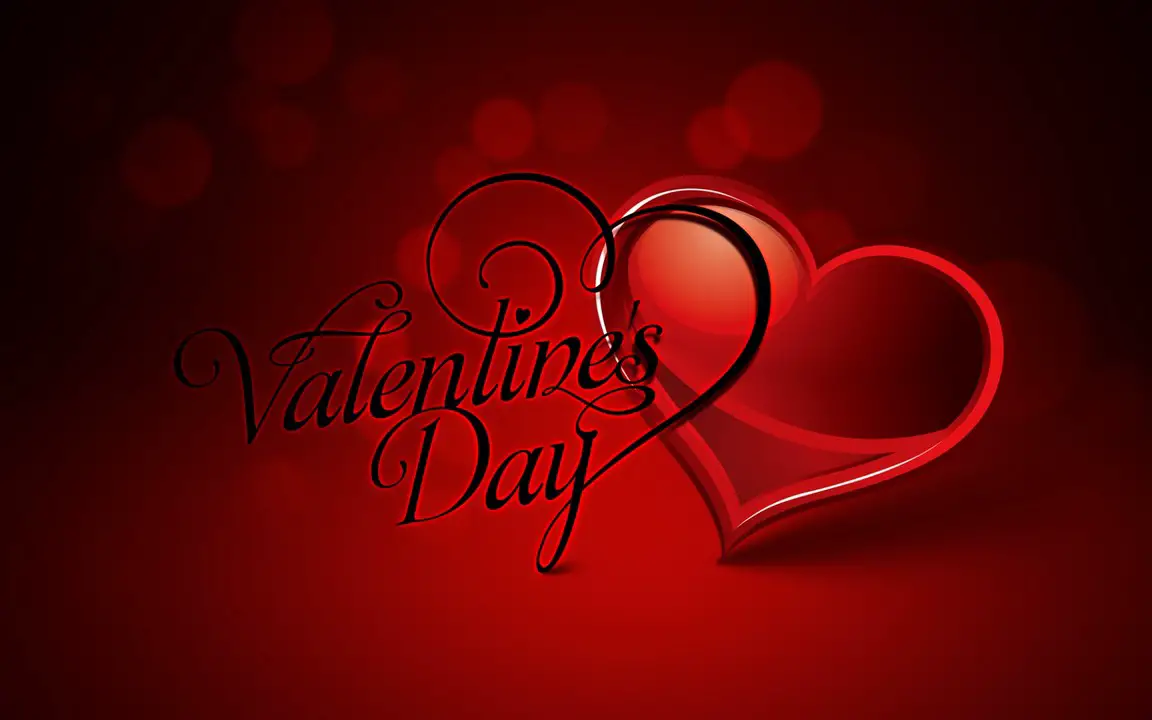 Valentine's Day is a holiday celebrated across the world on February 14 each year. It's named after Saint Valentine, who was thought to have been martyred in Rome on this day in the third century A.D.
Though it has its roots in Christianity, Valentine's Day is largely viewed as a secular celebration of romantic love.
The traditional gift-giving associated with the holiday dates back at least as far as the Middle Ages when young men and women would draw names to decide who they would be exchanging presents with that year. Later on, handmade cards or paper lace doilies became popular gifts for lovers to exchange during this time of year.
These days, popular Valentine's Day gifts typically include heart-shaped chocolates, bouquets of roses, teddy bears, and jewelry. A night out at a favorite restaurant is also common for couples on Valentine's Day.
In addition to the gift exchange, some Valentine's Day traditions involve participating in romantic activities such as going to a concert or taking part in themed parties or dinners. Many people send cards with sentimental messages to their loved ones not only on February 14 but throughout the year.
Valentine's Day is seen by many as an opportunity to express love and appreciation for one another in unique and special ways. Whether you choose to give a small token of gratitude or plan a grand gesture, these simple gestures are sure to leave a lasting impression on your beloved [1].
Why decorate a Bedroom for Valentine's Day?
All people love Valentine's Day because it is a day of love and romance. And what better way to celebrate this special day than by decorating your bedroom romantically and festively?
Decorating your bedroom for Valentine's Day can be a fun and exciting experience. It can add a touch of color, personality, and warmth to the room. By adding items such as flowers, candles, or posters with romantic sayings you can make the room feel more intimate and cozy.
In addition to making the room look more romantic and inviting, there are many other benefits of decorating your bedroom for Valentine's Day. Firstly, it allows you to express your feelings towards someone special without words. Secondly, it creates an atmosphere that encourages romance and connection.
Finally, it adds a festive and cheerful atmosphere to the room that can be enjoyed by both you and your partner.
How To Create A Romantic Bedroom For Valentine's Day?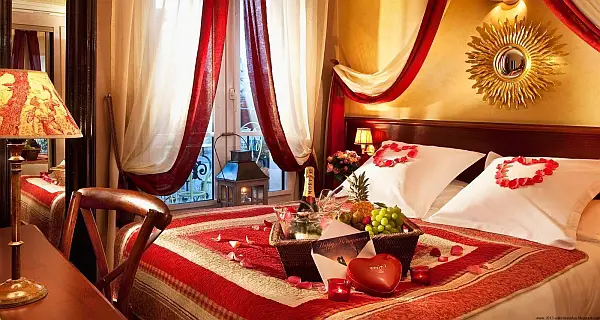 Exclusive Symbols of Love with Custom Stickers
Valentine's Day is the perfect time to create a romantic bedroom atmosphere for you and your partner. If you are looking for unique ways to show your love, custom stickers can be used in so many ways to make your bedroom into an oasis of romance. Here are some ideas:
Wall Stickers – Add romantic wall stickers with phrases like "I Love You" or "You Are My Everything" as a visual reminder of what Valentine's Day means.
Heart-Shaped Wall Art – Create personalized heart-shaped wall art using different colors and sizes of stickers to add eye-catching decoration to any wall in the bedroom.
Floors and Furniture – Custom stickers can be used to decorate the floors, furniture, or even the bedding with romantic symbols like hearts and flowers.
Decorative Lamps – Place decorative lamps in each corner of your bedroom that have custom stickers featuring pictures of you and your partner for a unique touch.
Ceiling Stickers – Hang custom ceiling stickers around the room which feature love quotes or phrases such as "Love Will Last Forever" and "Always Be Together" to set the mood for romance on Valentine's Day.
Dim Lighting Surprise
Create a dimly lit atmosphere with candles and soft lighting to give your bedroom a romantic feel on Valentine's Day. Place scented candles in different corners of the room or along the bedside table. Dim lights will help create an intimate atmosphere for you and your partner.
Grey and Purple Combo
Create a soothing color scheme using a combination of purple and grey. This color combo can be used to decorate walls, bedding, and furniture pieces to give the room an inviting look. Use custom stickers with romantic phrases or patterns in these colors to add more charm and spice up the atmosphere.
Classic Bed of Roses
Nothing says romance more than a bed of roses. Place small floral arrangements on your bedroom floor in the shape of a heart with plenty of roses to make the room look and smell like a romantic paradise.
Personalized Gifts
Surprise your partner by filling the bedroom with personalized gifts such as photo monograms, custom jewelry, and other special tokens of love. Let your partner know that he/she is loved by making sure they have something to remember this special day forever.
Gallery of Sweet Memories
Fill the walls of your bedroom with pictures of you and your partner. This will create a romantic atmosphere by allowing each other to reminisce on past memories as well as look forward to more happy days together [2].
Valentine's Day Decorations Like Balloons and Rose Petals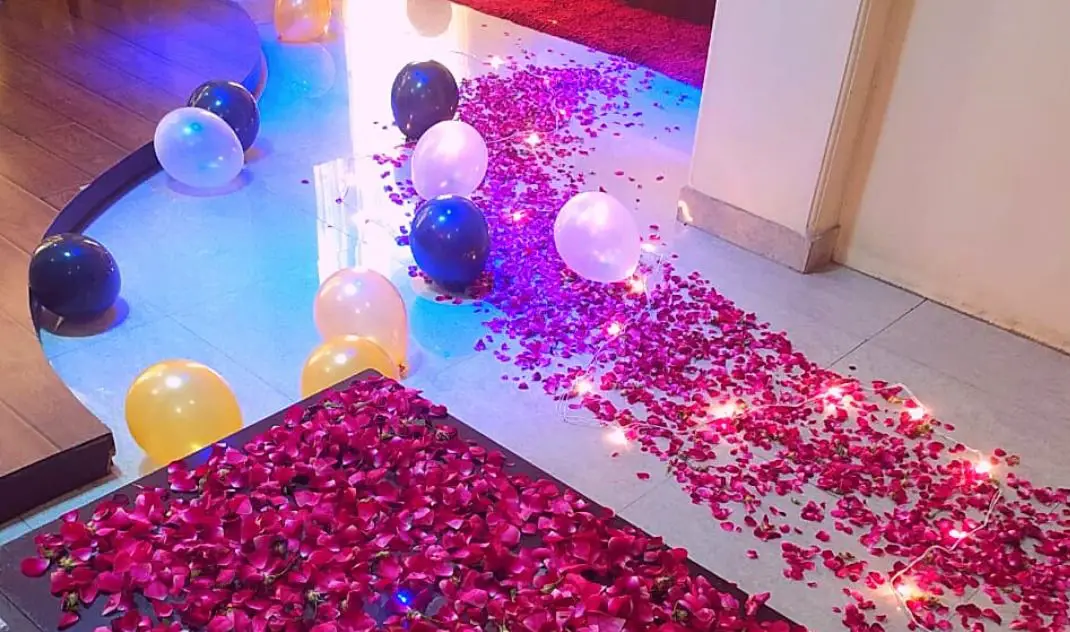 The Grand Plan
When it comes to decorations, nothing says "romance" like balloons and rose petals. Balloons are a classic Valentine's Day decoration that can be used in many different ways. For example, you can buy pre-filled balloon bouquets with love-themed messages or have customized balloons made with your name or initials.
You could also go the traditional route and fill up dozens of heart-shaped balloons with helium and let them float around your home or venue.
Balloon Bouquet
Balloon bouquets are a great way to show your love. You can customize the bouquet with different designs and messages that will make your loved one smile. It's also an easy way to create a festive atmosphere in any room.
Rose Petals
Nothing says romance like rose petals! Rose petals are a classic Valentine's Day decoration, and they come in all sorts of shapes, sizes, and colors.
Rose petals are usually used as table decorations or mixed into flower arrangements, but you could also scatter them around your home or venue for a romantic ambiance.
Romantic Touches
To really make your decorations stand out, you can add some romantic touches like candles, fairy lights, and other items that will evoke a sense of romance. You could also have personalized signs or banners made to show your love.
Beddings, Pillow, and Bed Stuff for Valentine's Day decoration
Flowery Bedspread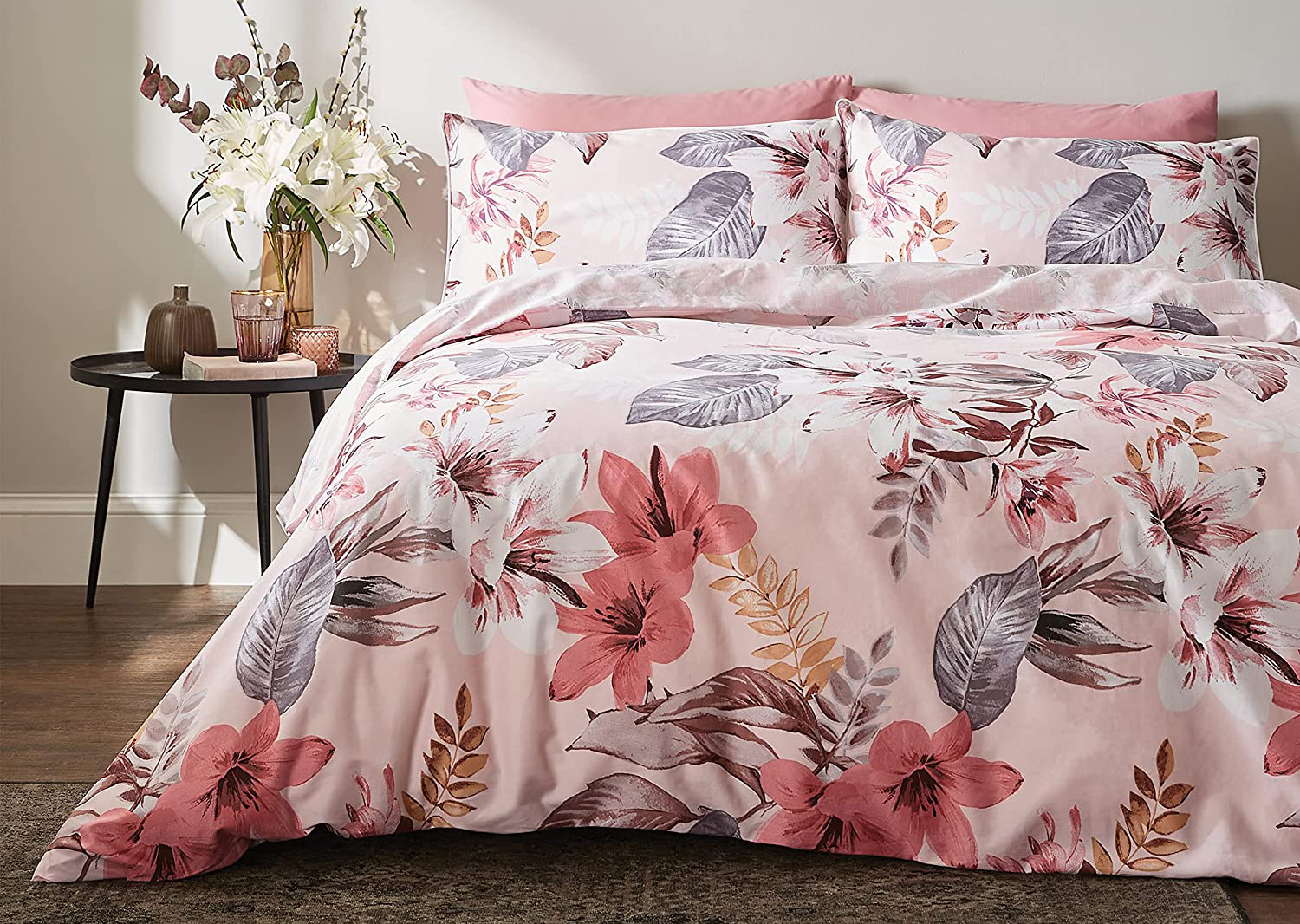 Be it a single bed, double bed, or king-size bed, you can make an effort towards decorating it for the special occasion. A flowery bedspread not only looks romantic but will also give your bedroom that perfect Valentine's Day vibe. You can go with a floral patterned multi-color quilt and layer up with pillows in the same colors to give it more of a spring-season look.
Romantic Pillows
Pillows are one of those things which always add warmth and romance when used as décor accessories during special occasions. Pick up some heart-shaped cushions or just ones with love quotes written over them and adorn your couch or a chair in the room with these beauties.
You can even make your own pillow cover by getting a white or light-colored one and writing something special for your Valentine on it in red or pink fabric paint.
Heart-Shaped Throw Blanket
What better way to express love than with a heart-shaped throw blanket? You can pick up a heart-shaped throw blanket from any store that has Valentine's Day décor items. Drape it over the bed, or couch, or use it as a table runner to add some extra romance to your room. Your partner will appreciate the effort you have put into decorating the space for them this Valentine's Day.
Airy Bed Set Ups
Nothing screams romance louder than an airy bed set up. Add sheer, white curtains to your bedroom window and put the bed in the middle of the room.
Hang some pretty fairy lights above or around your bed, add fresh flowers around it, and scatter some heart-shaped pillows all over. This is sure to make your partner feel special!
Lacy Bedding Sets
For a more subtle look, you can go for lacy bedding sets. Pick a white or beige bedding and layer it up with different types of lace embellishments. You can include pillowcases in the same shade that has intricate embroidery work on them to make them look even more romantic. Add some candles and fragrant flowers near the bed to complete the whole theme. These are just some of the ideas you can use to jazz up your bedroom this Valentine's Day!
Textures and Patterns
Textures and patterns can also be used to add some pizzazz to your décor. Find bedding sets with interesting textures like a velvet quilt or an embossed coverlet. You can also choose bright colors like pink, red or purple for the sheets, pillowcases, and curtains to create that perfect Valentine's Day atmosphere.
Romantic Bed Linen (Soft) for Valentine's Day decoration
Swan Towels
The Swan Towels range is perfect for adding a touch of luxury to your bedroom. These soft and sumptuous towels are made with ultra-soft cotton for the ultimate comfort experience. They come in an array of colors, from bold pinks to subtle creams. What's more, their classic style ensures they will never date!
Gauzy Fabrics
Gauzy fabrics are the perfect way to add a romantic feel to your bedroom. Soft and light, these fabrics hang beautifully around windows and bedframes, creating a dreamy atmosphere in any room. With an array of colors and textures, you'll be sure to find something that suits your taste and aesthetic.
Luxury Bedding Sets
For those special occasions, why not indulge in luxury bedding sets? These gorgeous sets provide a timeless elegance with intricate embroidery and luxurious materials like silk or satin. Choose from delicate pastel pinks for a girly bedroom or deep jewel tones for a more classic look.
Patterns and Prints
For an eye-catching take on romantic décor, opt for a patterned bedspread or throw. Floral prints are perfect for achieving a traditional romantic style.
Or why not go for something more modern with geometric designs? Whatever the look, patterns and prints will bring your bedroom to life!
Candles for Valentine's Day decoration
Candelabra
Candelabras are a great way to decorate your home for Valentine's day. They come in a variety of styles and colors, so you can easily find one that matches your décor. Candelabras add an elegant touch to any room and will create a romantic atmosphere for the special night. You can place candles of different sizes in each arm of the candelabra or use them with taper candles to create symmetrical designs.
Place several candelabra around your home, either on mantles and shelves or as centerpieces on tables. When lit, they will provide a soft and beautiful glow that will help set the mood for romance on Valentine's Day!
Floating Candles
Floating candles are a great way to add a romantic and ethereal touch to your home this Valentine's Day. Place them in bowls of water or any other kind of vessel filled with water and they will float gracefully, creating an enchanting atmosphere.
They come in various sizes and colors, so you can easily match them to the rest of your décor. To create a really special effect, use several vessels filled with different colored floating candles for a stunningly beautiful display!
Tealight Candles
Tealight candles are perfect for setting the mood on Valentine's Day. They come in many different styles such as heart-shaped or plain, in almost any color imaginable. Place a tealight candle in each room for a gentle, romantic glow.
For a bigger impact, use clusters of tealights around your home, either singly or grouped together. Tealight candles are also great for creating interesting displays and centerpieces on tables or shelves.
Scented Candles
Scented candles make a great addition to any Valentine's Day décor and can help create an atmosphere of romance and relaxation. Choose from many different scents such as vanilla, jasmine, rose, or sandalwood; these sweet-smelling fragrances will add to the mood of the day and help you get into the spirit of love. Place some scented candles around your home to fill it with a romantic aroma.
Gel Candles
Gel candles are a great way to add an extra touch of romance to your home on Valentine's Day. These unique candles come in various colors and shapes, so you can create beautiful displays in any room of your home. Place gel candles around the house, either singly or grouped for more impact. The colored wax will provide a vibrant glow and help set the mood for your special evening!
French Bedroom Candles
French bedroom candles are a perfect way to create a romantic atmosphere in the bedroom on Valentine's Day. Choose from many different styles and colors, such as heart-shaped or rose-scented.
Place several of these delicate candles around your room for a soft, intimate light that will set the mood for love and romance.
Small Votive Candles
Small votive candles are a great way to add an extra touch of romance and atmosphere to your home on Valentine's Day. Place them in holders or small dishes around the house for a gentle, warm glow that will help set the mood for love. Votive candles come in many different colors and styles, so you can easily find ones that match your décor.
Large Pillar Candles
Large pillar candles are perfect for creating a romantic atmosphere on Valentine's Day. They create a beautiful display when placed together, as well as providing soft, inviting light throughout your home. Choose from many different sizes and colors; they will look great either singly or grouped on mantels or shelves. Pillar candles are also great for creating centerpieces on tables and other surfaces.
FAQ
How can I make my bedroom look romantic?
There are many ways to make your bedroom more romantic! Here are some ideas:
Add cozy throw blankets and pillows for a comfy, inviting atmosphere.
Put up string lights or fairy lights to give the room a soft, glowing look.
Incorporate warm tones like reds, oranges, and yellows into the décor to add warmth and energy to the room.
Use flower petals around the bed or on shelves as a subtle yet romantic touch.
Set out scented candles or diffusers with relaxing lavender or jasmine essential oils in them to create a calming ambiance.
Hang pictures of you and your significant other to fill the room with happy memories.
Play some soft, romantic music in the background for a feel-good vibe.
How do I set up a romantic bedroom for him?
Setting up a romantic bedroom for him is easier than you think! Women can often get lost in the details, but it's quite simple to make him feel special. First, they can start by adding some of their personal touches. This could be in the form of a special pillow or blanket with his initials, a framed photo of the two of you together, or any other small items that make him feel loved and appreciated.
Next, they can add some little romantic surprises such as candles and rose petals around the bed, soft music playing in the background, and maybe even a warm bubble bath ready for him when he gets home! Lastly, dimming the lights and turning off any electronics that may cause distractions is always a nice touch.
What are romantic colors for a bedroom?
Romantic colors for a bedroom are usually warm hues such as red, pink, coral, peach, blush, ivory, and white. These colors tend to evoke feelings of passion and love while also creating a soothing atmosphere. Other shades like lavender, sage green, or mint can be used to create a calming environment. Neutral tones such as gray or taupe are also great options that will give the room a timeless feel and won't overpower the space. Finally, adding some sparkle with metallic accents such as bronze, gold or silver can add even more romance to your room!
Useful Video: ROMANTIC BEDROOM DECORATIONS | SPECIAL OCCASIONS| VALENTINES DAY| BIRTHDAY IDEAS
Conclusion
Decorating a room for a Valentine's Day party can be a fun and creative activity for people of all ages. It is important to take the time to plan out your decorating theme, choose decorations that fit within your budget, and remember to keep safety in mind. With some creativity and plenty of love, you can create a beautiful and romantic atmosphere that will make any Valentine's Day party one to remember!
---
References
https://www.history.com/topics/valentines-day/history-of-valentines-day-2
https://www.thesleepjudge.com/romantic-bedroom-ideas-for-valentines-day/