Welcome to our guide on Red Bedroom Ideas! Whether you're looking for a bold, vibrant look or something more subtle and muted, red can be the perfect color choice for your bedroom. With its associations of passion and desire, red bedrooms can bring vibrancy and energy into any space. In this article we will explore some of the interesting ways in which you can use red to create the perfect bedroom.
We will also answer some of the most frequently asked questions, and provide useful tips on how to pull off a great red bedroom style. So if you're looking for some inspiration for your red themed room, read on!
Small Pops of Red
Try adding a few accent pieces such as artwork or pillows in shades of red, or even just one red piece against a neutral backdrop. This can bring a little bit of brightness and contrast to any bedroom design.[1]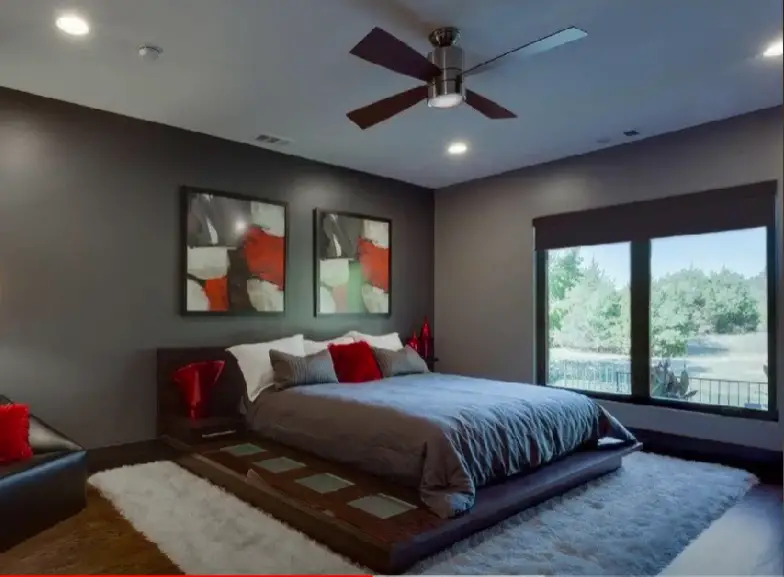 Pair Red With Black
For a bold, modern look, you can pair red with black and gray. The combination of colors gives the bedroom a sophisticated vibe while still having all the warmth of a traditional red bedroom. To create this look, use gray walls as your background and add pops of red on furniture like nightstands or an accent chair. Balance the look out with a few black pieces such as a dresser or side table. You can even add in some white accents on bedding and curtains to brighten up the room.[1]
Try a Red Headboard
Adding a red headboard to your bedroom can make it look more stylish and inviting. It's an easy way to incorporate the color red into your room without having to devote too much time and money. You can find pre-made headboards, or get creative and make one yourself! If you're going for a modern look, try painting one in a bright, glossy red. If you prefer something more traditional, look for headboards with intricate designs or patterned fabrics. Either way, it'll be sure to add some pizzazz to your space![1]
Go for a Large Area Rug
When it comes to red bedroom ideas, many people think that the color should be confined to small accessories and accents. But if you really want to make a statement, go for a large area rug in an eye-catching shade of red. It will instantly draw attention to the floor and create an anchor point for your entire room. Plus, a good-quality area rug will last for years to come, making this investment well worth it.[1]
Red Walls Paired With Painted Ceilings
If you want to create an eye-catching effect in your red bedroom, consider painting the walls and ceiling with different shades of red. This allows you to play with the color palette and create an interesting look. Using two complementary shades—such as a bright, bold hue for the walls and a softer tone for the ceiling—can help balance the space and add dimension. You can also use different shades of one color to create a monochromatic look that is both sophisticated and dramatic.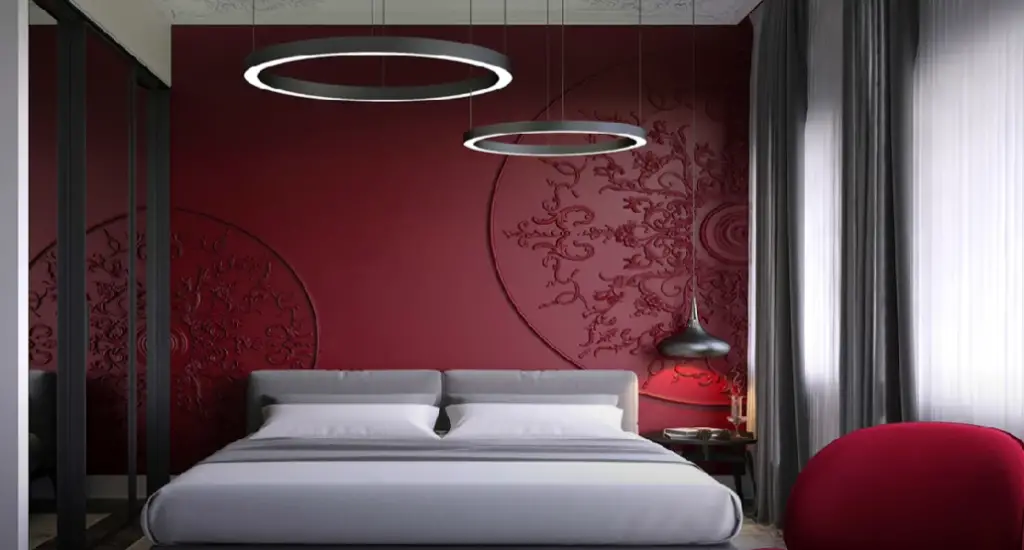 When it comes to decorating, adding touches of white or cream-colored accents can help break up the red without taking away from its beauty. For instance, white curtains or bedding against a bright red wall is a chic look that won't overwhelm the space. Similarly, white furniture pieces can help balance out the red and add a touch of contrast to the room.[2]
Working With Red, White, and Blue
If you're looking to give your red bedroom a patriotic flair, using the colors red, white and blue is an easy way to achieve it. Start with a base of white walls and add color through furniture and accessories in shades of navy or light blue. Red accents can be added through bedding or throw pillows, artwork, and curtains. Or, if you prefer a more subtle approach to red, use white or blue accents with just hints of red in artwork or other decorative pieces.
If you're looking for a bolder look, choose coordinating shades of red and blue for your walls, furniture and accessories. Start with a deep navy wall color as the background and furniture in shades of cherry red and light blue. To tie the look together, add a few coordinating throw pillows, curtains or artwork. For an even bolder look, you can also use patterned wallpaper as an accent wall.[2]
Go Bold With Patterns
If you want to make your red bedroom extra special, try incorporating bold patterns and textures. You can go as wild or subtle as you like – from geometric prints on the walls or textured rugs to a luxurious velvet armchair with plush cushions. A patterned duvet cover will add a touch of luxury, while striped curtains will add to the classic appeal. Just be sure to pick colors that complement the red in your design scheme.[2]
Glamorous and Sophisticated
Red is a color that can instantly make any room in your home feel luxurious and glamorous. It's bold, beautiful, and absolutely eye-catching! When used correctly, red can add a sophisticated touch to your bedroom. If you want to create the perfect romantic atmosphere or just give your bedroom an elegant makeover, consider using red bedroom ideas.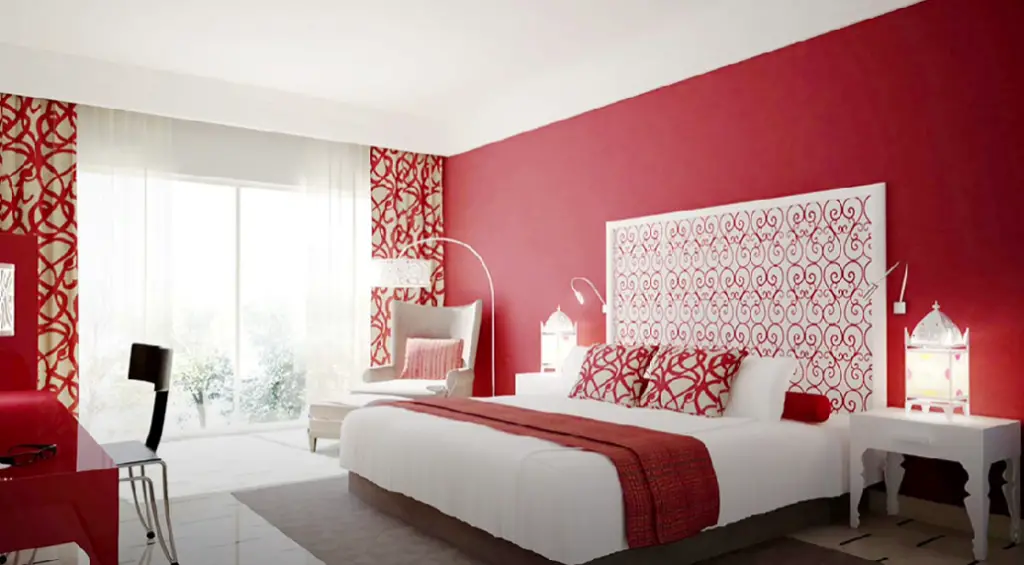 When it comes to decorating with red, there's a few things you should keep in mind.
Start by painting one wall or section of the room in a deep shade of red and then adding a few accent pieces such as throw pillows, blankets, or rugs in the same hue.[2]
Pair Red With Blue
One great way to incorporate red into your bedroom decor is by pairing it with blue. This classic combination creates a bold and eye-catching look that's sure to make an impression. To create the perfect balance, use navy blue as a base, then add pops of bright red throughout the room for contrast. Pillows, artwork, and accessories are all great ways to take advantage of this timeless combo. For a more modern look, try pairing red with a lighter shade of blue, like baby blue or sky blue. You can also play around with different hues and shades of both colors for a unique look that's all your own. Just be sure not to go overboard—use one primary color as the star of the show, with touches of the other to keep it from being too overwhelming. With a few thoughtful details and strategic pops of color, you can easily create a stunning space that feels cohesive and inviting.[2]
Embrace Unique Red Features
Red is an intense color and should be used with consideration when decorating a bedroom. But, with the right approach, it can also be a statement-maker or lighten up any other décor scheme. When choosing red items for your bedroom, think about unique pieces that you don't come across every day. Look out for bold designs and eye-catching shapes, as well as vintage furniture from flea markets or antique stores. Alternatively, buy one red statement piece to complete the look – such as a bright armchair or an upholstered headboard.[1]
A Classic Take on Red
If you're looking for a classic take on red bedroom ideas, then consider incorporating timeless pieces with traditional styles. Start by painting the walls a rich burgundy hue and then adding black furniture like a bed frame and nightstands. Hang an elaborate chandelier for added luxury and pair it with velvet curtains to add texture to the space. You can also add a plush area rug in a coordinating color to everything together. To complete the, add classic accessories like a vintage-inspired clock and framed artwork.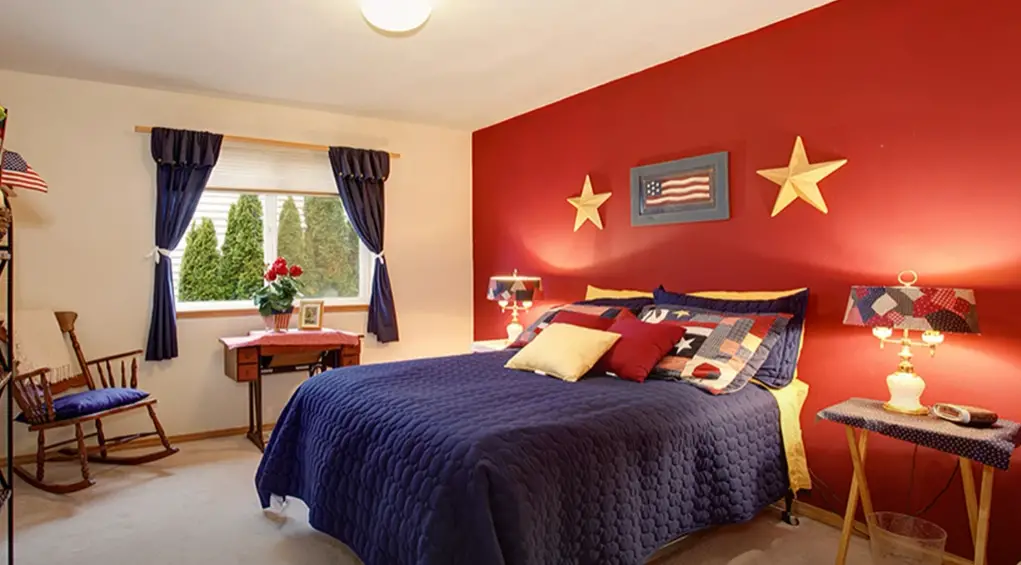 For an extra touch of sophistication, choose gold accents like picture frames and lamps with metallic finishes. This timeless combination of colors will create the perfect balance between modern and traditional for your red bedroom.[2]
Go Coastal and Comfortable
Start with white walls and floors, then layer in shades of coral, pink, turquoise, and navy for a relaxed vibe that still feels stylish and contemporary. Add in some natural elements, such as a driftwood mirror and seagrass furniture, for an extra coastal feel. Finish the look with bright white bedding and accessories to really make the colors pop. You'll end up with a space that feels warm and inviting, but still has plenty of style.[1]
Keep it Contained
If you're a fan of the color red, but don't want to go too overboard in your bedroom design, there are still lots of ways to incorporate it. Consider keeping the majority of your room in neutral colors and then use splashes of red as accent pieces. A great way to do this is with throw pillows, duvet covers, blankets, and artwork. This is a great way to add color without overwhelming the space.[1]
Try Out a Red Gallery Wall
Creating a gallery wall is an easy and fun way to bring color into your bedroom. Pick out some bright red frames, pick out your favorite photographs or art prints, and arrange them in any shape you like on the wall. You can also use a mix of different sizes and shapes for an eclectic look. If you're feeling creative, try making a pattern with the frames or filling in empty spots with other pieces, like mirrors and shelves. Red gallery walls are always eye-catching and can really make a statement in your bedroom.[1]
Try a Darker Version
If you're looking for a more daring approach to red bedroom ideas, then why not try out a darker version? Darker shades such as Burgundy, Maroon and Crimson can create an inviting and cozy atmosphere. Adding some extra furniture elements such as dark wood or wrought iron pieces, decorative rugs and fabrics with rich textures can bring the whole look together. To make the room look even more inviting, add some gold accents or lighting fixtures with a golden hue. This will create a rich and luxurious feel to your bedroom.[1]
Create Balance By Teaming Red With White
Red is a bold, impactful color that can quickly overpower a room if the shade and intensity are too strong. To ensure your red bedroom design isn't overwhelming, balance it by pairing it with pure white. Capture the rich appeal of a classic palette while also softening it and emphasizing the clean modern lines of your furniture. You can achieve this look with white walls and a red headboard, a few red accent pieces, or even something as simple as white bedding and pillowcases paired with a bright, cherry-colored throw blanket.[2]
Use Red As A Backdrop For Decorative Artifacts And Prints
Adding art to your walls is an easy way to bring color and style into your bedroom. When it comes to red bedrooms, a combination of vibrant prints with solid hues will create a bold contrast that stands out. If you're feeling particularly creative, try creating a gallery wall filled with colorful prints and framed photos in different shapes and sizes.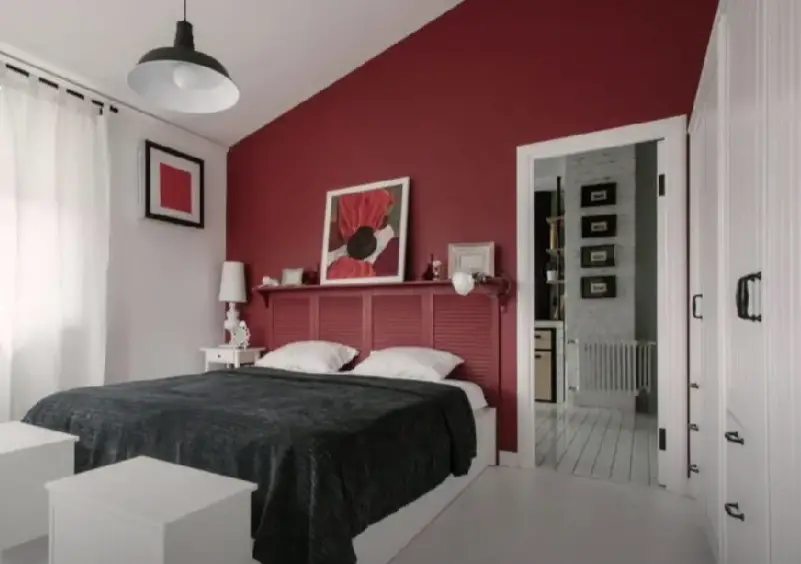 For a more subtle approach, you can choose to display just one large art piece or a few small paintings that are the same color as your walls. This will create an interesting background for other decorative items in your room like rugs, throws, and pillows. You can even frame posters or photographs with red frames to add some extra color to the look.[2]
Add Red As An Accent Shade To Transform A Neutral Scheme
If you're not quite ready to commit to a red bedroom, why not try adding it as an accent? A few carefully chosen red accessories can make all the difference to a neutral color scheme. Try introducing red by adding cushions, throws, or artwork. You could also paint one wall in a dramatic shade of red and use accessories to complement the look. This will help you create a stand-out feature wall, which will inject color into the room while still keeping it subtle and sophisticated.
Don't forget to include some plants too! They can really bring your red bedroom ideas to life with their vivid green foliage.[2]
Introduce Red For Warmth
Red is a warm and inviting hue, making it the perfect choice for your bedroom. Whether you're looking to create a romantic oasis or an energetic space, red bedrooms can do both.
Adding in different shades of red will give your bedroom extra depth and character. For instance, lighter hues like coral have a calming effect, whereas deeper shades like burgundy can be more energizing.[1]
Red Can Be Applied In Both Prints And Plains
Red florals, gingham checks, or even animal prints can all work well as feature walls or accent pieces such as cushions and rugs. Plain fabrics with a hint of red can also look stunning in curtains and bedding.
When decorating with plain colors, you can use red as either a main or an accent color. Plain colors tend to be easier to match between items like rugs and curtains so you don't have to worry about clashing patterns. A two-tone effect using a reddish hue as the main color and an accent like white or cream can look stunning, while a bolder effect might be achieved by using bright red with black.[2]
FAQ
What color goes best in a red bedroom?
When it comes to red bedroom ideas, you have a lot of options when it comes to complementary colors. White and black are classic choices that will provide a clean, crisp look. If you want a more vibrant feel to your room, consider adding a pop of yellow or green for some contrast. A light grey is also an excellent choice for a more subtle look. No matter what color you choose, be sure to balance it with softer tones of the same color in order to avoid overwhelming your space.
How to decorate a room with red?
There are several ways you can decorate a room with red. Adding accents such as artwork, rugs and throw pillows in shades of red or coordinating colors is an easy way to add pops of color without overwhelming the space. You can also incorporate red furniture pieces into the room, like chairs and ottomans which will give your room a polished look. Don't be afraid to experiment with different styles and textures to create a unique space that reflects your personal style.
What Colour is best for the bedroom?
When it comes to bedroom color, the best option is to choose a soothing and calming shade. Blues, grays, and neutrals are all great options for creating a tranquil atmosphere. If you're looking for something with more energy, consider adding an accent wall in bright red or other lively color – just remember to balance it out with softer tones.
What colors make you sleepy?
Cool colors such as blues and greens are great for creating a calming atmosphere that will help you drift off into sleep. If you're looking for something with more energy, warm colors such as reds and yellows can be used to give your bedroom some life. It is important to keep in mind that if you choose vibrant tones, you should still balance them out with softer shades in order to avoid overwhelming the space.
What color bedroom attracts love?
The color of your bedroom won't necessarily attract love, but it can create a romantic atmosphere. Soft pinks and purples are great choices for creating a cozy and inviting environment. Alternatively, you could also choose a vibrant red which will give the room an energetic, passionate vibe. Both tones can be balanced with neutral colors such as white and gray in order to create a harmonious space.
What does the color red mean in a bedroom?
The color red is often used to symbolize passion and energy. When it comes to bedroom decor, incorporating shades of red can help create a vibrant and exciting atmosphere. Red can also be used to evoke feelings of strength and confidence, making it a great choice if you're looking for something that will make you feel empowered.
What color makes you feel romantic?
Soft colors such as pink, lavender, and peach are all great for creating a romantic atmosphere. Incorporating vibrant shades of red can also evoke feelings of passion and energy, making it an ideal choice if you're looking to create a space that is both energizing and cozy. Whatever color you choose, make sure to balance it out with neutral tones in order to avoid overwhelming the room.
Useful Video: Red Wall Color Bedroom II Red Wall Color Combination
Conclusion
When it comes to red bedroom ideas, the possibilities are truly endless. With the right design choices, you can make a bold statement in your space and create an inviting atmosphere for yourself or guests. Whether you're looking to introduce modern accents with vibrant tones or prefer to keep things minimalistic with neutral shades, there are plenty of options available to fit your style. When in doubt, remember that color can be used strategically to draw attention to specific elements and create a cohesive look for the entire room. With these red bedroom ideas in mind, you can transform any space into a comfortable and stylish haven of relaxation. Good luck!
References:
https://www.thespruce.com/red-bedroom-ideas-350602
https://www.homesandgardens.com/bedrooms/red-bedroom-ideas