Are you looking to spruce up your bedroom with beautiful wall murals? If so, you've come to the right place! In this article, we will discuss some amazing bedroom mural ideas and provide answers to commonly asked questions about wall murals. With the help of this guide, you can transform your bedroom into a beautiful and unique space.
Stunning Wall Mural Ideas to Try
Wall murals can be a great way to add color and texture to any bedroom. Here are some of our favorite mural ideas that you can easily recreate at home:
 Floral Wallpaper – If you're looking for something with an elegant and timeless look, floral wallpaper is the perfect choice. From delicate roses to bright poppies, you can find a mural design to suit any style.
 Nature-Inspired Murals – Channel the beauty of the outdoors with murals featuring lush forests, stunning sunsets and even underwater scenes. Whether you choose a realistic or more abstract design, these wall murals will create an inviting atmosphere.
Vintage Posters – Add a touch of nostalgia to your bedroom with vintage posters in classic styles such as Art Deco or Pop Art. You can find vintage posters in all kinds of colors and patterns, so you're sure to find one that fits your unique style.[1]
Terrific Terrazzo
Terracotta tiles have long been a popular choice for bedroom wall murals, but if you want something more modern and unique, terrazzo is the way to go. With its bright colors and eye-catching pattern, this style of decorative tilework can make any room feel lively and inviting. Plus, it's easy to customize colors and patterns to suit your individual style. To create a one-of-a-kind look, consider combining various shades of terrazzo tile with other materials like metal, wood, or even glass. The results will be a truly stunning mural that's sure to turn heads![1]
Leafy Entryway
If you're looking for something a little more natural, why not try creating a leafy entryway in your bedroom? This is perfect if you want to create an inviting atmosphere as soon as guests enter the room. Start by adding a border of leaves or flowers around the door frame and then continue with larger plants on one side of the wall. You can also add some vines to the wall for a more magical touch.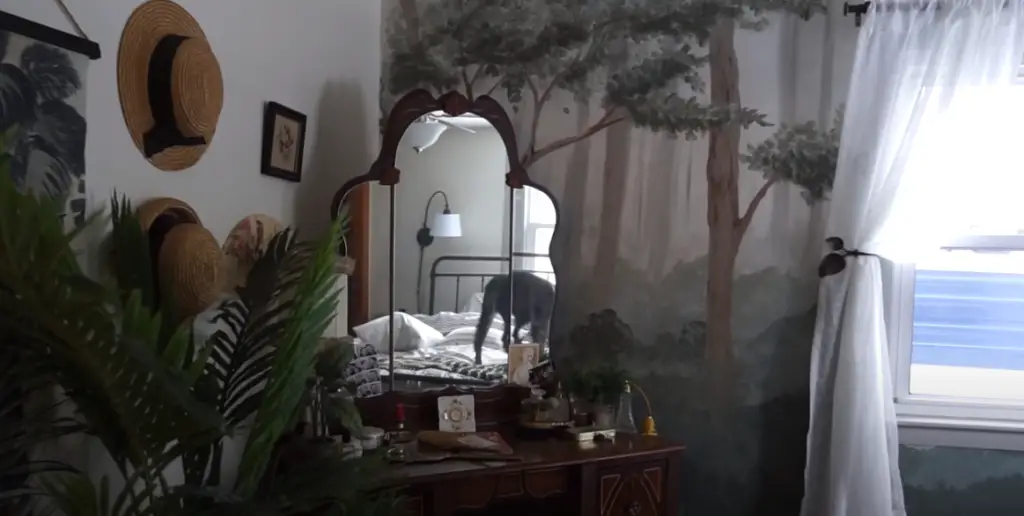 If you're feeling creative, you could even use paint to create a beautiful foliage pattern on the walls! Just make sure you use light colors, which will make it easier to transition between day and night settings. To complete your mural, add some small details like birds or butterflies to make your entryway even more special.[1]
Blissful Birds in the Bedroom
A Birds and Flowers design is a cheerful mural feature that can bring joyous life to any bedroom. Whether you choose watercolor birds fluttering along the wall or a traditional style of line art, birds add movement and color to the room. Incorporate flowers in between branches for an eye-catching composition. You could also go bolder in color and include a few birds of paradise amongst the mix![1]
Black and White All Over
If you are looking for a simple yet sophisticated look, why not try black and white? This timeless combination looks stylish in any room of the house, but particularly striking when used in a bedroom. Whether you create a bold statement with an oversized wall mural or just add some subtle touches with paint or accessories, the result is guaranteed to be stunning.
A great way to incorporate black and white into your bedroom is to use it on the walls, either with paint or wallpaper. If you opt for wallpaper, try a large-scale pattern that stands out against the wall; this will create an interesting feature that will become the focal point of the room. For those looking for something more subtle, use a combination of neutral tones and white accents that will add depth to the overall design.[1]
Mountain Region
Mountain region murals create a peaceful atmosphere in any bedroom. Whether you're looking for an alpine landscape or a majestic mountain range, you'll be able to find something that fits your style. For those who don't have the time or resources to take a trip to the mountains, they can still enjoy the experience by incorporating a mountain mural into their bedroom.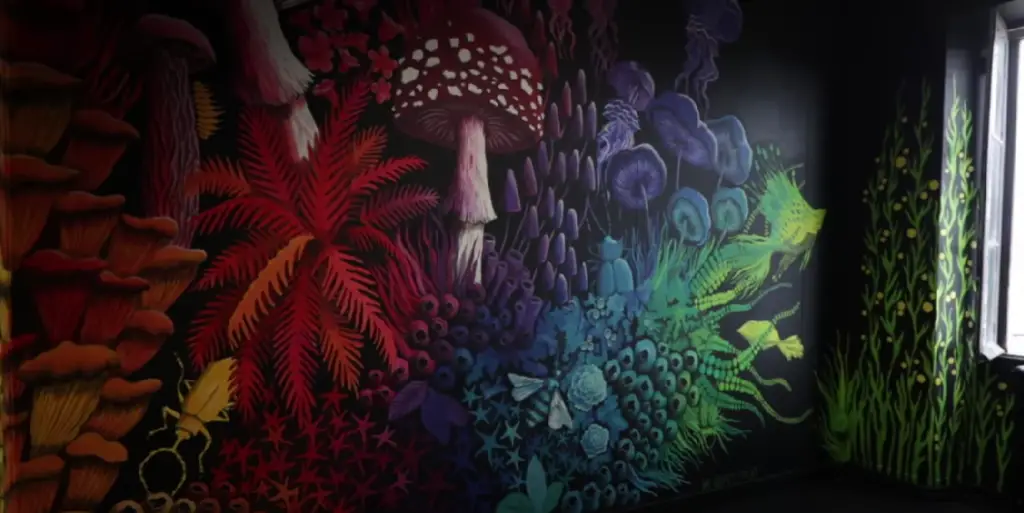 Mountain region murals are an excellent way to connect with nature without having to leave home. They can help reduce stress and create a calming ambiance in the bedroom. Some popular designs include scenic views of grand mountain ranges, snow capped peaks, or even alpine forests. The possibilities are endless when it comes to mountain region murals.[1]
Wavy Wonder
Waves can bring a calming vibe to your bedroom. Whether you go with real ocean waves or abstract shapes, the right colors and textures can make all the difference. To create this look, use different shades of blues and greens to give an underwater feel. You can even add gold accents to represent sunlight filtering through the water. For extra texture, add foam-like shapes in white and off-white for a realistic effect.[1]
Majorly Geo
If you're looking for a fun way to spruce up your bedroom walls, why not try out some geo mural ideas? Geometric shapes and patterns are big in the decorating world right now, and they can be used to create a unique look for your bedroom.
[1]
Natural Nook
If you are looking for a peaceful, tranquil atmosphere in your bedroom, why not try a nature-inspired mural? Bring the beauty of nature indoors with a mural that features lush foliage, rustic landscapes or serene water scenes. Create a stunning accent wall featuring stunning mountain views or a calming beach scene. If you want to make an even bigger statement, you can create a full-room mural that wraps around the entire bedroom. To ensure your mural looks its best, make sure to use high-quality paint and an experienced artist.[1]
Boho Style Beauty
If you crave an eclectic, natural look in your bedroom oasis, then boho-style murals are just the thing! These designs often feature large-scale floral prints, colorful birds and landscapes inspired by nature. To get a classic bohemian vibe, use colors like deep greens and purples to add warmth to the room. For a more modern look, try incorporating crisp whites and blues with geometric shapes. Whichever way you choose to go, boho mural art will give your bedroom the perfect touch of free-spirited beauty.[1]
Child's Play
Kids love to have their bedroom decorated with fun and creative murals. There are plenty of ideas that will brighten up any child's room with vibrant colors, whimsical designs or interactive elements like chalkboard paint.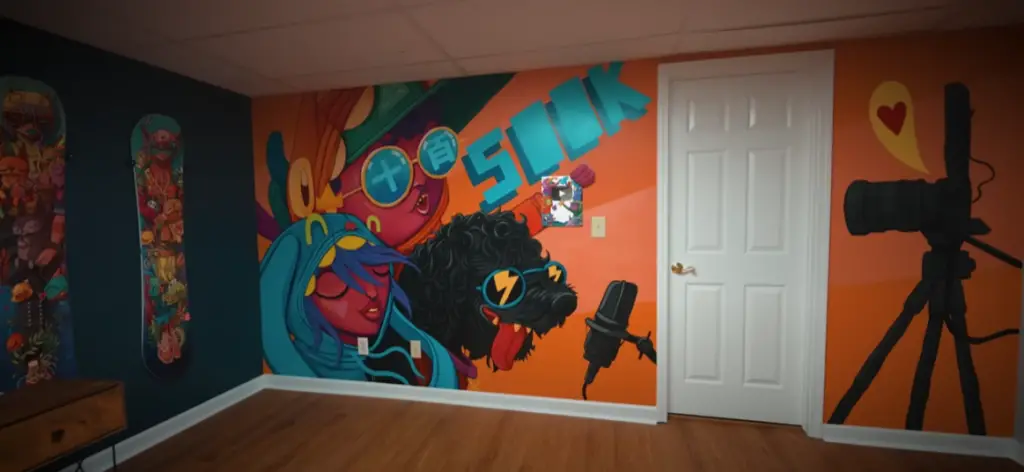 Murals featuring popular characters from films and books can be a great way to bring some life into the room. You can even paint a full wall to recreate the look of an enchanted forest or a magical kingdom. It's also possible to create custom murals with personalized drawings that your child will love for years to come.
With a few simple supplies such as chalkboard paint, stencils, and some colorful paints you can easily create a fun mural that kids will love to play on.[1]
Subtly Leafy
If you're looking for something chic and modern, consider a mural of leafy branches on your bedroom wall. A subtle black and white image will make any room look elegant, while more vibrant colors can make a dynamic statement. Adding simple or intricate details like tiny flowers or birds to the leaves gives it an extra special touch.
If you're feeling particularly creative, consider painting a mural yourself. It's a great opportunity to explore your own sense of creativity and style by designing something unique. Not only that, it could be the perfect chance to bond with family or friends, while creating something quite special for your bedroom.[1]
Chic Stairway
Stairway murals can be a great way to add character and personality to any bedroom. The extra height of the mural gives you the opportunity to create unique designs that will draw attention from anyone in the room. Plus, it won't take up valuable wall space, allowing you to choose paintings or artwork to hang elsewhere.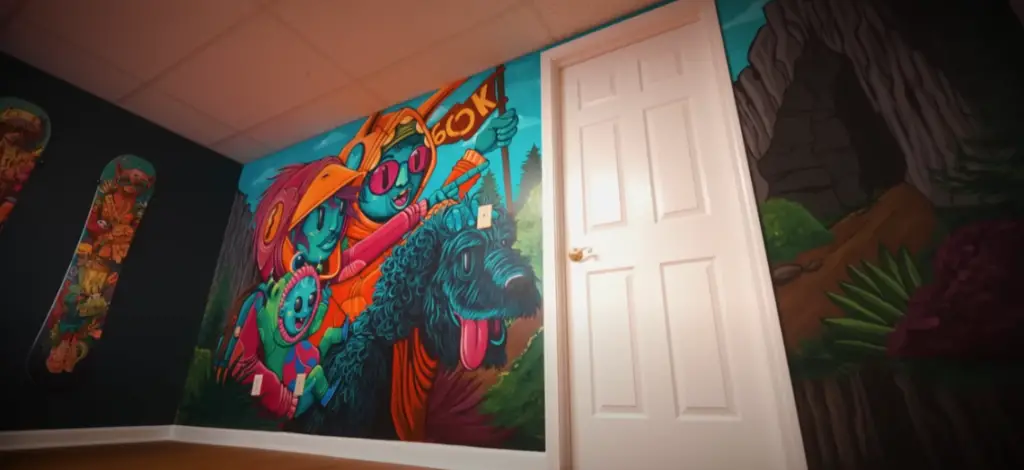 When creating a stairway mural, you want to consider the color scheme and design of the room. Think about how the mural will fit with your existing colors and furniture pieces. The most popular design choice for stairways is wallpaper or paint; however, there are plenty of other options such as decals or fabric panels if you're looking for something a bit more unique.[1]
Two-Toned Twist
A two-toned wall mural adds a unique twist to any bedroom. Choose two contrasting colors that work together in harmony. An interesting take on this idea is to use one bold color for the top half of the wall then opt for a more subtle shade for the bottom. The division between the two will give your bedroom an eye-catching look that blends in with the rest of your decor. For an added pop of color, choose a coordinating paint color for the trim around the wall mural.[1]
Stripy and Spirited
One fun mural idea for your bedroom is to create a striped pattern. Stripes can be used in many different ways and provide endless opportunities for creativity. You might want to pair stripes with other elements such as polka dots or abstract shapes, or just use them on their own. To get the most out of this idea, choose colors that you love and that make sense with the decor of the rest of your bedroom.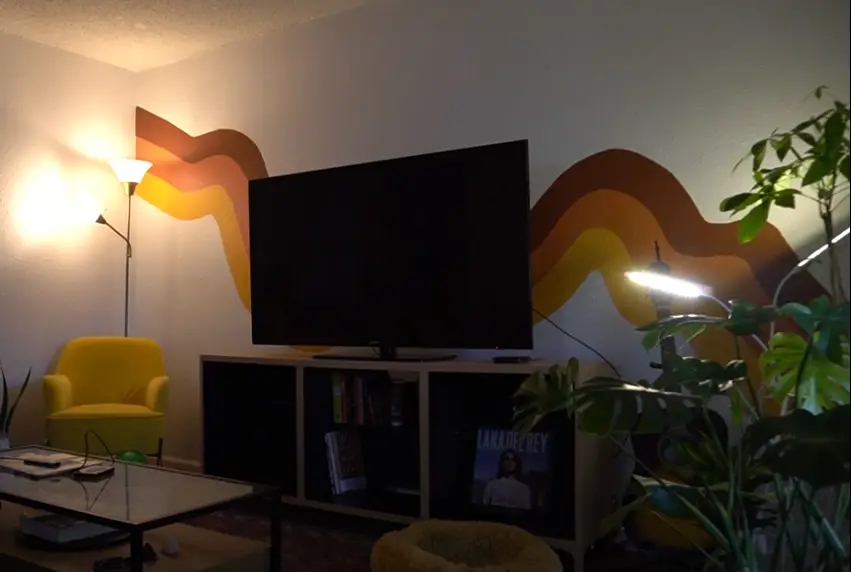 Another option for a mural is to choose something more abstract, like spirals or trees. You can find a variety of ideas online or just let your imagination run wild. Choose colors which are meaningful to you and draw inspiration from nature if you want your mural to be peaceful and calming.[1]
Snake-Like Style
If you're feeling a bit daring and want to make an impact in the bedroom, why not try creating a mural with snake-like lines? This idea is perfect for making your bedroom look more mysterious and intriguing. You could use a combination of colors to create a unique design that will be sure to draw attention. Just make sure that you measure the wall carefully before you start, as you don't want to end up with a mural that is too large or small![1]
Neon Kitchen
A great way to spruce up your kitchen is with a neon kitchen mural wall. This style of artwork can add an element of fun and glamor to the area, while also drawing the eye in and making a very dramatic statement. Neon art can be used to make patterns or it can be used as accents around cabinets or appliances. It can also be used in combination with other types of paint finishes to create a unique look that will stand out in the kitchen.
When creating a neon kitchen mural wall, you'll want to make sure that you choose colors that are complementary to the overall color palette of your kitchen. You can use traditional neon colors such as pink, green, yellow and blue. Or you can opt for more daring colors such as purple, orange and red. You'll also want to make sure that the lighting in the room is bright enough so that your mural will be visible during the day.[1]
Creatively Inclined
If you're feeling creative and your bedroom could use some sprucing up, wall murals are an ideal solution. They can add a unique touch to any space and can be customized to fit your individual style. With a variety of mural ideas available, it's easy to find something that will make your bedroom look amazing.[1]
Laundry Room Love
Having a room dedicated to laundry isn't the most exciting place in your home, but you can make it fun and functional with some eye-catching wall murals. Whether you want something abstract or are looking for a specific theme, there are plenty of ideas to choose from that will spruce up your laundry room and make it look great![1]
Ravishing Rainbow
For a brilliant, vibrant, and cheerful look, why not consider a rainbow mural? Rainbows are associated with happiness and joy. They can bring in an overwhelming feeling of bliss to your bedroom walls. If done well, the cool-toned vibrancy of the rainbow will be complemented by hues of warmth that will create a balanced look for your bedroom. You can choose either to paint a rainbow in its traditional style or add some life to it with cartoon characters and clouds, depending on your preferences.[1]
Artsy Arch
If you are looking for an artistic touch to your bedroom, why not consider adding an archway mural? An archway mural is a unique and beautiful way to introduce some art into your space. It can be used as a focal point of the room or simply add some interest to an otherwise plain wall. Plus, there's endless possibilities when it comes to designs and colors.
When selecting an archway mural for your bedroom, there are a few things to keep in mind. First of all, the size of your wall needs to accommodate the size of the mural.
Secondly, consider the colors you want to use. Bright and bold colors can make a dramatic statement, while muted tones can create a more calming atmosphere in your bedroom. Lastly, think about the theme of your mural. Whether it's abstract art or something more realistic, selecting a theme will help narrow down your choices.[1]
FAQ
How do you style a white bedroom?
Adding color to a white bedroom is the best way to style and give it some personality. One popular option is adding a mural or wallpaper behind your bed as a focal point that will bring life to the room. Paint colors, fabrics, and accents can all be used to create an inviting atmosphere. Just make sure that the colors you choose complement the white walls and furniture in the bedroom. You can also try adding texture with rugs, pillows, and throws to make the room feel cozy and inviting.
Is gold good for a bedroom?
Gold is a great choice for adding warmth and luxury to any bedroom. It can be used as an accent color or you can use it in more creative ways, such as a mural. Rich gold tones will give the room an opulent feel and look stunning against white walls and furniture. Keep your accessories like bed linens, rugs, and curtains in neutral colors to balance the gold elements.
How to design a bedroom with white walls?
White walls are a great backdrop for bringing in any color scheme you wish. Try creating a focal point in the room with a unique wall mural, wallpaper, or painting. You can also choose to paint one wall in an accent color or use accents like rugs and pillows to add some texture to the space. Keep your furniture simple and elegant, and use light fixtures and accessories for added style. With the right design elements and colors, you can turn your white bedroom into an inviting oasis.
What Colors go well with white in a bedroom?
White is a classic color that goes well with just about any other color. To make the most of your bedroom's white walls, try adding colors like blue, gray, or gold for a modern look. You can also create dramatic contrast by pairing white walls with dark colors like navy and black. If you're looking to create a more calming atmosphere, try using pale pastels or subtle shades of green and pink. With the right color combination, you can make your white bedroom anything from a chic haven to a cozy retreat.
Which color combination is best for bedroom walls?
The best color combination for bedroom walls really depends on your personal preference. That being said, light and airy colors like white, cream, and light blues are always popular options as they can create a peaceful atmosphere in the room. If you're looking to make a bold statement, you can use vibrant colors like red or yellow to create a dramatic look. For something in between, try using neutral shades like gray or brown and then adding pops of color with wall art or bedding.
What is the happiest color for a bedroom?
Happiness is a subjective emotion, so the happiest color for your bedroom really depends on what you find cheerful. That being said, most people find that cheerful colors like yellow, orange, and green can bring a bright and sunny vibe to the room. Pastels shades of pink and blue are also popular when it comes to making bedrooms look brighter and more cheerful. Whatever color you choose, make sure it reflects your personal style—that's what will bring the most happiness to your bedroom.
Should bedrooms be darker or lighter?
This again depends on personal preference, as some people prefer to make bedrooms darker and more cozy while others love bright and airy spaces. If you're looking for a balance between the two, try using lighter colors like white or pale blues for your walls and then adding darker accents with wall art or furniture pieces. This will give your bedroom a calming atmosphere while still allowing you to add pops of color and texture.
What is the most popular bedroom color?
The most popular color for bedrooms is typically some shade of blue. This can range from pale hues like baby blue to deeper shades like navy. Neutral colors like gray, white, and beige are also popular as they give the room a calming atmosphere while still allowing you to add pops of color with artwork or accessories. Whatever color you choose, make sure it reflects your personal style and brings a peaceful feeling to the room.
Useful Video: I Re-Paint the SAME WALL every 100k Subs! (House Mural)*
Conclusion
Creating a bedroom mural can be an enjoyable and creative experience that is sure to make your bedroom look unique. Don't be afraid to try something new or out of the ordinary. Whether you choose a large-scale wall painting, wallpaper decal, or simply add some inspiring wall art, adding a mural can bring life and energy into your room. With just a few simple steps, you can create your own one-of-a-kind mural for your bedroom. Best of luck in creating the perfect bedroom mural!
We hope this article was helpful in providing you with inspiration and tips on bedroom mural ideas that will make your space come alive. If you have any other questions or further suggestions, feel free to reach out and let us know! We're here to help.
Happy decorating!
References:
https://www.thespruce.com/wall-mural-ideas-to-try-6751847