If you're looking for ways to give your master bedroom a makeover without breaking the bank, look no further than accent walls! Accent walls are an easy and affordable way to add a pop of color or texture to any room. From bold murals to paint and wallpaper, there are plenty of creative options when it comes to accent walls for your master bedroom. In this guide, we'll discuss the basics of master bedroom accent wall ideas, answer some frequently asked questions, and provide some useful tips to get you started on creating your own unique design.
Choose a wall that will make the most impact.
When deciding on a wall to use as an accent, it's important to consider the overall dimensions of the room. The wall should be large enough that it will make a statement without overwhelming the entire space. If you have a larger master bedroom, then you have more flexibility in choosing which wall to use but for smaller rooms, try to pick a larger wall that will make the most impact.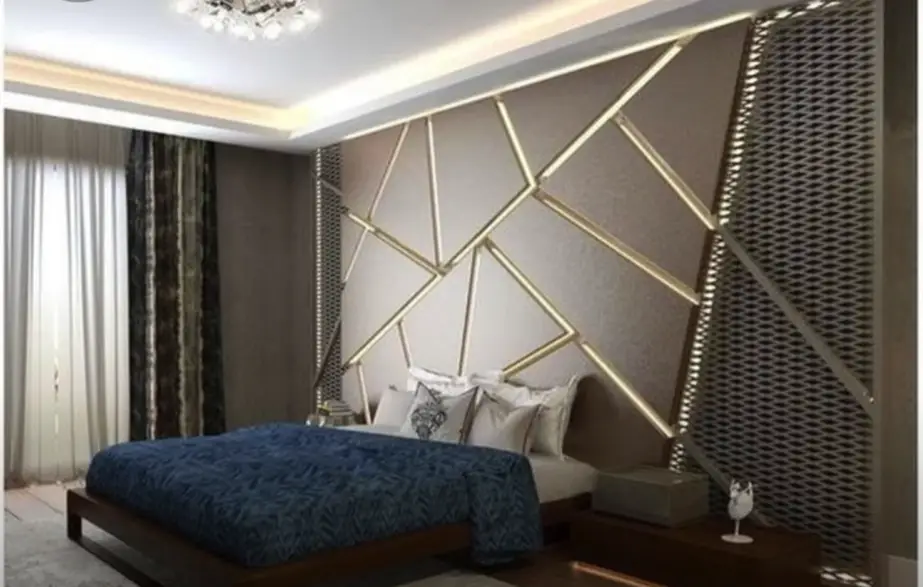 Another thing to consider is the direction in which you want your accent wall to draw attention. Is it meant to anchor the space or draw eyes towards the bed or other focal point? Consider the orientation of furniture, windows, and doorways when selecting an accent wall so that its presence does not overpower the flow of the room.[1]
Paint or wallpaper the chosen wall in a bold color or pattern.
When it comes to creating a master bedroom accent wall, painting or wallpapering is the most popular approach. Stick with colors and patterns you love — some of the most popular options include deep blues, grays, bold geometric prints, and soothing watercolor prints. If you want to make a statement, go for something vibrant like yellow, green, or pink. Whatever you decide, make sure the color ties in with the other walls and furniture to create an overall cohesive look.[1]
Main Tips For Bedroom Accent Walls
Find an Accent Wall That Complements Your Existing Decor – Whether you have a modern or traditional bedroom, finding an accent wall that complements your existing decor is key to creating a cohesive look. Consider using wallpaper, stencils, wood paneling, fabric, or another material to really make the wall stand out.
Create a Theme – Give your bedroom an overarching theme by using the accent wall to set the tone. You can choose to go bold with bright colors and patterns, or you can opt for a more subtle approach with wallpaper featuring designs that are softer and calmer.
Add Unexpected Depth With Color – If you're looking for a way to add depth and texture to the room, consider painting the accent wall in a deeper hue than the rest of the walls. This will give your bedroom an intriguing look that you can customize even further with different materials or textures.[1]
Modern Accent Wall
Accent walls are an easy way to add a modern touch to your master bedroom. Whether you're looking for an eye-catching geometric design, colorful paint, unique wallpapers, or creative tiles – the possibilities are endless! Here are some of our favorite modern accent wall ideas:
 Create a bold statement with abstract art. Choose a bright, colorful piece of artwork that stands out against the wall and draws attention to itself. You can also opt for a mural or wallpaper to create an even bolder statement.
Use geometric shapes in your design. Whether you want to go with triangles, squares, circles, or something more abstract – this is an easy way to add some modern flair to your master bedroom.
 Opt for a minimalist approach by keeping the wall as simple as possible. Use neutral colors and one or two accent pieces to create a subtle yet sophisticated look.
 Try out a colorful paint scheme. Paint one wall in a bright, vibrant color like yellow or orange and balance it with neutral-colored walls for a modern, unique look.
 Play around with different textures and materials to give your wall depth. Consider adding wood planks or metal pieces in varying shapes and sizes for an interesting effect.[1]
Wallpaper Accent Wall
Wallpaper is one of the simplest ways to create an accent wall in your master bedroom. You can choose from a wide variety of wallpaper colors and patterns, which will help you achieve the look you want. One thing to keep in mind when using wallpaper for your accent wall is that it can be difficult to remove and replace if you don't like the look. If you're unsure about using wallpaper, consider starting with a smaller area or only covering one wall instead of all four walls.[1]
Wooden Accent Wall
Wooden accent walls are a classic and timeless choice that instantly adds warmth and texture to any master bedroom. You can choose to have one larger piece of wood, or go for an interesting mosaic pattern with small pieces of different types of wood. Depending on the type of wood you use, you can also add stain for a more dynamic look.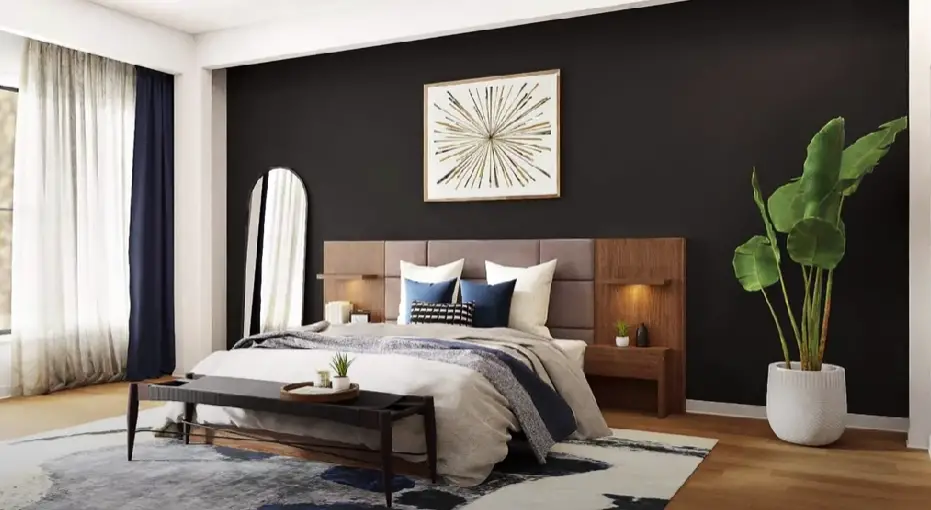 Wooden accent walls are quite easy to install, you can even do it yourself! However, if you're not a DIY pro, it's best to call up an expert. There are also plenty of options available for pre-made wooden accent walls that can be easily installed in your bedroom without much fuss.[1]
Modern Art And Tapestries
Modern art is a great option for your master bedroom accent wall. Artwork can add personality to the space and brighten up your walls.
Tapestries are available in all sorts of colors and styles, so it's easy to find one that complements your design. Hang the tapestry on a wall and place a few wall sconces around it to create an eye-catching display.
Another great way to incorporate modern art into your accent wall is to hang framed photographs. Pick out photos of family members, friends, or beautiful places you've been and frame them to create a collage. This will add a personal touch to your master bedroom and make it feel like home.[1]
Embedded Wall Storage
If you're short on storage space, but don't want to sacrifice style in your master bedroom, consider building some extra storage into an accent wall.
You could also create a display feature with the shelves, such as displaying your favorite books or art pieces. With the right design and materials, you can make an embedded wall storage feature look elegant and luxurious.[1]
Curtain Accent Wall Ideas
If you're looking for an accent wall idea that will really make a statement in your master bedroom, then consider creating a curtain accent wall. This option gives you the opportunity to completely transform the look of any room with minimal effort and expense.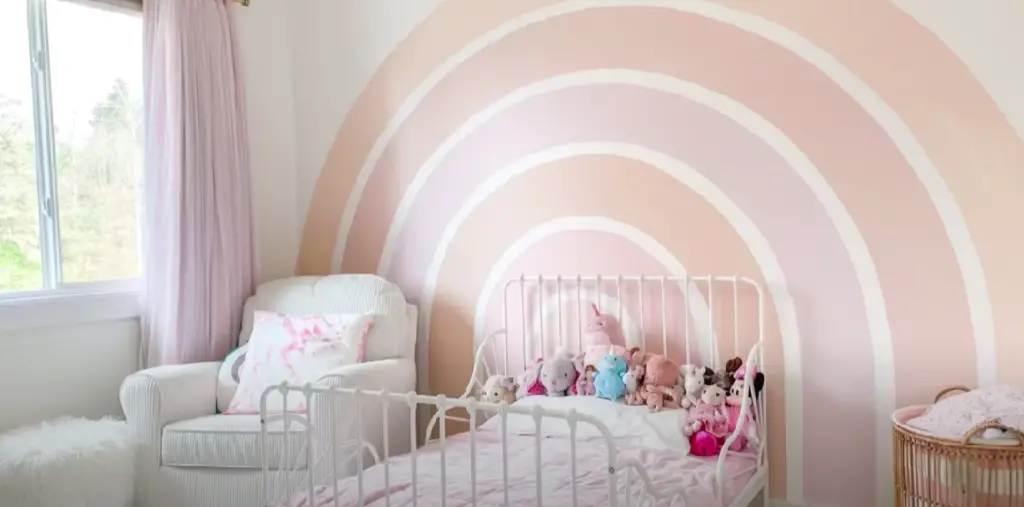 To create this look, simply hang long curtains from the ceiling to floor along one wall. You can hang them from a rod above the window, or directly onto the wall using curtain rods and hooks. Consider adding some accent lighting to really make the wall stand out and draw attention to it.
When choosing curtains for your master bedroom, consider opting for a bold pattern or color that will help create a focal point in the room. You can also layer them in different materials to create a more textured look. If you're feeling really bold, try creating an ombre effect with the curtains by starting with one color at the top and gradually transitioning to another at the bottom.[1]
Mirror Gallery Wall
When you're looking for a statement piece that is both stylish and functional, look no further than a mirror gallery wall. A mirror gallery wall makes use of multiple mirrors to create an eye-catching focal point in your bedroom. Mirrors reflect light and can help to open up the space while still making a bold design statement. You can get creative with the placement of your mirrors, playing around with different shapes and sizes to create a unique look. To complete your accent wall, you can add other decorative elements such as art pieces, shelves or even a floating headboard. With a mirror gallery wall, all eyes will be sure to turn towards it![1]
Black Accent Wall with Photos
A black accent wall provides a bold, eye-catching look in the master bedroom. To make it even more special, you can add some framed photos of your family or favorite places to create a warm and inviting atmosphere. You might also consider adding shelves around the room to display small items and decorations that reflect your style. For an extra touch, you can hang some floating shelves on the wall and add a few plants for a cozy feel. When done correctly, a black accent wall with photos is sure to be an interesting and unique addition to your master bedroom.[1]
Molding Wall Decor
Molding wall decor is a great way to create an accent wall in your master bedroom. Not only does it give the room texture and dimension, but it can also help to tie together different pieces of furniture or décor. If you're not familiar with molding, it is basically a strip of wood that has been pre-cut for decorative purposes. You can paint the molding to match your décor or stain it for a more classic look. Consider installing the molding around the perimeter of the room, or just in certain areas to create an interesting focal point.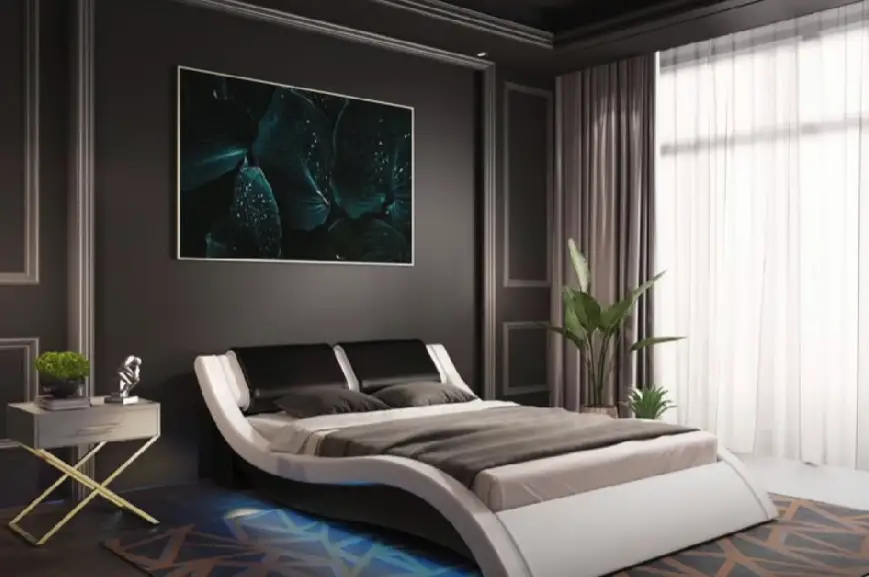 To get started, figure out which wall you would like to decorate and measure the length and width of the wall that you want to cover. Then, decide what type of molding you would like to use for your accent wall. You can find a variety of styles at your local hardware store, or you may even be able to order custom pieces online.[1]
Wall Lighting
In addition to the accent wall itself, you can choose to light up your master bedroom further with some lovely wall lighting. Wall sconces are particularly popular in bedrooms due to their low-profile design and warm ambient glow.
You can even find sconces that have dimmer switches, so you can adjust the lighting in your room to suit your mood. Moreover, you don't have to worry about cluttering up your accent wall with an array of lamps and wires. Wall lights are a great way to make sure that all parts of the bedroom—including the accent wall—are well illuminated.
If you prefer a more subtle approach, you can opt for some fairy lights or LED strips instead. These are also easy to install, and they provide a soft and ambient lighting that is perfect for creating an intimate atmosphere in the bedroom.[1]
Master Bedroom Entire Wall Bookshelf
If you're looking for a truly unique accent wall idea, why not extend the look to an entire wall and turn it into one giant bookshelf?
This is a great option for those who love to read and collect books. It will also give your master bedroom a cozy, library-like feel. To save space, go for floating shelves, and if you're feeling creative, arrange them in a pattern to really make the wall stand out. You can also add a few decorative items like candles or flowers on the shelves.[1]
Other Accent Wall Ideas
The possibilities for creating a stunning accent wall in your master bedroom are endless. Even if you're not sure what look you want to achieve, there are plenty of ideas to get you started.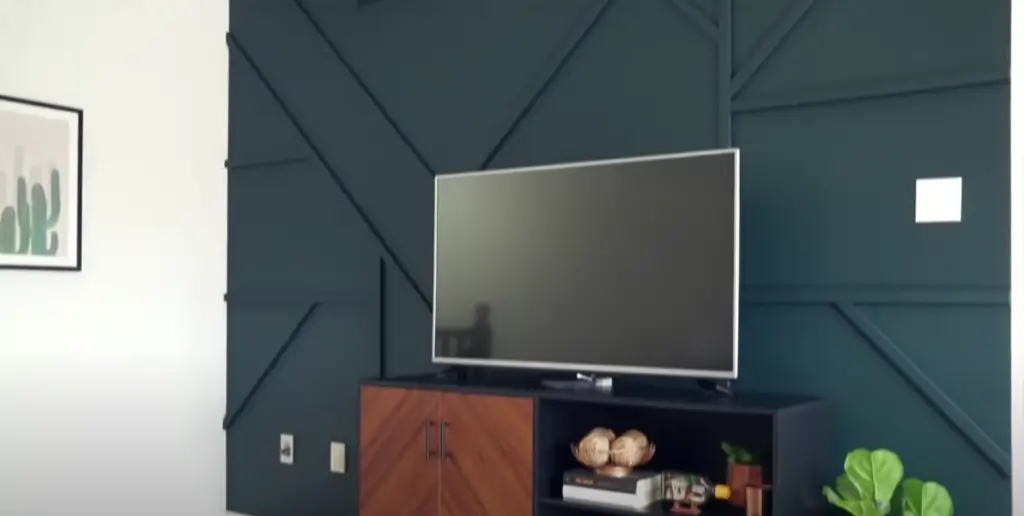 If you love the modern rustic look, consider distressed wood panels on one wall and paint the rest white or off-white. You can also use reclaimed wood with a light stain for an on-trend look that will last for years to come.
If you're looking for something more classic, try a bold color like navy blue, or paint one wall with a dark charcoal hue and the other walls white or off-white. To add texture, try white paneling with a dark stain or a textured wallpaper.
You don't have to stop at painting either. You can give your accent wall some extra pizzazz by adding an interesting pattern such as chevron, stripes, or diamonds. Or you can go for something more subtle like a distressed brick design.[1]
FAQ
How to do an accent wall in the master bedroom?
An accent wall is a great way to give your master bedroom a modern and stylish look. To do an accent wall, start by deciding on the type of material you want to use, such as paint, wallpaper, fabric or wood paneling. You can also choose to go with a single color or multiple colors for a more dynamic look.
What is the best accent wall for a bedroom?
The best accent wall for a bedroom is one that fits your personal style and complements the rest of the decor. Paint is an easy and popular option, but if you want something more unique, consider using wallpaper or fabric to create an interesting pattern or texture on the wall. You could also use wood paneling for a rustic, cozy look.
What do you put on the walls of a master bedroom?
The walls of a master bedroom can be decorated in many different ways. To create a cozy and inviting atmosphere, consider hanging wall art or photographs. Wall sconces are another great way to bring illumination and ambiance to the room, while shelves can provide a place for books, plants and other decorative items. Mirrors are also popular choices for reflecting light and creating the illusion of more space. Whatever you choose, make sure it reflects your style and adds to the overall aesthetic of the room.
How to create a luxury master bedroom?
Creating a luxury master bedroom involves more than just picking out the right furniture and accessories. To start off, make sure you have plenty of lighting to add ambiance and depth to the room. Painting one wall in an accent color can also bring some extra visual interest and character to the space. Adding rugs to create texture and warmth is another great way to add a touch of luxury. Finally, don't forget to accessorize with artwork, throw pillows and other decorative items that will complete the look.
How can I make my master bedroom special?
Making your master bedroom special is all about creating a space that reflects your own unique style and taste. Incorporating meaningful items, such as family heirlooms or hand-crafted artwork can give the room a personalized touch. Adding unique lighting fixtures or wall art with interesting colors and textures can also make it feel special. Finally, make sure you take the time to find pieces that truly speak to you, as these will be a reminder of your own sense of style each time you enter the room.
How to decorate the master bedroom with Feng Shui?
The principles of Feng Shui are based on the placement and arrangement of objects in a space to create balance and harmony. When decorating your master bedroom with Feng Shui, start by choosing colors that promote relaxation, such as blues or greens. You should also make sure the room is well-lit and clutter-free. Hang meaningful artwork or family photos on the walls, and use furniture that is low to the ground and has curved lines. Finally, keep the bed away from the door so you have a clear view of it when entering the room.
How do I make my bedroom look like royalty?
To make your bedroom look like royalty, start by choosing a color palette of rich tones and textures. Incorporate plush fabrics such as velvet and silk to add luxury and comfort. Hang art that is representative of your style, or invest in some unique furniture pieces that will make the room stand out. You can also add designer lighting fixtures to make the room sparkle. Finally, don't forget to accessorize with pillows and throws for a level of sophistication that will truly complete the look.
Useful Video: DIY $100 Geometric Accent Wall! || LIVING ROOM MAKEOVER
Conclusion
A master bedroom accent wall can be a great way to tie together the design of your room. Whether you're looking for something subtle or bold, there are plenty of options available. Consider the size and shape of your room when choosing an accent wall. You may also want to take into account the other furnishings in the room, such as the bed and dressers.
For a really eye-catching look, try using wallpaper, paint, or even fabric to create an accent wall. You can also explore alternative materials like wood paneling or stone veneer. Take advantage of natural light by choosing lighter colors for your accent wall. Darker shades can be attractive but may cause your master bedroom to feel a bit more closed in.
No matter what type of accent wall you choose, make sure it's something that resonates with you and speaks to your style. That way, you can enjoy spending time in your bedroom for years to come. Good luck!
References:
https://blog.displate.com/bedroom-accent-wall-ideas/