Are you looking for a unique and stylish bedroom design? If so, industrial bedroom ideas may be the perfect choice for you! Industrial bedrooms are all about mixing modern convenience with vintage elements to create an atmosphere of timeless elegance. From bold colors and raw materials, to exposed beams and brick walls, there's something undeniably cool about industrial style.
What Is an Industrial Style Bedroom?
An industrial style bedroom is a modern design that incorporates the use of raw materials, such as metals and bricks, to create an industrial aesthetic. Generally, these rooms feature a minimalistic yet eclectic look that combines elements from different eras. Industrial bedrooms are often characterized by unfinished surfaces, exposed pipes and wires, distressed furniture pieces, and unique lighting fixtures.[1]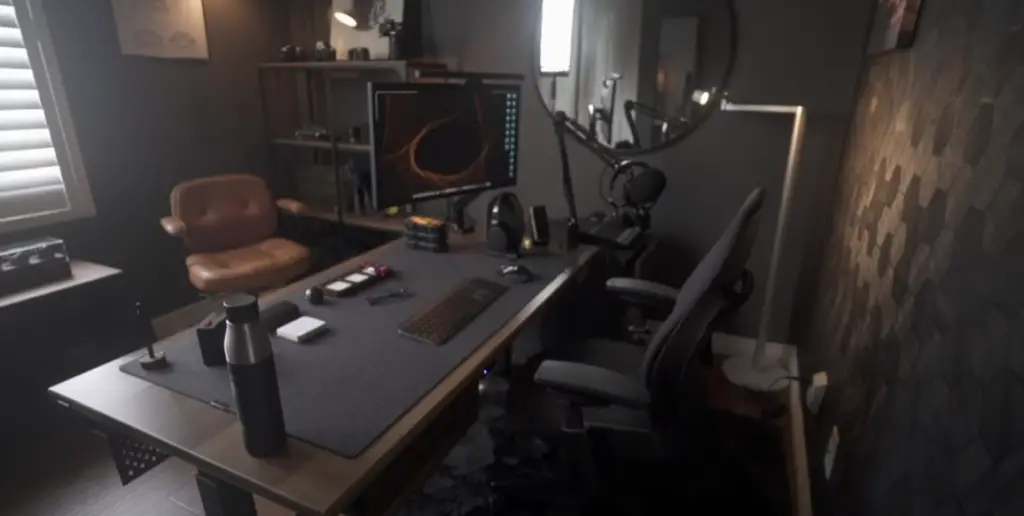 How Do I Set Up an Industrial Room?
Setting up an industrial bedroom can be a fun and creative way to give your space a unique look. Here are some tips to help you get started:
 Choose the right materials – Industrial rooms typically feature raw, exposed materials such as wood, metal, concrete, glass, and brick. These materials help create the perfect atmosphere for the industrial look.
 Incorporate furniture with a rustic touch – Choose furniture in natural or dark wood, metal accents, and leather details. Look for pieces that have an aged, worn-in look to give your bedroom the perfect industrial vibe.
 Opt for neutral color palettes – Neutral colors like black, white, and gray are perfect for creating a cool industrial look. Add depth to the room by incorporating touches of color with accent pieces like wall art or throw pillows.
 Invest in good lighting – Lighting is key in any bedroom design but it's especially important in an industrial space. Install light fixtures with exposed bulbs and go for bold, dramatic pieces to make a real statement.
 Incorporate modern touches – The industrial look isn't just about raw materials and old-fashioned furniture. Add some modern elements like sleek metal bed frames, geometric rugs, and minimalist art to give the room a contemporary feel.[1]
Green and Striped Bedding Set
A green and striped bedding set can really bring the industrial look to your bedroom. Choose a bright or muted shade of green for the duvet cover, then add some contrast with a black-and-white striped sheet set underneath. You can also add a few pops of color by adding some pillows in complementary colors like mustard yellow, navy blue, or burnt orange.
[1]
Sleek Desk Lamp
If you're looking to add a bit of industrial style to your bedroom, one great way to do it is with the perfect desk lamp. Look for something sleek and metallic – think steel, aluminum or other cool metals – in a simple design that won't be too overpowering. This will give your room an edgy, industrial vibe without overpowering the rest of the décor. If you're feeling adventurous, why not opt for an exposed light bulb lamp too – it will look uber-cool and give your room a real modern touch.[1]
Horse Home Accent
Have you ever considered horse home accents for your industrial bedroom? Horse-inspired decor is a unique way to bring the outdoors in and incorporate a bit of country living into any space. A few touches, such as an antique horseshoe above the bed or over the door, can instantly make your room feel more rustic. If you're looking for something larger, a rustic horseshoe wall hanging or a hay bale-inspired wooden headboard can be the perfect finishing touches.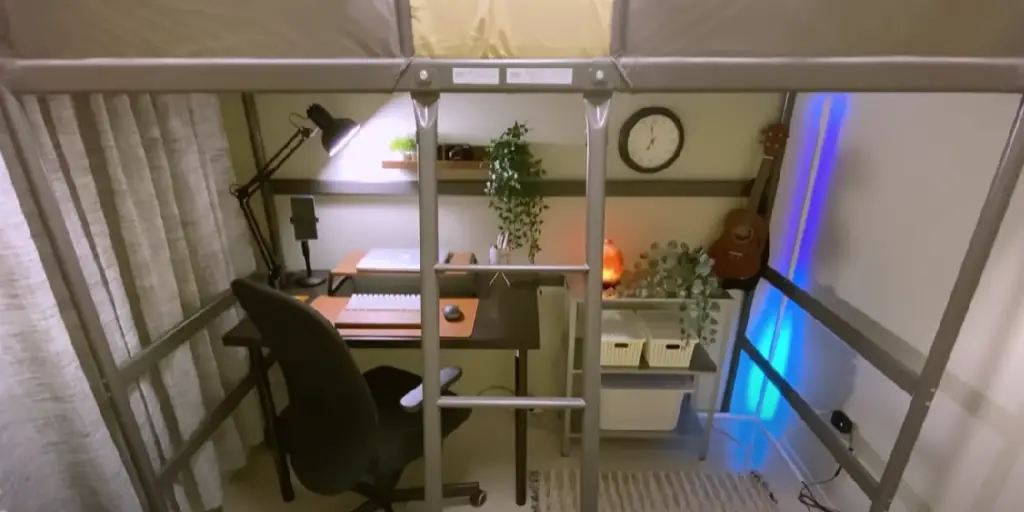 When incorporating horse home accents into your industrial bedroom design, it's important to keep the overall look in mind. Try to choose pieces that are complementary to each other and don't overwhelm the room. You can also add touches of color through cushion covers, throws, or even cowboy-inspired bedding.
As for the horse itself, why not add a stuffed animal version to your bedroom? An antique or vintage rocking horse can be an eye-catching addition to any space and will bring a sense of nostalgia and charm. Or if you're looking for something more modern, consider a life-sized plastic horse or even an inflatable one![1]
Black Office Desk
Black office desks are a great way to incorporate industrial-style furniture into your bedroom design. Choose a desk with metal accents and a glass top or one made from reclaimed wood for an earthy, authentic vibe. If you want something more modern, opt for a sleek black desk with rounded edges and clean lines. Make sure the desk is wide enough to fit a laptop and has plenty of storage for books, papers, and other items you may need. Add some accessories in gold or silver to complete the look. For an extra touch of industrial flair, hang a large wall clock above your desk for a stylish finishing touch.[1]
Leather Box
Leather boxes and baskets are a great addition to any Industrial Bedroom, especially when paired with more industrial-style furniture. These leather boxes and baskets add texture to the room while providing functional storage space for smaller items like books or magazines. Plus, they come in all sorts of shapes and sizes to fit whatever your storage needs may be!
When choosing leather boxes and baskets for your Industrial Bedroom, opt for something that has a rugged look to it. Think distressed leather or antique-looking pieces with metal accents. This will help create the industrial look without the need for any additional furniture or decor.[1]
Wooden Bookcases
Wooden bookcases are a great way to add warmth and style to your industrial bedroom. There are plenty of options when it comes to wooden bookcases, from retro-inspired designs to sleek contemporary styles. A wooden bookcase is also an excellent way to display books, magazines, photos or other items in your bedroom.
When picking out a bookcase for your industrial bedroom, remember to pick one that complements the other furniture and accessories in the room.[1]
Industrial Room Accent
Accent pieces like mirrors, wall art, rugs, and lamps are essential to achieving an industrial bedroom look. Mirrors can be used to open up the room while adding a touch of modern style with their metal frames. Wall art is an easy way to add texture and bold color into your space. Look for artwork that features vintage-inspired details, such as industrial machinery or art deco patterns.
For the flooring and rugs, look for materials that are durable yet comfortable. Natural materials like jute, sisal, or seagrass add a warm touch to any space while adding texture and depth. You can also find synthetic materials that mimic natural fibers, such as faux fur or leather.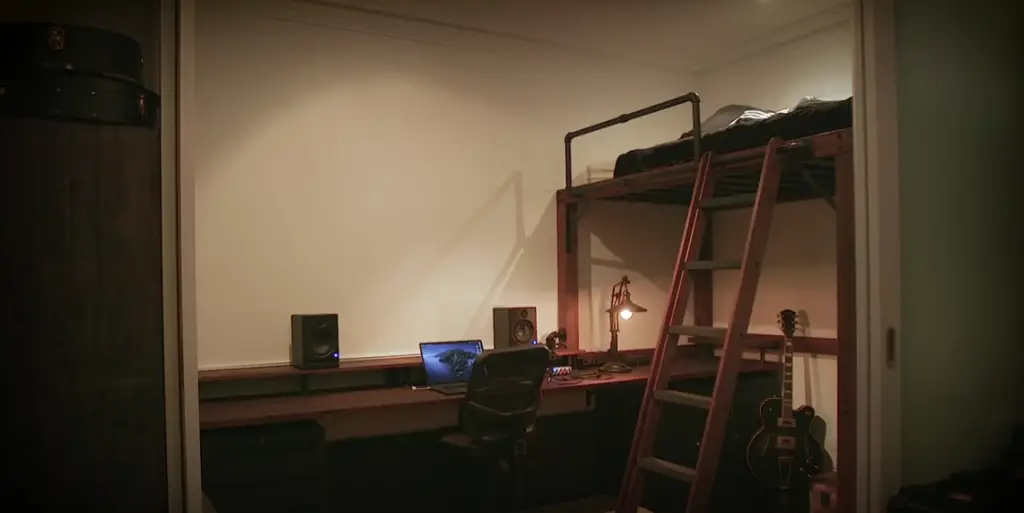 Finally, make sure to add some industrial-style lighting to the bedroom. Choose wall sconces and floor lamps that have metal frames and exposed bulb fixtures for a truly unique look. An industrial ceiling fan can also help to keep your space cool during warm months.[1]
Wooden Room Sculpture
If you're looking to create an industrial-style bedroom, you should consider adding a wooden room sculpture! A wooden room sculpture can add character and texture to your space, while also providing a unique and interesting feature. You can either buy a wooden sculpture, or craft one yourself using reclaimed wood pieces.
When crafting your own sculpture, you can use a variety of woods in different shapes and sizes to create an eye-catching piece. When putting it together, try to make sure that the pieces fit snugly without any gaps or loose parts. You could even add some metal accents for a more industrial feel.[1]
Black Bedroom Desk
Making a black bedroom desk the centerpiece of your industrial bedroom look can be a great way to give it an edgy, stylish touch. The sleek metal lines and minimalistic design make black desks perfect for creating an aesthetic that is modern, yet still has an industrial feel. For those who want to take their industrial bedroom decor up a notch, adding a black desk with industrial details like metal piping, rivets or exposed screws can give the room an extra touch of edginess.[1]
Large Industrial Bedroom
Industrial bedrooms can be a great statement piece. From exposed-brick walls to metal accents, industrial style is all about edgy and modern vibes. A large bedroom provides plenty of space for you to get creative with your industrial decor. Here are some ideas for how to use an industrial design in a large bedroom:
 Invest in statement furniture pieces. Look for industrial-style beds, chairs, and other furniture that have a modern, edgy feel.
 Industrial decor often has metal frames with a raw finish, so look for pieces that incorporate this look. You can also add an area rug to help tie the room together.
 Incorporate lighting fixtures. Industrial-style lighting can be a great way to add an edgy feel to any room. Look for fixtures that use metals, like iron or brass, and feature exposed bulbs or cage frames.
 Hang artwork. Adding art pieces to your walls is always a great way to personalize the look of your bedroom. Look for pieces with an industrial feel, such as metal sculptures or prints of modern abstract art.
 Use accessories. Industrial bedroom accessories can help give any large room a cool and edgy vibe. Look for items like wall clocks, vases, and other decorations that feature raw metals or exposed-brick finishes.[1]
Industrial Bedspread
When it comes to selecting the bedspread for your industrial bedroom, there are plenty of options available. You can choose from a variety of fabrics and textures, including leather, velvet, tweed, or denim. If you want something more unique, try quilted bedding with an exposed zipper. For a modern twist on tradition, try a linen bedspread with an oversized pattern or graphic prints.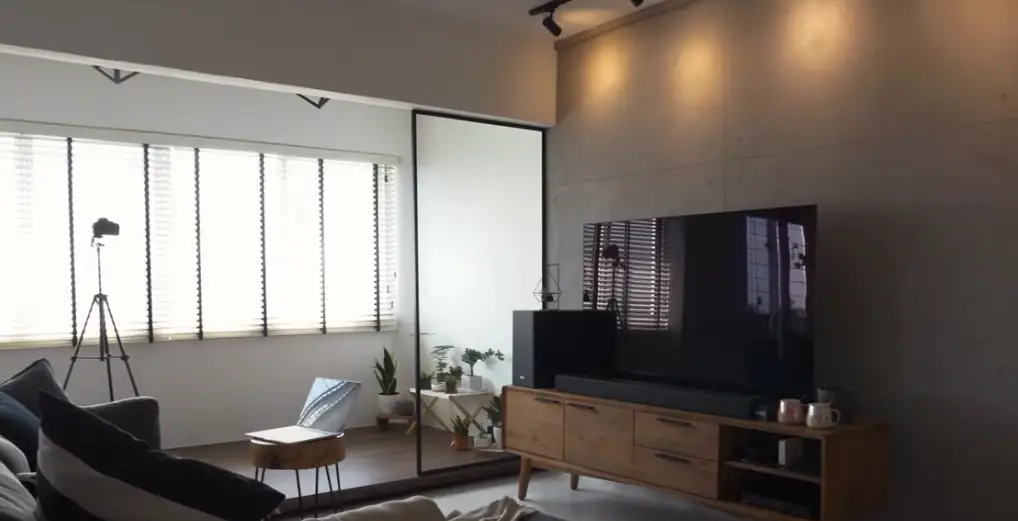 If you want to add some interest to the room, look for printed sheets and pillows with geometric shapes or abstract designs.[1]
Cozy Industrial Chair
Industrial bedrooms don't have to be cold and uninviting. You can make your bedroom cozy with the right furniture choices. One of the best ways to add warmth and coziness is by adding an industrial style chair. It's perfect for curling up after a long day or just relaxing and enjoying some time alone. Look for chairs made of wood with metal accents. You can also pair it with a small, vintage ottoman for extra comfort and style.[1]
Round Mirror
A round mirror is a great way to add character to an industrial bedroom. It can bring in a bit of warmth and make the room feel more inviting. You can hang one directly on the wall or find one that has a base that can be mounted above the bed. If you don't want to use a traditional mirror, there are some other creative ideas like hanging metal discs or galvanized buckets. Whatever you choose, it will add an interesting touch to the room.[1]
Sleek Glass Vase
A glass vase adds a sleek touch to any industrial bedroom. You can add flowers and other greenery to give it an added level of texture. Or, choose a vase with decorative facets that catches the light and brings some extra sparkle to your room. To keep it from looking too modern, opt for antique-style or vintage-style glass vases and accessories.[1]
Industrial Chair Setup
One of the most important components of any industrial bedroom design is the chair setup. Industrial chairs are a great way to add an industrial touch to your bedroom while also being comfortable and stylish. They come in a variety of materials, colors, and sizes so you can find one that will fit perfectly with your room's overall aesthetic.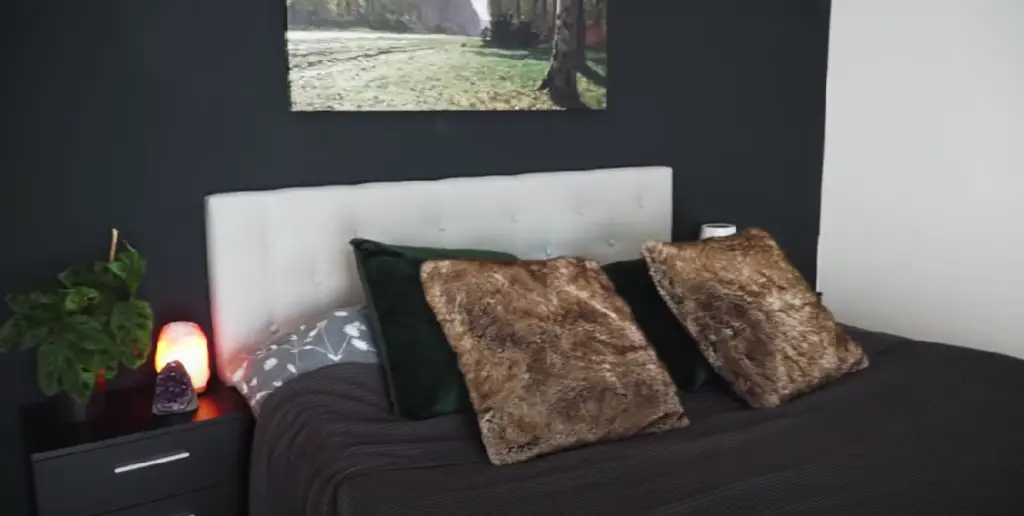 When selecting your industrial chair, make sure to consider the size of the room and any other furniture pieces that will be in the area. Chairs that are too big can overwhelm a space while chairs that are too small can get lost in a large bedroom. Additionally, opt for materials that match your overall style, such as metal or wood.[1]
Classy Bedroom
The thing about industrial-style bedrooms is that you don't need to stick to a strict industrial look to make it work. You can mix and match your favorite elements of industrial style with other decor styles for an eclectic and unique bedroom. Here are some ideas on how you can create a classy, sophisticated space with an industrial twist.
Start with a neutral and simple color palette. Choose whites, grays, blacks or other earth tones for the walls and furniture. This will provide a clean backdrop for more eclectic pieces of furniture like industrial-style accent chairs, metal bedframes, storage baskets and wall art.[1]
Metal Bed
One of the simplest yet most impactful industrial bedroom ideas is to get a metal bed frame for your space. The metal frames are sturdy and durable, not only providing great support for mattresses but also bringing an edgy look to the room. Metal beds come in many styles such as wrought iron or steel, so you can choose one that best fits your bedroom's aesthetic. To further enhance the industrial feel, you can add pipe headboards and side rails to complete the look.[1]
Wooden Bed
Wooden beds are a great choice for industrial bedrooms as they provide a classic look with modern flair. They come in various sizes and shapes, so you can find one that fits the aesthetic of your room perfectly. To complete the industrial look, opt for a bed frame made from reclaimed wood or rustic-looking metal frames. This can be paired with a matching headboard to create an eye-catching centerpiece.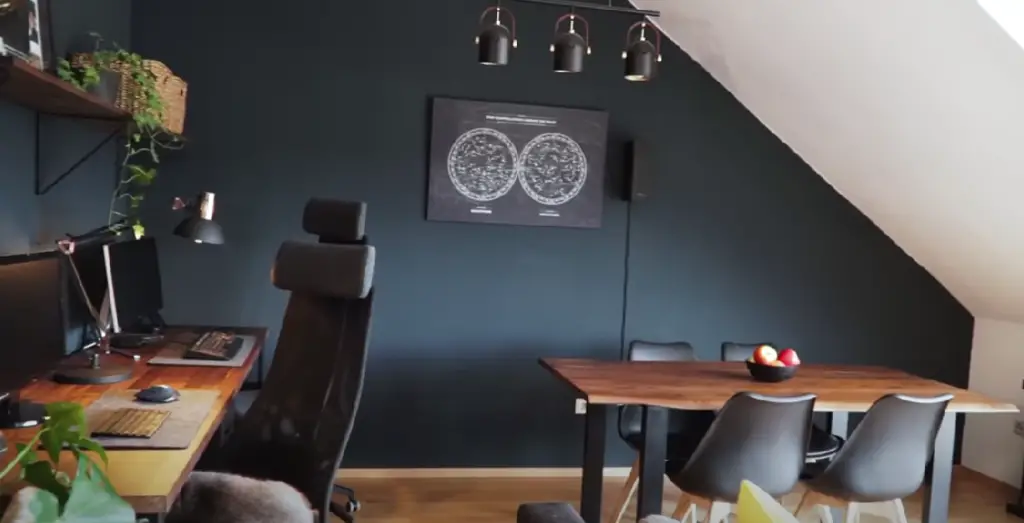 When it comes to bedding, industrial bedrooms often incorporate earthy tones and textures to create a cozy feel.
[1]
Wooden Headboard
When searching for industrial bedroom ideas, consider a wooden headboard. The natural wood look provides an interesting contrast to the metal and industrial elements in the room. You can opt for a simple design with clean lines or find one with more intricate detailing that will add visual interest to your space. For added comfort, select a headboard that has adjustable heights to accommodate various mattress sizes. If you're looking for an eco-friendly option, consider using salvaged wood or reclaimed lumber for even more of an industrial feel.[1]
FAQ
What does an industrial style bedroom look like?
An industrial style bedroom has a clean and classic look that can be achieved by mixing different shades of gray, black, and white. It is characterized by exposed brick walls, metal accents like bed frames or light fixtures, and minimalist furniture pieces with natural wood elements. Industrial bedrooms often incorporate materials such as concrete and steel to create an edgy yet inviting feel. To complete the look, some accessories like Edison-style bulbs or industrial art can be added to give the room an extra touch of character.
How do I make my industrial bedroom look cozy?
Despite its industrial feel, an industrial bedroom can be cozy and inviting. To add a touch of warmth and comfort, choose comfy bedding with natural-looking materials such as linen or cotton in neutral colors. Use soft throw pillows and blankets to make the space even more inviting. You can also add small plants or artwork to brighten up the room. If you want to give the room extra light, use an Edison-style bulb with a dimmer. Lastly, add some cozy rugs to tie together your industrial bedroom look and make it even more inviting.
What is the industrial style decor?
The industrial style decor is a modern take on the traditional industrial look and is characterized by raw materials, metals, and neutral colors like black, gray and white. It emphasizes minimalism and practicality through furniture pieces such as metal beds, leather couches, and exposed brick walls. Accessories such as vintage clocks or Edison-style bulbs are often added to give the room a unique touch. This style is perfect for bedrooms as it creates an inviting yet edgy atmosphere that can be easily customized with different pieces and accessories.
What are the 4 types of industrial design?
The four types of industrial design are vintage, steampunk, modern, and rustic. Vintage industrial decor is characterized by exposed brick walls, Edison-style light fixtures, and antiques or vintage furniture pieces. Steampunk industrial style incorporates upcycled materials such as leather or metal to create unique furniture and accessories with a steampunk vibe.
What are the industrial style colors?
The industrial style colors are mainly muted neutrals such as black, grey and white. You can also add pops of color with earthy tones like blues, browns or greens to give the room more character. The colors you choose will depend on your personal preference but it's important to make sure that they don't overpower the industrial look of the room.
What are industrial color codes?
Industrial color codes describe the colors used in industrial design. These colors are usually muted neutrals such as black, gray and white to create a classic look. However, you can also add pops of color with earthy tones like blues, browns or greens to give the room more character. The use of bright and bold colors is usually kept to a minimum in industrial design.
What are industrial style design elements?
Industrial style design elements are the pieces and materials used to create an industrial look. These elements include exposed brick walls, metal accents like bed frames or light fixtures, minimalist furniture pieces with natural wood elements, and accessories such as Edison-style bulbs or vintage clocks. The use of concrete and steel is also popular in industrial decor to give the room an edgy yet inviting feel.
Useful Video:Industrial Style 211 Sq Ft Studio Apartment Makeover | Studio Fix
Conclusion
This article has provided a good overview of Industrial Bedroom Ideas and all the different factors to consider when undertaking this interior design concept. From selecting the right furniture and accessories to creating an overall atmosphere that reflects industrial style, there are many ways to make sure your bedroom looks chic yet comfortable. Remember to keep balance in mind; it's easy to go overboard with the industrial look, so make sure your room remains inviting and warm. With a little bit of creativity and an eye for detail, you can create an industrial-style bedroom that's both stylish and inviting. Good luck!
References:
https://www.livingspaces.com/inspiration/ideas-advice/decor-tips/industrial-bedroom-ideas-a-guide