Blue and yellow bedroom ideas can be used to create a bright, cheerful, and unique space. Whether you are looking for modern or classic style, these colors can work together to create a room that will be the envy of your friends. In this article, you'll find answers to frequently asked questions about blue and yellow bedroom ideas as well as some helpful tips to get you started.
The Bedding Can Create The Best Look!
When you are thinking of blue and yellow bedroom ideas, the bedding can be a great place to start. Consider taking the colors from the walls and creating contrast with the sheets, pillows, blankets or comforters. You may also want to consider adding some neutrals such as white or gray for balance. For a modern look, try a white bedspread with bold blue and yellow patterns or prints. For a more vintage look, opt for floral patterns in the same colors. [1]
Color Block The Wall
Color blocking the wall is a great way to create a bold and vibrant look for your blue and yellow bedroom. Start by painting one side of the room in a bright yellow paint color, then use blue paint on the other side. You can also use different shades of each color for an even more unique look. To add even more drama, consider using a slightly darker shade of yellow or blue on the ceiling. Finally, add an interesting border with both colors to separate the two sides of the room and give it more contrast. [1]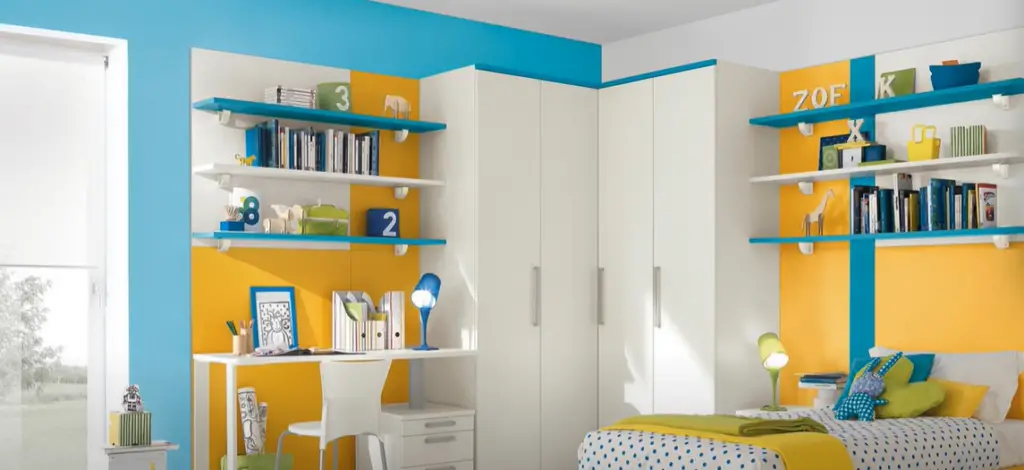 A Gray, Navy, And Mustard Bedroom
If you're looking for a way to add blue and yellow into your bedroom design without it too in-your-face this gray, navy, and color scheme is perfect. Start by the walls with a light gray hue. Then, opt navy sheets and mustard throw pillows to add just the right amount of contrast. For the finishing touch, layer in accents like wall art, a rug, and some yellow-infused plants to give your room a bright pop of color. With these colors together you'll certainly create an eye-catching look that will make your bedroom stand out from the rest. [1]
How About An Accent Wall?
One of the best ways to bring in a bold statement into your room is with an accent wall. Whether you choose to paint one wall completely blue, or add some yellow as an accent color, this will create a great focal point for your bedroom. You can also use wallpaper with a pattern or design that incorporates both colors – this will help you to achieve a cohesive look with the two colors being seamlessly blended together. [1]
A Budget-Friendly Solution To Bring In The Mustard And Navy Blue Color Palette
Navy blue and yellow are a classic color combination that can bring warmth, brightness, and life to any bedroom. But if you're on a budget and don't have much room in your wallet for expensive furniture or art pieces, don't worry! There are plenty of affordable options that can still give your bedroom the look and feel of blues and yellows.
If you want to give the space a bit more of an artistic touch, try painting one wall in the navy blue-and-yellow color palette. You can do this yourself or hire a professional painter for a more polished look. [1]
You Don't Need A Lot Of Colors
When you think about blue and yellow bedroom ideas, you may think of a room filled with bright colors – but that doesn't have to be the case. In fact, a few subtle touches of blue and yellow can create an eye-catching aesthetic while still keeping your space feeling calm and comfortable.  For example, a single bright yellow chair or some navy blue throw pillows can give your bedroom an entirely new look while still keeping it simple and inviting. [1]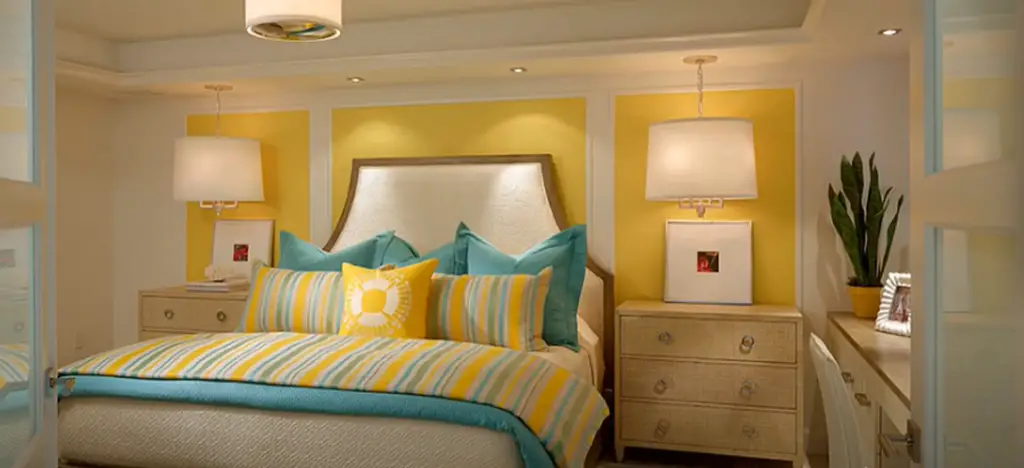 Why Limit Yourself To Only Two Colors?
When it comes to decorating your bedroom with blue and yellow, you don't have to limit yourself to just two colors – there are a lot of decorative options that you can use. Don't be afraid to add in a few hints of different hues for an eye-catching look. Try using shades of blue like navy, turquoise and baby blue. With yellow, you can go for a more vibrant shade like lemon or goldenrod, or add a softer hue of daffodil yellow. You'll be sure to get a unique look that will draw the eye in.
Another way to mix up your bedroom color palette is by adding in some neutral colors as well. Neutral shades like beige, cream and white can help to soften the bolder colors, while still providing a touch of warmth and contrast. They also make it easy to switch up your decor down the line without having to do a full room redesign. [1]
Add A Fun Wall Art…
Adding a fun wall art piece to your blue and yellow bedroom can be a great way to add a bit of flair and personality. Not only does it help draw the eye and bring out the colors, but it also allows you to express yourself through artwork. Whether you opt for something abstract or choose an eye-catching poster, adding that extra touch to your bedroom will make it feel more like home. Be sure to find something that speaks to you personally and reflects your style. [1]
Navy Blue And Mustard Bedroom For A Kid
If you're looking for a playful and fun bedroom to decorate for your child, consider navy blue and mustard yellow. This combination of bright colors is sure to bring life into any room. Plus, if you choose darker shades of the two colors, the look won't be too overwhelming for children or parents.
When it comes to furniture, try using a navy blue bed frame and accenting it with mustard yellow curtains or pillows. To make the room feel cozier, add a white rug or some plush throws. You can even hang up navy and yellow striped wallpaper to create an interesting feature wall.
Complete your look with light fixtures in either one of the colors. A white or chrome ceiling fan can also be a great way to tie in the colors without going overboard. Finally, don't forget to accessorize with stuffed animals, paintings, and other items that your child loves! [1]
Bring Your Headboard To Play
One of the best ways to make a blue and yellow bedroom stand out is by playing with your headboard. You can either go for a classic wooden headboard, or you could choose something a bit more unique; like a fabric-covered headboard in shades of blue and yellow! Consider adding some brass or gold elements to complete the look and make it feel even more luxurious.
Don't forget to add a few cushions to your headboard, either in solid shades of blue or yellow, or with patterns that combine both colors! This will help to tie the entire look together and create a cozy atmosphere for your room. [1]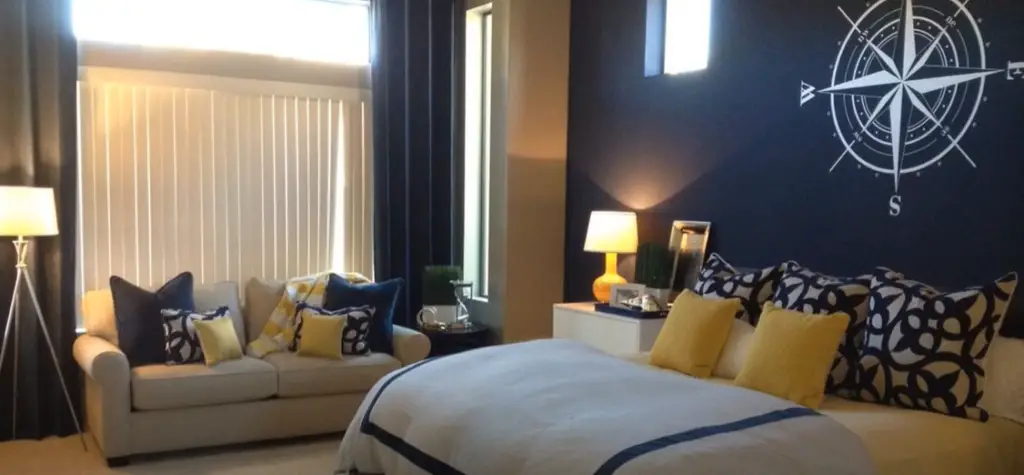 Throw Mustard With A Throw Pillow
Throw pillows are a great way to bring in some color and texture. And mustard yellow is the perfect hue to brighten up any space, especially if you pair it with a dark blue. If you don't want to purchase new throw pillows, you can also make your own using fabric scraps or paint an old pillow for a totally unique look.
You can also add mustard yellow accents throughout the room by using small items such as lamps or vases. This can create a nice contrast against a deep blue wall, or even against white walls. A beautiful abstract painting with hues of blue and yellow would look fabulous above your bed or on another wall. [1]
Wallpaper Can Do The Job
Wallpaper is a great way to add both color and pattern to your blue and yellow bedroom. As wallpaper comes in so many different styles, you can find something that suits the look you're going for. Whether it be floral, geometric or abstract, there's sure to be an option that fits perfectly with your decor. If you opt for a bold wallpaper pattern, be sure to keep the rest of your furnishings and accessories minimal. This will help create a balanced look in the room. [1]
Go Boho
If you're looking for a fun and vibrant way to decorate your bedroom, why not go boho? Combining blue and yellow gives your space an eclectic feel that features unique details. You can mix patterned fabrics, play with bright colors, and add vintage-inspired furniture pieces to create a boho-chic look. Start by adding a statement wall with yellow and blue wallpaper or paint. If you're feeling creative, why not add stencils of flowers or other intricate designs for an extra special touch? For furniture, look for pieces that are mismatched yet complementary in style – think vintage chairs and dressers with bright upholstery. Throw in some patterned bedding, curtains and rugs to complete the look. You can also add some eclectic touches like colorful cushions or a macramé wall hanging to make your bedroom extra special. With these boho-inspired blue and yellow bedroom ideas, you're sure to create an inviting space that exudes personality! [1]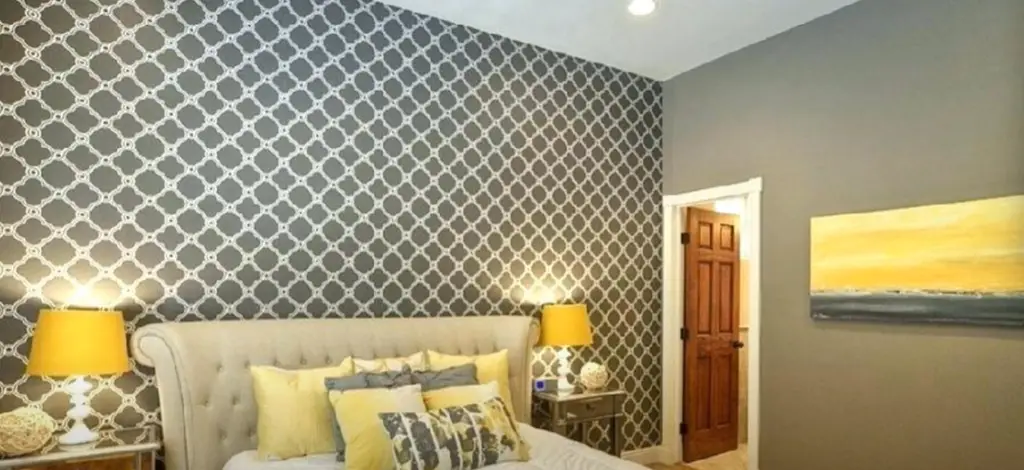 Go For A Simple And Easy-To-Create Bedroom
If you are looking for a simple and easy-to-create bedroom design, blue and yellow is a great option. This color combination is perfect for creating an inviting atmosphere in your space that still has a modern edge. To begin, choose a light blue shade as the main color of your walls and paint the ceiling a bright yellow. You can also add yellow accents to the walls, such as a border or striping. To pull the colors together and give your space an inviting feel, opt for blue and yellow bedding accessories like pillows, throws, rugs and curtains. You can then choose complementary furniture pieces such as nightstands or dressers in muted shades of blue or yellow. For a finished look, add some blue and yellow wall art or framed prints to complete your bedroom design. [1]
50% Blue And 50% Mustard
If you're looking for a vibrant, cheerful bedroom that exudes personality and style, consider combining blue and yellow. This color combination is striking yet balanced, creating a bright atmosphere that feels modern and fresh. You can go bold with 50/50 proportions or use various shades to create an eclectic statement.
When it comes to choosing colors, you can't go wrong with a classic combination of blue and yellow. Start by painting the walls in one color and accessorizing with the other. For example, if you choose a sky blue for your walls, you could add bright touches of mustard yellow around the room. [1]
Some Figurines Are Cute And Handy
When you're trying to think of ways to put together a blue and yellow bedroom, figurines are often overlooked. But they can be a great way to add extra color and in some cases, serve as great conversation starters. Consider adding animal figurines or even figures from your favorite TV show or movie! They will provide an interesting touch to the room, as well as serve as a fun reminder of your likes.
You can also opt for some cuter ideas such as a snow globe, jar of fake flowers or even a vase of real ones. Whichever you choose, make sure it stands out in a blue and yellow bedroom! The more colorful, quirky and interesting it is, the better. [1]
Then Comes The Turn Of Pastel Colors
Creating a beautiful bedroom with blue and yellow is often made easier by adding pastel colors. Adding pastel pinks, blues, or greens will bring balance to the room while still providing an inviting atmosphere. You can also incorporate other colors such as coral or lavender for added depth and interest. For example, if you are planning on using blue and yellow as a primary color palette, you could use pastel shades of peach or lavender to add subtle accents. When it comes to bedding, think about adding light colors like whites, creams, and pinks for a more calming atmosphere. For flooring and walls, consider painting in lighter shades of blues and yellows to create a sense of serenity.
When it comes to furniture and accessories, think of how you can incorporate blue and yellow without making the room look overbearing. Consider adding items in neutral shades such as whites and grays with bright accents like pillows or lamps that feature these hues. [1]
The White Backdrop Beats Everything
Most people think that yellow and blue bedroom ideas should be completely filled with both colors. However, the most harmonious combinations are achieved by incorporating a neutral color as a backdrop, such as white. The walls can be painted white or covered in wallpaper to create a beautiful canvas for all shades of blue and yellow. This will also help to tone down the intensity of the colors and create a calming atmosphere. [1]
Use A Mustard And Blue Area Rug
A great way to bring blue and yellow together in a bedroom is to use a mustard and blue area rug. This will add dimension to the room and create an eye-catching focal point for your bedding or furniture. The two colors blend perfectly together, creating a beautiful contrast that will bring out the best of both worlds. Plus, with a range of sizes and shapes available, you're sure to find one that fits your bedroom perfectly. [1]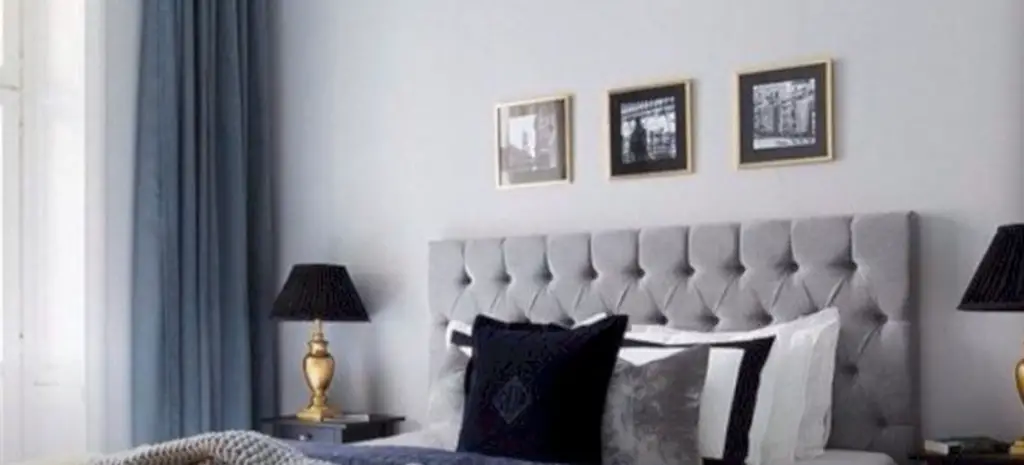 A Mustard Table Lamp
Adding some yellow to your blue and yellow bedroom doesn't have to be overwhelming. Instead, you can add subtle splashes of golden sunshine with a mustard table lamp like this one. It's a great way to break up the blues without making the room too bright and cheerful. This is also a great option for those looking to add a modern twist to their traditional blue and yellow bedroom. And, because it's a stand-alone piece, it won't take away from the overall look of the room. So, if you're looking for a subtle way to add more warmth to your space without making too much of an impact, then this is definitely something worth considering. [1]
A Navy Blue Comforter Set
If you're looking to deck out your bedroom in blue and yellow, one of the easiest ways to get started is with a navy blue comforter set. Navy blue is a classic color that pairs well with almost any shade of yellow. Plus, it provides an elegant backdrop for accent pieces like throw pillows or wall art.
But, navy blue can be overwhelming in a room where two bold colors are already at play. To break it up, try adding white sheets and pillowcases, or use additional yellows to lighten up the space. For instance, a few yellow throw pillows on your navy blue bedspread will provide contrast without making the room look too busy. [1]
Navy Blue Printed Comforter Set
A navy blue printed comforter set is a great choice for a blue and yellow bedroom theme. The dark color of the navy provides an interesting contrast against the bright yellow accents of the room. It also helps to create a feeling of sophistication in the atmosphere. Additionally, if you want to accessorize further, you can easily find matching navy blue throws and pillows. The combination of these two colors creates a warm yet modern atmosphere that will stand the test of time. [1]
A Mustard And Off-White Knit Throw Blanket
As you design your bedroom, you can't forget about the importance of accessorizing. Adding a cozy and visually appealing knit throw blanket can add the perfect touch to any room. A mustard-colored one with off-white accents is the perfect way to incorporate blue and yellow into your bedroom without going overboard. Its solid color will brighten up the room and give it a more inviting feel. Its texture adds an additional layer of comfort that will be sure to make your bedroom more inviting. Plus, it will match many different color schemes, so you can always switch out the other colors in your bedroom as often as you'd like without having to worry about changing out this blanket. It's the perfect addition to any blue and yellow bedroom! [1]
A Blue Bedside Table
Adding a blue bedside table to your blue and yellow bedroom can be a great way to add a splash of color. Choose one in the same shade as your walls, or go for something brighter for a bolder look. You could even layer different shades of blues for an interesting effect. To complete the look, keep accessories such as lamps and photo frames in the same color palette as your walls and bedside table. [1]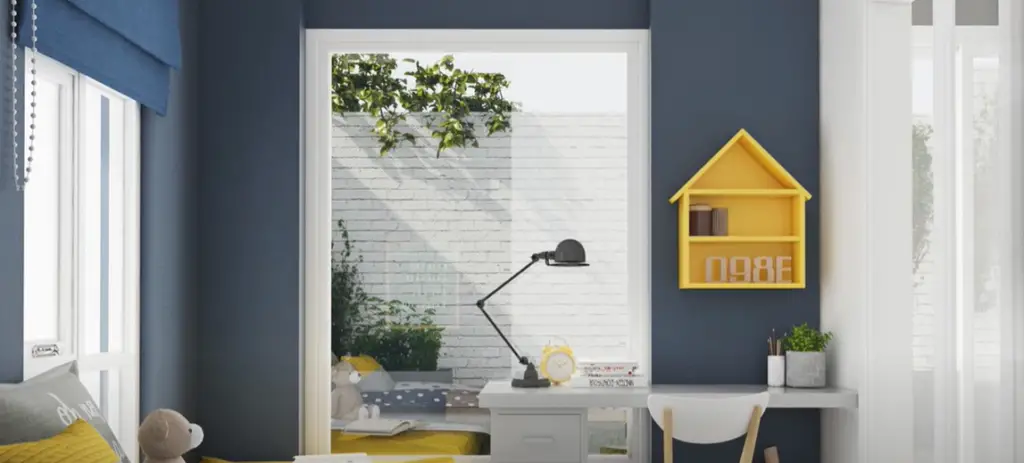 A Navy Blue Nightstand With Drawer And Shelf
A navy blue nightstand is the perfect accent piece for a yellow and blue bedroom. With a drawer and shelf to store your bedtime items, this furniture item adds both style and practicality. Place it next to your bed or close by in a corner if space is limited. To complete the look, why not add some matching yellow decor accents, such as a vase or framed print? This will add a unique and vibrant touch to your room. [1]
FAQ
Is yellow and blue good for the bedroom?
Yes! Yellow and blue is a great combination for the bedroom. These colors are calming, cheerful and not too overwhelming – perfect for creating a peaceful atmosphere to relax in.
Is yellow OK for a bedroom?
Yes! Yellow can be a great color for the bedroom. It has been said to promote feelings of happiness and joy, as well as promote restful sleep – perfect for creating a cozy environment.
What color goes with blue in a bedroom?
White, gray, and black are all great colors to pair with blue in the bedroom. They will provide a nice contrast against the bright hue of blue and help create a balanced look. You can also add pops of yellow for an added touch of color.
Do yellow and blue go together with interior design?
Yes! Yellow and blue can be a great combination for interior design. They are complementary colors that will bring energy and vibrancy to your space without it feeling too over-the-top. Plus, the colors are often associated with feelings of calmness and relaxation – perfect for creating an inviting atmosphere.
Why do blue and yellow look so good together?
Blue and yellow are complementary colors, meaning they are opposite each other on the color wheel. This means that when combined, they create a high level of contrast that can be visually pleasing. The combination also results in an eye-catching yet soothing aesthetic – perfect for creating a beautiful bedroom design.
What is the 3 color rule in interior design?
The 3 color rule in interior design is a great way to ensure your space looks cohesive and put together. This rule suggests you choose three main colors for your space, one of which should be the dominant hue, and then use supporting shades of these same colors throughout the room. So if you're using yellow and blue as your primary two hues, you could use white as the third color. This will help tie everything together and create a cohesive look.
Useful Video: Blue Yellow Bedroom Decor
Conclusion
Your blue and yellow bedroom ideas don't have to be complicated – a few touches here and there can make all the difference. Even if you're working with a tight budget, you can still find ways to make your room look inviting, warm, and chic. Consider using a variety of blues and yellows in different shades and textures to create a calming, balanced atmosphere. Don't forget to add accessories like lamps and rugs to tie the room together beautifully. With some creative ideas, you'll have your bedroom looking stunning in no time!
We hope this article has helped inspire you to create the perfect blue and yellow bedroom oasis. Have fun bringing your own personal touch to the space and enjoy the journey of making it your own. Happy decorating!
References:
https://roomyoulove.com/navy-and-mustard-bedrooms/