Green and gold are two classic colors that evoke a feeling of luxury and sophistication. Creating an inviting, comfortable bedroom in these shades is easy to do with the right design elements. In this article, we'll explore some ideas for green and gold bedrooms to help you create your own cozy oasis. We'll also answer some frequently asked questions about this color scheme and provide helpful tips to make the space look its best. Read on for some inspiration and guidance on setting up a beautiful green and gold bedroom!
Is Green A Good Color For The Bedroom?
Green is a calming and soothing color, making it ideal for bedrooms. It's also known to bring about feelings of balance and harmony, which can be helpful for getting a good night's sleep. In addition, green is often associated with prosperity due to its abundance in nature. For these reasons and more, green makes an excellent choice for bedroom walls, bedding, and other accessories. [2]
Is Gold A Good Color For The Bedroom?
Yes, gold is a great color for the bedroom. It adds a touch of glamour and sophistication to any space. The combination of gold and green creates a calming atmosphere that feels both modern and timeless. Gold can be used as an accent wall or on furniture pieces like nightstands or dressers to add texture and shine to the room. It can also be used in smaller doses with wall art, lighting fixtures, or even pillows and throws. With gold, you can create a warm, inviting space that is perfect for relaxation. [2]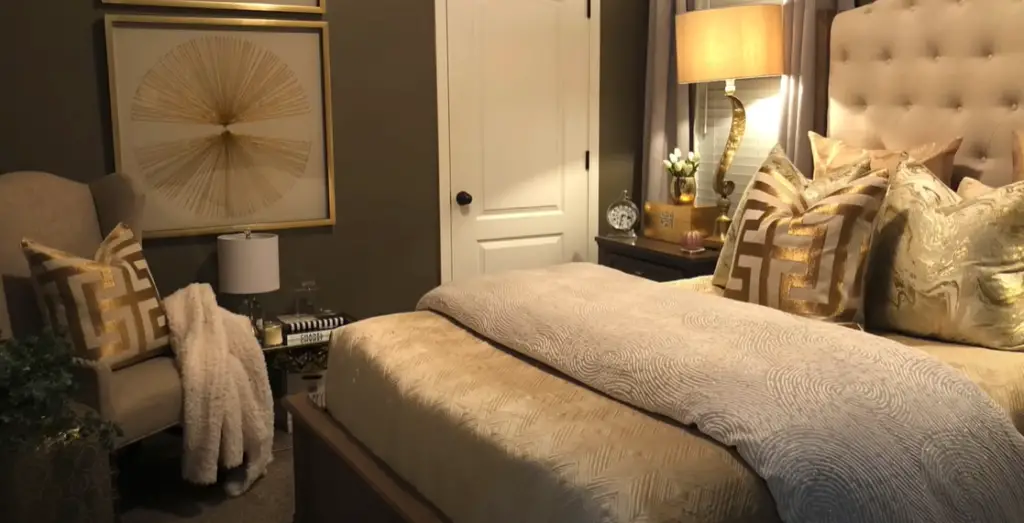 Emerald paired with gold and gray
This luxurious yet stylish look can be achieved by pairing emerald green walls or bedding with gold accents. If you want to bring in a bit of contrast, you can add some sleek and subtle gray pieces. The result is a warm and inviting bedroom with an air of sophistication. [1]
Calming green pastels shades
If you are looking for an inviting and peaceful atmosphere, green pastel shades are the perfect choice. They can create a soothing ambience in your bedroom, with hints of gold adding a touch of luxury. To add depth to the walls, opt for a combination of paint and wallpaper designs with subtle green and gold tones. Alternatively, if you're feeling adventurous, try using a feature wall painted in a statement shade of green. This will create an eye-catching focal point and can be complemented with gold metallic accessories, such as mirrors and lamps. [1]
Green paired with vibrant colors
If you're looking for an inviting and cozy bedroom space, why not mix green with vibrant colors? For a truly luxurious feel, use shades of emerald green along with gold accents to bring out the richness in both hues. Try pairing dark green walls with velvet curtains in a lighter shade of green, and then accessorize the room with gold accents. A few ideas for this look could be a gilded headboard and throw pillows in both colors, or even gold-based lamps and green table runners. To add more personality to the room, try adding artwork in different shades of green as well! [1]
Festive green with decorative patterns
A great way to update your space is to add a splash of festive green and gold. Try incorporating some decorative textiles, like curtains or cushions, to add texture and colour. You could also introduce a few patterned pieces such as rugs or wallpapers in the same shades. This combination of muted greens and warm golds will provide a sophisticated and calming atmosphere. [1]
Cool green offset with yellow
If you are looking for a bright and cheerful bedroom with a classic feel, consider using green and yellow-gold as the main colors. Green is great because it evokes feelings of nature, while golden shades can add an elegant touch. This combination is easy to incorporate into any style of decor, whether traditional or modern.
One way to tie these two colors together is by using wallpaper with green floral designs, offset by yellow-gold accents. This can give your room a cheerful and sunny feel, while still maintaining an air of sophistication. [1]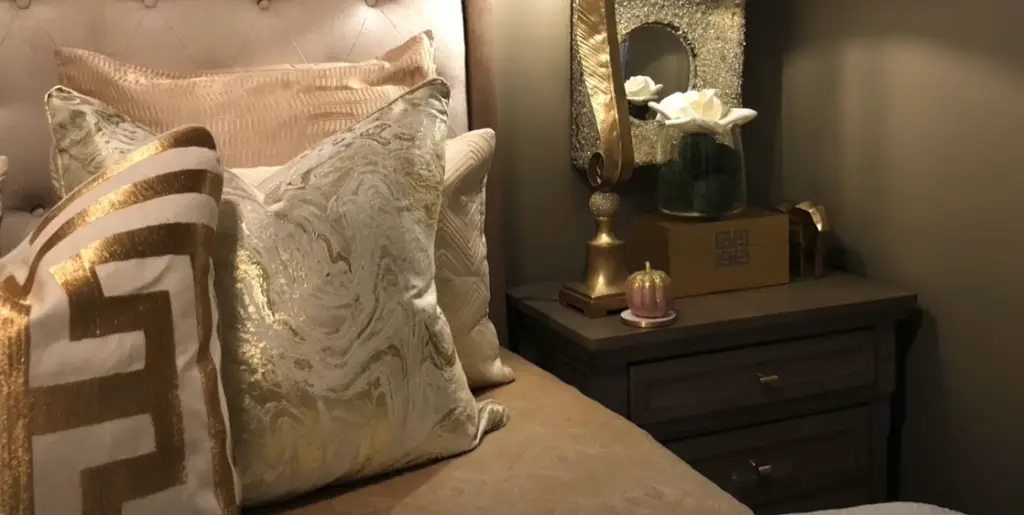 Moody Green Bedrooms
If you're looking for a modern update to your bedroom, look no further than a moody green palette. This trend has been gaining steam in the world of interior design for years and is an easy way to make your space feel fresh and updated. Moody greens pair beautifully with gold accents like wall sconces or bedside lamps as well as soft neutrals like white, light gray, and taupe. As you select pieces for your space, think carefully about the colors and materials you use. Metallic finishes will add a hint of glamour to an otherwise moody palette while earth tones help ground the room in a more natural feel. [2]
Dark Green Bedrooms
Dark green bedrooms create a luxurious and tranquil atmosphere – perfect for a restful night's sleep. To really bring out the drama of dark green walls, choose gold accents such as curtains or bed linen to contrast with the darker hues. You can also add texture to your dark green bedroom by hanging up artworks featuring different shades of green or adding a few gold-hued cushions to your bed. When it comes to lighting, don't be afraid to experiment with different types – from table lamps and wall sconces to recessed lights. The right light can instantly change the atmosphere of a dark green bedroom. [2]
Monochromatic Green Bedroom
Create a dreamy, monochromatic green bedroom with deep hues and subtle accents of gold. Start by painting the walls in a mossy, forest-like hue that will make your room feel like a secret escape. To add some shine, sprinkle small bits of gold across the room – think wall art, pillows or a cozy throw blanket. Finish off the look with wooden furniture, greenery and neutral tones like white or grey. You can even add a pop of gold to your nightstands or dressers for that extra bit of glitz. With this look, you can create an inviting and calming atmosphere in your bedroom without feeling too 'loud.' [2]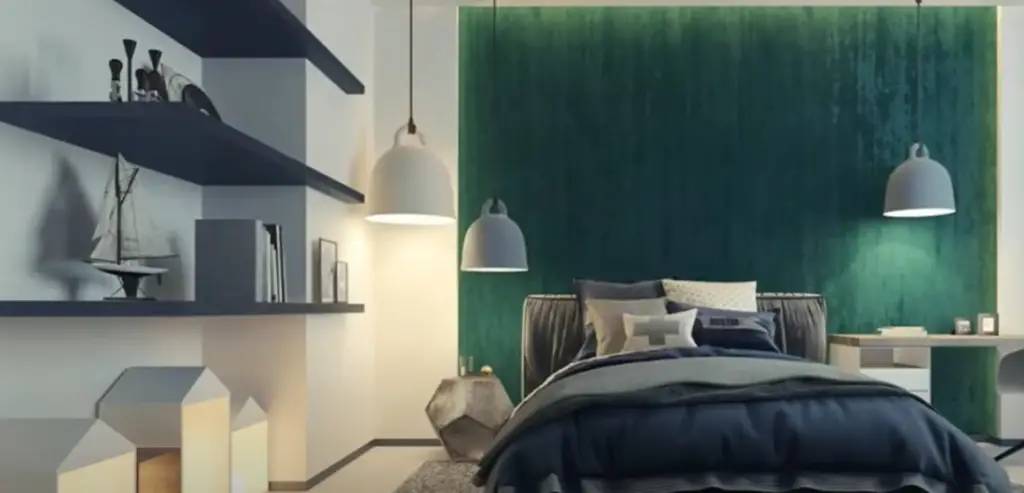 Recommended Green Bedroom Palettes
Green and gold is a classic combination for bedrooms. It's a great way to bring some nature-inspired vibes into your space, as well as an ideal choice if you're looking for something timelessly stylish. Here are some of our favorite green and gold bedroom palettes:
Sage Green and Rose Gold – This combo is perfect for a modern, yet romantic bedroom. The sage green adds a natural touch to your space, while the rose gold keeps things light and airy.
Hunter Green and Gold – For an elegant take on the green-gold combination, try using hunter green and gold together. The deep color of the hunter green creates a cozy atmosphere, while the gold provides a touch of sophistication.
Mint Green and Brass – This mint green and brass combo is perfect for adding a vintage vibe to your bedroom. The bright mint color will keep things feeling modern, while the brass adds an antiquated appeal. [2]
Modern Green Bedroom Ideas
For a modern take on green and gold bedroom ideas, try using bold colors like neon green and bright yellow. This color combination can really energize the space and make it feel more vibrant. Try adding some fun pieces of furniture in vibrant colors to create an interesting contrast with the other shades of green. You could even add in some statement pieces like a bright green armchair or some gold-accented artwork.
Another great option for modern bedroom ideas is to mix metallic accents and warm hues of green. Try adding in some gold furniture or decor elements, such as a side table or mirror frame, that will add an elegant touch. As well, keep the walls light and airy by using shades of pale green to create a tranquil atmosphere. Finish the look off with some soft, subtle lighting for a cozy feel. [2]
Traditional Green Bedroom Ideas
If your style is leaning more towards the traditional, then green and gold bedroom ideas may be just what you need. The color combination of green and gold can create a bedroom that looks classic and elegant. Here are some great ideas for creating a beautiful green and gold bedroom:
Choose muted shades of greens such as olive or sage for your walls. Consider using a subtle wallpaper pattern in the same color palette to add texture and interest to the room.
Add gold tones into the room with accents such as brass or oil-rubbed bronze fixtures, mirrors, frames, light fixtures, lamps and other accessories.
Opt for natural materials like wood furniture pieces and a natural-fiber rug to bring warmth into the room. Consider adding a throw blanket or pillows in greens and golds for a cozy feel.
Hang art pieces with gold frames on your walls, such as abstract paintings or vintage prints. [2]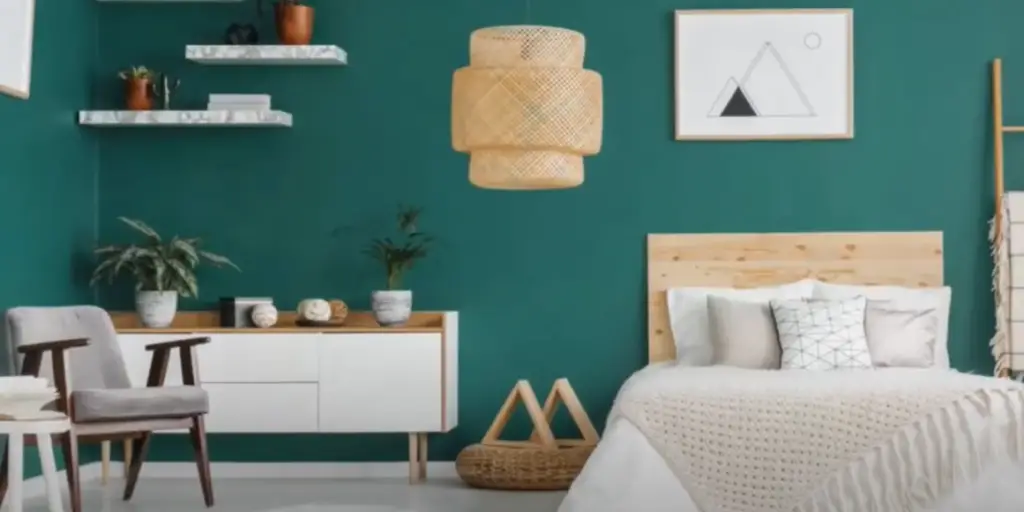 Why do we love green and gold bedrooms?
Green and gold bedrooms create a very calming and inviting atmosphere. The combination of green and gold colors in a bedroom is reminiscent of natural landscapes, bringing a sense of peace and relaxation to the room. Gold accents can add a touch of sophistication and glamor to any décor, while green helps bring out the best in other colors around it. Together, they create a stunning and serene bedroom space that both you and your guests will love!
Moreover, green and gold bedrooms are perfect for creating an elegant yet cozy atmosphere in any home. They can be used to brighten up a dark room or inject a bit of luxury into any living space. Gold accents add warmth to the room, while green tones bring a vibrant energy and freshness. The combination of the two can create an inviting ambiance that is both calming and inspiring. [1]
Tips For Bringing Green Into The Bedroom
If you're looking to bring green into the bedroom, there are several ways you can do so. Here are a few of our favorite tips:
Start with accent pieces. Incorporating small touches like pillows or throws in different shades of green can make all the difference. You can also add plants for a natural, airy feel.
Create a statement wall. Painting or papering one wall in a bold shade of green can instantly give the bedroom a totally different look and feel.
Match with gold accents. Gold accents like furniture, artwork, and light fixtures can go perfectly with green color schemes to create an elegant atmosphere.
Play with patterns. If you're feeling adventurous, experiment with different patterns and textures to create a unique look. Dare to mix green and gold stripes, florals, and geometrics for a truly eye-catching design. [2]
FAQ
Is gold good for a bedroom?
Yes, gold is a great choice for a bedroom. It can be used to create a luxurious and sophisticated look, while still providing warmth and comfort. Gold has also been associated with wealth and power since ancient times, making it an ideal color choice for a bedroom.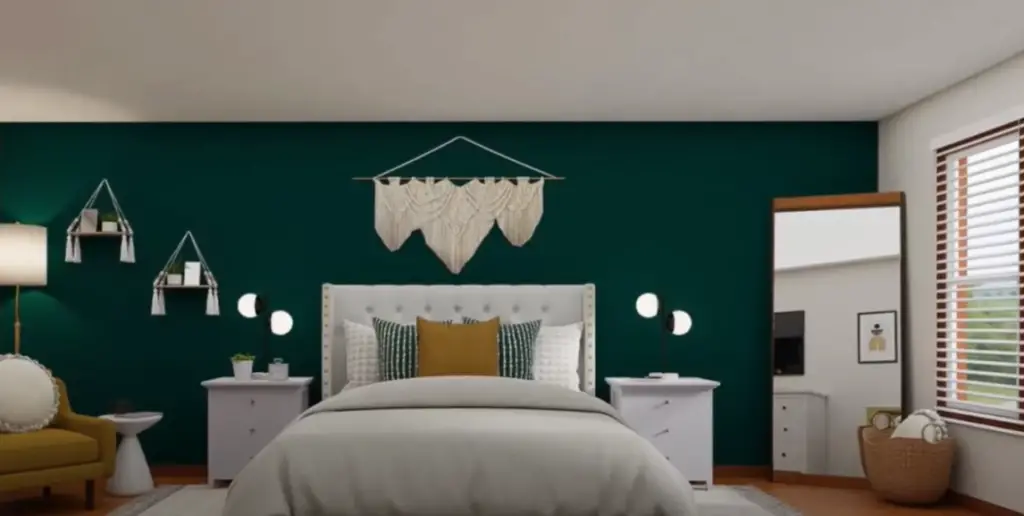 Do green and yellow go together in a room?
Yes, green and yellow can be a great combination for a room. This pairing gives off a vibrant, energizing effect that is also calming and soothing. The bright colors can help to bring life into any space, while the contrasting hues add depth and dimension to the overall design. When using this color combo in a bedroom, make sure to include plenty of white or neutral accents to help balance the look.
How do you style a green bedroom?
When styling a green bedroom, there are many options to choose from. You can start by incorporating textiles in shades of teal, emerald, and olive green for an earthy touch. Add pops of gold throughout the space with lamps, artwork, and other accents to create a luxurious look. Consider adding natural elements like plants or wood furniture to help create an inviting and tranquil atmosphere. Finally, add in some cozy throws and pillows for extra comfort.
What color compliments green?
There are many colors that can be used to compliment green in a bedroom, including blues, purples, and neutrals. Blues create a calming atmosphere while still providing contrast, while purple provides contrast without being too overwhelming. Neutral tones like beige and white help to keep the overall look balanced. Finally, gold is an excellent choice for adding a touch of luxe to the space.
Does green make a room look bigger?
Yes, green can make a room look larger. Light shades of green help to give the illusion of more space by reflecting light, while darker greens create an intimate feel. When selecting paint colors, consider adding in lighter accents in order to break up large spaces and keep it from feeling too cramped. Adding mirrors and other reflective surfaces also helps to give the illusion of more space.
What colors make a house look expensive?
If you want to make your home look luxurious and expensive, consider using colors like deep blues, greys, whites, and gold. Deep blues provide a sense of sophistication while whites and light greys create a calming atmosphere. Gold accents can be used to add an extra touch of luxury without being too overwhelming. Finally, incorporating natural elements such as wood, stone, and plants helps to bring nature into the home.
Is green a relaxing bedroom color?
Yes, green is a great color for creating a relaxing bedroom. Shades of sage, olive and teal create a tranquil atmosphere while still providing contrast. Adding some light and bright pops of yellow or white also helps to give the room life without feeling too hectic. Finally, using natural elements such as wood furniture or plants helps to bring a sense of serenity to the space.
What are the benefits of a green bedroom?
The benefits of having a green bedroom are vast. Green is associated with health and wellbeing, making it an ideal color choice for rejuvenation and relaxation. It also helps to bring nature into the home by creating an inviting atmosphere that is calming and tranquil. Finally, green can be combined with other colors such as gold or blue to create a luxurious and sophisticated look in any space.
Useful Video: HOW TO INCORPORATE HINTS OF GREEN AND GOLD| HOME DECOR INSPIRATION
Conclusion
Green and Gold Bedroom Ideas provide an ideal opportunity to add some extra style and personality to any bedroom. With their bold colors and classic designs, these timeless appeal options are sure to make a statement in your space. Whether you're looking for something modern or traditional, there's certain to be a combination of green and gold that will fit perfectly in your room. Plus, the addition of patterned wallpaper and accessories can really elevate the look. If you're feeling a little more daring, why not experiment with different textures and shades to create something truly unique?
No matter what kind of Green and Gold Bedroom Ideas you decide on, there's no reason why you shouldn't have fun with this classic color palette. Just remember to keep your chosen items in harmony with one another and, of course, make sure you have plenty of comfortable bedding and blankets for the best night's sleep.
Good luck!
References:
https://www.obc-uk.net/blog/green-gold-bedroom-ideas
https://poshpennies.com/green-bedrooms-tips-inspiration/