Are you thinking of building a tiny house for your family? If so, you will need to choose the perfect loft tiny house plans. A loft can provide extra space for a bedroom, home office, or play area for your kids. It can also be used as a storage area. There are many different types of loft tiny house plans available, so it is important to choose the one that best meets your needs. This blog post will discuss the different factors you should consider when choosing loft tiny house plans.
What is a Tiny House Loft?
The tiny house movement has become increasingly popular in recent years as people look for more affordable and sustainable ways to live. Tiny houses are typically smaller than traditional homes and range from under 100 square feet to up to 400 square feet, depending on their size and design.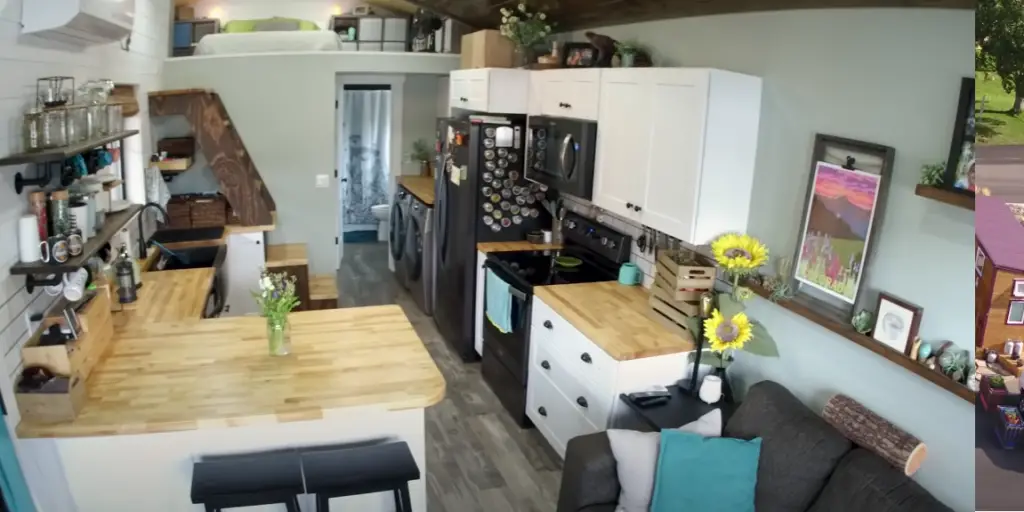 Tiny house lofts are an efficient way of taking advantage of the limited floor space available by installing a loft or mezzanine level above the main living area. This extra space can provide an area for sleeping, storage, or just a cozy spot for relaxing. Many tiny houses also come with built-in amenities such as mini kitchenettes, bathrooms, and decks.
The benefits of a tiny house loft make it an attractive option for those looking to downsize or live in an eco-friendly way.
Ultimately, a tiny house loft is an efficient use of space that can provide both convenience and comfort in a sustainable living environment. Whether you're looking to downsize your lifestyle or just want some extra storage, a tiny house loft might be the perfect solution for you.
Main loft benefits in a tiny house
Increased storage: Lofted spaces provide extra storage space that you wouldn't have with a traditional tiny house floor plan. This can be great for storing seasonal items, furniture, and more without taking up valuable living space.
Expanded living area: Lofts make it possible to expand the footprint of your tiny house without actually adding any square footage to the house itself. By pushing beds and other furniture into lofts, you'll get a lot more usable living space than you would with a standard design without sacrificing too much headroom.
Improved airflow: While not necessarily at the top of most people's list when looking for tiny house benefits, lofts can also improve airflow in your home by allowing heated air to rise away from the living space below. This can help reduce your energy costs by improving the efficiency of your HVAC system.
Added style: Last but certainly not least, lofts can add a unique and stylish touch to your tiny house that you just won't get with a traditional floor plan. From intricate designs to simple pulldown stairs, there are plenty of ways to make your loft stand out and give it some personality.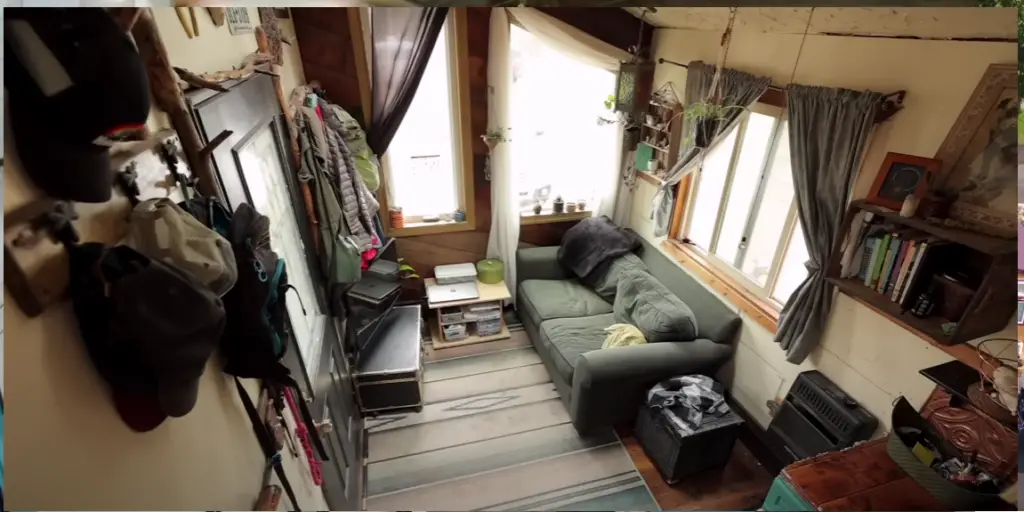 No matter what kind of design you're looking for in a tiny house, adding a loft can be an excellent way to take advantage of all the benefits it has to offer while still maintaining the efficient use of limited space that makes tiny houses so appealing. There are countless options available to customize your loft and make it uniquely yours, so don't be afraid to get creative!
What is a tiny house loft bedroom?
A tiny house loft bedroom is a raised area within a small home that is used as a sleeping area. It can be accessed either by a ladder or stairs and typically includes built-in storage space and shelves for additional storage. The main benefit of having a tiny house loft bedroom is that it maximizes the space in the home without taking up too much square footage.
Some tiny house lofts include traditional bed frames, while others feature more creative designs such as suspended beds or full floor-to-ceiling sleeping platforms. A tiny house loft bedroom provides an ideal way to personalize your living space while still making use of every inch of available space. Additionally, loft bedrooms are often multi-functional, serving as both office and sleeping spaces depending on the user's needs.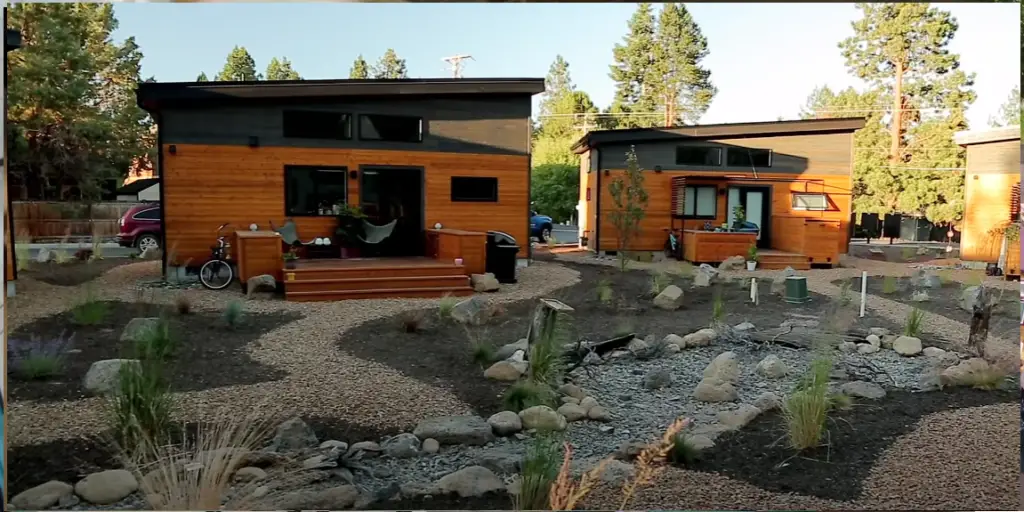 No matter what your style or budget is, there are plenty of options for designing a tiny house loft bedroom that fits your needs and lifestyle. From traditional bed frames to suspended platforms, you can make your tiny home into an efficient and cozy living space without sacrificing quality or comfort [1].
How to Design a Tiny House Loft Bedroom?
Designing a tiny house loft bedroom requires taking into account the available space in the home as well as any existing furniture pieces.
This step helps ensure that all furniture pieces fit properly within the desired area.
Once the dimensions are known, think about the desired style of the bed frame as well as any additional features that will be needed such as shelving or storage. From there, consider the materials that will be used to construct the bed frame, such as wood or metal. Selecting a material that matches the overall aesthetic of the tiny house can help create a cohesive look.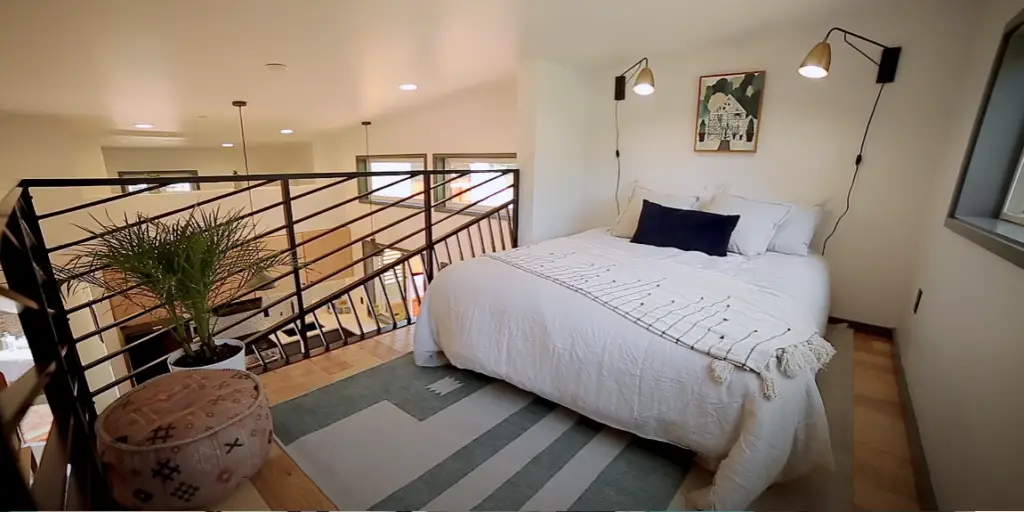 Finally, finish off the design with any additional decorations and accessories for an inviting and personalized space. A tiny house loft bedroom does not have to be cramped and uncomfortable! With careful planning and thoughtful design, you can create a cozy room packed with character and functionality.
What do you need to design a tiny house loft bedroom?
Designing a tiny house loft bedroom can be a challenging task, as you need to consider both form and function. To start, you will need to determine the size of your space. Measure the length and width of the room, including any alcoves or other spaces that may be overlooked. Once you know how much space you have to work with, it's time to pick out furniture items that will both fit and look great.
A bed is often the main focus of a loft bedroom design, so choose carefully based on size and comfort level. Beds come in various sizes from twin-sized to king-sized beds; figure out which size works best for your sleeping needs and available space. You may also want to choose a bed that has storage capabilities, such as built-in drawers or cubbies.
To maximize your small space, look for furniture pieces that can serve multiple purposes. An ottoman with hidden storage can double as extra seating; a daybed can be used as a couch during the day and as a comfortable sleeping area at night. Wall-mounted shelves are also great for keeping items off the floor and creating additional storage options.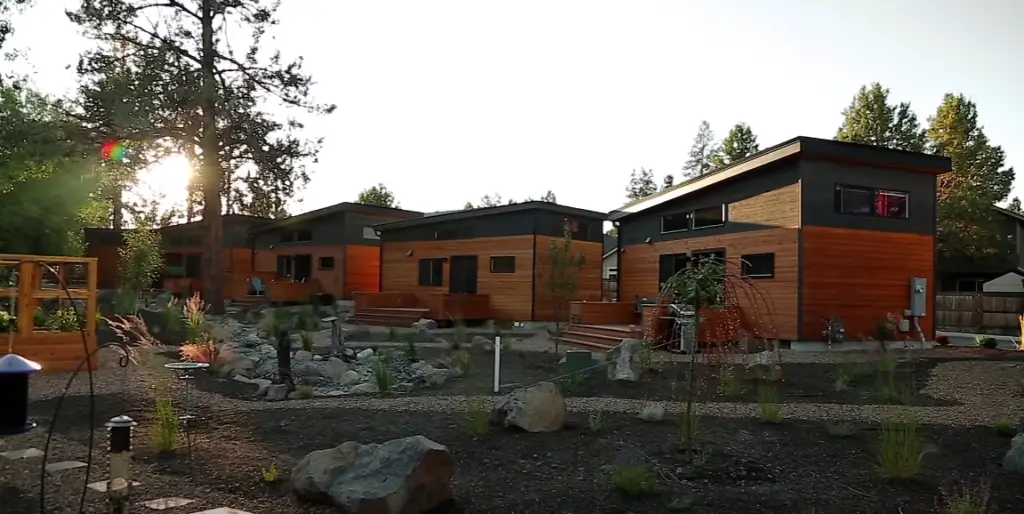 When it comes to decorating your tiny house loft bedroom, think outside the box! Look for unique accessories and furniture pieces that will bring personality to your room without taking up too much space. Hang twinkle lights or string lights around the perimeter of your space; use a colorful throw rug or a patterned tapestry to add character. Use floating shelves and wall-mounted planters for an eye-catching design feature.
Finally, don't forget about comfort and safety when designing your tiny house loft bedroom. Invest in quality mattresses, pillows, blankets, and comforters; pick out cushy rugs and cozy throws to make your space as comfortable as possible. Consider installing grab bars near the bed or ladder to help you climb up into the loft safely. With a few creative touches, you can turn your tiny house loft into a beautiful and functional bedroom [2]!
Unique Tiny House Designs
Gooseneck Tiny Homes
Gooseneck tiny houses are a popular type of tiny house design because of the extra space they provide. Gooseneck tiny homes have an elevated gooseneck frame that gives more headroom in the loft area and more room for storage below. They are also great for larger families as there is more room to move around and play inside. Plus, many people opt to use the top of the gooseneck trailer as a sleeping space, making it easier to accommodate guests or extended family members who want to join your tiny home lifestyle.
Container Tiny Homes
Container tiny homes come from repurposed shipping containers and offer unique designs due to their large size and versatility. They can be easily customized with fixtures, furniture, and appliances to suit your needs. Additionally, the steel walls of a container tiny home offer protection from pests, fire, and strong winds. These homes are also typically more affordable than other types of tiny homes due to their limited building materials.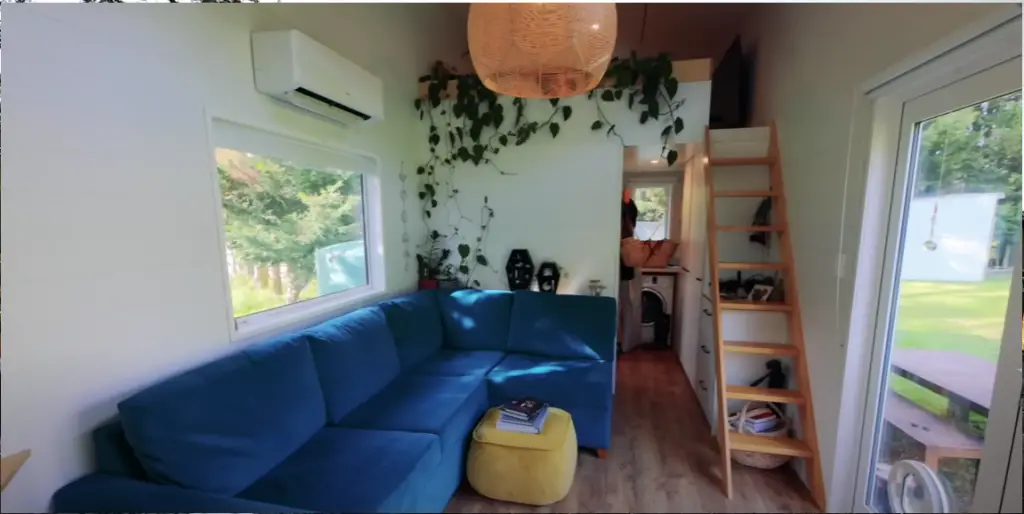 Truck Tiny Homes
For those looking for an adventure-ready tiny house design, truck tiny homes may be ideal. These mobile structures fit on top of a flatbed trailer and can easily be towed anywhere. They feature a traditional RV-style layout with living space in the cab area and storage underneath the trailer bed. Plus, many people choose truck tiny homes because they are easy to customize with built-in features like outdoor kitchens or decks that take advantage of the extra space available beneath the trailer.
Yurts
Yurt tiny houses offer a unique solution for those who want to live in a circular structure. Yurts are typically made with canvas walls and a wooden frame, making them lightweight and easy to set up or transport. They also provide plenty of natural light due to their round shape and large windows. Additionally, they can be insulated easily and heated with a wood stove or electric heater for year-round comfort.
Attached Tiny Houses
If you're looking for a tiny house design that offers more privacy and protection from the elements, an attached tiny house could be a great solution. Attached tiny houses have all of the amenities of a traditional home — like plumbing, kitchen space, and storage options — but are much smaller in size. They are typically built onto an existing structure, such as a garage or shed, which allows them to remain stationary while also providing easy access to utilities and other essential services.
Teeny Tiny House Plan with Bedroom Loft
Square Footage Breakdown
The teeny tiny house plan with a bedroom loft offers just over 400 square feet of living space. This includes a kitchen, living area, one full bathroom, and one bedroom loft. The main level of the home has an open floor plan that combines the kitchen and living room into one space. The kitchen offers a full-sized refrigerator, sink, and stovetop for cooking meals at home. There is also plenty of storage in the form of cabinets and shelves to store dishes, cookware, and other items out of sight.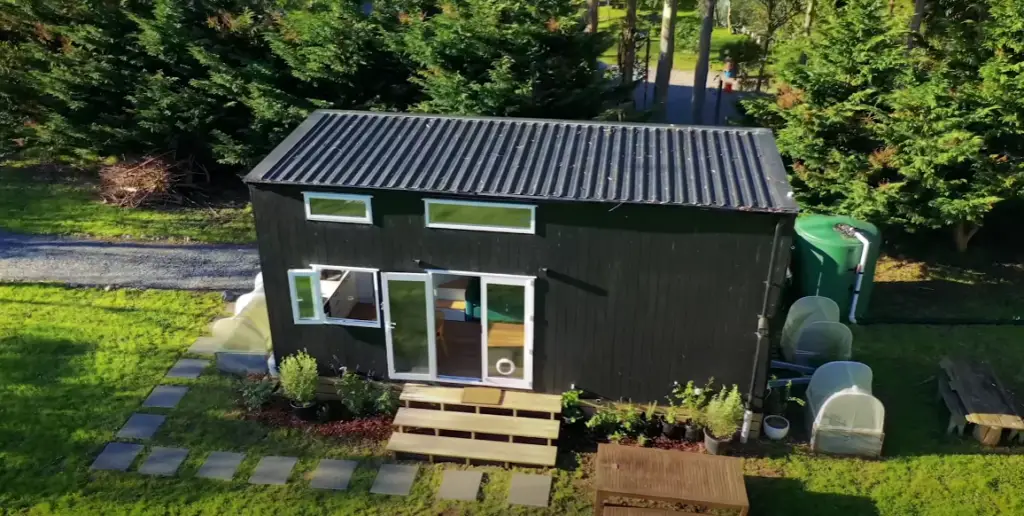 The bedroom loft is located above the main level of the home and overlooks the living area below. As there is no door separating this space from the rest of the house it can be used as a second living area or private sleeping space. The full bathroom includes a shower, sink, and toilet as well as storage for towels and other items. The teeny tiny house plan with a bedroom loft offers plenty of livable space in an efficient package perfect for those who want to downsize.
With this compact design, it is easy to maintain while still offering the amenities needed for comfortable day-to-day living.
The bedroom loft also allows multiple people to comfortably sleep under one roof at a fraction of the cost of larger home designs. Finally, this plan makes use of every square inch without sacrificing style.
Beds/Baths
The teeny tiny house plan with a bedroom loft offers one full bath and one bedroom. The bedroom loft can be used for sleeping, storage, or an extra living area depending on the needs of the occupant.
Foundation Type
The teeny tiny house plan with a bedroom loft can be built on either a trailer or foundation making it great for those who want to move their home when they travel.
Exterior/Interior Features
The exterior of this tiny home is modern and sleek with its minimalist design. The interior features plenty of windows to let in natural light, as well as an open floor plan that combines the living room and kitchen into one space. There is also plenty of storage in the form of cabinets and shelves throughout the home.
Dimensions
The teeny tiny house plan with a bedroom loft is 28 feet long and 8 feet wide. The height of the home varies depending on whether it is built on a trailer or foundation, but it can reach up to 13 feet tall.
Ceiling Heights
The ceiling heights vary throughout the home, ranging from 8.5 feet in the living area to 7 feet in the bedroom loft. Additionally, the kitchen has a ceiling height of 7.5 feet and the bathroom 8 feet.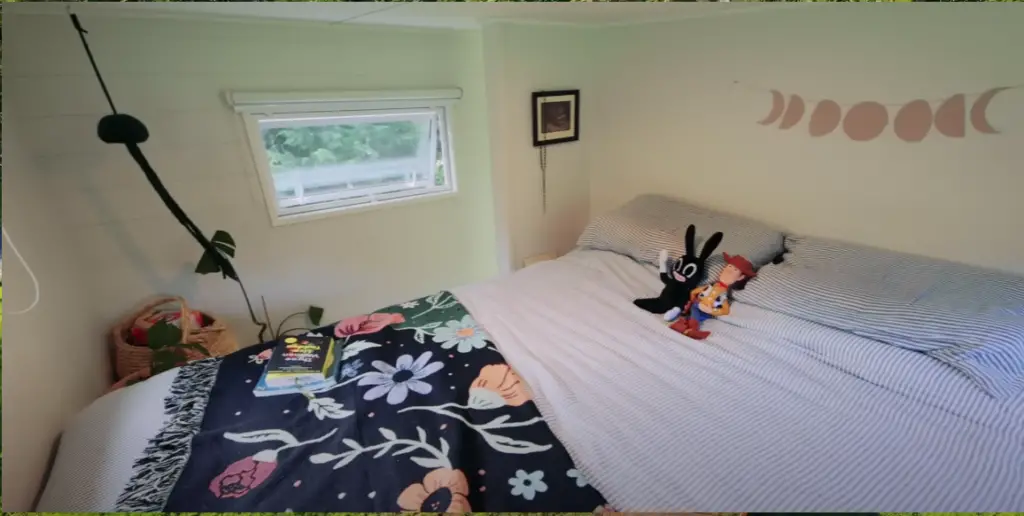 Materials/Finishes
The exterior of this tiny home is typically constructed out of wood siding with a modern finish. The interior features sheetrock walls that are painted to give the home a warm and cozy feel. The floors are typically hardwood, although other options such as linoleum or tile can also be used. Additionally, high-efficiency appliances can be installed in the kitchen for added convenience.
Roof Type
The roof type of the teeny tiny house plan with a bedroom loft is typically gable, which offers plenty of space for additional insulation to help keep energy costs low. This roof type features two sloping sides that meet in the center and is often finished with asphalt shingles.
Utilities/HVAC
The home utilizes a mini-split, high-efficiency HVAC system to provide both heating and cooling. Additionally, the kitchen features an energy-efficient refrigerator, stovetop oven, and sink. Utilities such as water, electricity, and gas can all be connected to the home depending on the location where it is built. The tiny home also has optional solar panels for those who wish to become more energy efficient.
How to maintain a tiny house?
Regular maintenance is essential to ensure that your tiny house remains in good condition. Below are some of the most important steps you should take to keep it in top shape:
Inspect the structure regularly for cracks, mold, or other damage. Make sure to check inside and outside walls and ceilings, as well as around windows and doors.
Regularly clean the roof and gutters to prevent the buildup of dirt and debris which can lead to water leaks.
Check window frames for signs of rot or rust and replace them where needed. Also, make sure that all windows close properly so they provide a proper seal against rain and moisture.
Check under sinks, behind any furniture and appliances, behind walls, and around pipes for signs of leaks.
Inspect all electrical wiring and appliances regularly to ensure everything is working properly. Replace any frayed or exposed wires immediately.
Ensure that all plumbing fixtures are in good shape and check for any water leaks regularly.
Test smoke alarms and carbon monoxide detectors monthly to make sure they are still functioning correctly.
Inspect wood floors for warping or moisture damage, replacing them if needed.
Regularly apply a sealant to exterior walls to protect them against the elements. Reapply every few years as needed. Follow these maintenance tips to keep your tiny house in tip-top condition!
FAQ
How big should a loft be in a tiny house?
The size of a loft in a tiny house should depend on the specific needs and preferences of the homeowner. Generally, lofts can range from as small as 4 feet by 8 feet up to 10 feet by 20 feet. The most important factor for consideration when deciding on the size of your loft is how much space you need for sleeping or other activities that will take place in the loft. You also want to consider headroom–some lofts have very low ceilings, while others may be tall enough to stand up in! Ultimately, it's important to choose a loft size that fits both your lifestyle and budget.
Can I use a standard trailer for my tiny house?
Yes, you can use a standard trailer as the foundation for your tiny house. You'll want to make sure the size and weight of your tiny house will be within the legal limits set by your state or local regulations. Additionally, you should ensure that the trailer has a sufficient axle rating to support the weight of the entire tiny house when it's fully loaded with furniture and other items. Finally, you'll need to consider how much maneuverability you need; some trailers may not turn corners as easily as others, so keep that in mind before making a decision.
Is it cheaper to buy or build a tiny house?
This depends on a few factors, including the size and complexity of the tiny house. In general, buying a tiny house is often more cost-effective than building one from scratch because you don't have to factor in the cost of materials and labor. However, if you're looking for something unique or specific, it may be cheaper to build your own tiny house so that you can customize it exactly how you want. Ultimately, it's important to weigh all of your options before deciding which route is best for you.
What are the benefits of living in a tiny house?
The primary benefit of living in a tiny house is financial savings; since they require fewer resources and materials to construct and maintain, they can be much more affordable than traditional homes. Additionally, tiny houses offer increased freedom and mobility since they can be easily transported to different locations. They also foster a simpler lifestyle, allowing homeowners to focus more on other pursuits such as travel or hobbies rather than worrying about the upkeep and maintenance of a larger home. Finally, tiny houses help reduce environmental impact by using less energy and fewer resources for construction, operation, and eventually disposal.
Are there any downsides to living in a tiny house?
Yes, there are some potential downsides to living in a tiny house. For one, you may have fewer options when it comes to customizing your space; most tiny houses have limited floor plans that don't allow much flexibility when it comes to rearranging furniture or adding new features. Additionally, some local regulations may limit the size and location of your tiny house or make it difficult to find a place to park. Finally, you may need to give up some of the traditional comforts associated with larger homes such as multiple bedrooms and bathrooms.
Can a tiny house be 1000 sq ft?
Yes, it is possible to build a tiny house that is 1000 sq ft or larger. However, it's important to note that the size of your tiny house will be limited by certain regulations and zoning laws in your area, so it's best to research these rules before starting construction. Additionally, a 1000 sq ft tiny house may require more resources and materials than smaller homes, so you should factor in this cost when determining if this size is right for you.
How tall should a ceiling be for a loft?
The ideal height for a loft ceiling will depend on the size and layout of your tiny house. Generally, you'll want to have a minimum of 6-7 feet of headroom to comfortably move around the loft space. If you're looking for more spacious accommodations, it can be beneficial to choose a larger loft with higher ceilings; some lofts have very low ceilings, while others may be tall enough to stand up in! Ultimately, it's important to choose a loft size that fits both your lifestyle and budget.
Do small loft conversions need planning permission?
In most cases, small loft conversions do not require planning permission as long as they meet certain criteria. Generally, you'll need to make sure that the conversion does not extend beyond the roof plane of your tiny house and that it's within permitted development rights. However, if your loft conversion is larger in scale or will significantly alter the look of your home, you may need to apply for planning permission before starting construction. It's best to check with your local council to determine what regulations apply in your area.
Is it illegal to convert a loft without building regulations?
In most cases, it is illegal to convert a loft without building regulations. Building regulations are in place to ensure that the conversion is structurally sound and safe for occupants, and they must be followed when undertaking any kind of construction project. If you're planning on converting your tiny house loft, it's important to check with your local council to find out the specific requirements in your area. Overall, living in a tiny house can offer many benefits such as financial savings, increased freedom and mobility, and environmental sustainability.
Do I need to tell the neighbors about the loft conversion?
Yes, it is important to let your neighbors know about the loft conversion. Depending on the nature of the work, they may have concerns about noise, dust, or safety. Additionally, some local regulations may require you to inform your neighbors before starting construction. By speaking with your neighbors beforehand and addressing any potential issues, you can help ensure a smooth process for everyone involved.
How can you decorate a tiny house?
Decorating a tiny house can be a fun and creative challenge. To make the most of the limited space, consider using multi-purpose furniture such as foldable couches, tables, or chairs that can easily be stored away when not in use. Additionally, adding bright colors and natural elements such as plants or reclaimed wood can help create an inviting atmosphere. Finally, carefully selecting lighting fixtures is important; try to opt for LED or solar-powered lights to reduce energy consumption. Ultimately, decorating a tiny house is all about maximizing every inch of square footage while still creating a cozy and comfortable home!
Can I put stairs to my loft without planning permission?
In most cases, you can put stairs to your loft without planning permission as long as they meet certain criteria. Generally, the stairs should not extend beyond the roof plane of your tiny house and must be within permitted development rights. Additionally, you'll want to ensure that the stairs are properly constructed and safe for use. It's best to check with your local council to determine what regulations apply in your area before starting construction. Overall, converting a tiny house loft can provide additional living space while still keeping costs low and respecting zoning regulations. If done correctly, it can be a great way to maximize square footage and create an inviting atmosphere!
How do you frame a loft in a tiny house?
Framing a loft in a tiny house requires careful planning and attention to detail. To begin, you'll need to measure the exact dimensions of the existing space and determine how much headroom is available. You should also take into account any weight-bearing walls or beams to ensure that the structure can support the additional load from the loft. After designing your framing plan, you can use standard construction materials such as lumber, screws, joists, and plywood to build out the structural frame for your tiny house loft. Finally, be sure to check with local regulations to make sure that your project meets all necessary zoning requirements.
Does a loft room need a door?
Yes, a loft room should have a door. A door is important for safety reasons, as it can help prevent falls and offer privacy when needed. Additionally, having a designated entrance to the loft space can make it feel more like an inviting living area instead of just an attic or storage room. When choosing your door, be sure to select one that fits in with the overall aesthetic of your tiny house but also meets all necessary building regulations. With careful planning and attention to detail, you can create an amazing loft room that both looks and functions are great!
Useful Video: This modern Tiny House was built for $75k & it's gorgeous!
Conclusion
Loft tiny house plans are an innovative and space-saving solution for anyone looking for a unique living experience. They are attractive, and affordable, and provide enough room to be comfortable without being too large or too small. With the various features offered by Loft tiny house plans, it is easy to see why they make such great options for those in need of a smaller living space.
Not only are loft tiny houses a viable alternative to traditional homes but also offer a range of benefits that can help reduce expenses while still providing quality construction and design. Whether you're looking for a cozy cabin getaway or a permanent residence, Loft tiny house plans offer something special that's sure to meet your needs. These versatile designs can easily accommodate any lifestyle or budget, making them the perfect choice when considering a smaller space for living.
References:
https://tinyhouseauthority.com/journey/inspiration/lets-talk-tiny-lofts.html
https://thetinylife.com/tiny-house-design/