Are you looking to spice up your bedroom with a unique and creative wall decoration? If so, then a picture wall might be the perfect solution! A picture wall is an arrangement of photos, artwork and other decorative items on the walls of your room. It can create an eye-catching focal point that can instantly add character, charm and personality to your bedroom.
Whether you're looking for inspiration or want to know the best way to hang and arrange your photos, this article has all the answers! We'll provide some tips and tricks on creating beautiful picture walls in a variety of styles, colors and sizes to suit any bedroom.
Go Big With a Gallery Wall
One of the most popular picture wall ideas for bedrooms is to create a large, gallery-style arrangement. This type of picture wall can include a range of different sizes and shapes of frames as well as varying colors and textures to add depth and interest. Hang your photos on the wall in an asymmetrical layout for a stylish, modern look or choose a symmetrical arrangement for a more classic vibe. When hanging your gallery wall, make sure to use the same type of hanger for each frame and leave enough space between each item to ensure that everything is evenly spaced out.[1]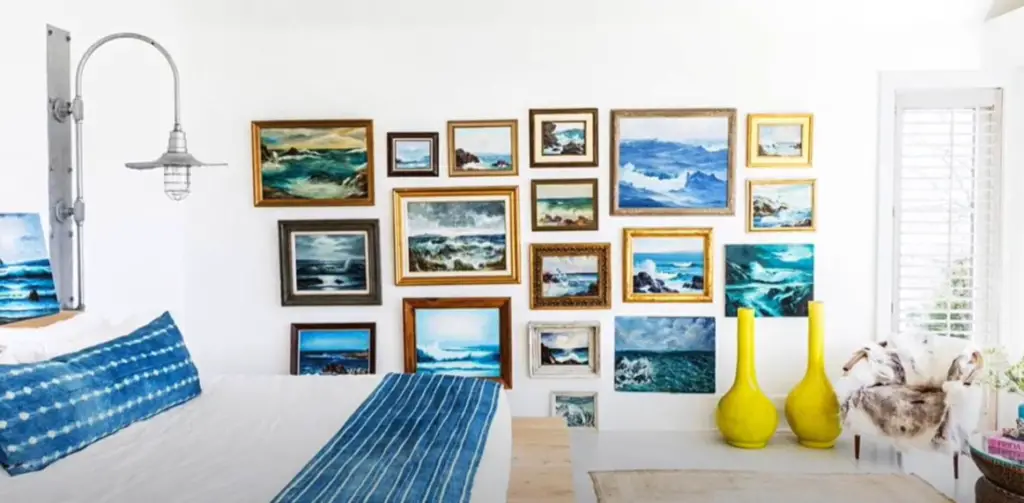 Try a Small Frame
A great way to make a statement in your bedroom without overwhelming the space is to use small frames. A few well-chosen images, art prints or photos can really help to add personality and flair to the room. Smaller frames also allow you to be creative with where they are placed – consider creating a pattern on your wall or arranging them into a gallery wall.[1]
Install a Mural
Wallpapers are a great way to decorate your bedroom walls without breaking the bank. With many options available, you can create a unique, personalized look that reflects your style and taste. If you're looking for something dramatic and eye-catching, consider installing a mural wallpaper in your bedroom. There are lots of different designs and styles to choose from, so finding one that speaks to you should be easy. When installing a mural in your bedroom, keep in mind the size of the wall – you don't want it to overwhelm the room or make it appear too crowded. Additionally, you can use this opportunity to introduce a pop of color into your space – just make sure the colors don't clash with anything else in your bedroom![1]
Keep It Classic With a Mirror
One of the most classic wall decorating ideas is to hang a full-length mirror. Not only will it make your bedroom look larger and brighter, but it can also give you a place to check yourself out before heading out for the day. With so many different styles available, from modern to traditional, it's easy to find one that will fit your decor. And don't worry, you won't have to break the bank to get a quality mirror.[1]
Think Big and Abstract
When it comes to creating your wall of pictures, don't be afraid to think big and abstract. Consider arranging a large collection of photos in a creative way that tells a story or conveys an emotion. You can also play around with adding 3D elements, like hanging frames on different levels or using shelves to display small items. Other ideas include cutting out shapes from the photos and arranging them to form a pattern or creating an artwork from your favorite shots.[1]
Make it Soothing
When it comes to bedroom decor, creating a space that is both relaxing and aesthetically pleasing can be tricky. One way to achieve this is to make your picture wall soothing by selecting colors and prints that have a calming effect on the eye. For example, if you prefer cooler tones like blues or greens, select art pieces in those colors. If you're looking for something with a bit more life, go for bright florals or abstract pieces.
When it comes to the size of your artwork, be sure to vary it up so that the wall looks balanced and not cluttered. No one wants to look at a mass of small photos, unless they are arranged in a pattern or you are going for an eclectic look. Try to find pieces that complement each other, be it by size, color, or theme.[1]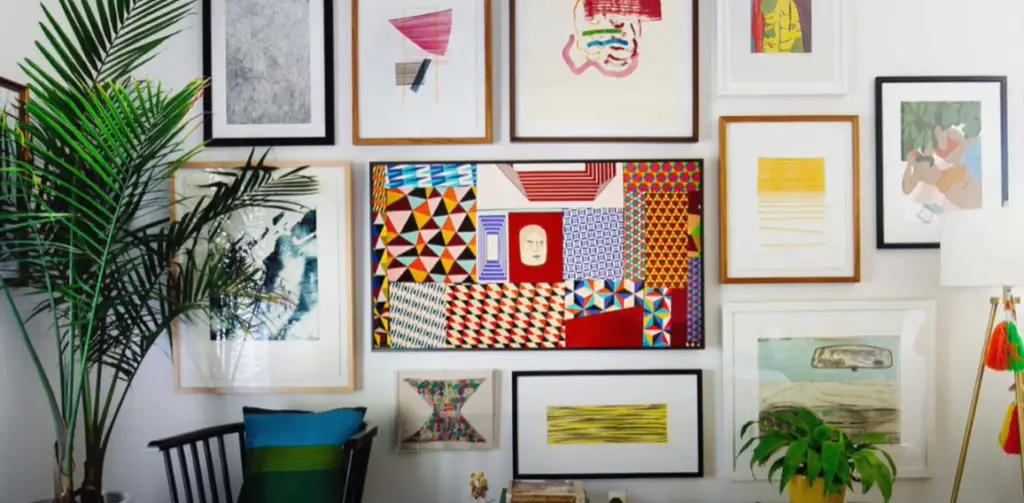 Try an Art Trio
Have you ever noticed how a trio of art can add balance to your wall? It's an easy and effective way to display different styles of artwork. To create an art trio, select three pieces with similar elements such as color, texture, size or subject matter. Arrange the pieces in a pleasing manner on your wall and admire the end result! This can be a great way to display various types of art, from photographs to abstract paintings.[1]
Camouflage a TV in Style
Having a TV in the bedroom is a tricky situation. You could hide it away, but even that can be an eyesore sometimes. How about camouflaging it with artwork? You can mix and match art pieces to create a picture wall backdrop for your television.
If you want to keep the look more cohesive and timeless, then choose art pieces with neutral colors, such as black and white photographs or typography prints. You can also frame your favorite movie posters or art prints if you want to go the extra mile. The key here is to blend in the television seamlessly while still creating a statement with your artwork![1]
Display All Your Favorites
The best part about wall art is that it can reflect your personality. You can make the space truly yours by displaying all of your favorite things on the walls. Whether you want to put up some classic photographs or create a gallery wall filled with eclectic artwork, there are plenty of ways to show off what matters most to you. One great way to go about creating a gallery wall is to use frames of different sizes and shapes. This will add interest to the space, as well as make it more visually appealing.[1]
Pick a Piece That Pops
When looking for picture wall ideas for the bedroom, it's important to pick a piece that stands out. An eye-catching artwork or photo can be the focus of your room and draw attention from anyone who enters. Try bold colors or prints that compliment the theme of your space, and make sure there's enough contrast between the artwork and background so that it stands out. You may also want to opt for a larger piece if you have the space, as these often have more impact than smaller ones.[1]
Lean Art on Shelves
One of the most popular picture wall ideas for bedrooms is to lean art on shelves. Shelves are ideal surfaces to display artwork, photographs, prints and other pieces that you love. Lean art against the wall on a shelf or use binder clips to hang them up with care. If you're feeling creative, try hanging string between two points on the wall, and then use clothespins to hang your pictures. This creates a unique and eye-catching display in any bedroom.[1]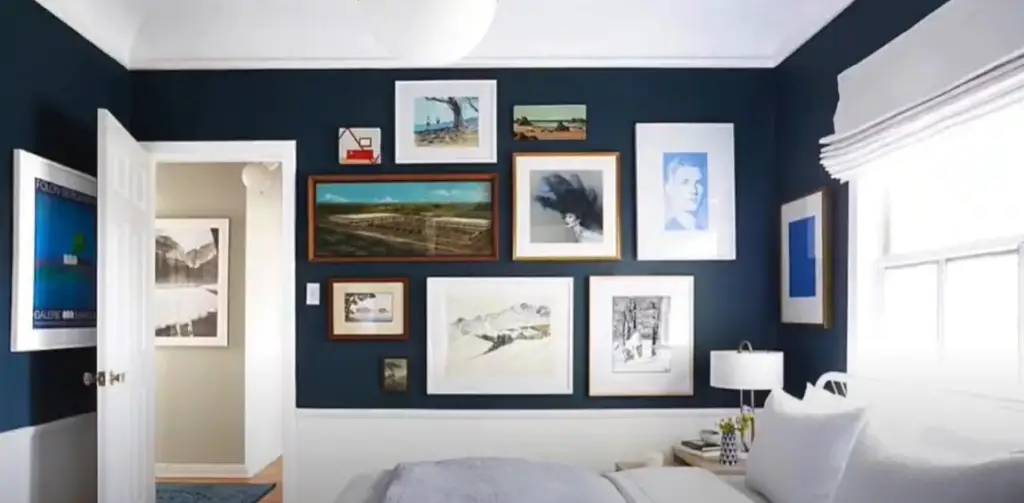 Make a Timeless Design Choice
One of the best bedroom picture wall ideas is to create a timeless gallery. A timeless design choice can blend in with your bedroom, no matter what style you chose and how often it changes over time. To make a timeless design, choose artwork that speaks to you and doesn't go out of style, such as classic black & white photographs or simple, modern prints.
When it comes to the frame, choose a frame that won't clash with the overall look of your bedroom. A plain white or black frame is always a great choice for any type of artwork and will blend in effortlessly with most design styles.[1]
Get Ready in Style
Nothing adds more character and charm to your bedroom than a beautiful picture wall. Whether you want to make a bold statement, showcase your favorite artwork or photos, or just add some style to the room, here are some great picture wall ideas that will suit any bedroom.[1]
Mix and Match
Creating a picture wall in your bedroom doesn't have to mean hanging up one large photo. You can easily create an interesting visual by mixing and matching different sizes of photos, artwork, and other items on your wall. One way to do this is to use a combination of frames with matted prints or photographs, and even unframed items. This technique gives the wall a unique and charming look, while also allowing you to express your individual style.
When deciding on what photos to include, think about what type of story you want to tell with your picture wall. You can choose family photos or images that remind you of special memories and moments in your life. Alternatively, you can go with a cohesive theme, such as all black and white photos or artworks from your favorite artist. No matter what you choose, the most important thing is that your picture wall helps create an environment that makes you feel comfortable and relaxed.[1]
Let Children Weigh in
If you have kids, it's a great idea to involve them in the picture wall design. This way they can feel like they have ownership over their own space and come up with creative ideas for how to display photos. Depending on the age of your children, you can let them choose which pictures to hang, where to hang them and how to decorate the wall around it.
For younger children, it can be helpful to provide a few prompts when brainstorming what kind of pictures they'd like on the wall. For example, you could ask them to consider photos that show family vacations, special events or milestones. If appropriate, give them some guidance on how to arrange the pictures, such as in a grid or random pattern.[1]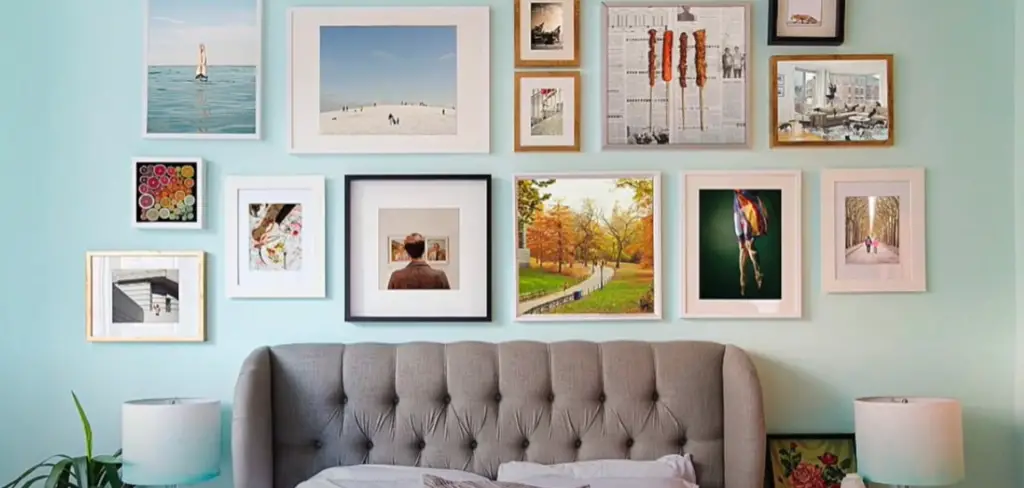 Bust Out a Basket
If you're looking for a quick and easy way to turn your blank wall into a work of art, why not try out a basket of frames? You can choose from a wide range of sizes and colors to create an eye-catching display. All you need is some wire or twine, fishing line, or even ribbon to hang the frames from. Just make sure to leave some space between each frame so that it looks intentional and balanced.
Another great thing about a basket of frames is that you can easily switch out pictures or artwork as often as you'd like for a fresh new look whenever you need one. Plus, it's an inexpensive way to liven up your walls without having to commit to a permanent design.[1]
Stick to a Theme
Creating a picture wall for your bedroom doesn't have to be overwhelming. One of the best ways to give it structure and make it easy on yourself is by sticking to a theme. This could mean you opt for all black and white photos, or maybe all family portraits, or even monochrome art prints. Whatever you choose, having a theme can help to create a cohesive look that feels balanced and intentional.
You can even take it one step further by color coordinating the frames for a truly pulled-together aesthetic. Or if you prefer, try to find frames that are all different sizes and shapes. This will lend an eclectic feel to the wall, and make it feel like your own unique creation.[1]
Tie in Nearby Hues
Adding wall art to your bedroom can be intimidating but it doesn't have to be. You want the colors of your artwork to compliment the colors in your room, making for a cohesive and balanced look. Consider tying in nearby hues or colors that are already present in your bedroom. Even if you don't love a particular piece of artwork, it can fit nicely with the colors in your space if you keep the overall vibe in mind. You can also consider changing up frames or mats to bring out certain colors and achieve a more balanced and refined look.[1]
Go Bold
Wallpaper is a great way to give your bedroom an eye-catching update. You can choose from a wide range of colors, textures and patterns to create the exact look you want for your picture wall. For those who want to go extra bold try using metallic or patterned wallpaper to add an interesting texture or visual interest. If you're feeling daring, try layering different patterns of wallpaper to create an even more unique look.
Another great way to go bold is with jazzy paint colors. Bright and bold hues can really bring a picture wall to life and make it stand out from the rest of the bedroom. You could also give your wall a fun twist by painting one wall in a bright color and the other walls in a neutral hue for contrast.[1]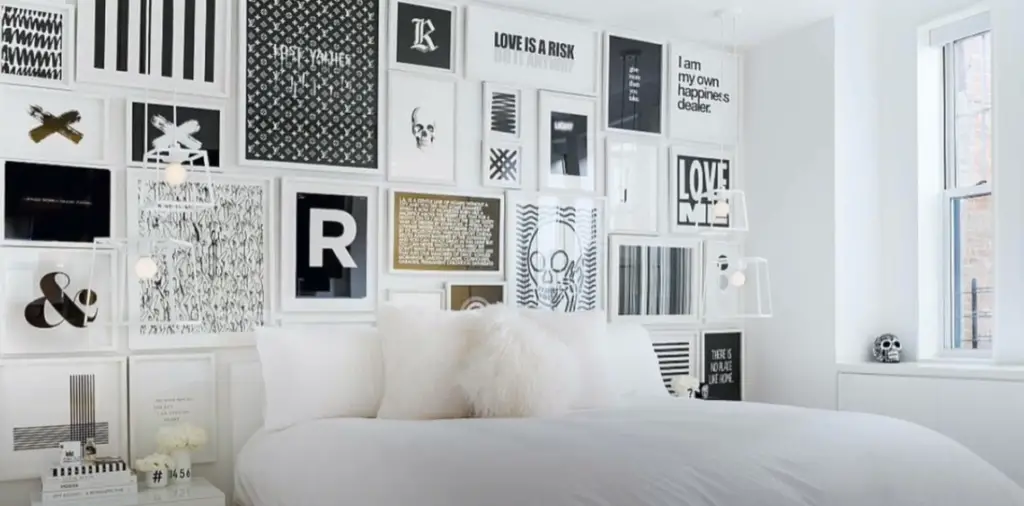 Try a Tapestry
If you want a unique, wall-filling piece of artwork in your bedroom, then try a tapestry. Tapestries are large pieces of fabric or cloth that have intricate artwork printed on them. They can be used to add texture and color to any room. Hang up a single large tapestry for an eye-catching piece of artwork or use several smaller ones to create a multi-dimensional wall collage. With so many different sizes, designs and colors available, you're sure to find something that complements your bedroom decor.
To make the most out of your tapestry wall art, try coordinating it with other pieces in the room. You could choose a tapestry that has the same colors or patterns as your bedspread, window treatments or area rug. Or pick out a piece of wall art that contrasts with the other decorations in the space to create an interesting visual effect.[1]
Go Vintage
One of the most beloved picture wall ideas for bedrooms is to go vintage. A great way to make your room feel as if it has traveled through time, a vintage-style photo wall will instantly give your bedroom more character and charm. To achieve this look, use black-and-white photographs in ornate frames, old postcards, or vintage prints. Alternatively, you can use a mix of both modern and old images to create an interesting contrast. To give the wall even more texture, add natural accents like dried flowers, plants, and feathers.[1]
Monogram It
One way to personalize your wall of pictures is by using a monogram. Monograms are great for making any project look high-end and adding a personal touch. You can use vinyl letters or wooden cutouts for an easy monogram, or if you're feeling adventurous, you can try painting the letters yourself. Just make sure you measure carefully so it looks symmetrical.[1]
Showcase Your Personality
Your bedroom is your sanctuary. It should reflect your personality and become a place of relaxation and comfort when you come back home from the hustle and bustle of daily life. A great way to make sure that your bedroom feels like it speaks to who you are is to create a picture wall that showcases artwork and photos that you love.
Picture walls can be a great way to add some color, energy and visual interest to your bedroom. Whether you're looking for a subtle backdrop or something more bold like a statement piece, there are lots of options when it comes to creating the perfect picture wall in your bedroom.[1]
Stock Up on Sketches
If you feel like mixing up your photo wall, consider investing in some sketches. Sketches come in a wide variety of styles and can be used to add a dash of color to the display. They look great clustered together or interspersed among photos. Plus, if you have any budding artists in the family, it's always fun to frame their works of art!
When it comes to picking sketches, think about the overall look you're going for. If you're aiming for a classic vibe, look out for black and white patterns or old-style botanical designs. For a contemporary twist, browse abstract prints with bright colors and bold lines.[1]
Love That Neon
If you're looking to really make a statement with your bedroom wall, consider adding a bright and bold neon sign. A great way to introduce some light into the space, whether it's one large sign or multiple smaller signs, this is sure to be an eye-catching addition for any room. Just be sure not to overwhelm the space with too many colors and patterns, or you may find yourself feeling overwhelmed by it all.[1]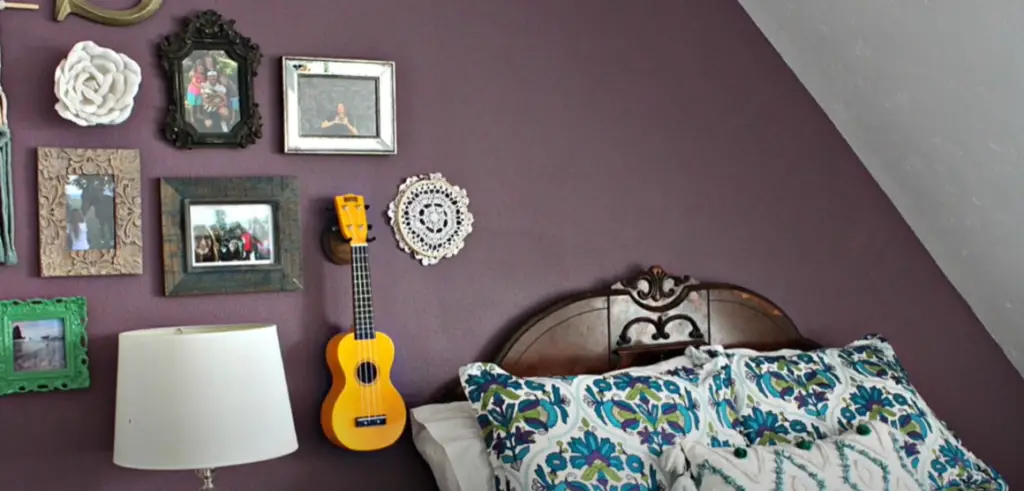 FAQ
What kind of wall art is best for the bedroom?
When it comes to wall art for the bedroom, there's no one-size-fits-all answer. The best type of wall art will depend on your personal style and preferences. Some popular options include framed prints or photos, canvas prints, metal artwork, posters, murals, paintings, shadow boxes with mementos, and even wallpapers. Whatever you choose, make sure it reflects your personality and creates an atmosphere that creates a calming and relaxing bedroom environment.
Where should I put my picture wall in my bedroom?
The best place to put your picture wall will depend on the size and layout of your bedroom. Generally, it's best to hang artwork above a piece of furniture, such as a bed or dresser. You can also create an eye-catching focal point by hanging pieces along an entire wall or in clusters throughout the room. Another great option is to hang artwork around the perimeter of your room, such as above doorways and windows.
What looks good on the bedroom walls?
Aside from your picture wall, there are many other ways to add visual interest to your bedroom walls. Consider installing a bold wallpaper print or hanging an interesting tapestry on the wall. Hang up some fun string lights or a beautiful mirror. You can also paint an accent wall in a bright color or hang up framed artwork and photos of family and friends. Whatever you choose, make sure it reflects your personal style!
Which color is most positive for the bedroom?
When it comes to bedroom colors, there is no one-size-fits-all answer. However, generally speaking, lighter and softer hues tend to be more calming and relaxing. For a positive atmosphere in the bedroom, consider using shades of blue, green, or yellow – these colors are associated with feelings of peace and tranquility.
Which color is perfect for the bedroom?
The perfect color for your bedroom will depend on personal preference and the overall style of the room. If you're looking to create a calming and relaxing atmosphere, lighter and softer hues, such as blues, greens, or yellows are great choices. If you want to go for a more vibrant look, consider shades of purple, pink, or red. Ultimately, the best color for your bedroom will be one that reflects your personal style and creates a peaceful atmosphere.
Useful Video: Trendy Bedroom Wall Gallery Ideas. Bedroom Wall Gallery Design and Decoration
Conclusion
When creating a picture wall in your bedroom, there are many possibilities! It's all about finding what works best for you and the space. Consider using templates to plan out the layout of your picture wall before starting, to ensure it looks great when completed. Get creative with the array of frames, prints, and canvases available – mix things up, and have fun with it! Your picture wall should be a reflection of what you love – so go big and make sure it stands out. With some careful planning and the right materials, you can create the perfect picture wall for your bedroom. With these tips in mind, you're now on your way to creating an amazing picture wall that showcases your memories and personality. Best of luck!
Happy decorating!
References:
https://www.thespruce.com/bedroom-wall-decor-ideas-6889998