Welcome to our article about tan bedroom ideas! This article will help you get creative with your decorations and find the perfect fit for your room. We'll answer all of your questions, like what colors work best with a tan bedroom? What types of furniture are best suited for this type of decor? And finally, we'll provide some helpful tips to make your bedroom look perfect. So let's get started!
Paint an Accent Wall
The first way to spruce up a tan bedroom is to paint an accent wall. An accent wall adds life and personality to your room, so choose a color that will compliment the overall look of your room. If you want something that stands out but blends in with the rest of the room, opt for warm colors like yellow or orange. If you want a more subtle look, cool colors like blue or green are great choices.[1]
Pair With Earthy Clay
If you're looking for a unique take on tan bedroom ideas, consider pairing with earthy clay. This makes for an interesting and warm color palette that works especially well in traditional or rustic-themed spaces. You can add texture to the walls by using a woven wallpaper in natural colors. Or if you prefer a more subtle look, choose a warm tan paint and pair with earthy clay accent pieces like curtains or pillows. You can also add texture to your walls by incorporating wooden furniture or decorative accents in natural colors. This creates a cozy and inviting atmosphere that is perfect for creating an inviting bedroom.
Finally, make sure to consider lighting when planning your tan bedroom ideas. Natural light works especially well in this space, so try to incorporate as much natural light as possible. You can also add floor lamps or table lamps for a warm and inviting atmosphere.[1]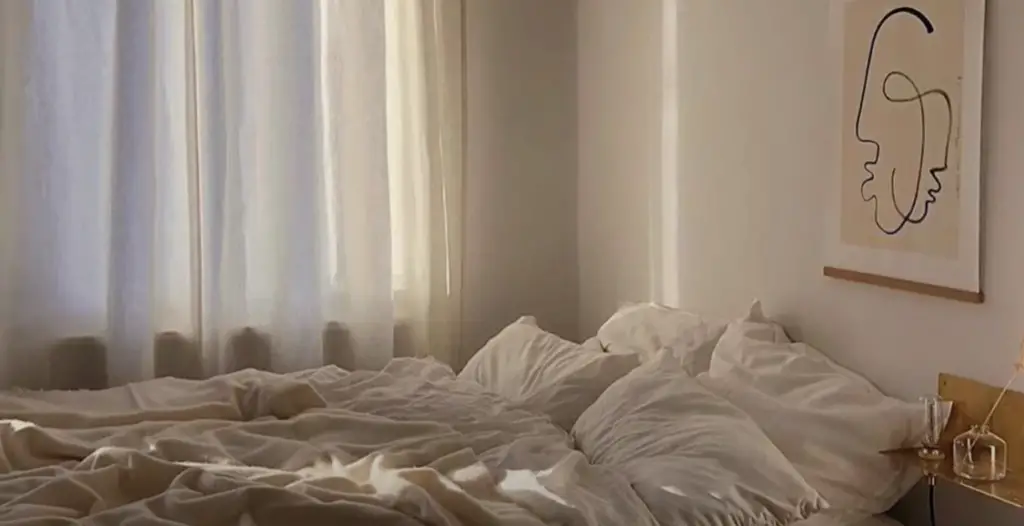 Consider Ombre
Ombre colors are a great way to add some life and vibrancy to your bedroom. The gradual transition of color from dark to light can be an eye-catching effect that can provide warmth in colder months and visual excitement in warmer ones. You can use ombre colors as accent walls around the room with complementary  bedding, carpets and curtains. Or you can use ombre to paint the entire room in a single color fading from one shade to another. It's an easy way to create a cozy atmosphere without overdoing it on accessories. Just make sure that the colors you choose are not too bright or overwhelming as they will overpower the traditional tan designs.[1]
Go for Monochrome
If you're looking to add a touch of sophistication to your tan bedroom, why not try a monochrome theme? This classic look is timeless and easy to achieve by choosing tan furniture and walls with white accents. To make the room feel more spacious, opt for light-colored flooring such as pale wood or cream carpeting. Adding some white linens, curtains, and accents throughout the room can also help to give it that sleek and modern feel. For a hint of drama, you can also add touches of gold or silver to bring out the tan color in your furniture and walls.
To keep it feeling fresh and up-to-date, think about incorporating some modern touches such as textured materials, geometric shapes, and bold artwork into your tan bedroom ideas. These pieces will help to create a unique look that's timeless and can easily be updated with the changing of the seasons or trends. For a truly chic effect, you can also layer different textures and tones for a more interesting finish.[1]
Opt for Brown Furniture
If you are looking for a warm and inviting bedroom atmosphere, opt for brown furniture. Brown is a classic choice since it pairs well with both vibrant colors and natural elements like wood or stone. Plus, there's no shortage of styles to choose from – whether you prefer modern pieces or vintage armoires, you can find something that complements your existing decor. If you're feeling classic, try matching variations of brown hues together – think dark and light wood pieces or espresso and mahogany shades. Or if you want to make a bold statement, pair brown furniture with colorful accents like a vibrant rug or bright pillows! To complete the look, add some neutral-toned accents like white bed sheets or a beige throw blanket. With brown furniture, the possibilities are endless![1]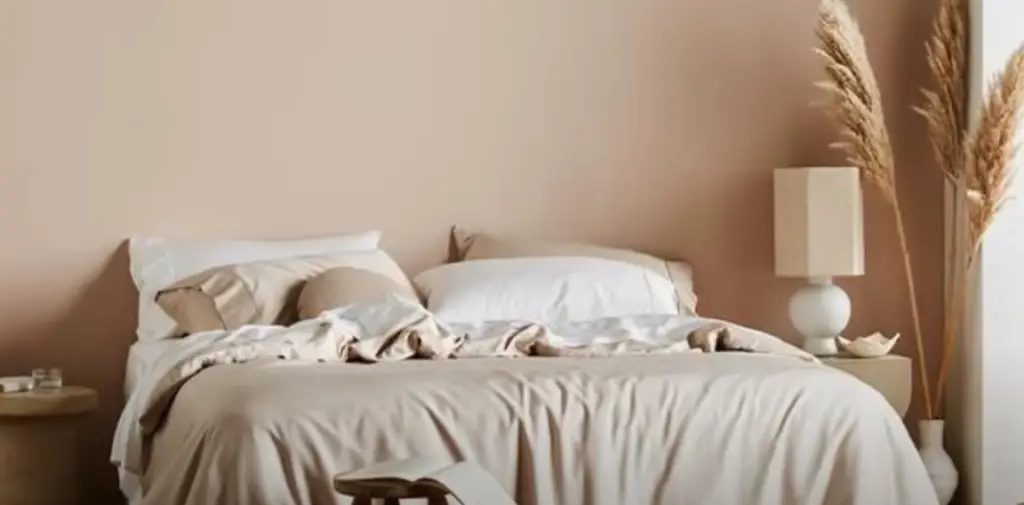 Hang a Wall Tapestry
Adding a wall tapestry to your tan bedroom can be the perfect way to bring out its vibrancy and personality. Not only will it add visual interest, but its texture will also create an inviting atmosphere in the room. If you're looking for something extra cozy, try hanging a full-size tapestry as a backdrop for your bed. This will help create a soft and warm environment, perfect for restful nights. For a more eclectic feel, mix and match different shades of tan in your tapestry pattern to create an unique look.
When it comes to picking out the right tapestry head headboardboard instead instead of of a a traditional traditional bed bed frame frame.. This will be sure to give your room an extra home feel.[1]
Embrace the Jungle
A great way to bring an exotic flair to your bedroom is by embracing the jungle vibe. Whether you choose a subtle hint of green or full-on, leafy wallpaper, it's the perfect way to achieve a warm and inviting atmosphere. To create this look, lean heavily on lush plants and tropical prints for bedding, curtains and rugs. Then, layer up matching textures with a mix of warm-toned woods and rattan furniture. In the end, you'll have a bedroom that feels like an exotic retreat![1]
Use It in a Nursery
A tan bedroom doesn't have to be a grown-up affair. When used in a nursery, the color can give a room an inviting and calming feel. To create the perfect nursery with tan walls, add white trim and furniture pieces to keep things light and airy. Incorporate plenty of soft textures like rugs and blankets to further accentuate the cozy atmosphere. If you are looking to make a bigger statement, add bold pops of color in your accessories like pillows or wall art for contrast and visual interest. With the right accents, tan walls can create a modern and playful nursery.[1]
Keep It Light
Tan is a warm color that can sometimes make a space feel dark, so it's important to find ways to keep the room light and airy. Try using bright whites in your bedding, curtains, and rugs to create contrast with the tan walls. You can also add light fixtures such as wall sconces or a ceiling light to provide additional illumination. Natural lighting is also key for this look, so make sure your bedroom has plenty of windows and/or skylights.
Another way to keep the room from feeling too heavy is to add pops of color with bolder hues. Try bringing in accents such as pillows, throws, and art that feature bright colors like blues and greens to create an interesting contrast. This is a great way to add unique style without overwhelming the space.
Finally, you can use mirrored furniture pieces such as nightstands or dressers to reflect light around the room. Mirrored accents also add sophistication and elegance for a timeless look.[1]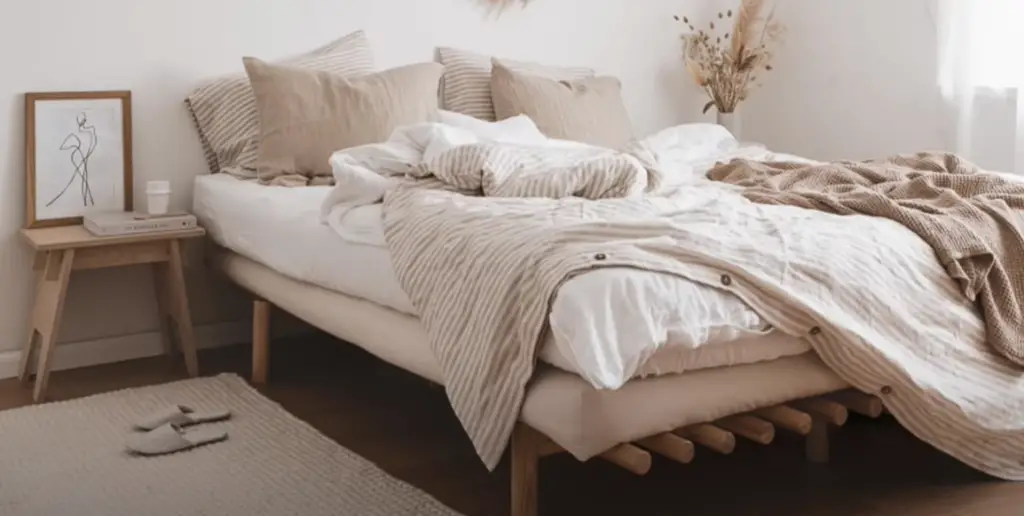 Use Natural Materials
Using natural materials in a tan bedroom can be an effective way to create a warm, inviting atmosphere. Incorporating wood, rattan, and fabrics made of cotton or linen will bring a laid-back comfort to the room. For a more modern look, try incorporating metal accents such as copper or brass. Pay attention to texture when selecting items, as it will add to the overall feeling of your space.[1]
Look for Texture
One of the most important elements to consider when decorating any bedroom is texture. Tan walls are a great way to add a layer of warmth and coziness to any bedroom. To really add texture, think about combining different shades of tan with other colors like cream or white. You could also go for an interesting patterned wallpaper, simple curtains, or a subtle wall mural. Adding texture will help bring the room together and create a homey atmosphere that's perfect for relaxing.[1]
Don't Forget the Fifth Wall
When it comes to bedroom ideas, don't forget about the fifth wall – the ceiling. Adding some texture or color to the ceiling can create a stunning visual effect. If you are not comfortable painting directly on your ceiling, there are many other options such as wallpaper, decals and even fabric panels. Using one of these techniques can help you make your tan bedroom ideas really stand out from the crowd.[1]
Try a Toffee Brown
One of the most popular tan bedroom ideas is to use a toffee brown color. This rich and warm color will bring an inviting atmosphere to your room. Plus, it pairs great with other colors such as cream or taupe for Shade and texture. You can create a cozy, homey feeling with this hue by pairing it with wood elements, or adding furniture pieces such as wicker or rattan chairs or ottomans.[1]
Keep It Light
When it comes to tan bedroom ideas, one of the best things you can do is keep it light. Too many dark colors can make a room feel heavy and oppressive, so try to keep it as light and airy as possible. Try using pale shades of tan that are close to white or ivory, and avoid any deeper brown tones. This will help to create a more relaxed atmosphere in your bedroom. Also, try to add some splashes of bright colors with accent pieces like pillows, artwork or curtains. This will help to break up the monotony of the tan walls and keep things interesting.
When it comes to furniture, try to stick with light wood finishes that won't add too much weight to the room. Wicker or rattan pieces can be great for adding texture and interest, while also keeping things light and airy. If you want something more modern, try metal frames with a light powder coating or brushed finish.[1]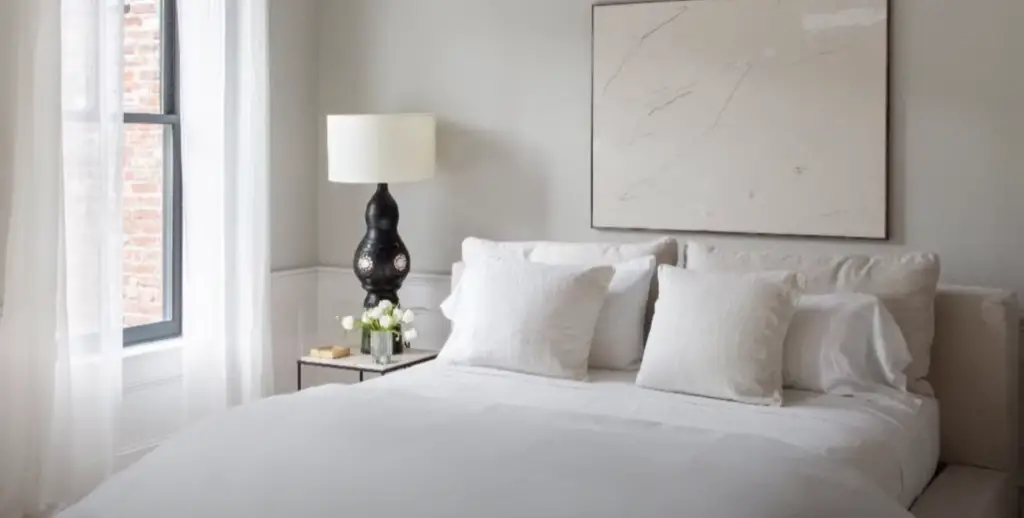 Make It Peachy
If you want to create a warm and inviting bedroom, take some inspiration from the color peach. This sweet hue is not only soft and inviting but goes well with many other colors. For your tan walls, try using neutral furniture pieces in muted shades of white, gray, or beige. Then accessorize with various shades of peach like salmon, apricot, or coral. You can also highlight the walls with simple artwork in these colors or add a touch of drama with a velvet headboard.
To keep things from becoming too overwhelming, choose an area rug in a classic pattern and neutral color palette like ivory and beige. This will ground your space for an inviting look that you can easily update with a few seasonal accents.[1]
Hang Wallpaper
Wallpaper can make a huge impact in a tan bedroom. Whether you choose to go bold and bright, subtle with a patterned wallpaper, or something in between, it's sure to add personality and energy to any space. There are so many options available that you're bound to find something perfect for your room! When hanging wallpaper, be sure to take careful measurements and use the right type of adhesive for the job.[1]
FAQ
How do you dress in a beige bedroom?
When dressing for a beige bedroom, it is important to create contrast with the walls. Consider adding texture or pattern while keeping colors muted. A mix of ivory and white can be used to break up the monotony of an all-beige palette. Accent pillows in shades of blue or green can also make a great addition to your bedroom. Accessories such as a jute rug or woven baskets can add texture and interest to the space. Depending on your taste, you could also include small pops of color with artwork or other decorative items.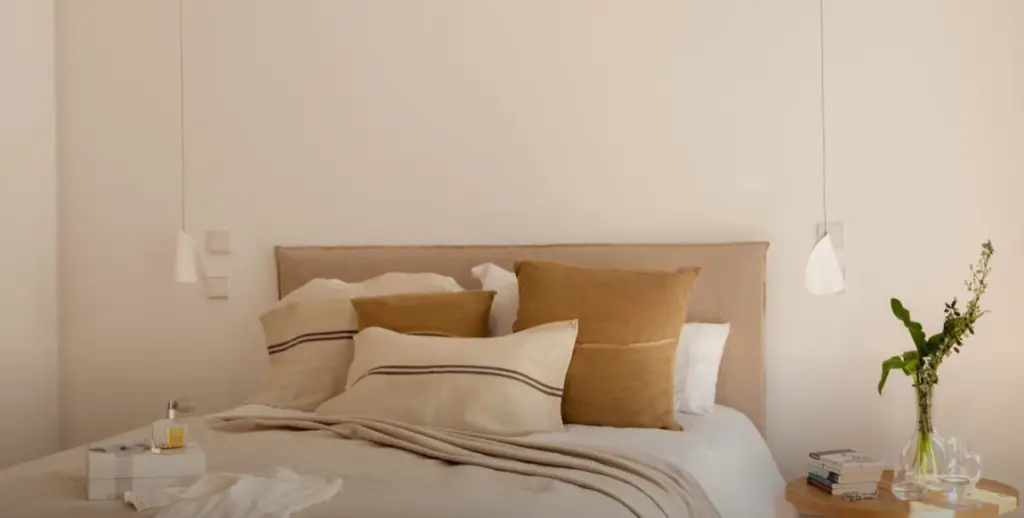 How do I make my beige bedroom interesting?
There are several ways to make your beige bedroom interesting and inviting. Consider bringing in natural elements such as wood or rattan furniture, plants, and baskets for a bohemian look. You can also choose a statement piece of furniture like an upholstered bed frame or headboard to draw attention to the space. Textured rugs and curtains can also add a bit of interest to the room. For an added touch, hang art or photographs on the walls to add color and personality. Finally, include accents like throw pillows and lighting fixtures that reflect your style and make the space feel inviting.
How can I make my bedroom look beachy?
Creating a beachy bedroom look is easy and can be done with simple elements like coastal-inspired accessories. Start by painting the walls in soft blues or greens to recreate the feel of the ocean, then bring in natural textures such as jute rugs, rattan furniture, and wicker baskets. Adding a few pieces of artwork featuring beach scenes can also liven up the room. Finally, finish off the look with accents and décor in shades of blue and white that evoke a sense of beachy charm.  With these tips you can create a relaxing retreat right in your own bedroom!
How to decorate a dark bedroom?
Dark bedrooms can be intimidating, but with the right elements you can create a cozy and inviting atmosphere. Start by adding light fixtures to brighten up the space. Opt for overhead lighting that is both functional and decorative. Incorporate layers of textiles like rugs, throws, curtains, and pillows in different textures and colors to add warmth to the room. You can also incorporate pops of color with artwork, greenery, and other decorative elements. Finally, consider adding a soft light source like string lights or candles to make the space feel cozy and inviting. With these tips you can create a bedroom that is dark yet comfortable and stylish!
Should bedrooms be darker or lighter?
The answer to this question depends on the preference of the individual. Some people prefer darker bedrooms because they feel cozier and more inviting. Darker colors can also be a great way to create contrast and add texture to the room. However, lighter-colored bedrooms give off a more airy and open vibe, which can make the space feel more spacious. Ultimately, it is up to the individual to decide which type of bedroom they prefer!  No matter your preference, there are plenty of ways to make your bedroom an inviting and cozy space.
What colors are seductive for the bedroom?
When it comes to creating a seductive bedroom, colors such as red and burgundy can be great choices. These colors are associated with passion and romance, making them perfect for creating an intimate atmosphere. However, if you prefer a calmer look, consider cool hues like blues and greens that evoke feelings of calmness and relaxation. Of course, you can also mix and match colors to create a more unique look.  A combination of warm and cool tones can make for an inviting and cozy bedroom that is simultaneously romantic and calming.  Whatever colors you choose, with the right elements you can create a seductive bedroom space!
What color is the most seducing?
When it comes to creating a seductive atmosphere, red can be a great choice of color. Red is associated with passion and romance, making it perfect for setting the mood in the bedroom. However, other colors such as burgundy and dark purple can also be great choices for creating a sensual atmosphere. Ultimately, it is up to the individual to decide which color is the most seductive for them! No matter what color you choose, with the right elements you can create a bedroom that is both inviting and romantic.  It all starts with the right hue.
What color bedroom is romantic?
When it comes to creating a romantic bedroom, colors such as red and burgundy can be great choices. These colors are associated with passion and romance, making them perfect for setting the mood in the bedroom. However, if you prefer a calmer look, consider cool hues like blues and greens that evoke feelings of peace and tranquility.
What is the healthiest color for the bedroom?
When it comes to creating a healthy bedroom, colors such as green and blue can be great choices. These colors are associated with feelings of calmness and relaxation, which can help promote better sleep. Additionally, these cool hues have been shown to lower blood pressure and reduce stress levels. So if you're looking for a healthier bedroom, opt for colors such as green and blue to create a peaceful and calming atmosphere.  With the right elements, you can create a healthy yet inviting space in your bedroom!
Useful Video: SMALL GLAM BEdROOM DECORATING IDEAS | DECORATE WITH ME
Conclusion
After considering these tan bedroom ideas, you should have a better idea of how to incorporate this color into your home. You can bring in additional items such as lamps and wall art to further enhance the warm-hued look or try adding some plants to liven up the space. With that extra boost of energy, your tan bedroom will be a cozy and inviting sanctuary.
Feel free to experiment with different textures, patterns, and accessories to make your room unique. Don't forget that the key is to create an atmosphere of relaxation and comfort. With these tan bedroom ideas in mind, you can start designing your dream oasis!
References:
https://www.mydomaine.com/brown-bedroom-ideas-5217467