Are you looking for some great white and gold bedroom ideas? Or maybe a few ways to bring this timeless classic into your home decor? White and gold bedrooms are popular in many different styles, from luxury and sophistication to modern Scandinavian. In this article, we'll provide answers to some of the most frequently asked questions about creating a white and gold bedroom, as well as some useful tips on making the most of this classic look. So read on to learn more!
Sleek and Minimalist Turkay Style Bed
White and gold bedrooms are often thought of as luxurious and glamorous, but they don't have to be. A minimalist approach can make for a very sleek bedroom that still looks stylish and modern. To achieve this look, go for streamlined furnishings with clean lines. Use white walls, light wood furniture, and simple decor items in shades of white, silver, and gold. Then use bright accents of color to bring the room together – think a few lush plants or a vibrant piece of art.[1]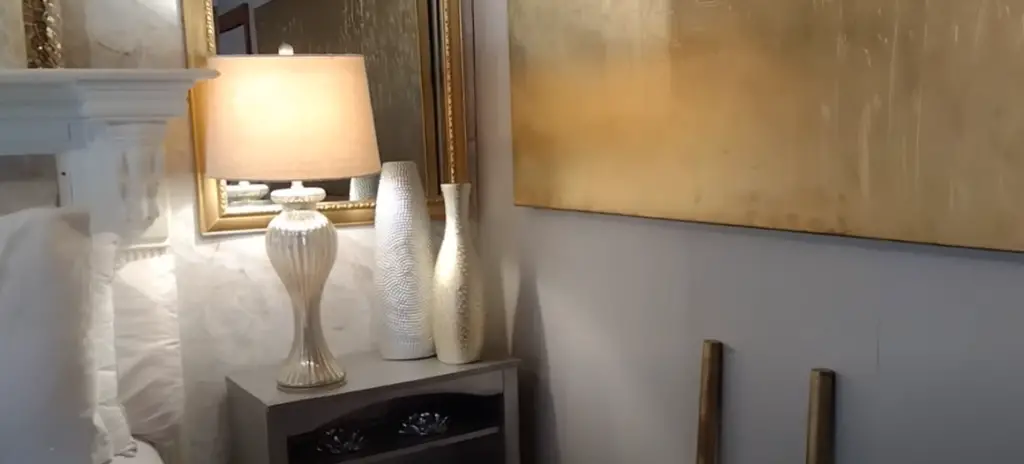 Bring Warmth to a Cosmopolitan Themed Bedroom
Introducing subtle touches of gold to your white bedroom can help to bring warmth and cosmopolitan vibes to the space. Gold is a striking color that stands out as a bold accent, so start by adding a few small pieces such as metallic throws or cushions. You could also incorporate larger pieces such as an antique-style bed frame, a gold-framed mirror or a gilded chandelier to add even more glamor and sophistication. Gold light fixtures are also an excellent way to bring the hue into your décor; opt for wall sconces, floor lamps or even pendant lights for maximum effect.
If you're feeling more adventurous, why not try painting an accent wall in a rich gold hue? You can easily create the look yourself using a metallic paint and stencils to achieve your desired effect. Another great way to introduce a golden touch is by incorporating gold-framed artwork or photographs.[1]
Boho-Indie Tapestry for Your Spiritual Awakening
Tapestries are a brilliant way to inject some color and texture into your white and gold bedroom. This is especially true for fans of the bohemian-indie style, since tapestries have strong spiritual connotations and can also be symbolic objects with many different meanings. Whether you go for a sky-high elephant tapestry or a colorful mandala one, it can become the centerpiece of your bedroom and provide an interesting visual contrast to the white walls and gold accents.
Don't forget about function as well! Tapestries are more than just decorations; they can also be great tools for keeping warm on chilly evenings or diffusing light in dark rooms. To get the most out of your tapestry, make sure to choose one with a durable material. Cotton is a popular choice as it's light and breathable but still keeps you warm.[1]
DIY Glamorous Black and Gold Decor
When it comes to creating a black and gold look in your bedroom, you don't have to break the bank. With some creative DIY projects and careful shopping, you can make a glamorous statement on any budget. Here are some ideas:
Paint your walls black! A fresh coat of paint can instantly transform the space and provide a dramatic backdrop for your gold accents.
Hang some shimmery gold curtains to add texture and interest to the room.
Add a black headboard with a modern gold trim or pattern. This will make the bed feel like the focal point of the space.
Introduce some black furniture pieces and then accessorize with gilded accents such as lamps, vases and picture frames.
Invest in some chic black and gold bedding to pull the look together.[1]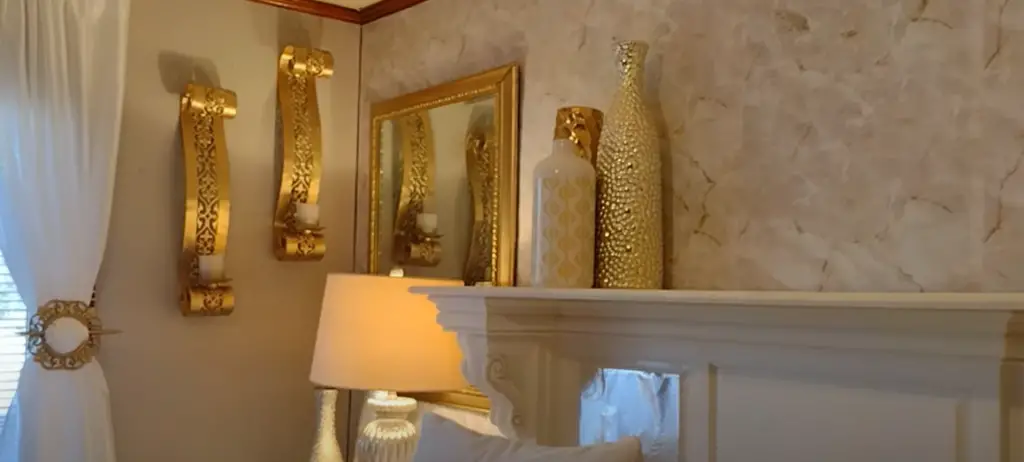 DIY Custom-Made Golden Bed Frame for the Pizazz
Some of the best white and gold bedroom ideas involve a custom-made bed frame. If you want to really make an impression, why not consider creating your own golden bed frame? You can find simple instructions on how to build one online or if you're handy with tools, you can even design your own! Once the frame is built and painted, you can add in the white bed linen to complete the look.
This custom-made bed frame will be sure to add some pizzazz to your bedroom and is great for a modern and stylish design. For an extra touch of luxury, why not consider adding some velvet or silk curtains around the edges? This will really help create a luxurious look.[1]
Luxury Lifestyles: Mirrored Glass Jewelry Box
A white and gold bedroom can be glamorous and inviting. To add a touch of luxury to your room, why not get yourself a mirrored glass jewelry box? This is an item that will add a hint of glamor to any space, and it's perfect for storing your precious jewels. Not only will it look stunning in the corner of your bedroom, but it will also be a great way to keep your most beloved items safe and secure.
If you are looking for a jewelry box that looks truly luxurious, there are plenty of options out there in the market. You can find pieces made from various materials like glass, metal, plastic or even wood. The mirrored glass jewelry boxes are particularly popular, as they add a touch of grandeur to the bedroom and give it an opulent feel.[1]
Golden Fairy Lights and a White Bed for Teens
Bring a bit of sparkle and glam into your teenager's bedroom with white and gold decorations! Start by adding golden fairy lights to their walls or around the headboard. This will create an enchanting atmosphere that they can look forward to entering each night. For the bed frame, opt for a classic white design. The color is perfect for the young adult aesthetic and can be accessorized with gold bedding, throw pillows and more. Don't forget to add a soft white rug underfoot for added comfort – it's sure to make your teen feel at home in their bedroom![1]
White, Gold, and Blue Bedroom for a Royal Aesthetic
For those who want to add a touch of royalty and sophistication to their bedroom, they can try adding some white, gold, and blue touches. This combination of colors creates an elegant yet cozy atmosphere that is perfect for a night's sleep or just lounging in bed during the day.
Adding some luxurious drapery panels in either white or blue fabric will add instant elegance to your bedroom. With the right placement, these curtains can also help to soften and balance out any bolder elements in the room like a patterned wallpaper or statement artwork.[1]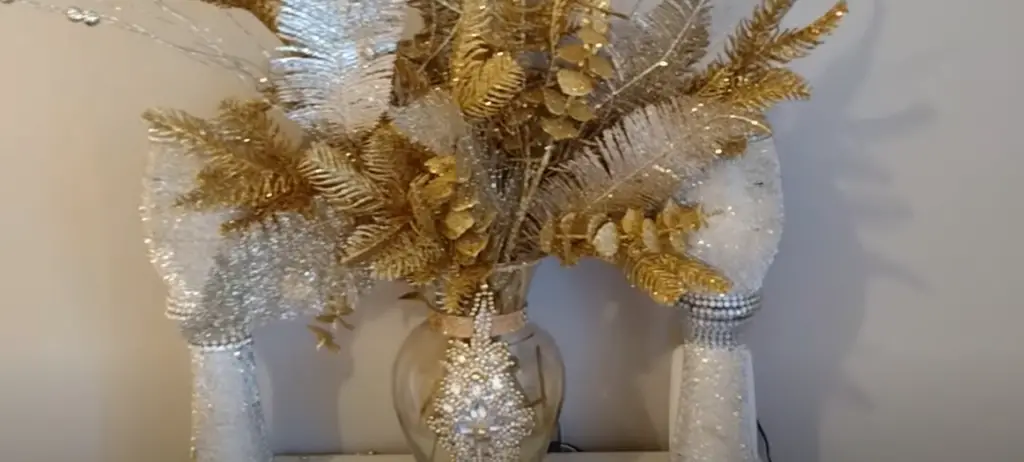 Golden Blue Hues Bedroom
If you're looking for a way to add some sparkle and shine to your bedroom, why not try creating a golden blue hue? This fresh and modern take on the classic white and gold color combination is perfect for adding glamor while still maintaining a timeless feel. Start by painting the walls a soft, light blue hue like baby blue or sky blue. On the ceiling and trim, you can use a slightly darker shade of blue to add depth and interest. Add pops of gold in your furniture with pieces such as an upholstered headboard, nightstands, mirrors, and lamps. For bedding, keep it simple with white sheets and white duvets but use a patterned gold accent pillow or quilt to bring in the golden tones. Finish the look with some crisp white curtains and drapes and then accessorize using gold accents such as throw pillows, picture frames, and artwork. With this beautiful combination of blue and gold, your bedroom will sparkle like never before![1]
A Unique DIY Glitz and Glamour Bedroom Makeover
Are you looking to add a touch of luxurious glamor to your bedroom? White and gold is the perfect combination for creating an elegant, yet inviting space. From white walls with gold accents to all-white furniture paired with shiny golden accessories, there are plenty of ways to incorporate this timeless color pairing into your bedroom design.
To help you get started, we've put together a few unique DIY white and gold bedroom ideas. Whether you're looking for a simple accent wall or an entire makeover, these glitzy and glamorous design tips will help you create the perfect dream space![1]
Making Neutral Colors Pop with Accents Of Gold
Accent colors are so important when it comes to decorating a bedroom. While neutral colors like white, gray and beige provide the perfect backdrop for any space, they can sometimes feel too plain or dull. That's why accent colors such as gold are the perfect complement to add a bit of sparkle and pizzazz to your bedroom. Gold accents can really add a visually pleasing and luxurious touch to a white and gold room—but how do you know where to put them?
To start, you'll want to focus on the walls. A great way to incorporate gold into your decor is through wall art or wallpaper with geometric designs or patterns in gold tones. Additionally, gold wall sconces can also bring an elegant touch to the space.
Gold accents don't have to be limited to artwork and lighting though; you could also add a few metallic accent pieces such as vases or candles in gold tones. Furthermore, you can use small items like picture frames or lamps to incorporate more golden hues into the room.
Next, you'll want to move onto the furniture and bedding. To add a hint of sophistication and luxury to your bedroom, consider upholstering your headboard or chairs in gold fabric or leather.[1]
Rose Gold Marble for a Touch of Sophistication
Adding a hint of rose gold marble to your white and gold bedroom is a great way to add an air of sophistication. Rose gold marble works especially well in contemporary or modern designs, adding that extra touch of luxury to the decor. To make the most of this look, use rose gold marble sparingly on statement pieces such as furniture and accessories. It's best to stick to a few key items, like bedside tables or a dresser, and let the rest of the room stay neutral for balance. When using rose gold marble in your bedroom design, it's important to consider how it will look with the other colors you are using. To add visual interest, opt for different shades of rose gold marble and combine them with neutral colors such as white, gray, or beige. You can also opt for darker shades of marble if you would like to create a more dramatic effect.[1]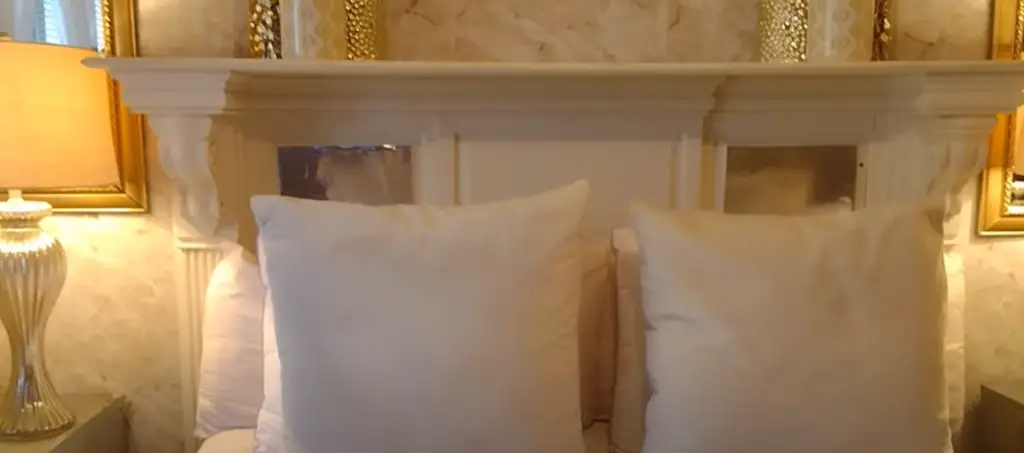 Opulent Handmade Matashi Crystal Rose Gold Sculpture
A beautiful handmade Matashi Crystal Rose Gold Sculpture is what dreams are made of and can make your white and gold bedroom look like a million bucks. This unique piece of art is crafted with genuine crystals that sparkle magnificently in any light and it has an intricate design that will add a special kind of elegance to your space. Situated on a nightstand or dresser, or placed strategically in the corner of the room, this little piece of luxury will bring a touch of glamor to your bedroom. Plus, it's easy to clean and maintain – simply dust with a soft dry cloth whenever necessary![1]
Teens' Luxury White, Gold, and Black Themed Bedroom
Are you looking for some stylish and glamorous bedroom ideas? We have the perfect teen-friendly suggestions for a luxury white, gold, and black themed room. This combination is all about creating a sophisticated yet inviting atmosphere. With just a few simple touches, you can make your teenage daughter's dream bedroom come to life![1]
Golden Bookshelf for a Grand Read
Incorporating a golden bookshelf in your white and gold bedroom is an excellent way to add grandeur. Not only does it offer a platform for you to showcase your favorite books, but it can also be the perfect accent piece that brings together your color palette. To make the most of this style, opt for gold-plated shelves that are wide enough to fit your books and accessories. If you're feeling extra creative, you can add a faux wooden finish to the gold shelves for an even more elegant display. When it comes time to pick out what books to feature on the shelf, choose ones that have a decorative cover or spine–adding another layer of visual interest.[1]
Minimalist Golden Line Art for an Avant-garde Bedroom
If you're looking for a style that is both modern and timeless, then gold line art could be the perfect option for your white and gold bedroom. A simple piece of line art can instantly add elegance to any room. And if you go for a minimalist look with just one or two pieces of artwork, it can also create an avant-garde feel.
For a more dramatic effect, you can also add some gold accessories such as lamps or tableware to further enhance the look. Try placing them in strategic spots around the room to draw attention and add sparkle to your bedroom. Finally, use plenty of white bedding and curtains for balance and contrast.[1]
Geometric Embroidered Leather Pillow Case
A Geometric Embroidered Leather Pillow Case is one of the most stylish and elegant white and gold bedroom ideas. It can be used to add an interesting visual texture to your room, as well as a subtle hint of luxury. By adding this classic piece of decor, you'll instantly create a feeling of sophistication in your space.[1]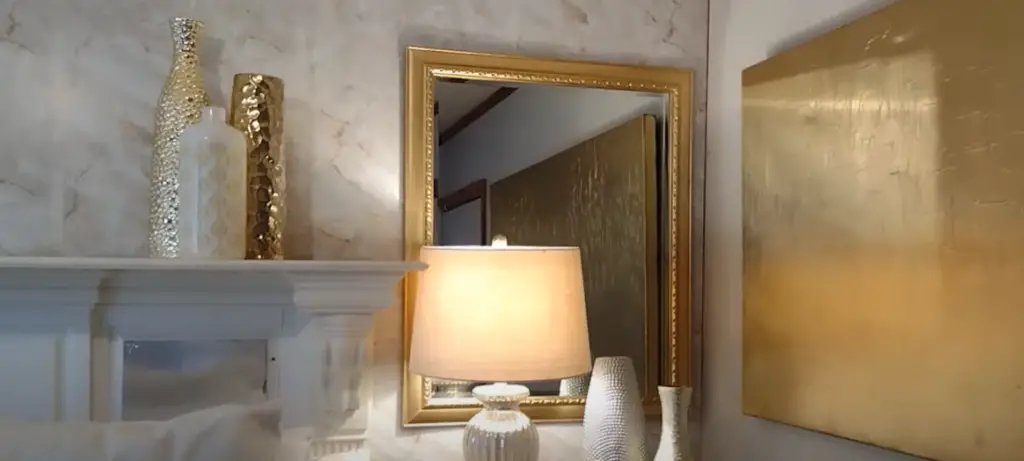 Rattan Hanging Swing with Golden Fixtures
A rattan swing is an eye catching and fun addition to any bedroom. Not only does it add an interesting touch to the decor, but it also doubles up as a comfy seat or bed! To bring out the best of this piece, hang it with golden fixtures. This will create a luxe feel to the room that would make anyone feel special. Choose a white cushion to add comfort and sophistication to the swing's look. The golden fixtures will reflect light in a beautiful way, making it look even more glamorous. Plus, its airy design will open up the room and give it an elegant touch. It'll definitely be your favorite spot in the house![1]
Welcome Mother Nature in Your Bedroom
Bringing natural elements into your bedroom is a great way to create a tranquil, peaceful atmosphere. The white and gold combination of colors will perfectly complement the greenery you introduce. Add some vases of fresh flowers or hanging plants that can be placed on walls or window sills. You can also use accents such as rocks, stones and driftwood to add more organic elements to the room.[1]
Welcome Your Newborn Into a Stylish Room
Do you want to give your newborn a stylish, sophisticated welcome into their new space? Decorating a baby's bedroom can be an exciting process. But it can also be daunting if you're not sure where to start – colors, patterns, furniture… the list goes on!
Fortunately, creating a beautiful yet practical space for your little one doesn't have to be difficult. White and gold bedroom ideas offer the perfect combination of modern style, luxury appeal, and warmth that will create a soothing atmosphere for your baby.[1]
Glowing Vanity Mirror for the Ladies
Adding a vanity mirror to your white and gold bedroom is an easy way to spruce up the look of the room. A glowing vanity mirror with LED lights will give your bedroom that extra special touch. It's a great addition if you plan on giving yourself pampering treatments like makeup, or just need some help getting ready in the morning. Make sure to get a vanity mirror that is large enough for you to comfortably check your reflection, and don't forget about the lighting! It's important for the lighting to be dimmable so that it doesn't cast too much light in your face. Also, if you are looking for maximum glamor, opt for a mirror with gold trim or gold-plated frames. With the right vanity mirror, you will be sure to love your white and gold bedroom![1]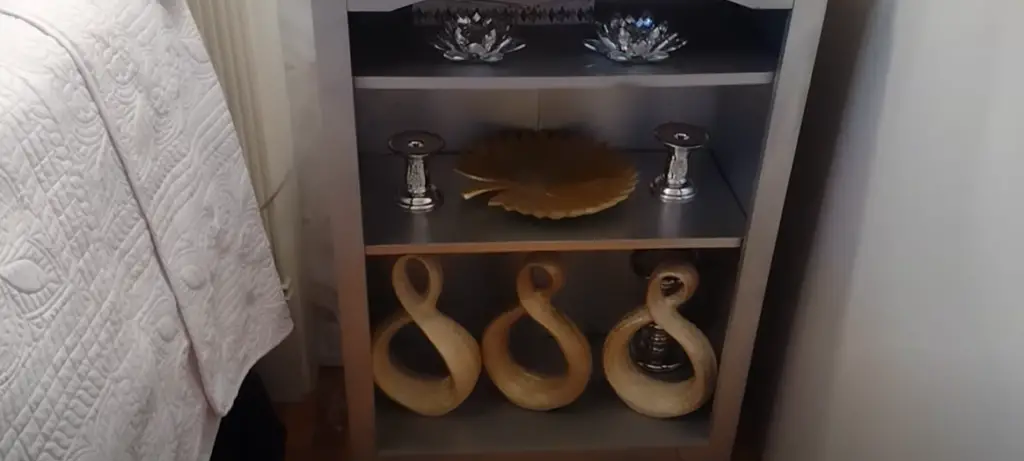 FAQ
Is gold good for a bedroom?
Yes, gold can be a great addition to any bedroom. Adding golden accents in your white and gold bedroom design creates visual interest that will make the room feel more inviting and luxurious. Gold tones are especially effective when used with white, as the contrast between these two colors is striking yet also very complementary. Plus, metallic accents like gold add a touch of elegance that is sure to make your bedroom look more sophisticated.
How can I make my white bedroom interesting?
One of the best ways to make your white bedroom interesting is by adding unique elements with color and texture. Choose furniture, rugs, and accessories that incorporate different materials and colors like gold, silver, or bronze. Or you can bring in some plants to add life and vibrancy to the room. You could also hang art on the walls to add visual interest. Incorporating wallpapers with subtle patterns or adding a statement piece of furniture can also help make your white and gold bedroom interesting.
How do you style a white bedroom?
Styling a white bedroom can be easy if you focus on the basics. Begin by selecting furniture, rugs, and accessories that are either white or incorporate other colors like gold, silver, or bronze. Hang some artwork and add plants to decorate walls and shelves. Then layer different textures with throws, cushions, and blankets. Finally, use accent lighting to draw attention to the room's design elements and create a warm ambiance. With these simple steps, you'll have your white and gold bedroom styled in no time!
Is it OK to have an all-white bedroom?
Yes, having an all-white bedroom is a great way to make the most of a small space. An all-white bedroom provides a blank canvas that can be styled in endless ways with different furniture and accessories. You can also add subtle color accents such as gold or silver to give your room more character and personality. Finally, adding plants to the room will help create a cozy and inviting atmosphere. An all-white bedroom can be both beautiful and functional!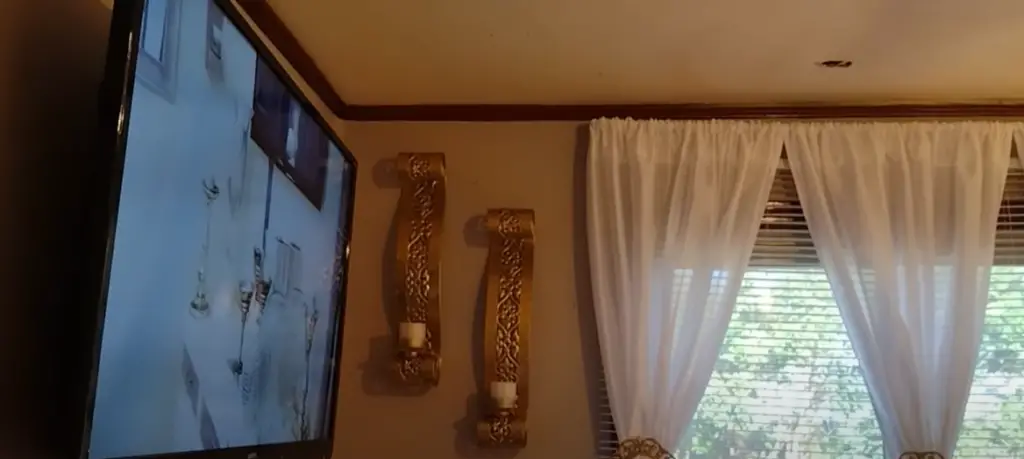 How do I add warmth to my white bedroom?
Adding warmth to a white bedroom is easy if you know the right steps. Start by introducing colorful furniture and accessories like rugs, curtains, throws, and cushions in an assortment of bold or subtle colors. Layer different textures with blankets, sheepskins, and fabrics to create depth and interest in the room. Incorporate gold accents for a touch of luxury and finish off with wallpapers or artwork to create visual interest. With these simple steps, your white and gold bedroom will be warm and inviting in no time!
What colors make a room look warmer?
Many colors can make a room look warmer, but some of the best options are warm neutrals like beiges, tans and creams. Other good choices include earth tones like browns, greens and blues. You can also add warmth to your white and gold bedroom with rich jewel tones such as ruby reds, sapphire blues and emerald greens. If you want to make the room look brighter, you can use warm white shades or light pastels. Finally, adding gold accents will help bring a touch of luxury and warmth to your bedroom.
What is the warmest color for a bedroom?
The warmest color for a bedroom is usually a neutral shade like beige, tan or cream. These colors create a cozy atmosphere that makes the room feel inviting and comfortable. You can also opt for earth tones like browns, greens and blues to make the room look warmer. Adding gold accents is another great way to add warmth to your white and gold bedroom. Finally, you can lighten up the room with warm whites or soft pastels to give it a fresh and inviting look.
Useful Video: Bedroom Design Ideas | Bedroom Decorating Ideas
Conclusion
When it comes to decorating a bedroom in white and gold, the possibilities are almost endless. With the right furniture, wall colors, accents, and accessories, you can create a beautiful and timeless look that will always be in style. Don't forget to consider your own personal style when decorating as well. White and gold can easily become overpowering, so balance is key. If you incorporate other colors or textures into the mix, then it will be easier to achieve your desired result. With some creativity and a bit of effort, you can create a stunning white and gold bedroom that will be the envy of all your friends and family!
We hope this guide has given you some useful tips and ideas to help you on your way. Whether it's a full room remodel or just a few simple tweaks, white and gold really can work together to transform any bedroom into something special. So why not get started today? You won't regret it!
Happy decorating!
References:
https://knockoffdecor.com/white-and-gold-bedroom-ideas/