A bedroom sofa is an ideal furniture piece to add style and convenience to your sleeping space. It provides you with a comfortable spot to rest, relax and enjoy some quality time in the comfort of your own home. Whether you're looking for a statement piece or just something cozy and functional, there are lots of great bedroom sofa options out there. In this article, we'll provide some helpful tips for finding the perfect bedroom sofa for your space. We'll also answer some of the most frequently asked questions about bedroom sofas to help you make a more informed decision. Let's get started!
Add a Couch Against the Opposite Wall
One great way to create a cozy spot in your bedroom is to add a couch against the opposite wall from your bed. This will give you a comfortable place to relax and enjoy some quiet time away from the rest of the world. Not only does it look stylish, but this configuration also allows for more space around the bed itself. If you have a large bedroom, you could even consider getting two smaller sofas to create an L-shape on the opposite wall. This will give you plenty of room to spread out and enjoy a good book or movie night with friends.[1]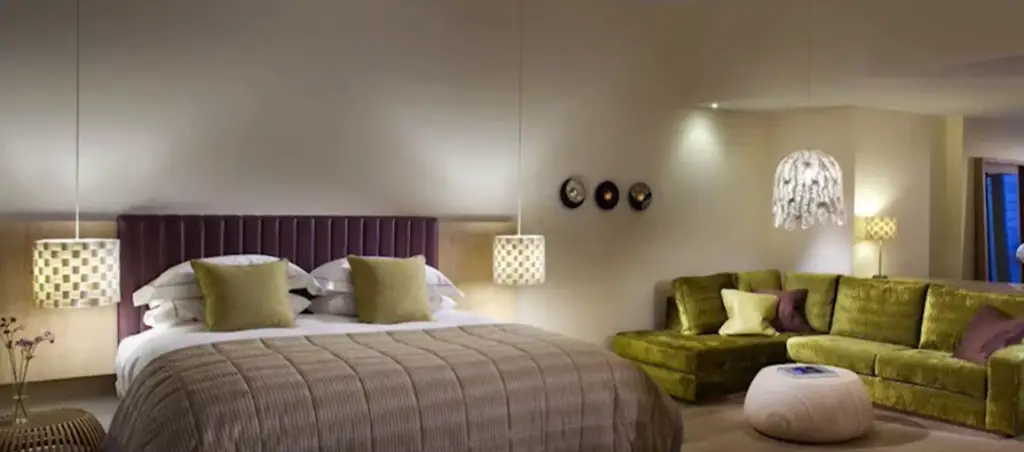 Underneath a Large Painting
If you have a large painting hanging in your bedroom, consider placing a sofa underneath it. This will give the space an elegant and sophisticated look that is sure to impress any guests who enter your room. It also gives you extra seating if needed and looks great when paired with accent furniture like side tables or bookshelves. Plus, the wall behind your sofa will act as a natural focal point, making it the perfect backdrop for relaxing or entertaining.[1]
Near a Window for a Faux Sunroom
For those looking to furnish a large room, adding a sofa in the corner near a window can create an inviting space. This is especially great for creating a faux sunroom in the winter months when natural sunlight is scarce. For this kind of setup you want to choose a larger sofa with more cushioning that will be comfortable for lounging and reading. As for the style of the sofa, you have plenty of options depending on your preferences. Pick a more classic shape with rolled arms or go modern with sleek lines and bold colors.
Don't forget to decorate your sofa as well. Pillows, blankets, curtains, and other accessories will help give the room a cozy feeling. Place some books on shelves or coffee table to give it an inviting atmosphere, and add some wall art to finish off the look.[1]
Place Couch Beside the Bed
Placing your couch beside the bed is a great way to add both style and seating without overcrowding. Whether you choose to place two sofas facing each other in front of the bed or a single sofa against one wall, this sleeping-and-sitting combination can be quite effective. Be sure to leave plenty of room to move around the bed and become a focal point in the room.
If you're feeling especially creative, consider adding a floor lamp or two to further brighten up the area. A low-backed seating option like a loveseat or chaise lounge is also an excellent choice for this type of setup. Plus, these pieces can easily be moved if you ever need to switch up the layout of your bedroom.[1]
Create an Accent Wall
Accent walls are a great way to add texture and color to your bedroom. While neutrals look great, you could consider something more bold such as an accent wall in a bright or dark shade. This will provide an interesting focal point for the entire room. You can either paint the entire wall one solid color, use wallpaper, or create a pattern with different colors and textures.
You can then accessorize the wall with artwork, mirrors, or even a hanging sofa. A hanging sofa is a great space-saving option that adds both style and comfort to your bedroom. It also leaves more room for other furniture pieces in the room such as end tables, chairs, and extra seating.[1]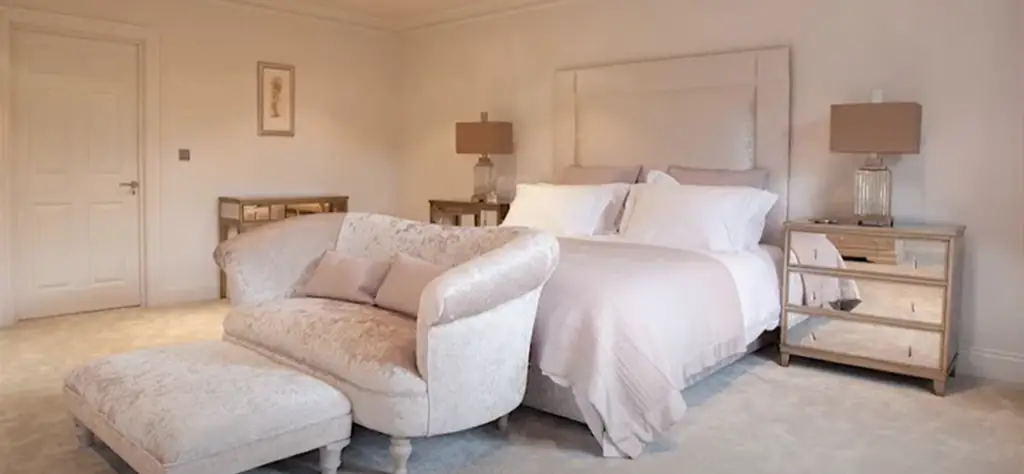 Matching the Flooring
When it comes to bedroom sofas, one major decision you will have to make is the type of flooring that goes with it. Hardwood floors or carpets make a great base for any sofa, but they also come in different colors and textures. To make sure your sofa blends in perfectly with the rest of your bedroom, always consider the type of flooring you have.
If you're using a dark wood floor, then opt for lighter furniture to create a contrast between the two materials. Alternatively, if your bedroom has light wood floors, then try out darker sofas and accent pieces. If you want to make a bold statement, go for patterned flooring, such as chevron or herringbone, and pick a sofa with a complementary pattern.[1]
Add a Couch at the Foot of the Bed
A great way to add a touch of sophistication and style to any bedroom is by placing a couch at the foot of the bed. Not only does it look visually appealing, but it can also serve as an extra place for you or your guests to relax and unwind. You can even use this space to read a book, watch TV, or even take a nap. As an added bonus, it will also provide extra storage space for blankets and pillows.
To create a cohesive look in your bedroom, choose a couch that matches the colors and style of the bedding. If you have an upholstered bed frame, select a sofa with similar fabric and colors; if you have a wood bed, pick a sofa with wooden legs and complementary colors.[1]
Separated by Curtains
For those looking for a more private sleeping experience, curtains can be used to separate the sofa from the rest of the room. This is a great way to create privacy in an open plan bedroom or apartment. Curtains are also a great option if you're decorating around unusual dimensions, as they provide flexible coverage and can be customized to fit any size. When it comes to style, the possibilities are endless! Whether you're looking for something modern or vintage, bold or subtle, patterned or plain there is a plethora of options available.[1]
Matching Your Bedding
Once you have chosen the perfect sofa for your bedroom, it is important to also consider how it will match with the other elements of your room. If you have existing bedding such as a duvet cover or throw blanket, use those colors and patterns to help guide which type of sofa would look best in your space. If you don't already have bedding, you can use the color and style of your sofa as inspiration for purchasing new bedding. Look for pieces with complementary colors and styles that will bring together the look of your space.[1]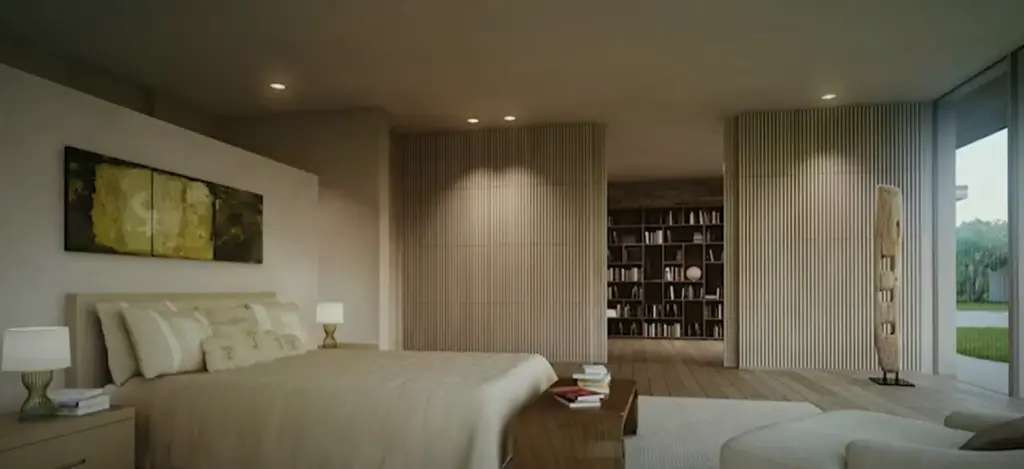 Add Couch Adjacent to a Chest of Drawers
Adding a couch adjacent to a chest of drawers is an easy way to give your bedroom extra seating and storage. Choose a sofa that has legs, so you can slide the piece under the drawer for easy access. If you have room, add two pieces in coordinating colors and fabrics, creating an L-shaped configuration with cushioned seats facing each other for an informal conversation area. For a more formal look, opt for matching pieces with coordinating fabrics and legs. Add throw pillows in the same color palette to tie the two pieces together. Finish off your seating arrangement with an ottoman or accent chair nearby in case you're entertaining guests! [1]
In Front of a Fireplace
There's nothing quite like kicking back in front of a cozy fireplace—especially during the winter months. And having a sofa in your bedroom can make those moments even more special. To get the most out of this setup, opt for an armchair-style sofa that allows you to curl up and relax while enjoying the warmth of the flames. If space allows, consider adding a loveseat or full-length sofa to create an inviting spot for reading or snuggling with your partner on a chilly night.[1]
Add a Curved Couch
Adding a curved couch to your bedroom can make the space comfortable and inviting. Whether you choose a classic style or something more modern, it will be sure to add character to your room. Plus, its rounded shape allows for extra seating in smaller spaces. A curved sofa is also great for lounging and can easily be moved around for different purposes. Consider adding a curved couch in neutral colors to keep the bedroom looking neat and stylish.[1]
Place the Couch to Make a Separate Space
Creating a separate space in the bedroom can help give you some much-needed privacy and provide an area in which to relax. When placing your sofa in the bedroom, keep it away from any windows or doors that lead out of the room, as this could create a distraction and increase noise levels.
If possible, try to place the sofa near a wall or corner to create an intimate, cozy atmosphere. Consider using accent lighting around the couch and other furniture pieces to give further definition and separation to this space.[1]
Add a Couch and Coffee Table
A sofa is a great piece of furniture for the bedroom as it provides additional seating and gives the room a slightly more formal look. Adding a coffee table will help to tie everything together and can also be used for decorative purposes or to hold books, magazines, and other items. For an extra special touch, consider adding throw pillows in complementary colors or patterns to the sofa.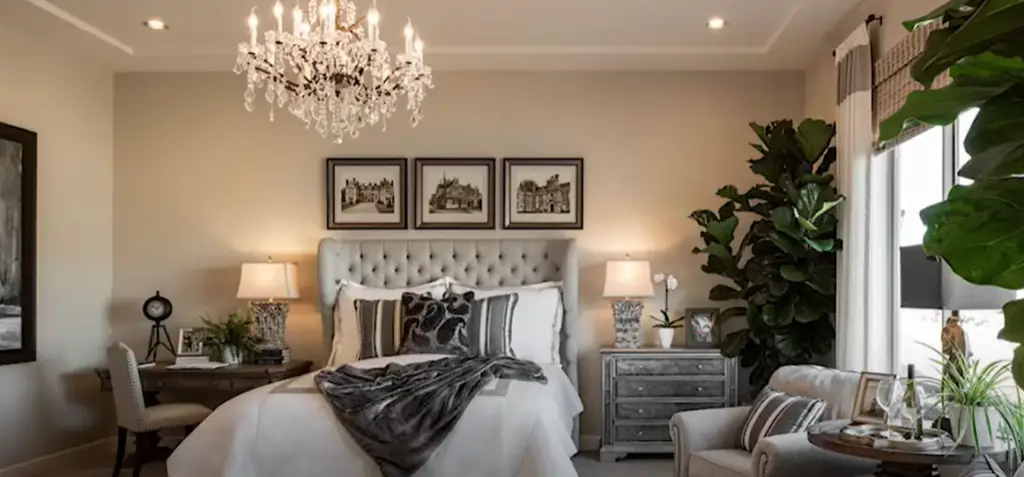 Place Couch Facing Chairs
One of the most popular bedroom sofa ideas is to place the couch facing chairs. This creates a more inviting atmosphere and allows for conversation, as well as creating a visual appeal. This setup also works great if you have a study area in your room or somewhere to relax away from the bed. You can pair this with an ottoman to create a comfortable seating space. Additionally, you can hang artwork or pictures on the wall behind the chairs and couch to give the room more dimension and visual interest.[1]
Try Petite Sofas for a Minimalistic Yet Classy Look
When it comes to bedroom sofa ideas, one of the most popular options is a petite sofa. A petite sofa can make a small space look bigger, while adding an air of sophistication and classic refinement to any room. They often come in simple shapes and minimal designs for a modern, minimalistic look that never detracts from the rest of your decor. Petite sofas also come in a variety of colors, materials and styles so you can easily find one to match your existing furniture and color scheme.[2]
Try Futons to Set the Mood Right
Futons are another great option for bedroom sofas that come with a variety of different styles to fit any room. They provide the perfect balance between being comfortable and functional, making them ideal for small spaces like a bedroom. Futon frames are typically made from either wood or metal, which gives you lots of options for personalizing your bedroom sofa. You can also find futons with different kinds of cushions, from plush to firm.
If you are looking for something a bit more versatile and want the option for both sitting and sleeping, then a convertible futon is your best bet. A convertible futon will transform easily between a seating area and a bed in just a few clicks. Not only are convertible futons great for small spaces, but they can also provide both sleeping and seating space in tight quarters. They're also quite affordable and can be found in many different styles to fit your bedroom sofa needs.[2]
Loveseats for a Vibrant, Aesthetic Appeal
Loveseats are an ideal choice when it comes to bedroom sofa ideas. Not only do they provide the perfect spot for two people to snuggle up and relax, but they can also be an eye-catching piece of furniture in the room. To make your loveseat stand out even more, opt for a vibrant fabric that will bring a burst of color to your bedroom and give it a fun, aesthetic appeal. Alternatively, if you're going for a classic look, leather loveseats can provide the perfect touch of sophistication and elegance. When selecting a loveseat for your bedroom, make sure that there is enough room around it so that you can move freely without having to worry about bumping into it.[2]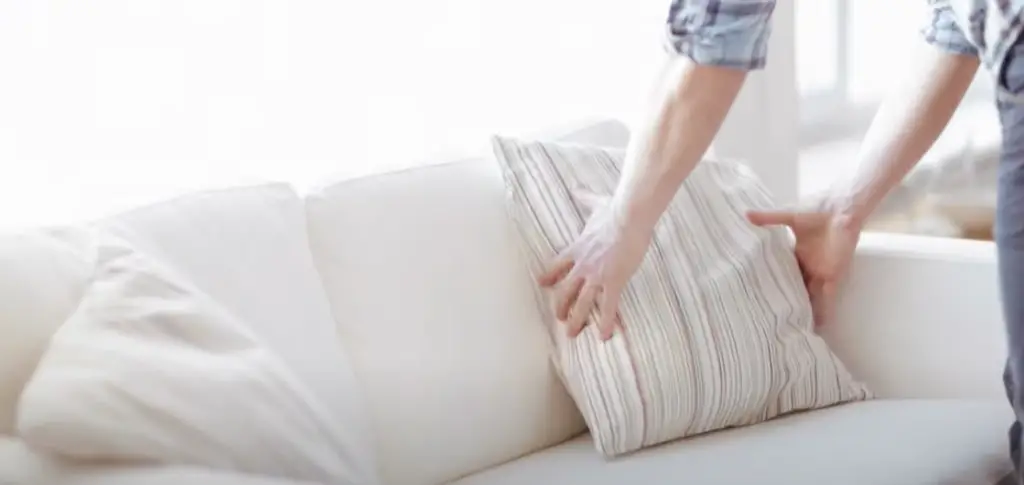 Keep It Minimal with Trundle Sleeping Sofas
If you're looking for a space-saving solution to your bedroom sofa needs, look no further than the trundle sleeping sofa. This style of sofa offers a convenient way to fit extra seating or sleeping in any small bedroom – perfect for apartments, guest rooms, and even kids' bedrooms!
Trundle sleepers are essentially two sofas in one. The main piece is a sofa that looks like any other, with a cushion and arms to sit on. But underneath there's another single bed that can be pulled out when needed. This hidden bed can be folded up when not in use, reclaiming all the floor space the extra bed would normally take up.
These sofas are a great way to make sure that you have enough seating in your bedroom while still keeping the space feeling open and airy. Plus, if you ever have unexpected guests coming over, you'll have an extra bed tucked away right at your fingertips![2]
Keep It Classy with a Tight Back Sofa
If you want a sophisticated look to your bedroom, then consider a tight back sofa. This style of sofa is perfect for bedrooms that lack space and cannot accommodate an overly large piece of furniture. It has a sleek look and seamlessly blends in with the existing decor. Plus, because it comes with limited cushioning, it will not take up too much space. A tight back sofa is typically available in a variety of fabrics and colors, so you can find one to match your bedroom style.
Another great thing about this type of sofa is that it is incredibly durable. It also requires very little maintenance, which makes it an ideal choice for busy households. The tight back design keeps the furniture looking neat and tidy, while still providing a comfortable seating experience.[2]
FAQ
Can I put a couch in my bedroom?
Yes, you can absolutely put a couch in your bedroom! Having a sofa in the bedroom adds an extra touch of comfort and makes it look more inviting. It also gives you space to sit and relax when needed. There are many ways to incorporate a sofa into your room, such as putting it against the wall or positioning it in the corner for a cozy spot. Be sure to take measurements and plan ahead before you make a purchase, as it's important that the couch fits in your space.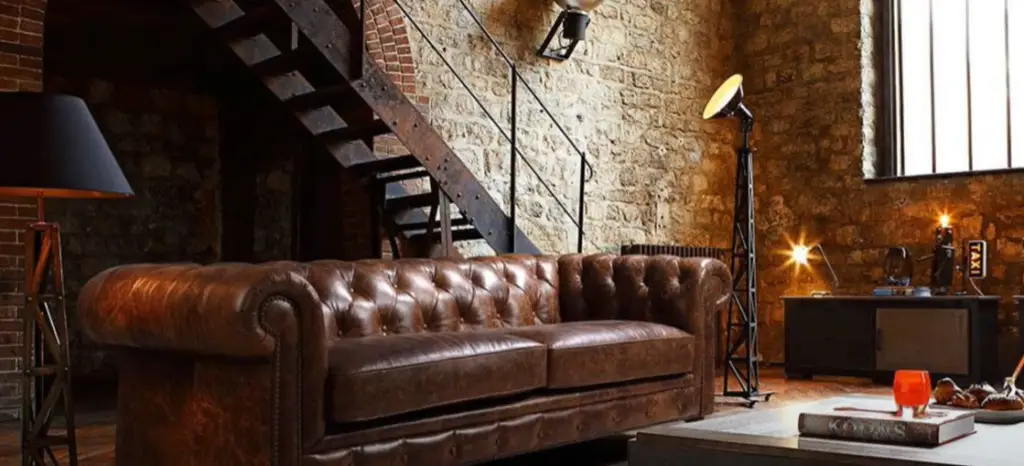 What is the sofa in a bedroom called?
The sofa in a bedroom is usually referred to as a daybed. A daybed typically has a frame and mattress like a regular bed, but it also has an extra cushion that can be used for seating or lounging. Daybeds provide the perfect combination of comfort and style for bedrooms and are available in different sizes and materials.
How do you make a bed look like a sofa?
To make a bed look like a sofa, you can use several methods. The most popular is to add throw pillows in various colors and patterns on top of the bed. You can also drape a blanket or comforter over the mattress for a cozy effect. To finish off the look, you can place one or two accent chairs or ottomans at the foot of the bed. This gives it an inviting, finished look and allows you to use the bed as a seating area when needed.
How to decorate a room around a sofa?
When decorating a room around a sofa, think about the overall look you're trying to create. Start by selecting a few colors that you want to focus on and use those as accents throughout the room. You can add throw pillows, blankets and rugs in these colors to tie it all together. Pay special attention to the walls and add art or wallpaper that complements your chosen colors. Finally, accessorize with lamps, plants, books and other decorative items to bring it all together. With these tips and tricks, you'll be able to create a welcoming space that compliments your sofa.
How do you arrange a bed and sofa in a room?
When arranging a bed and sofa in a room, it's important to consider the size and shape of the furniture. If space allows, you can place the bed against one wall and the sofa against another opposite wall. This will create an L-shaped layout that is both comfortable and efficient. If your room is more compact, you can place the bed and sofa side by side, or even in an L-shape. Whatever arrangement you choose, make sure that there is enough room to walk around comfortably and that all pieces are easily accessible.
How can I make my room look decorative?
There are many ways to make your room look decorative. The first step is to choose a palette of colors that you want to focus on. Then, you can add accent pieces like rugs, throw pillows and artwork in these colors for an eye-catching look. You can also hang curtains or blinds for a touch of style and to help control the flow of light. Finally, accessorize with lighting, plants and other decorative items that bring personality and character to the space. With these tips and tricks, you'll be able to create a room that is both beautiful and inviting.
How can I make my room look rich?
Making a room look rich involves combining the right colors, textures and accessories. Start by selecting materials that are luxurious and inviting, such as velvet cushions or silk drapery. Incorporate metallic accents in various pieces, such as lamps and vases. Finish off the look with artwork and statement pieces that give it an opulent feel.
Useful Video: 10 Bedroom Sofa Ideas
Conclusion
When choosing the perfect sofa for your bedroom, there are a few important things to consider. Think about how much space you have available and choose a size that fits comfortably in your room. Consider the style of the sofa, keeping in mind whether it will be used as an occasional piece or if it needs to be comfortable for everyday use. Look for fabrics and materials that are durable and easy to maintain, as well as any special features such as reclining or adjustable backrests. Once you have the right sofa chosen, you can add cushions and other decorative elements to get the look you want. With these tips in mind, you should be able to find the perfect bedroom sofa for your space.
Good luck with finding the right bedroom sofa for your home!
References:
https://rethority.com/couches-in-bedrooms/
https://www.homelane.com/blog/bedroom-sofa-designs/