Are you looking for ideas on how to transform your unfinished basement into a beautiful bedroom? You've come to the right place! A lot of people don't realize that their basement can be the perfect space for another bedroom. With some simple tips and tricks, you can make this dream a reality.
In this article, we'll provide you with all the information you need to make this project a success. We'll go over some of the most frequently asked questions about unfinished basement bedroom ideas and offer useful advice for turning an empty space into a functional and attractive bedroom.
Exposed beams
One of the most popular basement bedroom ideas involves leaving the exposed beams in place. Exposed beams not only add an interesting architectural element to a room, but they can also provide support for any furniture you plan to install.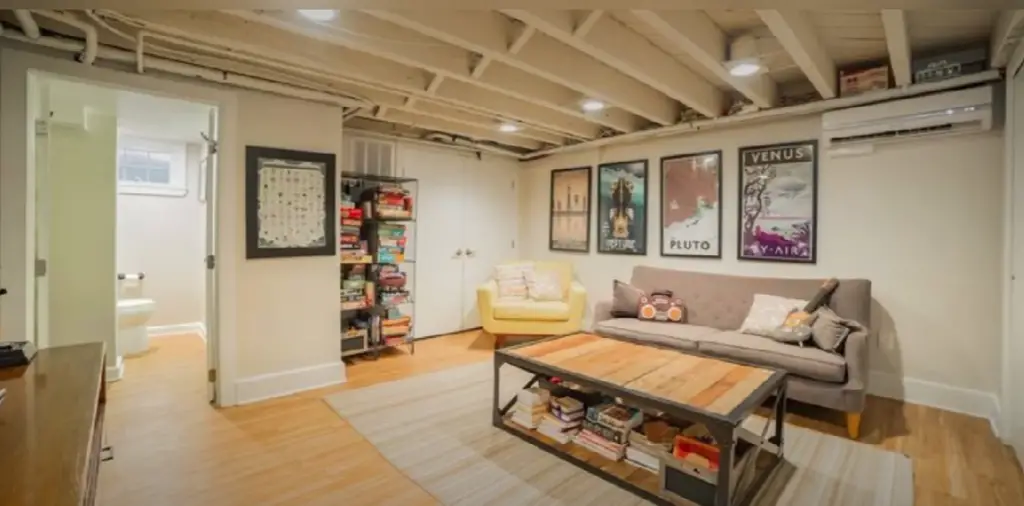 [1]
Leather and wood
Bring a rustic feel to the unfinished basement bedroom with leather and wood accents. Leather headboards, ottomans, and pillows add texture and style to your bedspread while wooden furniture pieces like dressers or night tables bring in an earthy touch. If you're feeling creative, get a bit of paint in a dark, neutral color and paint one of the walls in a washable, matte finish. The painted wall will add depth to the room and give you extra space for artwork or posters to make it even more inviting.[1]
Bunk bed
If you're looking for a creative way to add a bedroom to your unfinished basement, consider installing bunk beds. Bunk beds are great space savers and give you plenty of room options with their versatile designs.
When it comes to designing and decorating an unfinished basement bedroom, make sure that you take the necessary steps to ensure safety and comfort. Opt for sturdy, high-quality materials and be sure all guardrails follow local building codes.
If you're looking for a way to add a bit of personality or fun to your unfinished basement bedroom, consider painting the bunk bed in bright colors.
Bunk beds are relatively easy to assemble, but if you're not comfortable doing it yourself, consider getting help from a professional contractor or carpenter. They'll be able to make sure everything is properly installed and safe for use.[1]
Patterns and stripes
Adding a pattern to your unfinished basement bedroom can really bring the space to life. Consider painting stripes on the walls for a modern look, or wallpaper with an interesting pattern. This would be a great way to brighten up the room and give it a unique style that you can enjoy all year round!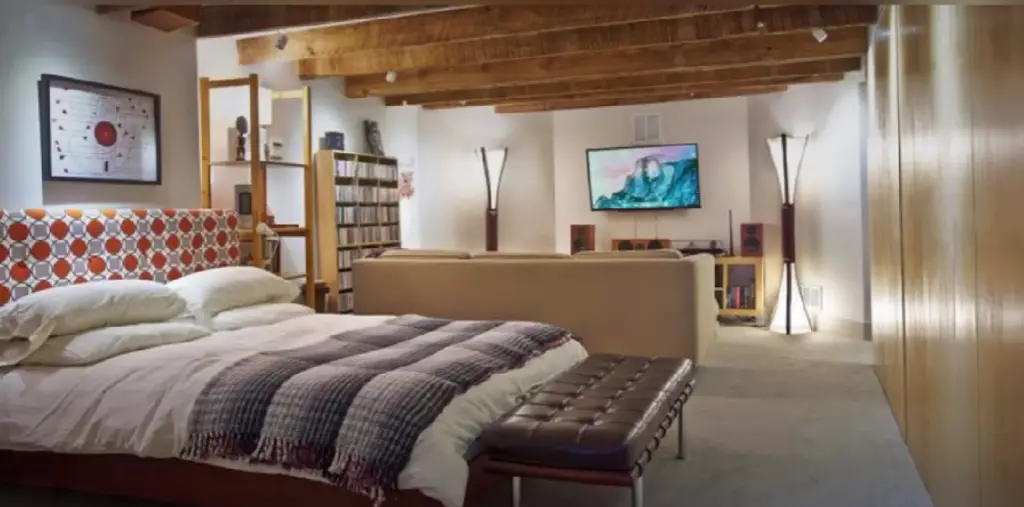 You could even add floor rugs with bold patterns and colors, or opt for accent furniture pieces with intricate details. These small touches will make the space much more inviting and comfortable.[1]
Biker's dream
Are you a biker or an aspiring one? If so, then why not turn your unfinished basement into the ultimate man-cave of your dreams. A space where you can store and maintain your motorbikes as well as practice on a track. With just a few upgrades, you can turn it into an oasis for all your biking needs.
Start by investing in a good flooring material that's both durable and anti-slip. If possible, have it soundproofed so you don't disturb the rest of the family when you're practicing or tinkering with your machinery.
You can also get creative with the decor. Hang some of your favorite biking memorabilia to emphasize the theme. And if it's possible, include a bar setup where you can store all your drinks and snacks while playing around in the basement.[1]
White bedroom basement
If you've decided to turn your unfinished basement into a bedroom, white is a great color to use. White helps make the area look brighter and more inviting. To add some warmth, consider pairing it with wood accents or incorporating different shades of white. Plus, if you ever decide to sell your home in the future, white will look more pristine and appealing to potential buyers. You could add a white shag carpet for added coziness, or whitewashed wood floors for a sleek and rustic feel. Accent the walls with an interesting wallpaper pattern, or hang art pieces for some unique visual flair.[1]
Bright colored small teen basement bedroom
A great idea for a basement bedroom is to create a bright and fun space for teenagers. This could be done by painting the walls in vibrant colors, such as blues, greens, yellows or pinks. You can also add some fun pieces of furniture that are both practical and aesthetically pleasing to make it feel like an inviting place to hang out. Adding some light fixtures such as wall lamps or a few string lights can also make the basement bedroom more inviting and cozy.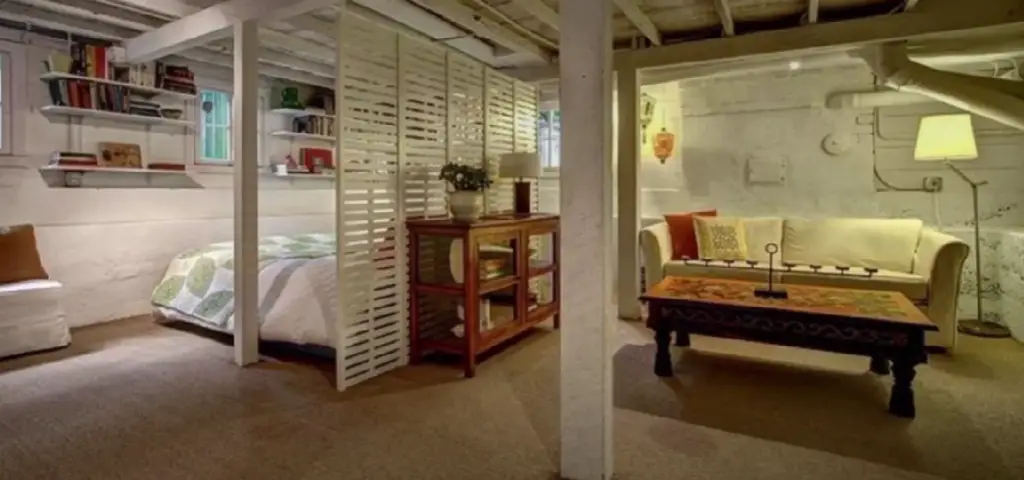 When it comes to furniture, think of adding pieces that are comfortable and stylish but still fit the space well.
Bunk beds are a great option for teen bedroom ideas, as they maximize space and allow you to add a desk or dresser underneath.[1]
Teenage den
If you have a teenager or several in the house, you can transform an unfinished basement into the perfect hangout spot. Furnish it with comfortable seating like bean bags and floor cushions, and add a mini-fridge for snacks. You could also create an entertainment center with a flat screen TV and media player.[1]
Draped basement bedroom
If you're looking for an incredibly cozy basement bedroom idea, then why not consider the draped look? There are a few ways to achieve this style. The first is to use regular fabric drapes that hang from the ceiling. This will give your room a warm and inviting feel. You can even add some sheer curtains to make it more romantic.
Another option is to use fabric tapestries or wall hangings. They come in all sorts of colors and patterns, so you can easily find something that fits your taste and decor scheme. You could even mix and match pieces for a truly unique look.[1]
Wall view
Whether you choose to paint or wallpaper the walls, when it comes to creating a finished look in an unfinished basement bedroom, wall coverings are key. Paint is less expensive and easier to clean and maintain than wallpaper, but wallpaper can offer a more interesting texture or pattern for your space. If you want to add something really unique like brick or stone veneers, that can also be achieved with wallpaper. If you choose to go the paint route, don't forget to add an accent wall for a bit of added visual interest.[1]
Color pop
Adding a few pops of color can make all the difference in an unfinished basement. Paint one wall or just an accent table that will fit with your look and feel. If you have some old furniture, give it a new life by sanding it down and giving it a fresh coat of paint! You could also opt for some statement accessories like throw pillows or an area rug to give the room a splash of color.[1]
Bright and mild
When you're thinking about unfinished basement bedroom ideas, one of the first things to consider is color. Choosing bright and mild colors is a great way to make your room look more inviting and cozy. Instead of dark shades which can give off a dreary vibe, opt for lighter shades like pastels and neutrals. This will bring in some much-needed natural light, making it seem brighter during the day and night. Be sure to also consider adding in a few accent colors which will pop against the walls and make the room come alive.[1]
Change in wall color
One of the first things you should consider for unfinished basement bedroom ideas is painting the walls. This can be a fun way to add some color and personality to your space without breaking the bank. Consider choosing a light or neutral shade for the walls, as this will help make the room appear larger and brighter while also providing some contrast against any darker furniture pieces or decor you plan to include.
Or, if you're feeling adventurous, go for something bolder — a bright accent wall can really pop in an otherwise drab basement! And don't forget the ceiling: adding some color up there will help it feel higher and more open.[1]
Total makeover
If you're willing to invest the time and money, transforming an unfinished basement into a bedroom can be an exciting project. There are many different approaches you can take when it comes to planning your space out. Before you get started, though, make sure that all of the building codes applicable in your area are met.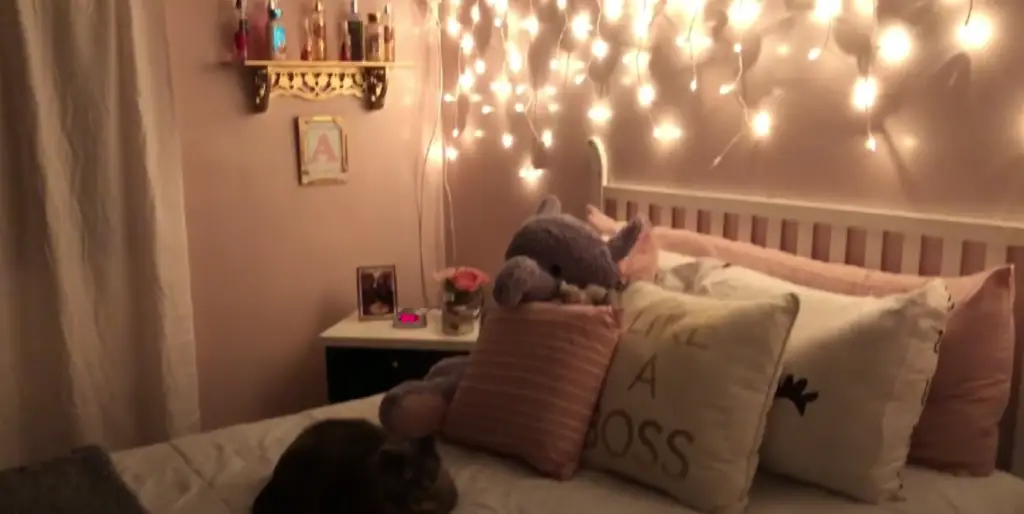 One easy way to get started is by using the existing layout of your basement. Remove any bulky items, such as old furniture or boxes of holiday decorations, and consider what kind of space you want to create. If you have a large area that can easily accommodate a bed and other furniture pieces, start planning out how you'd like it all to look. You can go for a more traditional look, or make the space your own with unique decorating and furnishing choices.[1]
Open floor plan
Creating an open floor plan is a great way to maximize the space in your basement bedroom. Removing unnecessary walls and doors can create a more spacious atmosphere, while still keeping the area private. Consider how the most efficient use of space could be achieved by rearranging furniture or removing visual barriers between rooms.[1]
Glass enclosure
A glass enclosure for your unfinished basement bedroom can be a great way to separate it from the rest of your home and let natural light in. It's important to make sure that the glass has been sealed properly, and you may want to add tinting or blinds for privacy. Installing air conditioning in the basement so you can keep it cool in the summer is also a good idea if you plan to use this area as your bedroom.
Consider adding a few decorative touches like wall art, lighting fixtures, and rugs to make it feel more inviting and cozy. You can also install shelves or cabinets for additional storage space. If your budget allows, consider painting the walls with a light color to brighten the area and make it more inviting.[1]
Renewal basement bedroom
Renovating a basement to create a bedroom is an exciting project, and there are plenty of creative ways you can make the space both functional and inviting. Here are some basement bedroom ideas to consider when transforming your unfinished basement into a cozy retreat:
Install insulation and drywall. Insulation helps keep the temperature in the basement more consistent and drywall helps create a finished look.
Put up soundproofing materials. Soundproofing your basement bedroom can help dampen noise from the rest of the house, making it feel like its own private space.
Consider adding natural light with windows or skylights. If possible, adding natural light to a basement bedroom can help make the room more inviting and comfortable.
Install a ceiling fan to keep air circulating. This is especially important in basements that tend to get damp or stuffy.
Incorporate subflooring beneath floor coverings like carpet, tile, or hardwood. Subflooring helps keep moisture out of the room and will help keep your floors looking great for years.
Install recessed lighting fixtures or wall sconces to create ambient light in the room.
Add storage solutions like built-in shelves or wardrobe closets. These can help make the most of limited space, while also helping to maintain an organized look.[1]
Traditional setup
If you're looking for a more traditional setup, painting the walls and putting in carpeting or floor tiles is a great way to go. Adding furniture like a bed, dresser, and desk can give your unfinished basement bedroom an even more polished look. Installing closet organizers can help with storage of clothing and other items. If you have a larger budget, you might consider installing a kitchenette or bathroom for convenience.[1]
Luxury style basement bedroom with laundry area
If you're looking for a basement bedroom that offers luxury style and practicality, this design idea might be the perfect solution. Use modern furniture to give the space a chic feel; think of an upholstered headboard, velvet curtains and paintings hung on the wall. To make use of all available space, install a laundry area in one of the corners. This could include a washing machine and tumble dryer, along with counter space to fold clothes, storage for detergents and cleaning supplies, and even a laundry basket!
Finish off the look with lighting fixtures that create a warm and inviting atmosphere.[1]
Laundry storage and small washing machine
When it comes to unfinished basement bedroom ideas, laundry storage is a must. If you don't have the space for a full-size washer and dryer, you should consider investing in a small washing machine like a portable one. It's easy to install and takes up very little space. Plus, using a smaller washing machine means your clothes will be done in no time.[1]
Art punch
For an unfinished basement bedroom, you can give it a punch of art. Hanging art is not just limited to walls, you can also hang pieces from the ceiling too! Investing in one or two large pieces of artwork and hanging them as the focal point of your space will give it that creative edge. If you have a low ceiling, you can hang a mobile instead that adds texture and dimension to the room.
Another decor idea for an unfinished basement bedroom is displaying books on the wall. It will give your room a unique look while also providing you with extra storage space for all your reads. You can also add floating shelves around the bed or sides of the room for knick knacks and trinkets to give the room a more homey feel.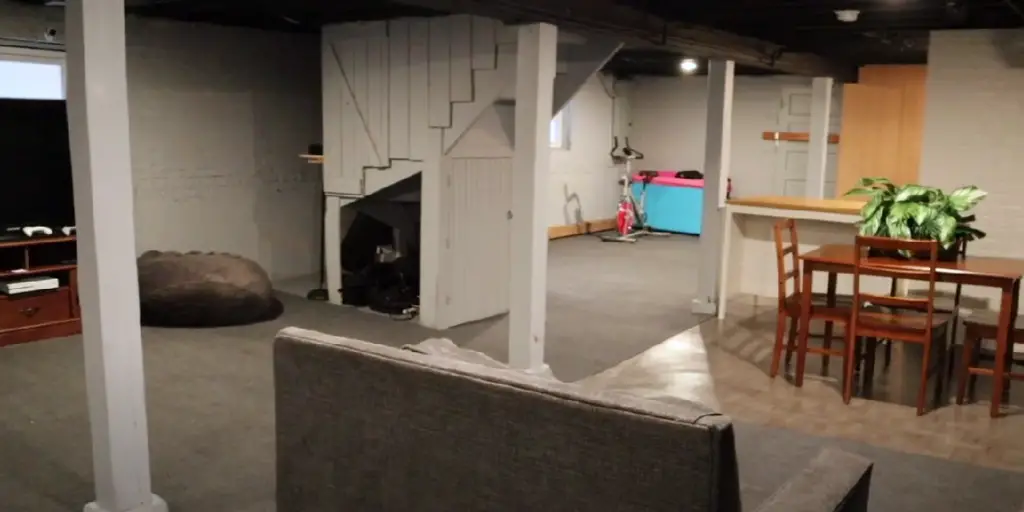 Finally, an easy way to make your unfinished basement bedroom look finished is to add rugs. A large area rug in the center of the room can define its space and add warmth underfoot.[1]
Glass door dividers
Glass door dividers are a great way to separate your unfinished basement bedroom from the rest of your home. The glass door dividers will give some privacy and also allow natural light to flow through, which can help make your unfinished basement bedroom feel like a luxurious retreat. Plus, they look really stylish and modern! Try adding in some curtains or blinds to add a touch of color and texture.[1]
White panels
White panels are a great way to freshen up an unfinished basement bedroom. They provide a canvas that you can use to create your own personal designs and art pieces. You can paint the panels any color you like, or add fabrics for a more sophisticated look. Installing white panels also creates a feeling of greater openness in the room as they allow more natural light in.
You can use the white panels to hide the plumbing fixtures while still making them accessible for repairs and maintenance, and you can even create storage space behind them if needed. White panels are also easy to clean and maintain, so they're a great option for an unfinished basement bedroom.[1]
Sealed wood wainscoting
Adding wood wainscoting to an unfinished basement can give it a finished and polished look. It's important to make sure the walls are sealed against moisture, as even small amounts of seepage or water damage can cause mold problems. For this reason, seal the wood paneling before installation to further protect your space.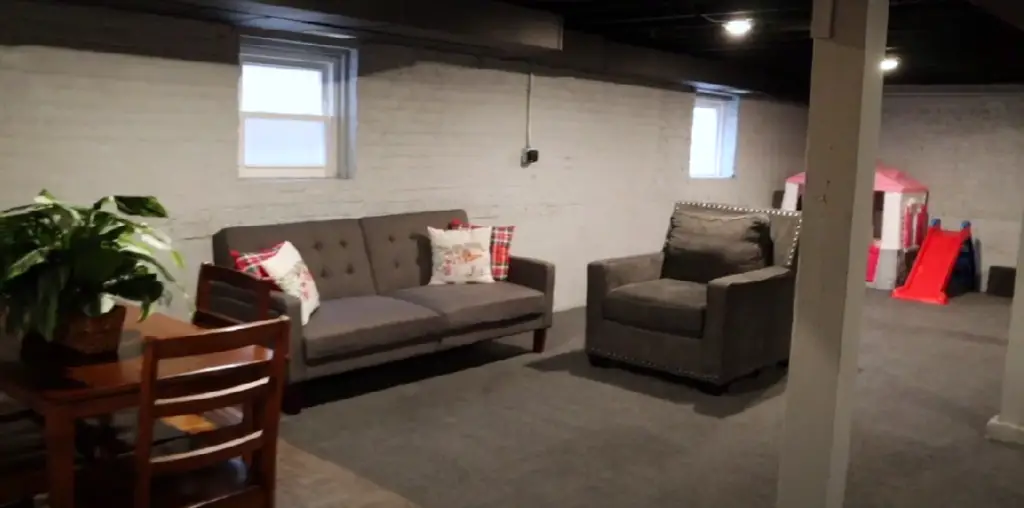 Alternatively, you can use a plastic wainscoting or faux wood paneling for an inexpensive option. This type of material is specially designed to be waterproof and is easy to install. It also comes in a variety of colors, so you can customize the look to fit your style![1]
FAQ
How do you make a bedroom out of an unfinished basement?
Creating a bedroom in an unfinished basement requires some planning and creativity. You need to think about the size of the space, how much light it gets, insulation, ventilation, and any other structural considerations. After that is determined you can start to plan out the layout of your bedroom. Consider options such as using curtains for privacy or dividing up the space with a wall or bookcase.
How to make a bedroom in the basement cheap?
If you're looking for a cheap way to create a bedroom in the basement, one option is to use paint and fabric to brighten up the walls and floor. You can also purchase inexpensive furniture pieces that are suited for smaller rooms, such as futons or daybeds. If you already have some furniture pieces that could fit, you could use them to save even more money. Another cost-saving option is to buy discount materials for insulation, flooring, and ventilation from local hardware stores or online retailers. Finally, use your creativity when it comes to finding accessories or decorations; thrift stores are great sources for unique finds at great prices.
What can I do with unfinished basement space?
An unfinished basement can be a great space for many different activities and projects. It could be used as an extra living area, office, storage space, or even a playroom for kids. You could also install some soundproofing if the basement is going to be used as a music room or home theater. If you have the funds and the skill set required, you could even create a full-blown workshop in your basement. With some imagination and effort, there are limitless possibilities for how you can use an unfinished basement.
Is it OK to live in an unfinished basement?
The short answer is yes, it is possible to live in an unfinished basement. However, there are a few essential safety considerations that you should keep in mind. First and foremost, make sure the space has adequate insulation and ventilation to prevent mold growth. Additionally, ensure that all electrical wiring is up-to-code and that any water lines are insulated. It is also important to take steps to soundproof the basement, as noise can be a nuisance for both you and your neighbors. Once these safety measures are taken, living in an unfinished basement can be a comfortable and affordable option.
Is it OK to have an unfinished basement?
Having an unfinished basement is perfectly fine as long as basic safety considerations are taken into account. Make sure the space is properly insulated and ventilated and that all electrical wiring is up-to-code. Additionally, it's best to take steps to soundproof the basement if you plan on using it for any loud activities. An unfinished basement can be a great space for storage, an extra living area, or any other activity that you have in mind. With a bit of work and creativity, you can turn your unfinished basement into a comfortable and functional part of your home.
Do unfinished basements smell?
Unfinished basements can have a variety of smells, depending on the source. If the basement has been closed off for some time, you may find it smells musty or damp due to lack of air circulation and possible mold growth. Mold is more likely to occur when there is poor insulation or ventilation in the basement and humidity levels are high. If the smell is coming from a water issue, it could indicate a plumbing problem that needs to be taken care of as soon as possible. In either case, fixing the source of the odor will help get rid of any smells in your unfinished basement.
Do unfinished basements get cold?
Unfinished basements can definitely get cold, especially if they don't have proper insulation and ventilation. To help keep the temperature more comfortable, make sure to use thicker curtains or window coverings that will block drafts from coming in. You could also consider adding a space heater or using an electric heat blanket to warm up the room when needed.
Useful Video: apartment tour | parents' basement edition lol
Conclusion
If you're looking for basement bedroom ideas, there are plenty of them available to suit your needs. Before starting any project, make sure to check the local building codes and any other regulations that may apply. With a little bit of thought, creativity and planning, you can transform an unfinished basement into a cozy retreat or even into a fully functioning bedroom.
Unfinished basements can be a blank canvas to create whatever kind of room you desire. Whether it's an office, craft room, game room or extra bedroom, the possibilities are endless. By utilizing existing features and adding a few creative touches, you can easily transform even the most outdated basement into a comfortable and inviting space that will be the envy of the neighborhood.
With a few simple steps, you can create an inviting and comfortable space that your family will be sure to enjoy for many years to come. Transform your basement into a cozy retreat or a fully functioning bedroom with these unfinished basement bedroom ideas!
References:
https://farmfoodfamily.com/basement-bedroom-ideas/