Welcome to Futuristic Bedroom Ideas – a resource for anyone looking to create the perfect futuristic bedroom. Whether you're looking for ideas on technology, colors, furniture, lighting and more, we have the answers you need right here. We've compiled some useful tips and answered some commonly asked questions to help get your creative juices flowing and your futuristic bedroom up and running. So, let's get started!
Biophilic interiors
One of the biggest trends in designing futuristic bedrooms is incorporating biophilic elements. This means bringing nature into your space by adding plants, wooden furniture and even natural textures like stone or wood accents. Biophilic interiors help create an environment that's both calming and revitalizing – perfect for a bedroom retreat. Incorporate as much or as little of this trend as you'd like. [1]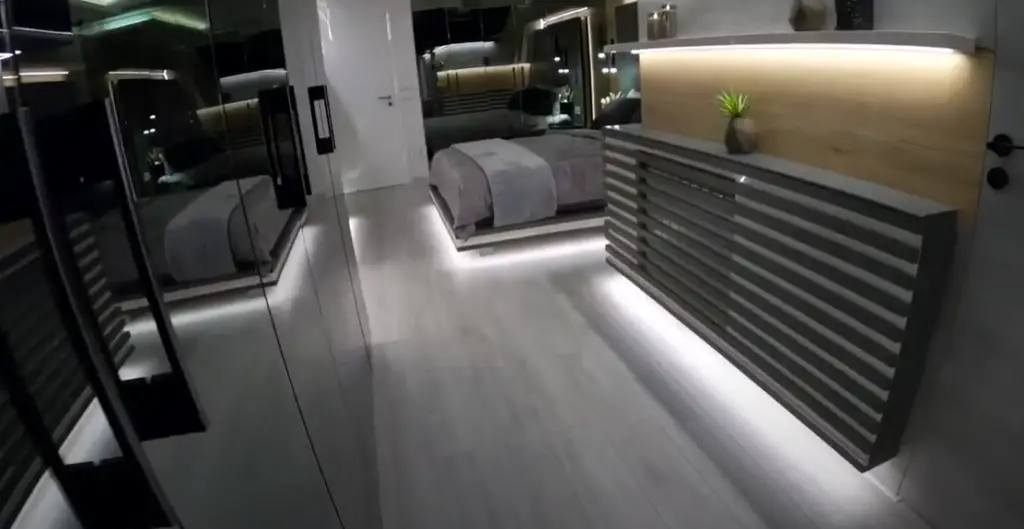 Multi-functional arrangements
When considering futuristic bedroom ideas, multi-functional arrangements should be at the top of your list. This could involve a combination of elements such as utilizing space-saving furniture, creating multiple storage spaces and incorporating unique lighting fixtures. By combining these ideas, you can create an efficient and stylish design that also offers plenty of comfort for sleeping, studying or just relaxing.
For example, you could opt for a bed that doubles as a storage unit, complete with extra drawers and compartments beneath it. This would be perfect for those who need to store items such as books or clothing without using up too much floor space. Alternatively, loft beds can provide extra sleeping areas while also freeing up floor space for other functions. [1]
Sci-Fi
If you're looking to give your bedroom a futuristic touch, there's nothing like going for the sci-fi style. Think sleek lines, curved edges and lots of metallic accents. Add in a few fun props that are reminiscent of space travel such as holographic artwork or star-shaped lighting fixtures. To bring some color to the room, choose a central accent wall that expresses your own personal fantasy. For example, you could opt for an outer-space mural or apply metallic wallpaper with geometric designs. To enhance the futuristic feel of the room, try incorporating furniture pieces with unique shapes and materials such as acrylic chairs and chrome tables. [1]
Pod arrangements
A great way to achieve a futuristic feel in your bedroom is with pod arrangements. Pods are individual pieces of furniture that can be arranged in different ways for different effects; for example, if you opt for a bed-in-a-pod or sleep pod, you'll have the feel of sleeping in the future! You can combine other pods such as a seating pod to create a comfortable area for relaxing and socializing. [1]
Underwater
One of the most creative and luxurious futuristic bedroom ideas is to create an underwater-themed room. This could be achieved by utilizing wall murals and other design elements that depict a deep-sea atmosphere or aquatic scenery. You could also incorporate ceiling lights that give off a soft blue hue, making it look like you're sleeping under the stars. If you're feeling extra adventurous, why not try installing a fish tank in your bedroom? This will give the room an even more immersive experience and can also be a great conversation starter with guests.
When it comes to furniture and decorations for your underwater-themed bedroom, go for items that are sleek and modern – think metallic frames and white lacquered tables that reflect the shimmering light of the underwater world. You could even add some coral-colored pillows or wall hangings to give your room a splash of color. Other great accents for this type of theme include glass orbs filled with water, bubble decorations, and starfish-shaped lamps. [1]
Open views
Large panoramic windows or even full-length glass panels can be used to bring in plenty of natural light, while also creating an open and airy feel. This is a great way to make the most of your views and keep your bedroom bright, but you'll still need curtains for privacy during the nighttime hours. [2]
Canopy beds
Canopy beds are a great way to achieve a futuristic look in the bedroom. They feature tall, four-post frames and often have flowing fabric draping from the canopy poles for an added touch of drama. Canopy beds make a statement and can instantly elevate any room's style.
When shopping for your ideal canopy bed, there are a few key factors to consider. First, think about the size of your room and the bed's frame – it should fit comfortably in your space while also leaving enough room for other furniture pieces or activities. Secondly, consider the look or feel you're trying to achieve; canopy beds come in a variety of materials and colors, so you can choose one that best fits your aesthetic. Lastly, pay attention to the details – curtains, upholstery, and decorative trim can all add a personal touch to your bed while also creating an exciting statement piece. [2]
Floating furniture
One of the key features to create a futuristic bedroom design is floating furniture. Floating furniture is any type of furniture that appears to be levitating in mid-air, either supported by nothing or with a minimal amount of support visible. The use of this type of furniture can make for an impressive and modern look  in your futuristic bedroom design. 
If you're looking for a way to incorporate floating furniture into your bedroom design, one of the most popular ways is to use a suspension system. This allows you to have furniture that appears to be hovering in mid-air without needing any physical supports or brackets. You can find suspension systems in various sizes and shapes, allowing for more creative and unique designs. [2]
Platform beds and upholstered walls
Platform beds have been around for a while now, but adding an upholstered wall behind it can help make the bed look even more futuristic. Upholstered walls are perfect for creating that extra layer of comfort and luxury in any bedroom, but they also add a modern and eye-catching aesthetic. The fabric used could be anything from leather and velvet to a futuristic metallic fabric that glimmers in the light.
To add an extra touch of sophistication, you could hang some decorative wall art above the bed. This could be something like a large abstract painting or modern tapestry that echoes the colors used in the upholstered wall. You can also use mirrors to create an even more futuristic feel, as the reflections will give the space a larger and more ethereal look. [2]
Minimalist
One of the most popular futuristic bedroom design trends is minimalism. A minimalist style focuses on simplicity and functionality, removing excess clutter and decor from your room in favor of sleek yet stylish furniture pieces and a clean, contemporary look. To create a truly unique, modern-looking space, consider these easy tips:
Choose neutral colors for walls, furniture, and decor.
Keep wall decorations to a minimum. Opt for sleek art pieces that can be hung in various places throughout the room such as on the side of a dresser or above the bed.
Swap out bulky furniture pieces with more modern designs such as steel frames, glass top tables, and low-profile beds.
Accessorize with minimalist pieces such as wall clocks, light fixtures, and sculptures that have futuristic designs and shapes.
Opt for sleek storage solutions such as under the bed drawers or a mirrored wardrobe to streamline your bedroom design. [1]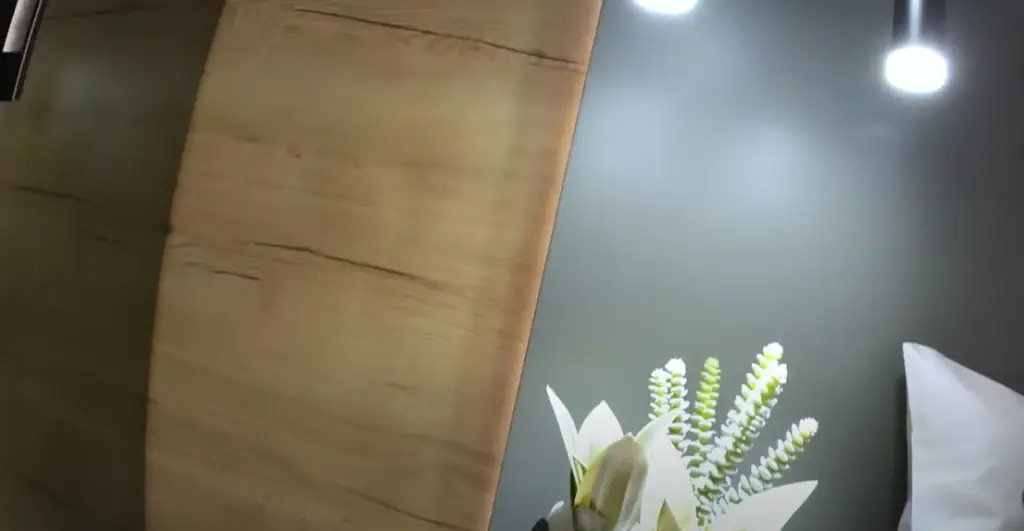 Spread Magic With The Floating Bed
Looking to create a truly futuristic bedroom? A floating bed is the perfect way to do just that! Floating beds give off a mystical, out of this world vibe and provide your bedroom with an air of mystery. They look stunning when paired with bright colors and modern furnishings and can instantly transform any room into something special.
Installing a floating bed is surprisingly easy and can be done with minimal effort. With the right materials and tools, you can have your own stylish hovering bed up in no time! Once it's in place, use bold colors and lighting to create an otherworldly atmosphere that will make you feel like you're really living in the future. [1]
Celebrate The View With A Window Front
If you've got a great view, why not make the most of it? One popular futuristic bedroom idea is to install a window front wall. This gives you an amazing view of the outdoors while allowing plenty of natural light into the room. You can also customize your window wall with framed art, sheer curtains or other decorative elements to create a unique look.
Depending on your budget, you can create this idea with pre-made windows or custom built ones. Either way, the effect is truly stunning. And to make it even more futuristic, consider adding a smart window tinting system to control the amount of light that comes in and change the mood of your room with just a few clicks of a button. [1]
Space-Themed Bedroom
Creating a space-themed bedroom is a perfect way to make your room have a futuristic feel. To create this look, you'll need to invest in some starry wallpapers or even glow-in-the-dark stars and planets for the walls. You can also add some special touches like LED light strips around the bed frame and a space themed bedspread to finish off the look.
If you are feeling more ambitious, try creating a 3D mural of galaxies or planets on one of the walls for an impressive statement wall. Remember to add some blue and purple LED lights in different areas of your room so it has that out-of-this-world feel. And don't forget to hang some unique space-themed artwork on your walls. [1]
Spaceship-Themed Bedroom
For a fun and unique futuristic bedroom decor, consider a spaceship-theme. You can easily implement this theme with bold colors such as bright reds, blues, purples, or even silver. To create an out of this world feel, add wall graphics featuring stars, planets, galaxies, or other space elements. Create the look of a spaceship with wall shelves, floating chairs and desks, and even a rocket-shaped bed. For added effect, incorporate lighting features such as starry night lights or neon signs. With this theme, you can have fun creating an exciting futuristic bedroom without breaking the bank. [1]
Dance To The Music-Themed Bedroom
Are you a die-hard fan of music? Then why not create a bedroom with a musical theme? Paint the walls in bright colors, add some glow-in-the-dark stars or even hang disco lights from the ceiling. You can also find several wall decals and light fixtures that are music-inspired. Spend time creating your own music-themed mural or painting on the wall and add a few instruments as decorations. Then, take it one step further by adding in a sound system so you can dance to your favorite tunes while getting ready in the morning! This is an easy way to bring some futuristic energy into your bedroom. [1]
Try Sleeping In A Capsule/ Pod Arrangement
If you want to make your bedroom look futuristic, one of the best ways to do it is by introducing a sleeping capsule or pod arrangement. A sleeping capsule is basically a bed that comes in the form of an enclosed unit with lots of storage space and some added features like ambient lighting. This type of bedroom setup can add an ultra-modern touch to your room, while also providing a great place to relax and get away from it all.
Besides the aesthetic appeal of this type of bedroom idea, sleeping in a capsule or pod arrangement can be very beneficial for your sleep health. The enclosed nature of the unit helps to block out distractions and provide you with an environment that is both quiet and dark. This can help you to relax and fall into a deeper sleep more quickly, as well as helping to reduce the amount of time it takes for you to wake up feeling refreshed. [1]
Black And White Are Still Futuristic
Black and white are classic colors, but they can still be used as part of a futuristic bedroom design. By utilizing black and white walls together with modern furniture, you can create a room that looks sleek and stylish. Contrasting the two colors can make it look even more eye-catching, while adding pops of bright colors throughout will bring life and energy to the space. [1]
Dark Or Bold Theme
One of the most popular futuristic bedroom ideas is to go with a dark or bold theme. This will give your room an edgy and modern look. You can opt for black or gray walls and then add pops of color with furniture, art, rugs, curtains and other decor items. To make it even more daring you can use metallic tones and glossy surfaces as accents. A dark theme will bring out the sleekness and sophistication of futuristic design while also making your room look larger than it really is. Plus, it's easier to hide any imperfections with a darker color scheme. [2]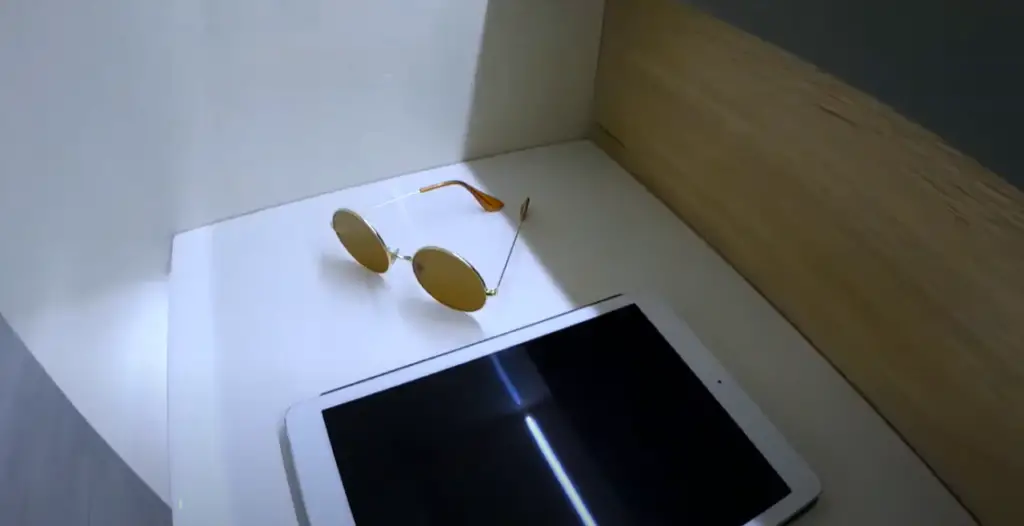 Use Furniture That Makes A Statement
Futuristic bedroom designs are all about creating a bold, eye-catching look. An easy way to achieve that is by incorporating furniture and accents with modern, sculptural lines and shapes. Look for pieces with unusual forms, like hexagonal ottomans or curved nightstands. For an extra dose of color and texture, try velvet, chrome and other materials that have a subtle futuristic vibe.
To create continuity throughout the room, make sure to use pieces with similar color tones or shapes. For example, if you opt for a bed frame with angular lines, bring in furniture items like chairs or side tables that share those same clean edges. This will help pull together all of the elements for a cohesive look.
Finally, keep in mind that furniture isn't the only way to create a bold statement. You can also add visual interest and texture with area rugs, wall art or even textured wallpaper. Have fun experimenting with different pieces until you find the look that fits your space best![2]
Keep It Very Light And Spiritual
Adding a futuristic touch to your bedroom doesn't mean you need to go all out with sharp edges, metal and robotic designs. You can add a sophisticated yet light touch to your room with some spiritual accents like crystals or plants. A few pieces of accent furniture with geometric shapes or colors also contribute to the overall futuristic vibe of the room. [1]
Try An Ultra Modern Bed
An ultra modern bed is a great way to bring the future into your bedroom. Choose one with an eye-catching shape, sleek lines and plenty of storage space. Look for beds made from innovative materials such as metal or plastic that won't take up too much space. If you want to add even more futuristic flair, try adding bright colors, bold patterns or even LED lights. [1]
Smart Tech Bedroom
If you're looking for a true futuristic bedroom, then high-tech features are the way to go. Start by adding a smart home hub such as Google Home or Amazon Alexa – it will make your life easier and allow you to control appliances with voice commands. You can even dim the lights, adjust the thermostat, or play music from the comfort of your bed.
Finally, consider installing smart lighting and motorized window treatments that can be controlled from anywhere in the world with your smartphone. You will no longer have to get out of bed to draw the curtains; simply send a command and they'll close automatically! [2]
Low Beds Are A Must
Low beds are a must in any futuristic bedroom. Low beds give the room a sense of openness and make it appear larger than it is. Not only do they look modern and trendy but they also come with a variety of benefits, such as being easier to get into and out off when compared to higher beds. They're also great for those who have limited space in their bedroom as they take up less floor area. Plus, they're great for cuddling with your partner too! [2]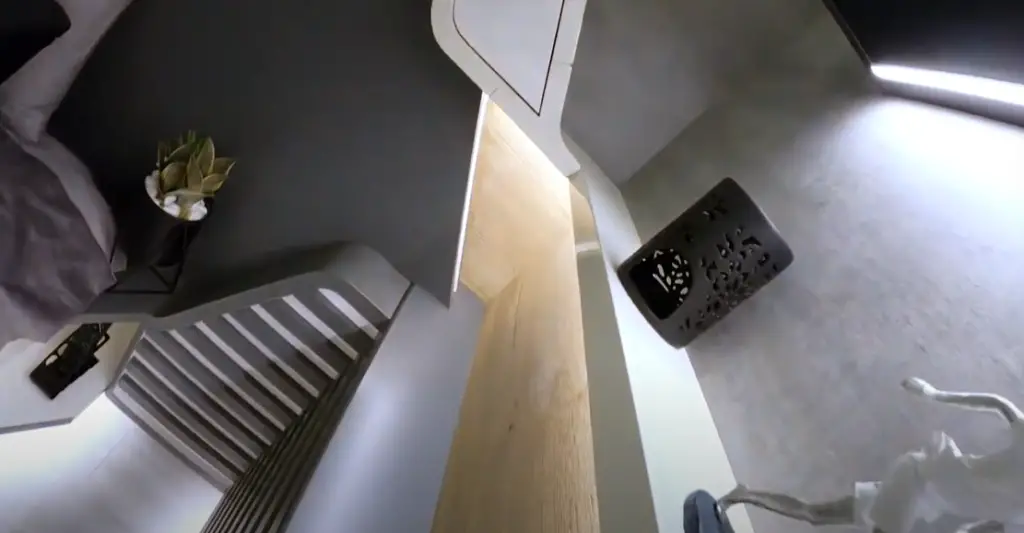 FAQ
What is futuristic style interior design?
Futuristic style interior design is a modern take on classic decor elements, using bold colors, sleek lines and geometric shapes. It often incorporates high-tech gadgets and materials to make your space look like something from the future. Futuristic style also has an emphasis on comfort and functionality, creating a space that's both trendy and inviting.
How can I make my bedroom look luxurious?
To make your bedroom look luxurious, start by selecting a color scheme that incorporates rich colors such as deep purples, reds, and blues. Incorporate high-end furniture pieces with clean lines and sleek designs to add more of an upscale feel to the room. You can also add texture through rugs, curtains, and artwork.
How can I transform my bedroom?
To transform your bedroom, start by picking a theme or design style you love. This will help guide the rest of your decor choices and tie everything together. Consider adding unique lighting fixtures to instantly update the room, or try using bold color accents for more of an eye-catching effect. Another great way to transform your bedroom is to add a statement piece like a large headboard or artwork. Finally, think about how you can make the most of your existing furniture pieces by rearranging them in different ways or painting them for a fresh new look.
How do I make my room aesthetic?
To make your room aesthetic, start by picking a color palette that you love. Think about the type of vibe you want to create in the space and choose colors accordingly. Use furniture pieces with interesting shapes and designs to add more visual interest, or opt for statement pieces like art or an area rug. Don't forget to accessorize too! Incorporate pillows and throws in different colors, textures and patterns to complete the look. Finally, layer your lighting fixtures from dimmable ambient lighting to task lighting for an inviting atmosphere.
How can I decorate my room without spending money?
Decorating your room without spending money can be tricky but it's definitely possible! Start by rearranging the furniture you already have to create a completely new look. If you're willing to get creative, try DIY-ing some pieces for your space like a headboard or wall art. You can also add more personality with things you find around your house, like books, plants or mementos from travels. Finally, look for free printables online to hang up in the room. With a little creativity and some elbow grease, you can transform your bedroom without spending any money!
Useful Video: DIY Bedroom Makeover ($250 Budget)
Conclusion
Futuristic bedroom ideas are becoming increasingly popular. With all the options available, it's easy to create an out-of-this-world design for your space. Whether you choose a minimalistic take or go with bold colors and patterns, modern furniture and advancements in technology can help transform any room into a futuristic haven. Don't wait to start creating a space you can enjoy for years to come. Get creative and have fun with your futuristic bedroom ideas!
Do you want help making your own futuristic bedroom dreams come true? Contact us and our team of interior design professionals will be happy to assist you in finding the perfect look that fits your unique aesthetic.
References:
https://www.re-thinkingthefuture.com/2021/04/01/a3762-20-futuristic-bedroom-interior-ideas/
https://roomyoulove.com/futuristic-bedroom-ideas/